We think that Wakayama prefecture is one of the best tour spots in Japan as theme park of both mountain worship sacred places and magnificent nature landscape which was created by enormous rising of the land caused by the earthquakes occurred in ancient period of 15million years ago with excellent hot spring resorts thanks to the nature history.
Kii mountains located in the prefecture of Wakayama, Nara and Mie has been the objects of the nature worship sacred places and the mountain ascetic practices from ancient period.
The mountain worship sacred places consists of three which are Mt.Koya, Kumano-Sanzan and Yoshino-Oomine.
Those were registered as World cultural Heritage registered as "Sacred Sites and Pilgrimage Routes in the Kii Mountain Range".
1) The place where you can experience:
(About Kukai and a temple city established in Mt.Koya by Kukai):
Kukai is a Buddhist priest, also known as Kobo Daishi , who in 806 transmitted the teachings of the Shingon Ascetic sect of Buddhism after he had learned it during his staying in China with 2 years.
The sacred place of Shingon Esoteric Buddhism where Kukai established his Buddhism world about 1200 years ago is the flatland whose altitude is about 900 meters and surrounded by mountains named Mt.Koya. The shape of the land is cup-like that prevent water to be absorbed to underground, therefore people who live there can receive abundant water for their daily life.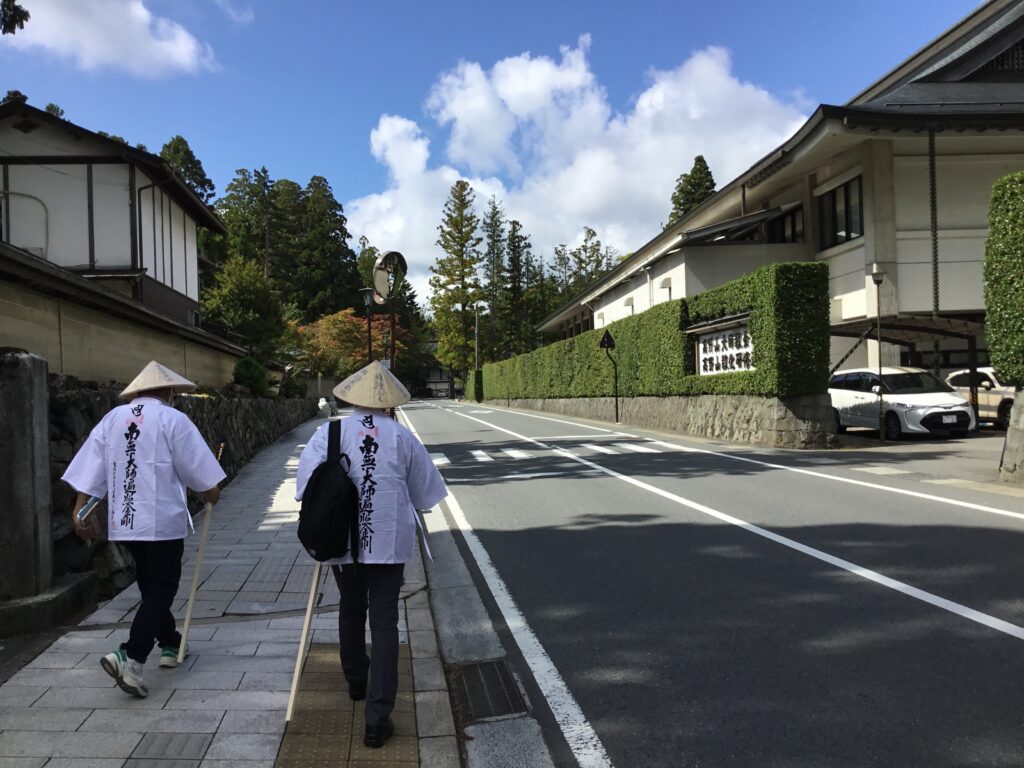 Kukai had found this sky land which is the rare one in Japan and selected there as the sacred place.
The Buddhism religious city on Mt.Koya is 3km in the east-west direction and 2km in the north-south direction. About 2300 people has lived there and about 600 priests within them has continued to pray and preserve this sacred place.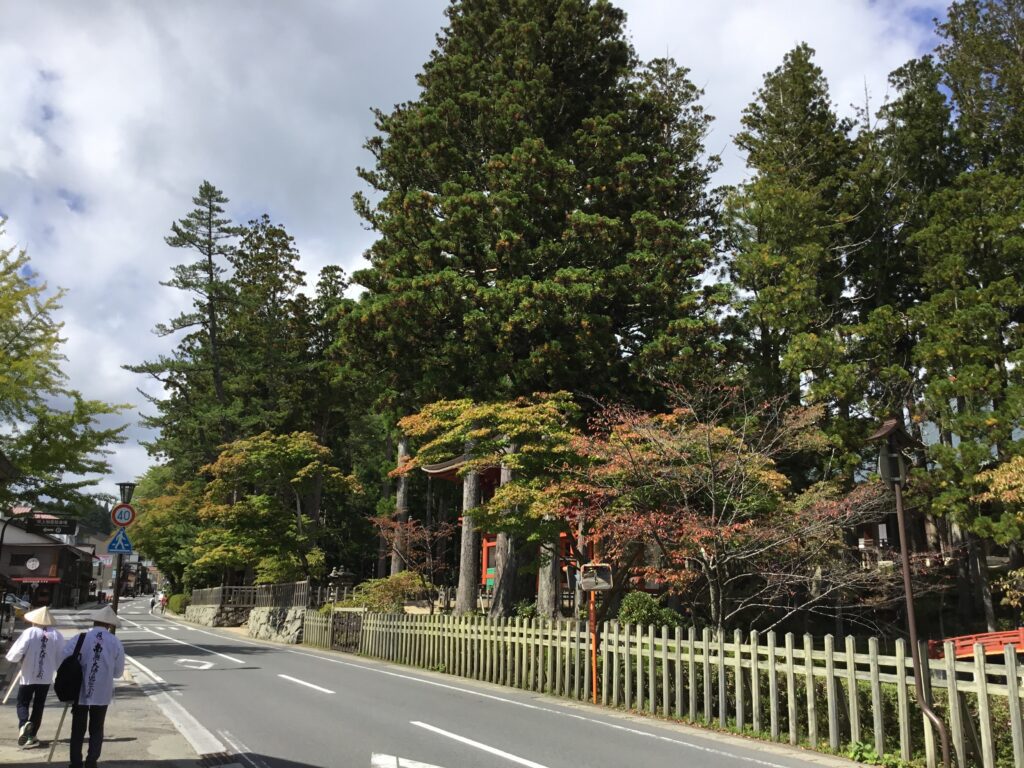 Daimon-gate:
After walking up through the path toward Mt. Koya, at first, you will find Daimon-gate which is the entrance of Mt.Koya religious city. This gate is one of the largest temple gate in Japan and Kongo Rikishi statues are set on both sides of this gate.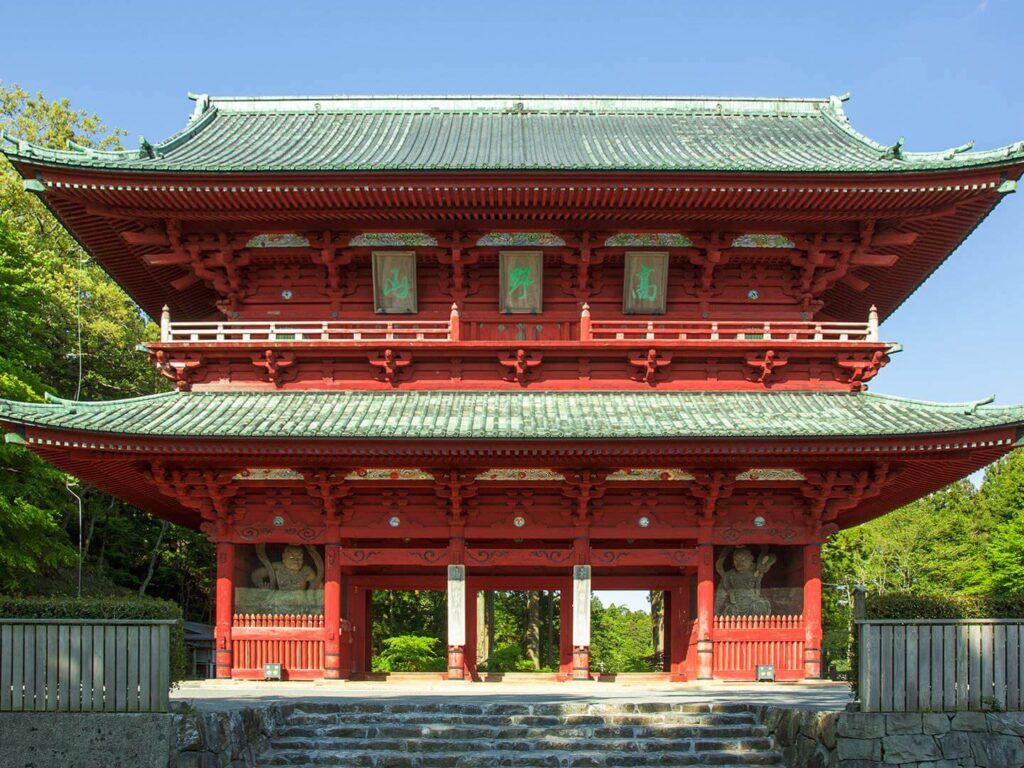 Danjo-Garan:
Danjo-Garan is the area where there are 19 temple buildings located on one step higher land than that of Daimon-gate and it is the center of Shingon Esoteric sect training hall.
(a) Nakamon-gate:
After a big fire in 1843, this gate was re-bult in 2015 and the Four Devas statues are set on both sides of the gate.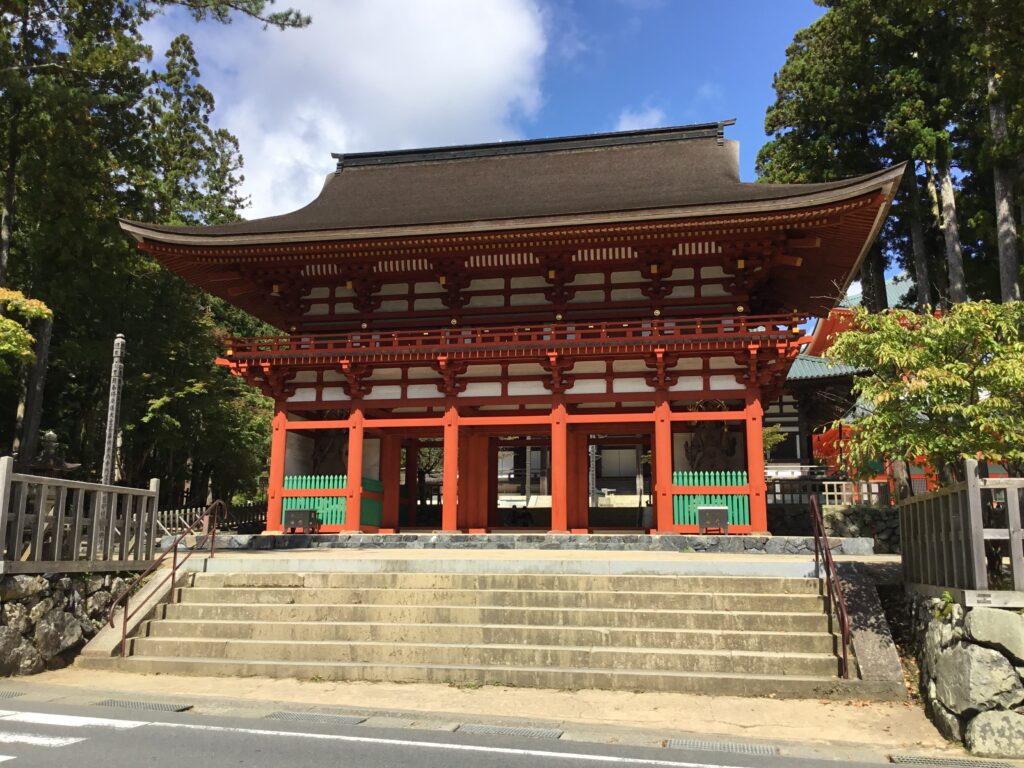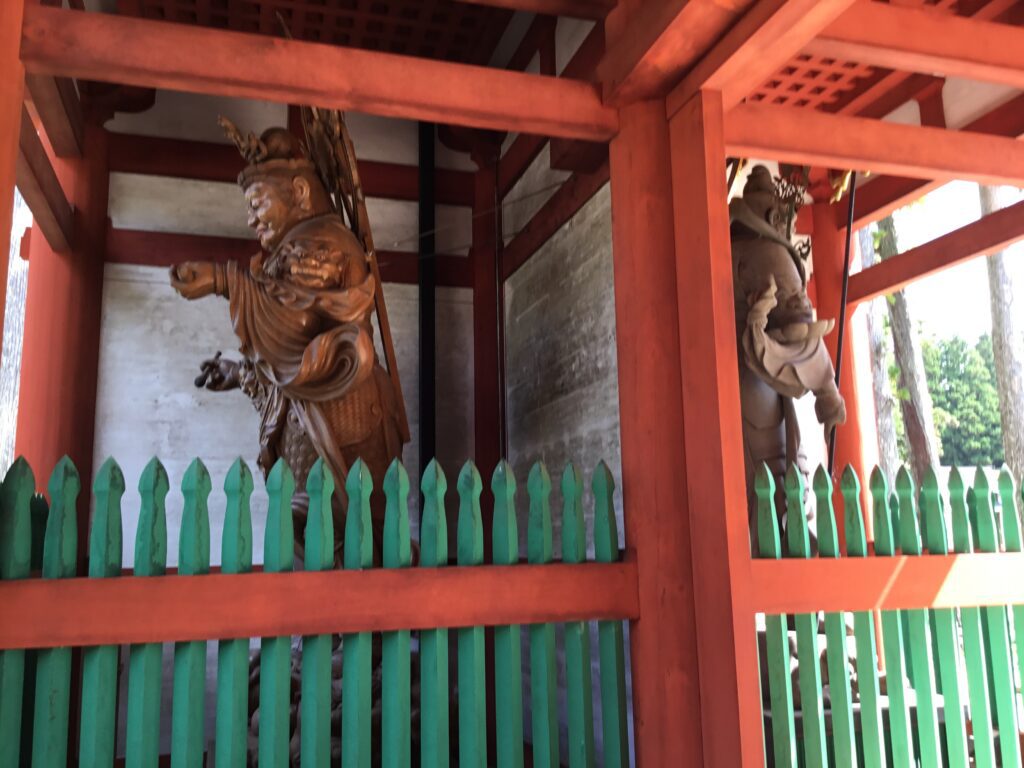 (b) Kondo:
This hall is the main hall of Mt.Koya and important Buddhism ceremonies are held here.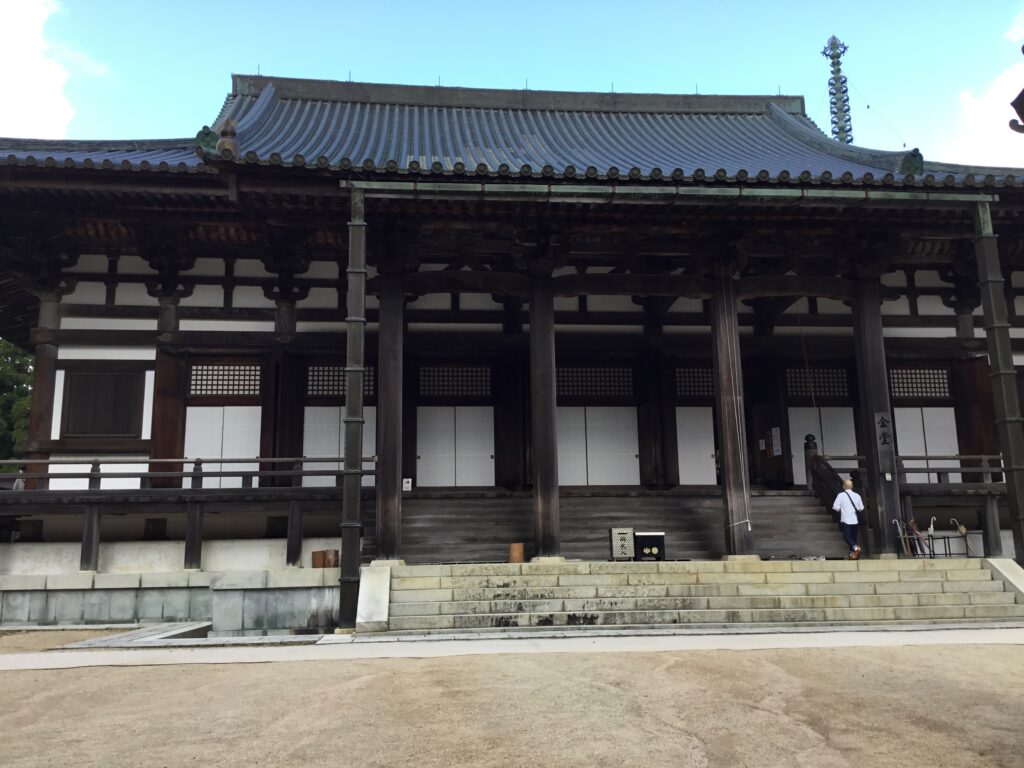 (c) Rokkaku-keidou hall:
The wife of retired emperor Toba copied 5000 numbers of Buddhism scripture to hold a memorial service for his husband and stored them in this hall. If you walk around the hall once by pushing the stick attached on lower side, then it is said that you already chanted all the Buddhism sutra.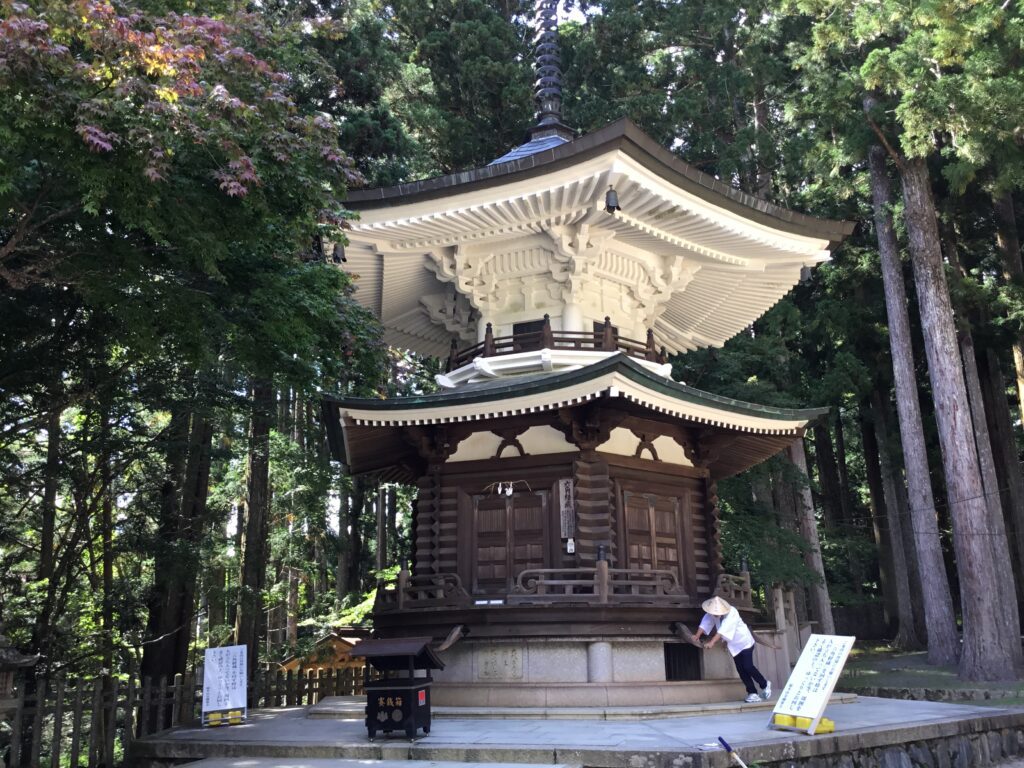 (d) Saito-two stories pagoda:
This two stories pagoda named "Tahotou" has become the pair with Konpon-Daito and built in 1834.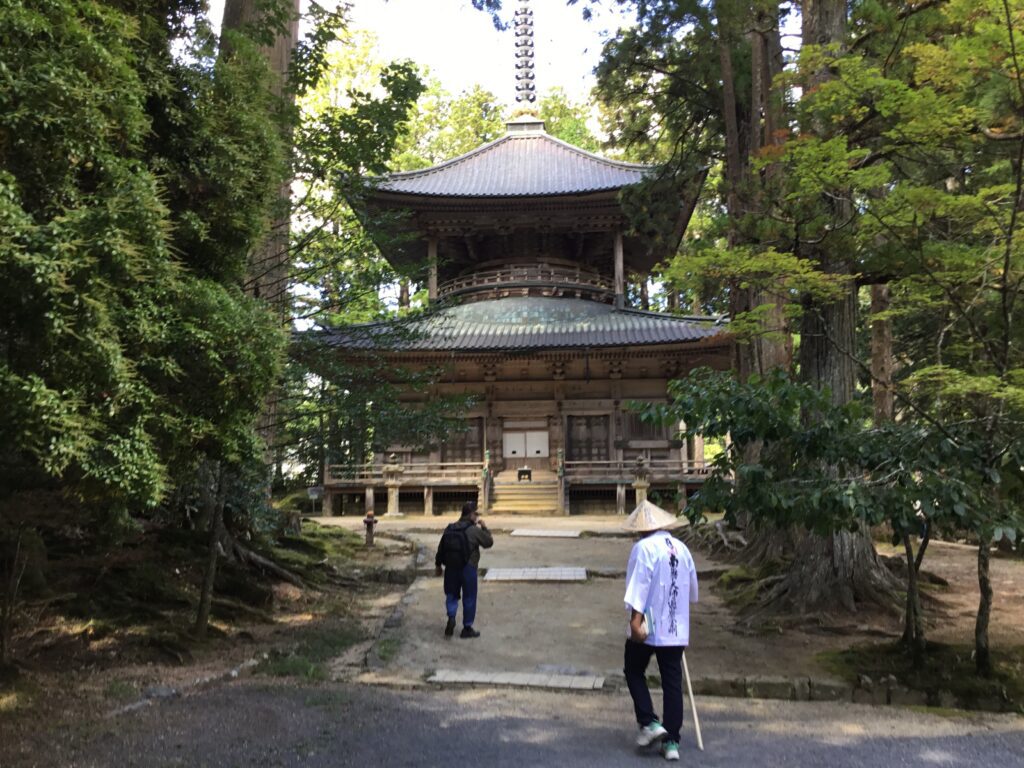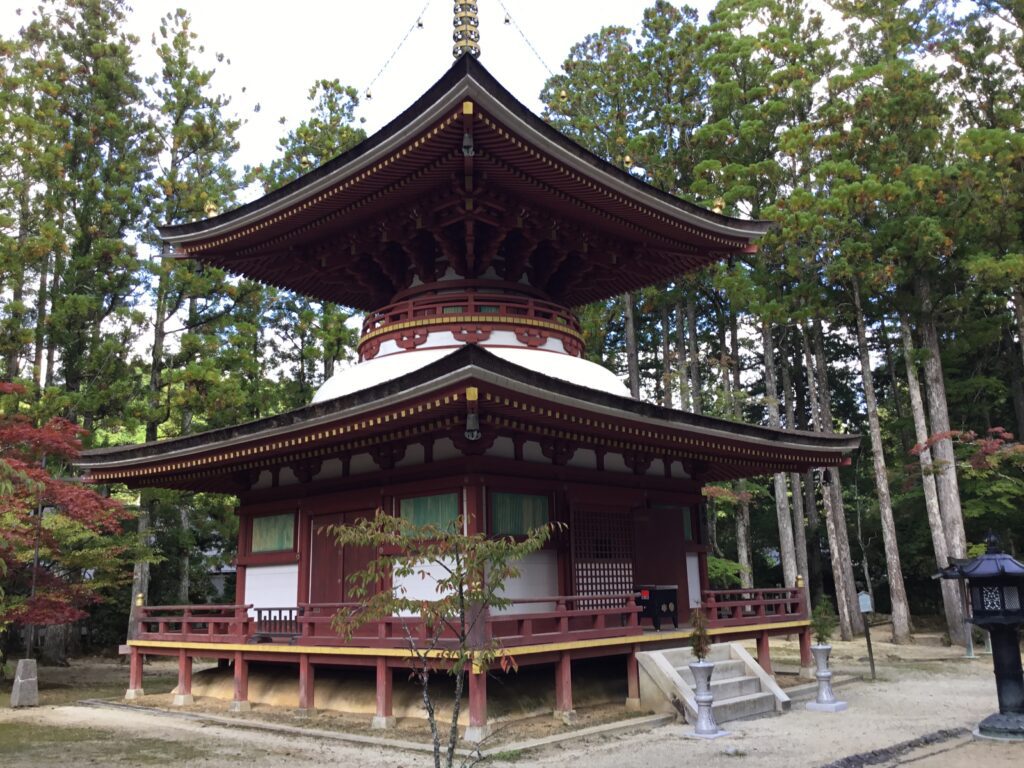 (e) Mieido-hall:
The divine sprit of Kukai which his pupil described is deified in this temple hall.
There has been lots of fires occurred in this temple. One of the evidence is the temple pole shown below photo as the remain of burning partially that show the fire had spread to this place.
At present, a powerful sprinkler is set around this hall to protect this hall just in case a fire occur.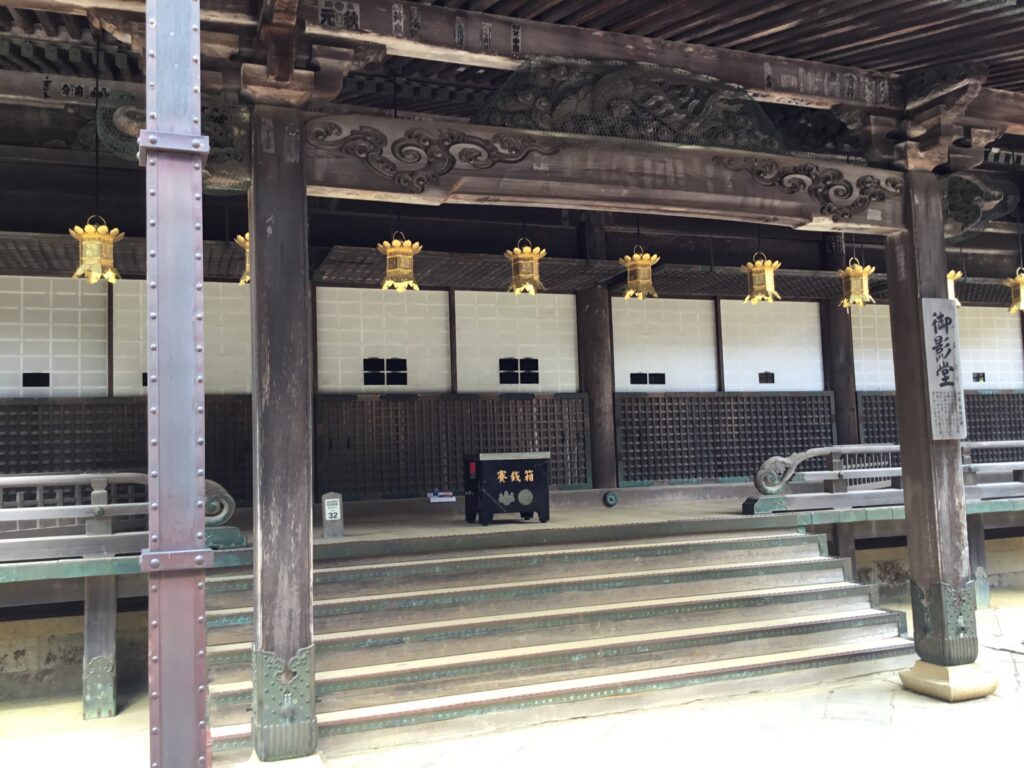 (f) Konpon Daito (large pagoda, the root of the universe):
Konpon Daito is the first two-stories pagoda built in Japan as the central training center of Shingon Esoteric Buddhism.
In this pagoda, Mandala of the two Realms which represents the description of Kukai's thinking as figure consisting of Womb Realm and Diamond Realm is enshrined. Also, Dainichi Buddha (Bliss body of the historical Gautama Buddha) and four Buddhism statues which combine the world are enshrined.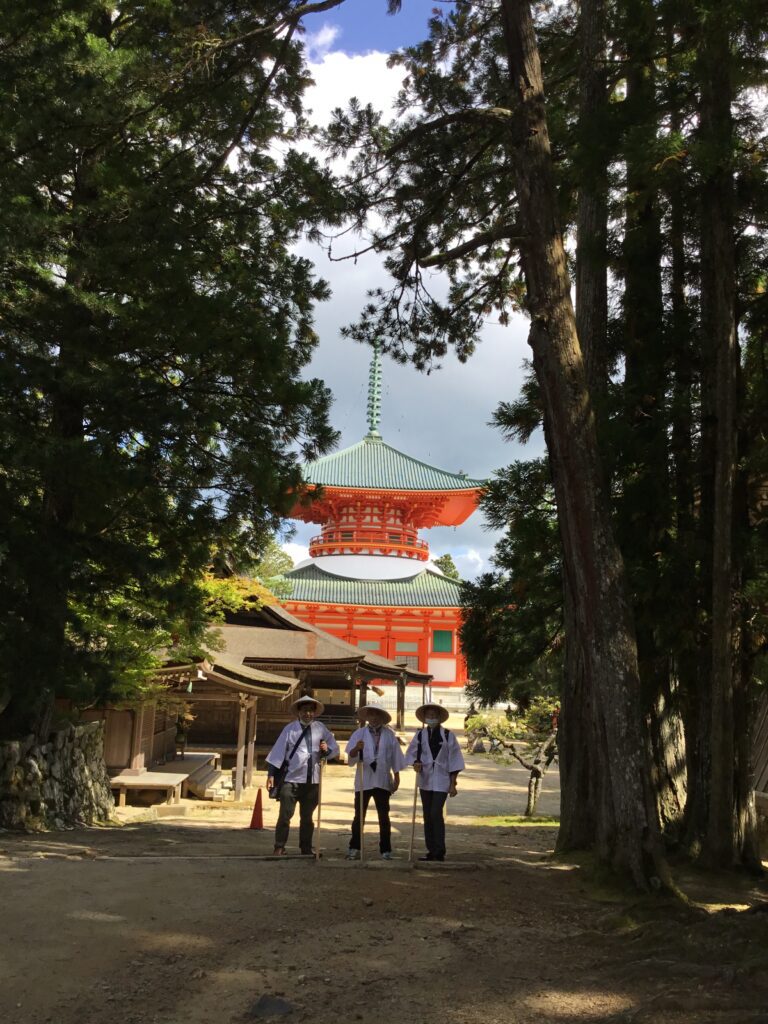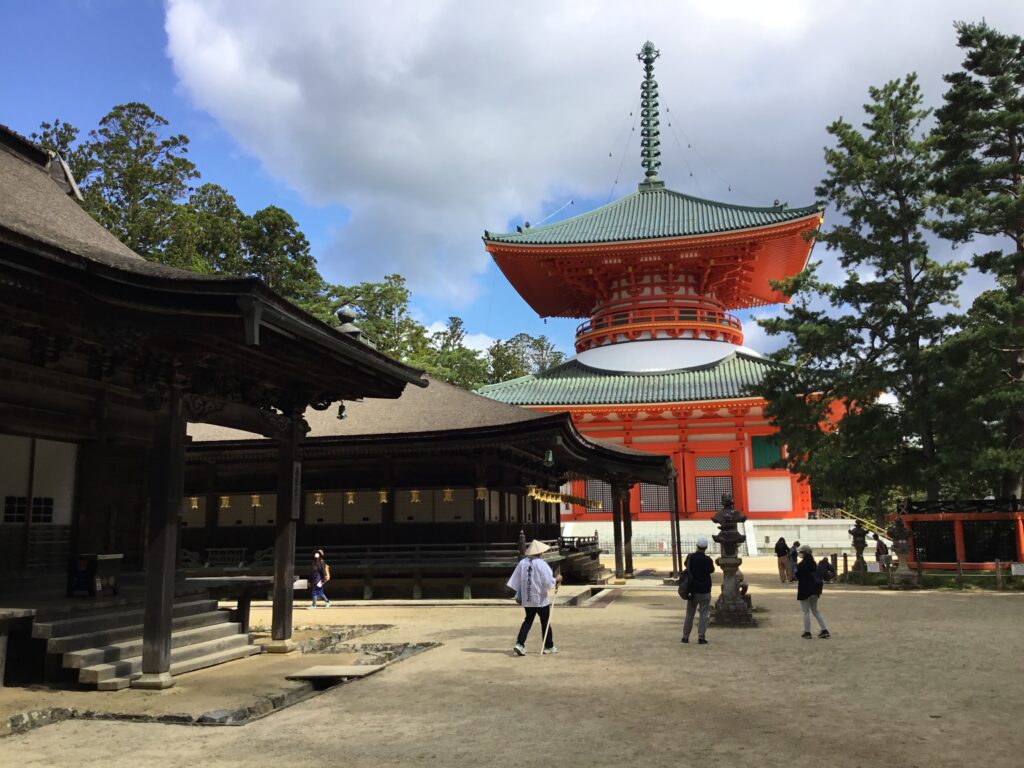 (Path toward sained Okunoin (inner sanctuary): about 2km from Ichino-hashi bridge to mausoleum):
According to Buddhism teaching, Miroku Bosatsu (Bodhisattva)will show-up to save people after 56 hundred and 70 million years from the death of Buddha. It is said that one of the three places is this Okunoin (inner sanctuary). It had been believed that Kukai will appear with Miroku Bosatsu(Bodhisattva) at the time,, therefore historical Samurai worriers and even common people had tried to be buried under the tombstone which are located on both side of the path. There are about 200 thousand of tombstones with memorial towers and if small memorial stones for common people is included, about 2millions number on the path.
a) Path toward Sained Okunoin (inner sanctuary) and Ichinihashi bridge: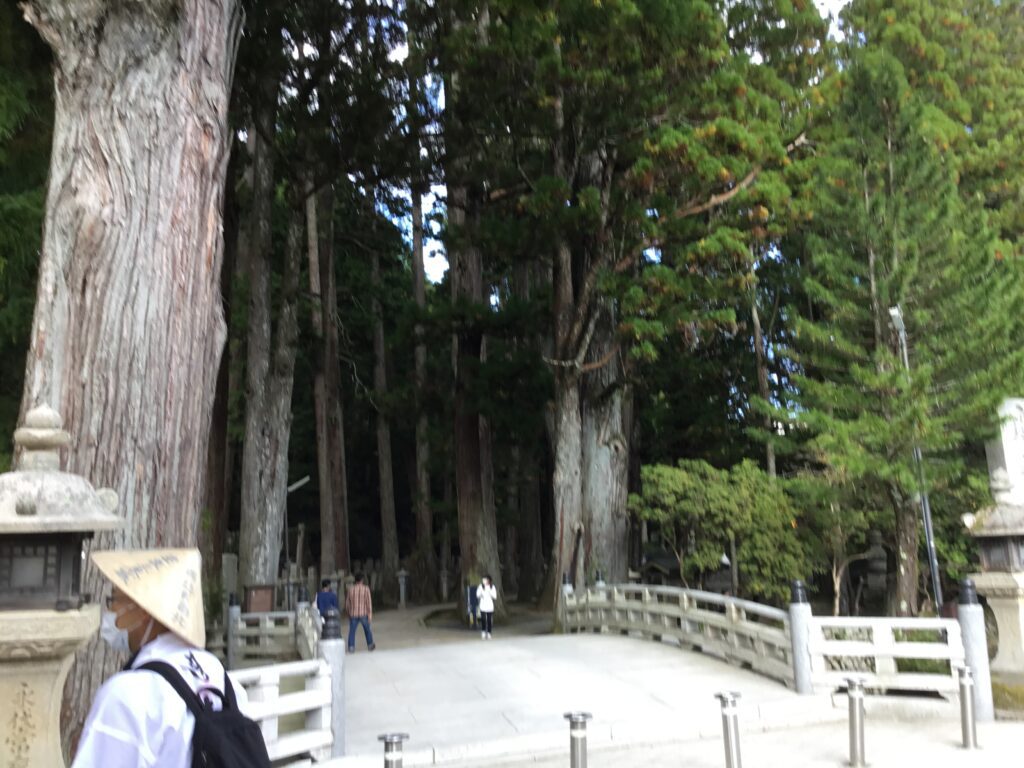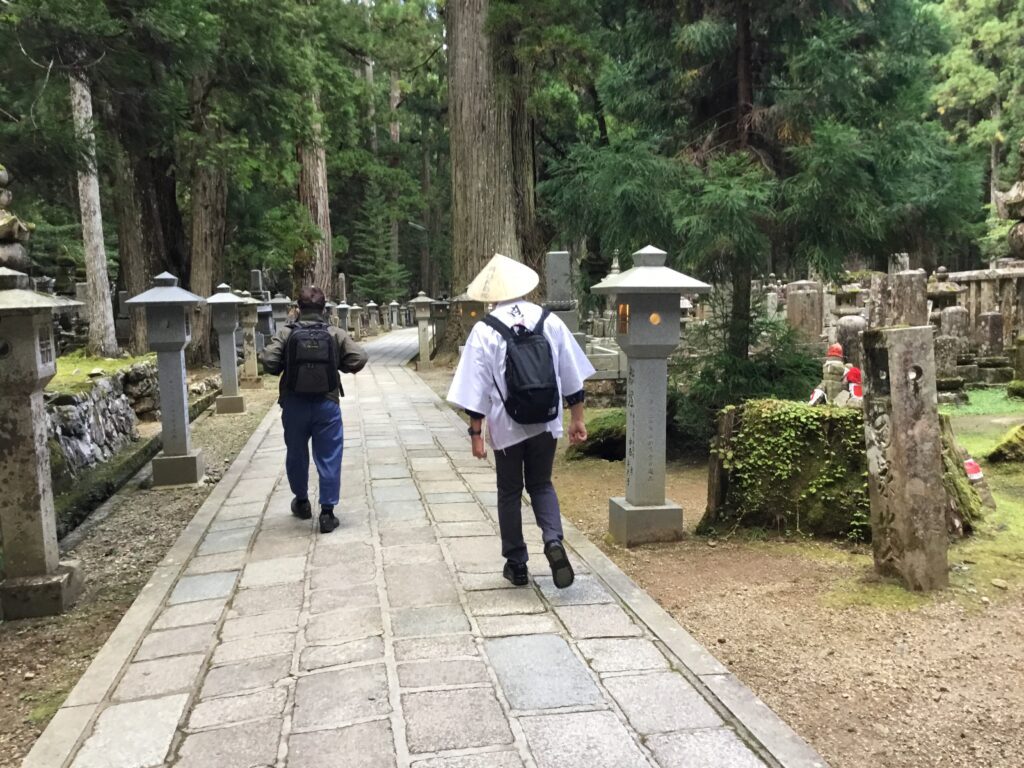 b) Tombstones of the historical Samurai worriers on both sides of the path:
Shingen Takeda: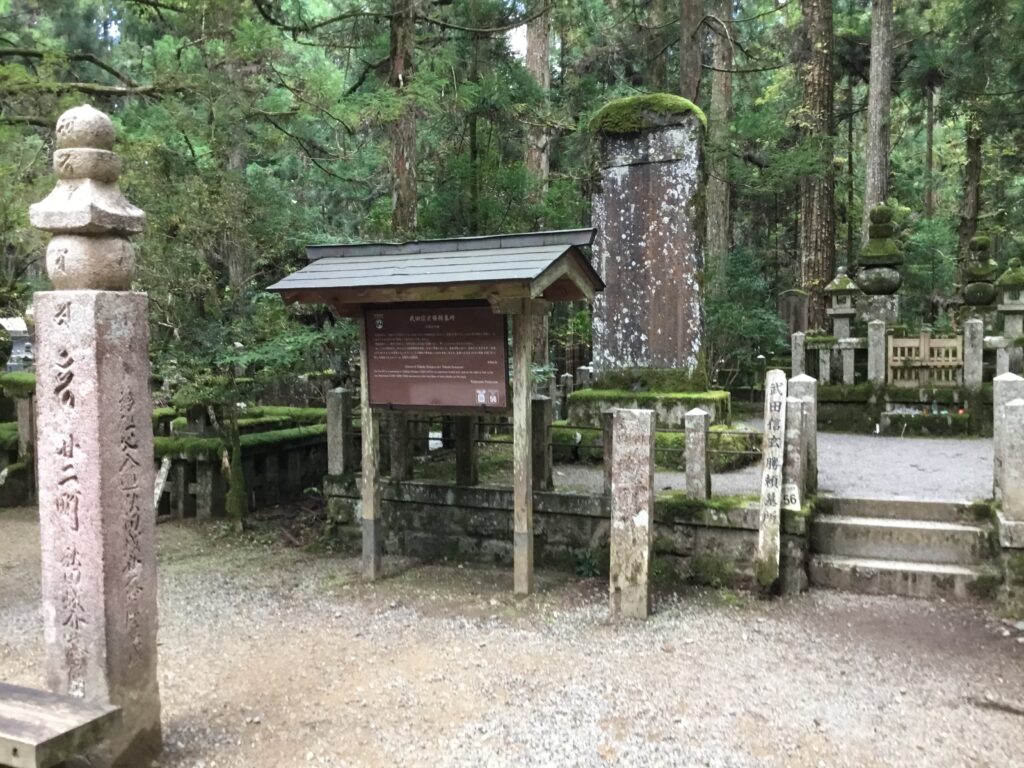 Mitsuhide Akechi: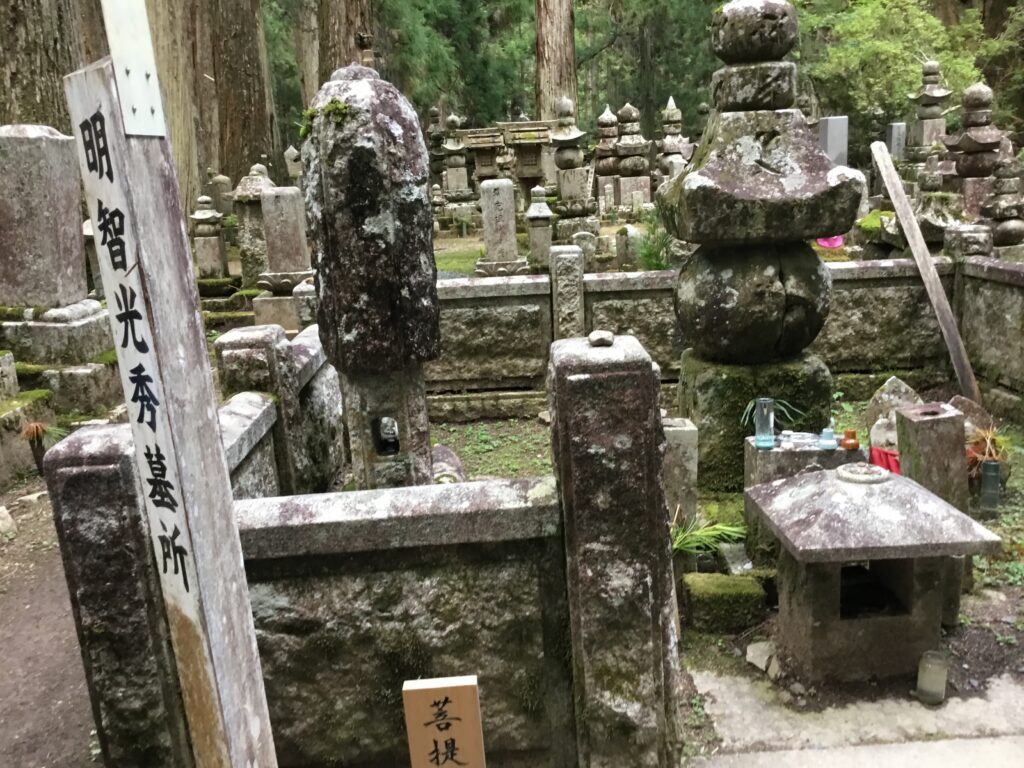 Nobunaga Oda: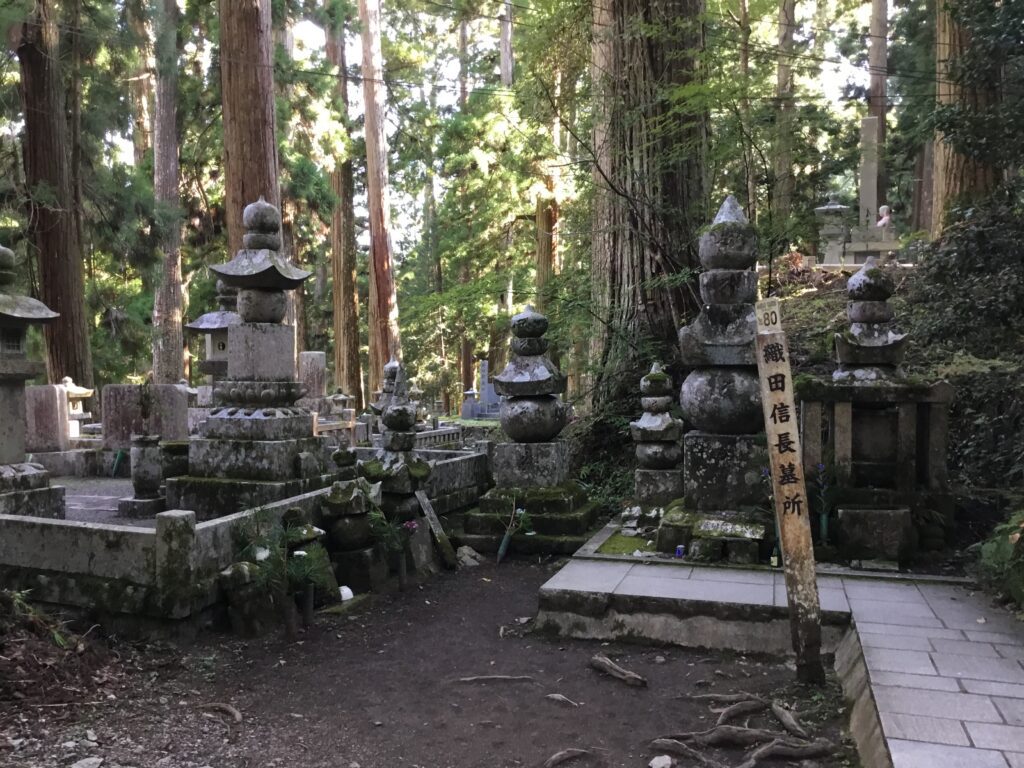 (c) Other memorial towers on both sides of the path:
A full-length mirror well:
It is said that if you can't see your figure on the surface of well water, you will lose your life within 3 years.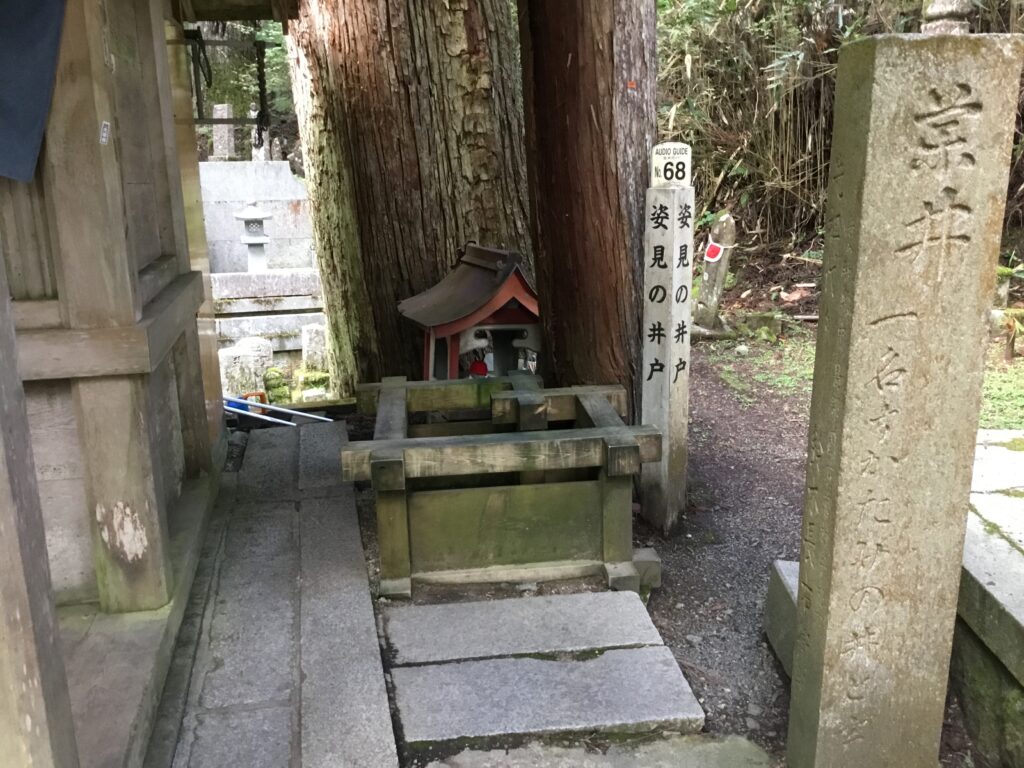 Jizo statue which resembles Kukai (Kobou Daishi):
Ajimi-Jizo (Tasting Jizo):
It is said that Kukai has been in meditative concentration up to now and in future and he is watching over people. The meals for Kukai twice in a day has been continued to execute up to now by priests. The meals are cooked in Gokusho (daily offering hall) are transferred to Dragon lantern hall through the mausoleum bridge after these meals are offered to Ajimi-Jizo (Tasting Jizo).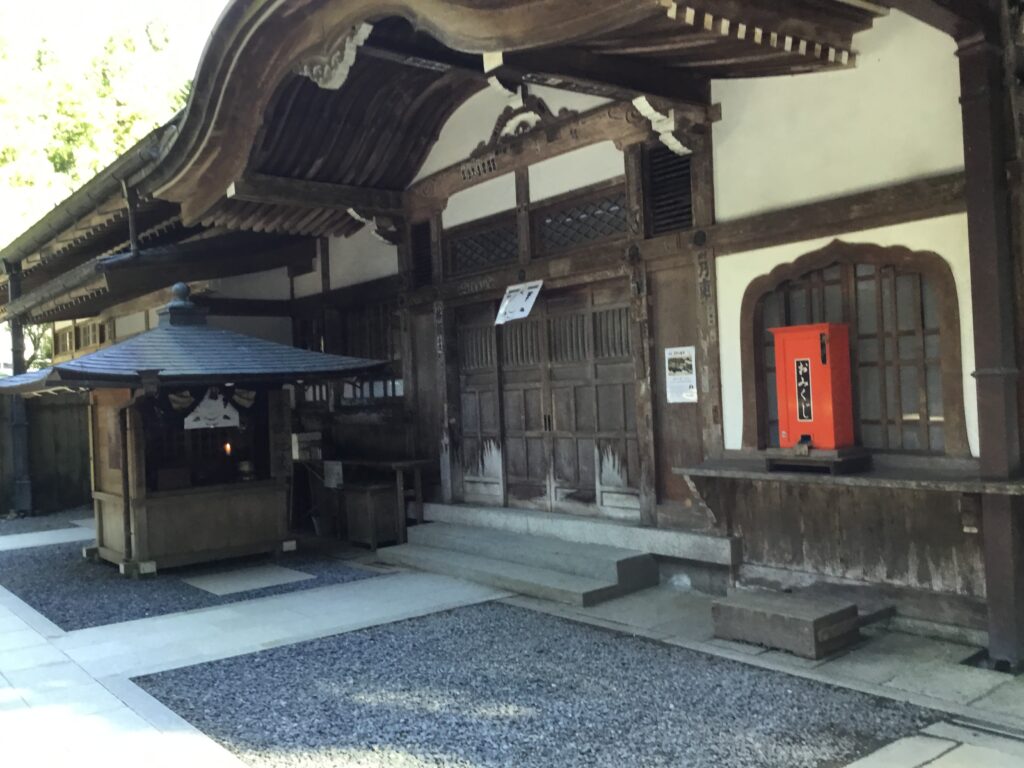 Memorial tower of Great East Japan earthquake occurred in 2011: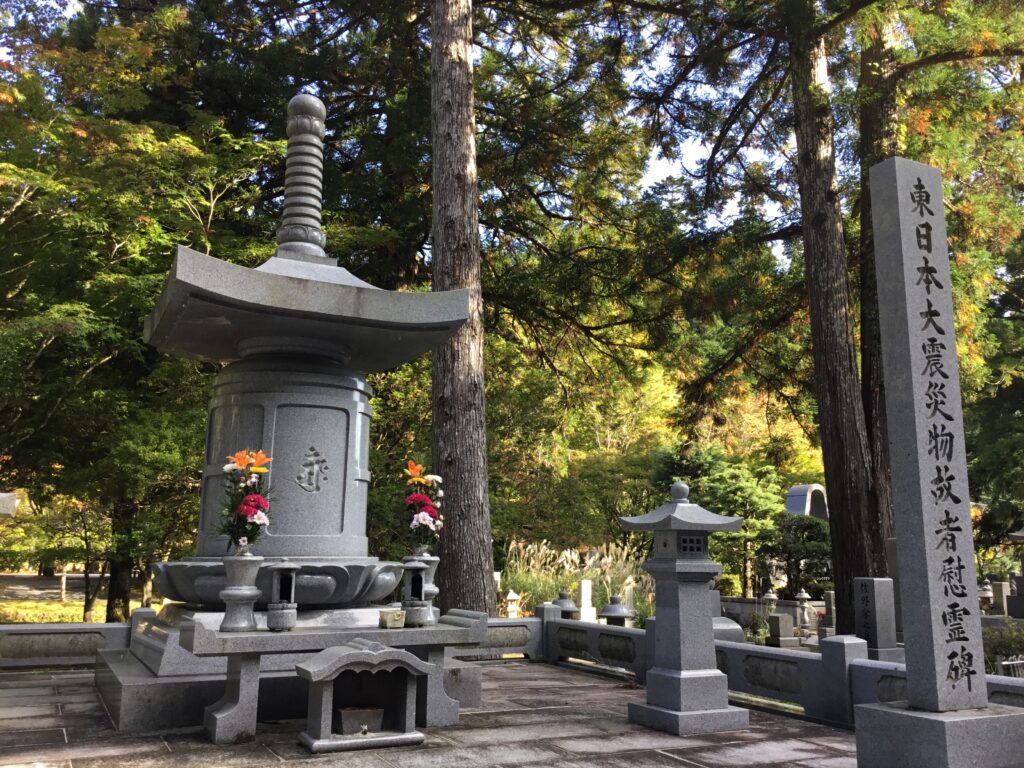 Memorial tower of Han-Shin Awaji earthquake disaster occurred in 1995:
Dragon lantern hall:
The temple space toward Mausoleum bridge is prohibited to take photos because this area is the sacred places of Kukai religious faith.
This hall is to worship the mausoleum of Kukai. In this hall, the sacred light named "Kiezuno-Hi" which is offered by retired Emperor Shirakawa has been lightened up to now more than 1000 years with more than 20 thousand of votive lanterns. This hall is prohibited to take photos.

2) The place where you can enjoy:
(Ryujin Onsen Kirari / hotspring)
Kirari Ryujin is a hotspring located in Ryujin Onsen area which is famous for Japan's top three hot water of beauty, others are Kawanaka Onsen in Gunma prefecture and Yunokawa onsen in Shimane prefecture. This hot-spring is a historical one which opened about 1300 years ago.
The name Ryujin is given according to the fact that Kukai opened the Onsen by announcement of Dragon King (Nanda-Ryuo).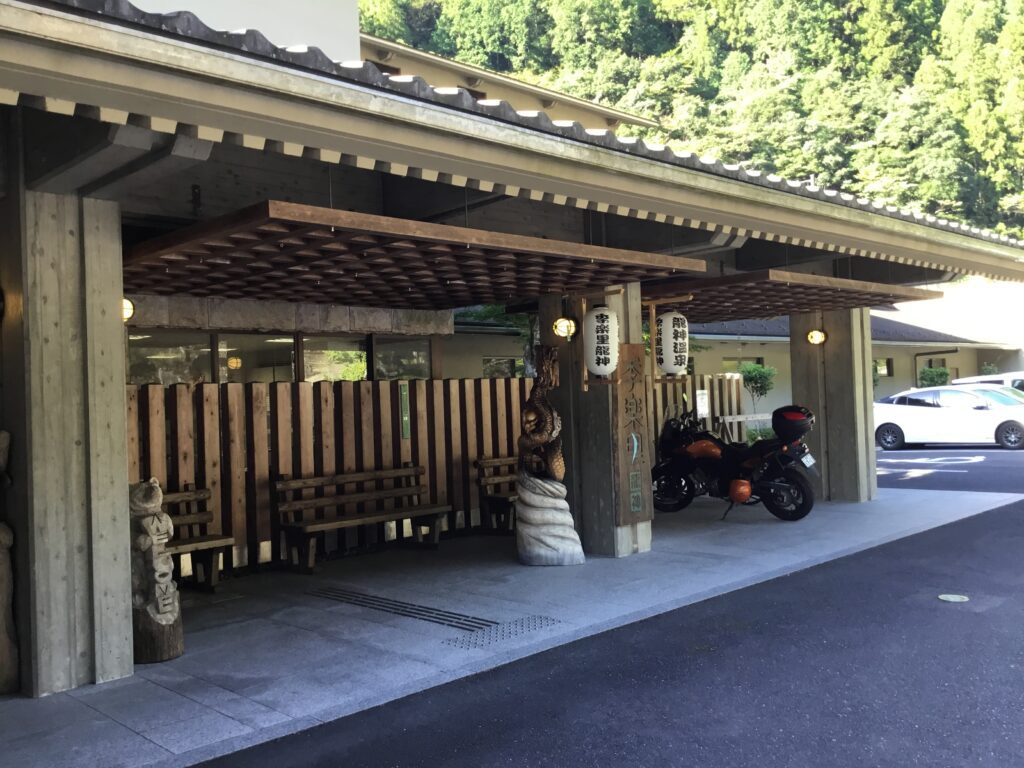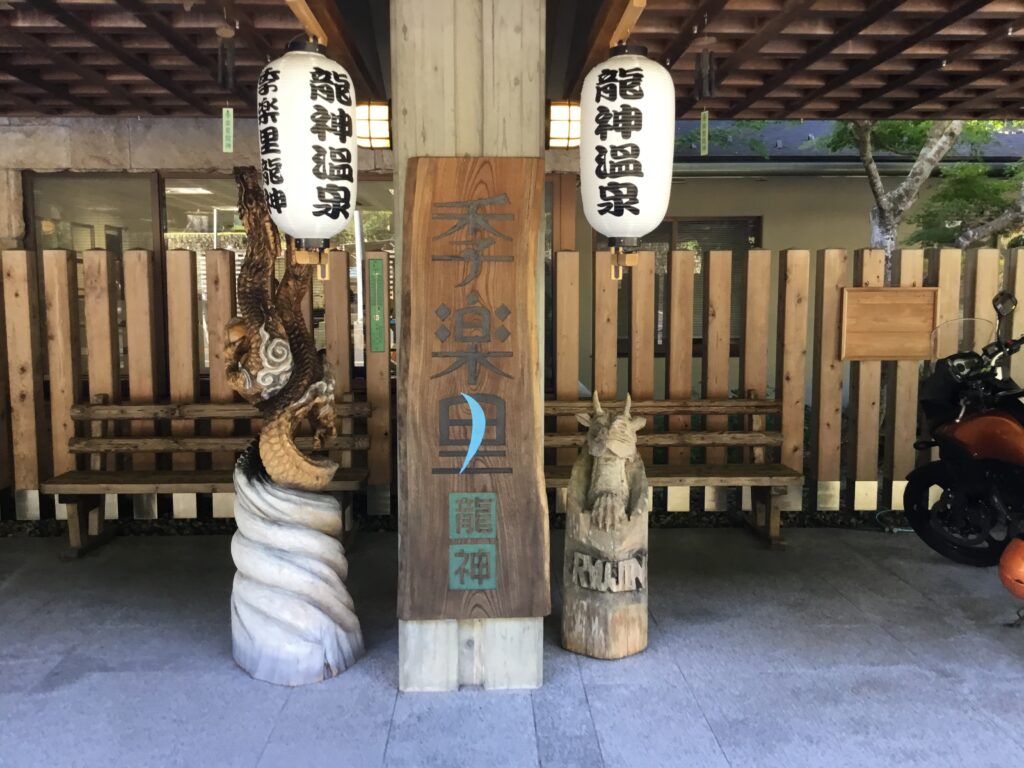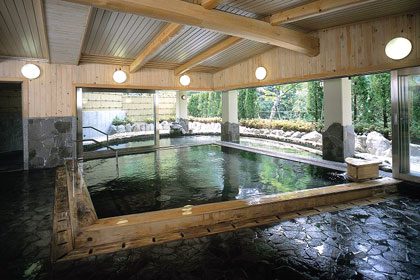 Japan Van prepares various tour itineraries for you to enjoy the view in Japan.
The minimum itinerary days is more than 5 days.
Contents of our service: We can arrange a car and a National Government Licensed Guide Interpreter for your trip.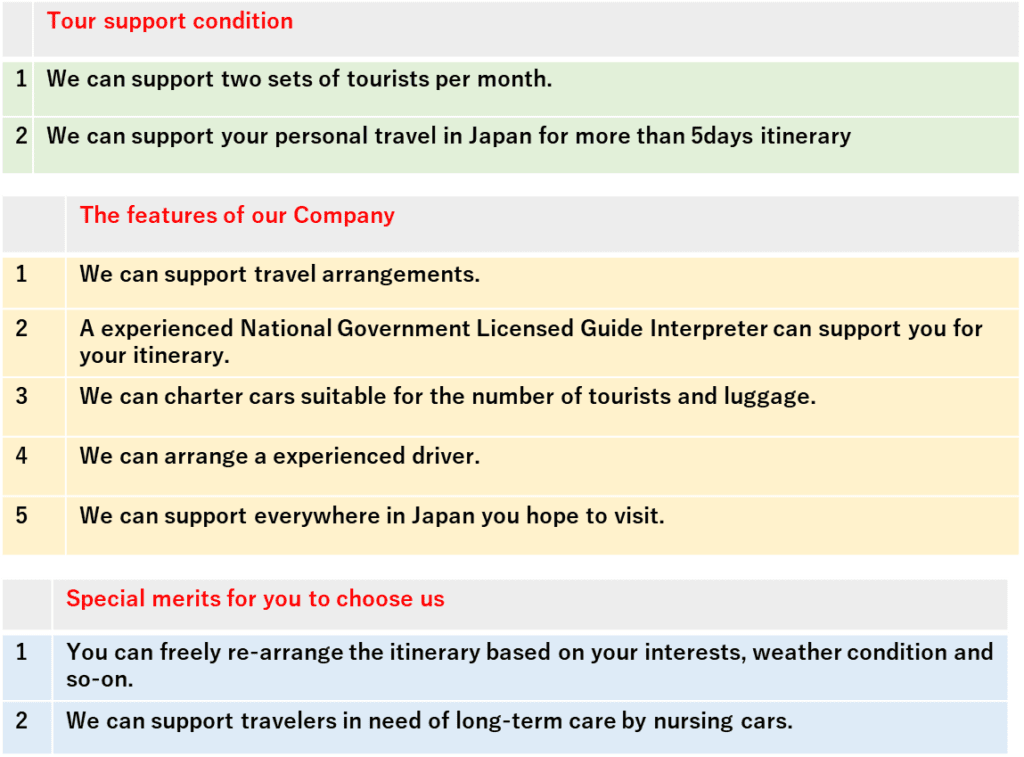 | | |
| --- | --- |
| | Car charter and a guide condition |
| 1 | Number of tourists: 2pax – 12pax |
| 2 | Charter time and guide condition: 12 hours (including 4 hours resting time) |