1) The place where you can experience:
(Horyuji-Temple):
Horyuji-Temple is located in Ikaruga-machi in Nara prefecture which was constructed about 1400 years ago by Prince Shotoku.
Ikaruga was located near Yamatogawa-river and the interchange to walk toward ASUKA which was 20km away from Ikaruga.
Therefore, Horyuji-Temple was built there as the transportation important place.
In ASUKA of Nara, Imperial capitals of each emperor were set as the political and cultural center during about one century from the end of 6th century to the beginning of 8th century where ASUKA culture with Buddhism as center culture had been flourished.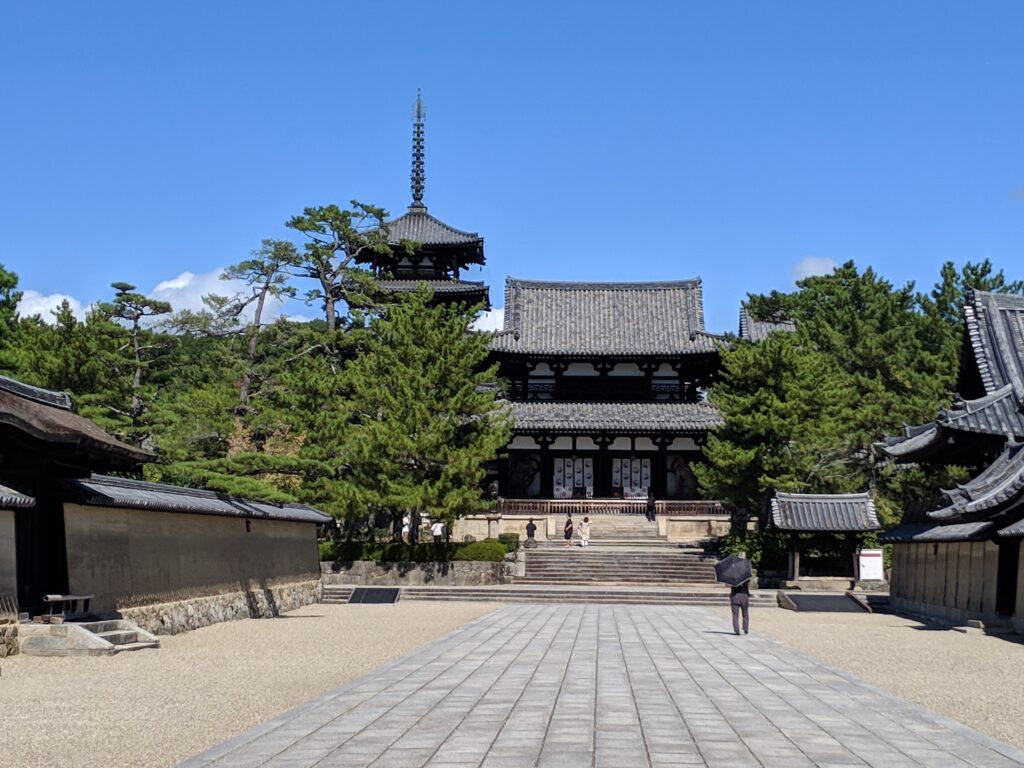 Prince Shotoku was born in 574 and became the regent of his aunt Emperor Suiko. He had devoted to build up the emperor-centered country.
Horyuji-Temple is the oldest wooden building in the world which has been restored and preserved continuously for the various damages of fires and natural disasters in each era in Japan by the special thoughts and beliefs to Prince Shotoku being transferred to people in each era.
Every time this building was restored or rebuilt by each architectural technology and style were reflected in each era such as Nara (710-794), Heian (794-1185), Kamakura (1185-1333), Muromachi (1336 – 1573), Momoyama (1573-1603) and Edo(1603-1868).
Such a miracle cultural value was evaluated and registered as UNESCO World Cultural Heritage at the first time in Japan along with Himeji castle.
By walking through the pine tree-lined approach, you can see Minami Daimon which is the national treasure. This is a main gate of Horyuji-Temple and built in Muromachi era (1573-1603) whose architectural form is eight-legged gate with a single story gabled roof.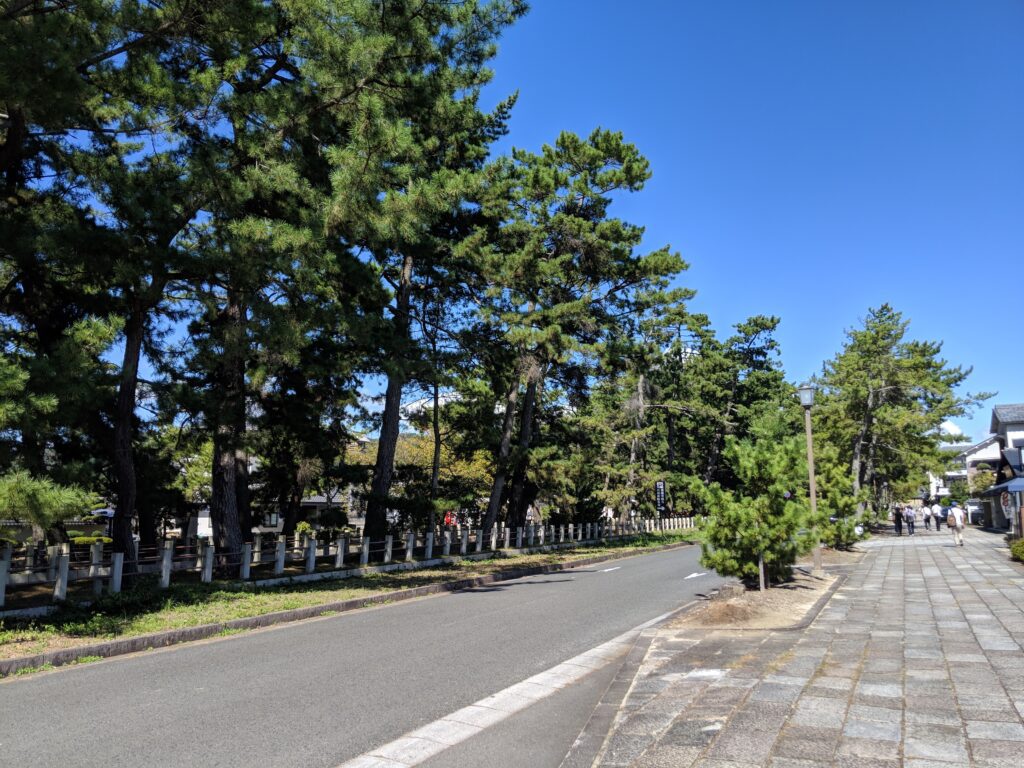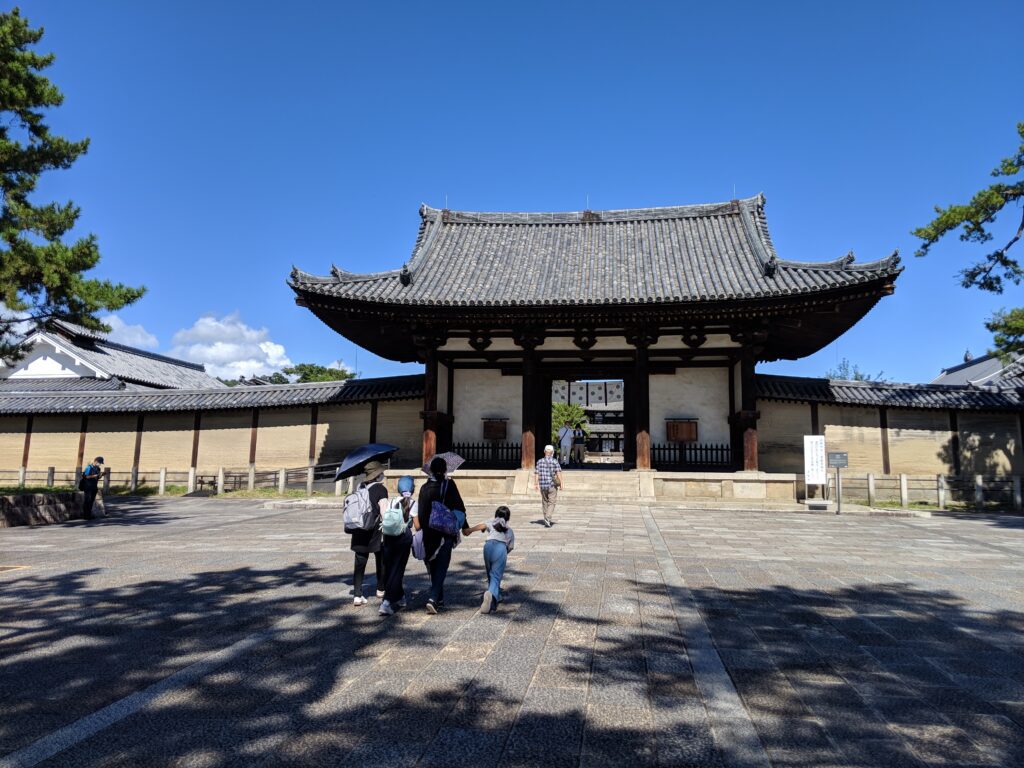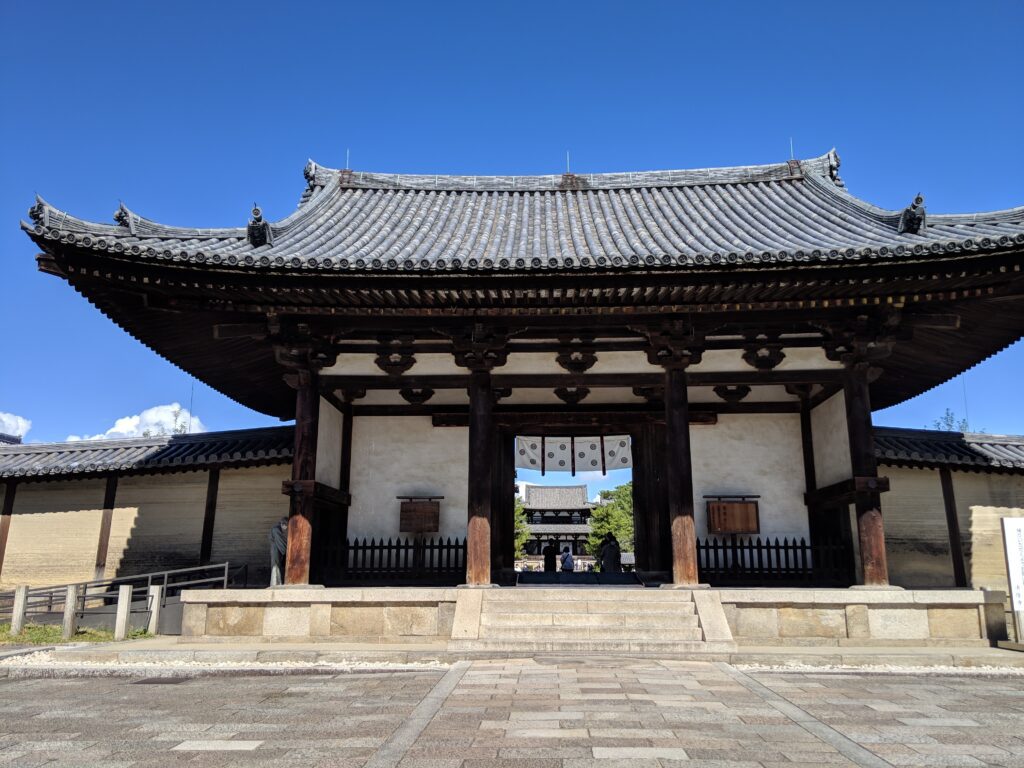 In the precincts, various national treasures and important cultural properties are lined up such as Kondo, five story pagoda, Nakamon-gate, Yomedono, Denpodou and so-on.
(a) Saiin Garan(The western precincts):
By walking through Nandaimon-gate and vast gravel road, you will find Nakamon-gate.
Nakamon-gate:
Pillats of Entasis style seen in Greek sculpture whose middle of copper is wider, swastika shape patterns and the railing shaped by human character bundle express the beauty of the architecture of ASUKA era.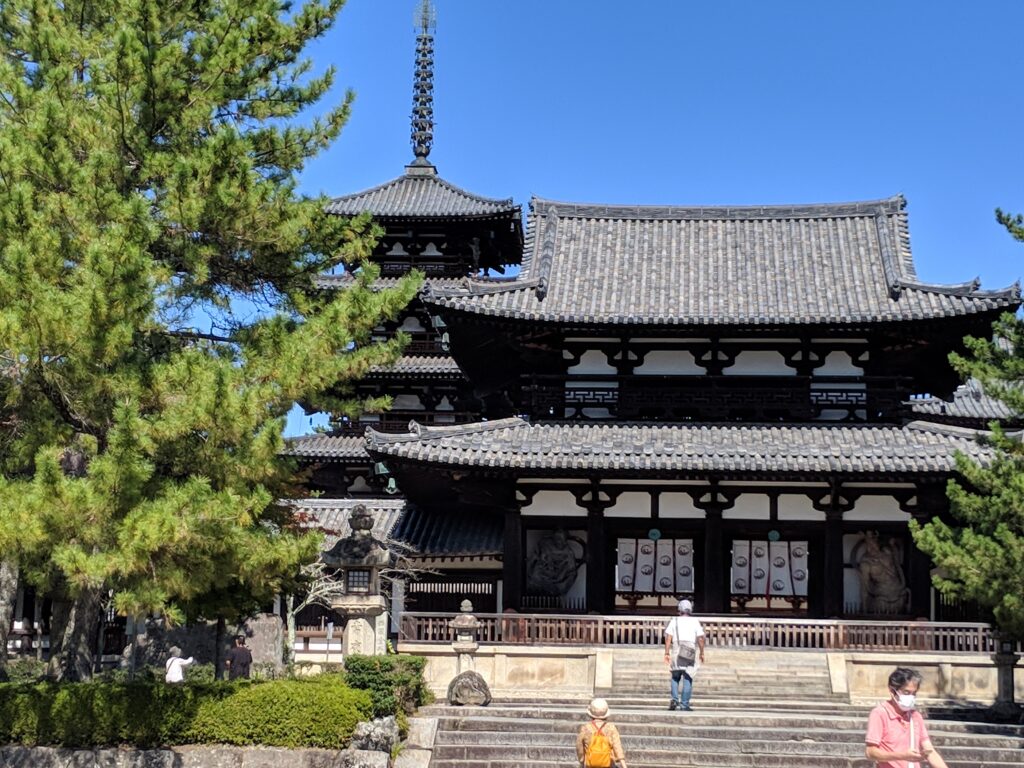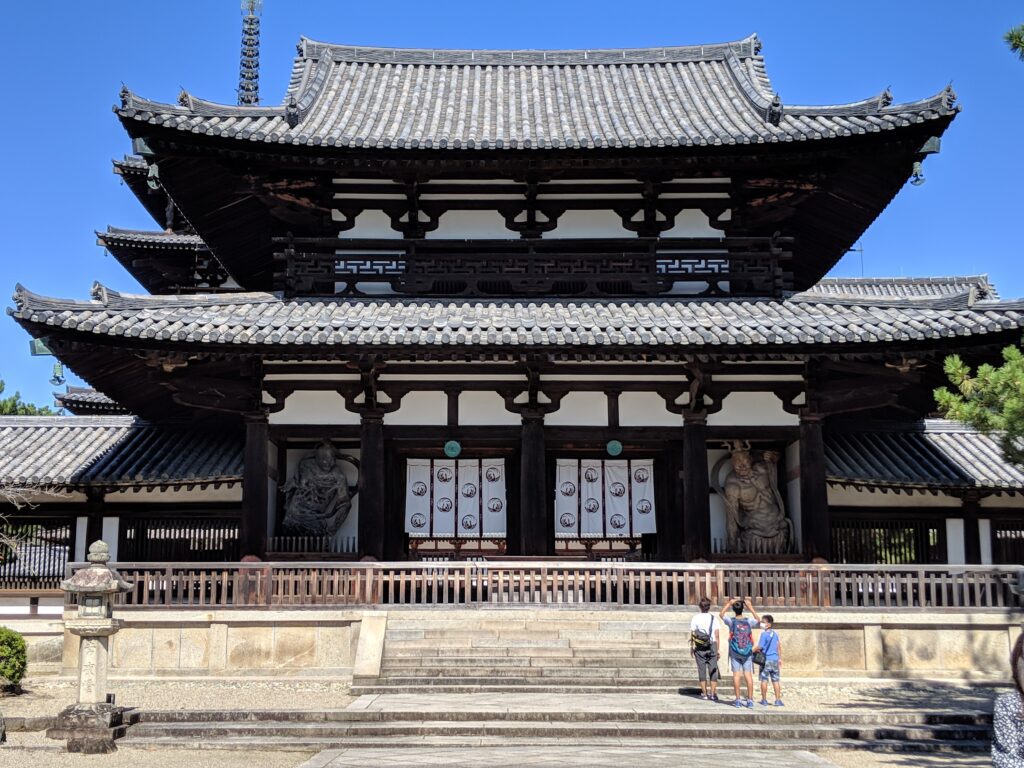 Two Kongo Rokishi statues are set in both sides of Nakamon-gate. These statues of a clay model were made in Tenpyo era (729 – 749).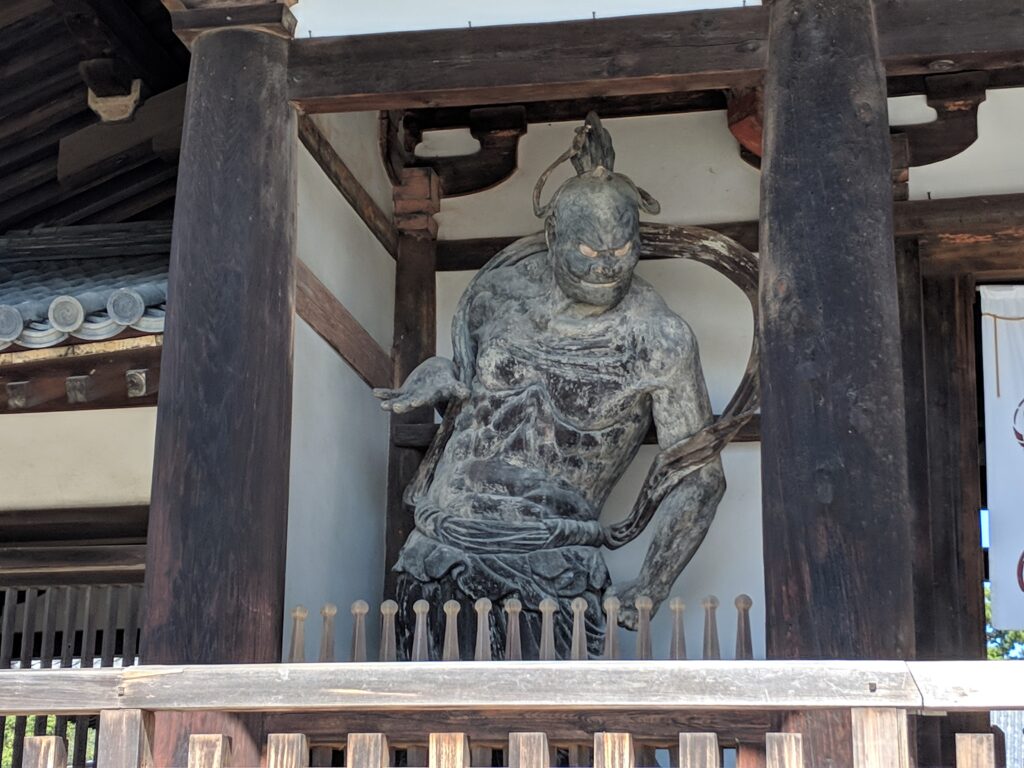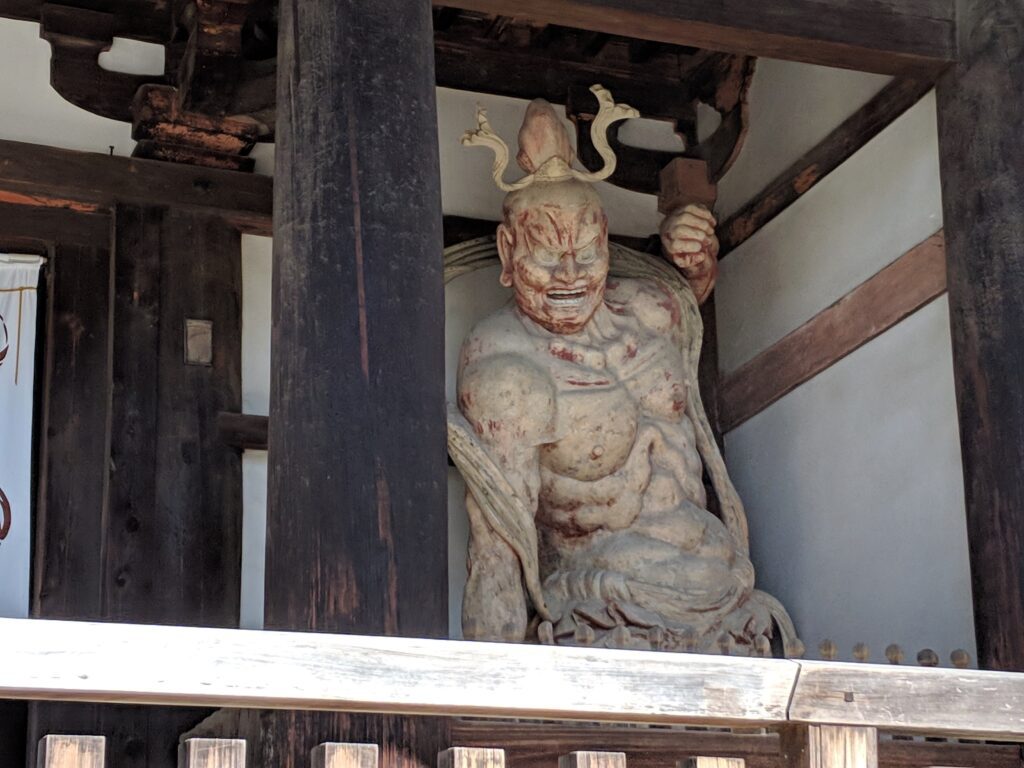 Kondo(Main hall):
This building is the oldest wooden architecture in the world whose style is multi-story gabled roof with a pen roof enclosure on the first layer.The upper layer is smaller than the first one that make this building be balanced.
The sharpness of overhang and warp of the roof is beautiful which show the effect from Chinese temple architecture in Hakuho era (645-710).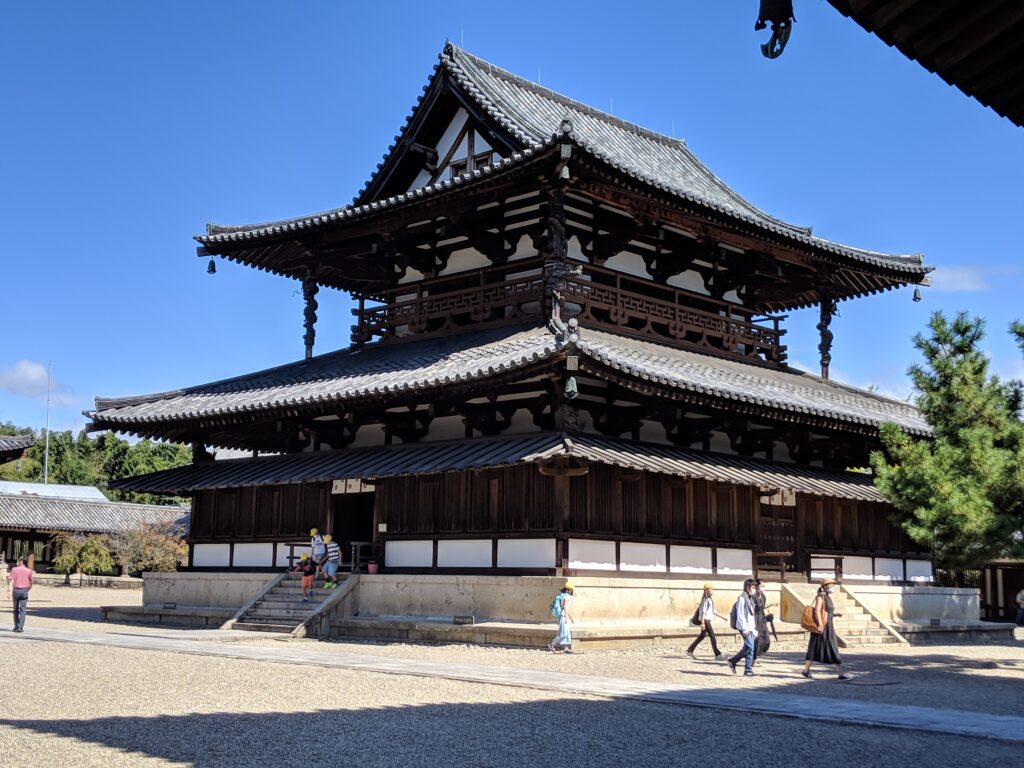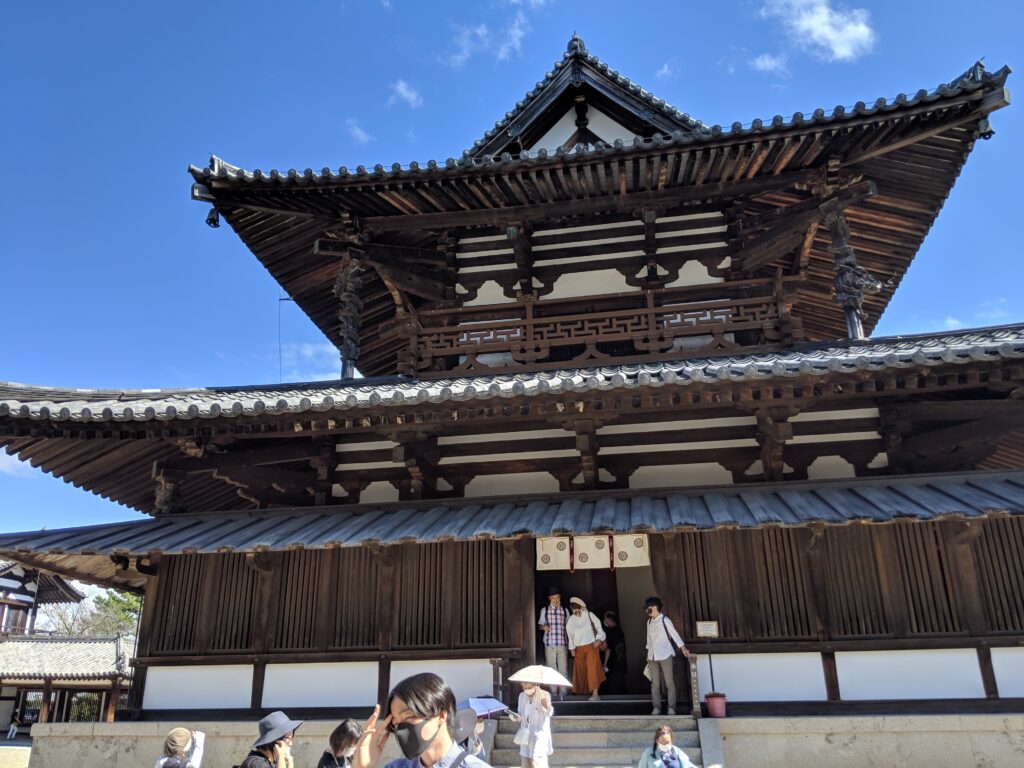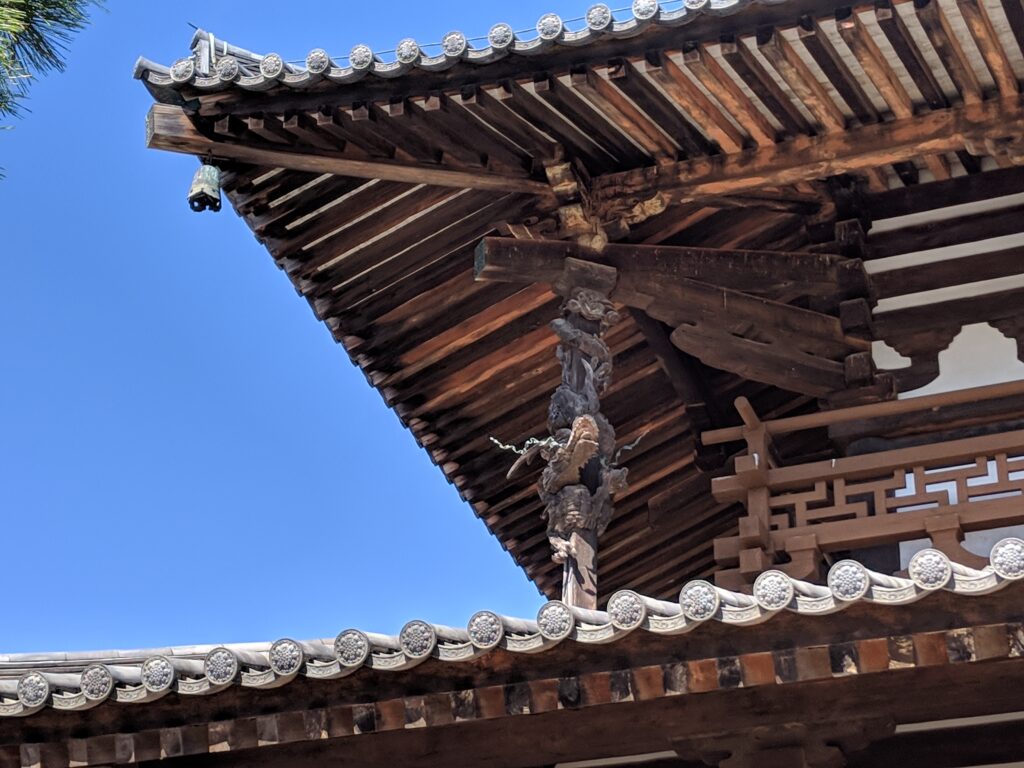 There are lots of Buddha statues enshrined inside Kondo (Photo forbidden). Shakyamuni triads is enshrined in the center which is the representative of the Buddha statue in ASUKA era whose face shows archaic smile and the height is life size of Prince Shotoku as 175cm. (Photos prohibited)
Seated Yakushi Nyorai and Amida Nyorai are enshrined on both side of Shakyamuni triads. These three statues are the principal images of Horyuji-Temple.
Corridor:
The corridor is arranged to push out from the both side of Nakamon-gate and connected to Daikodo in back side of the area with Kondo and Five story pagoda be encircled.
The pillars of corridor were designed after entasis of Greek architecture.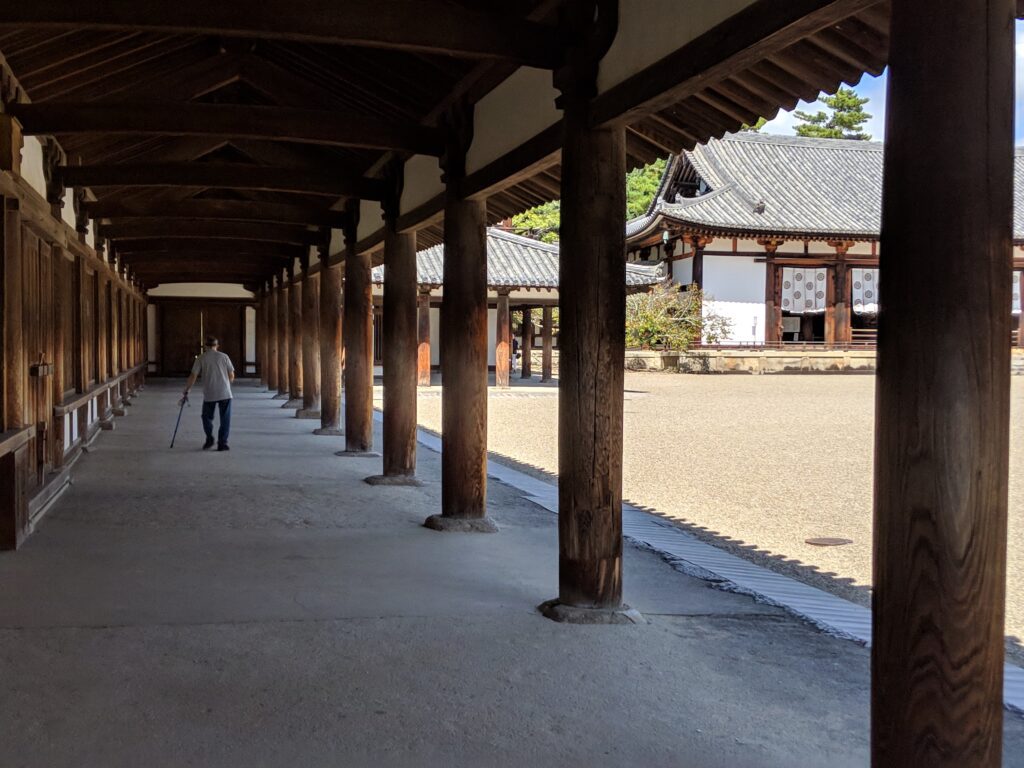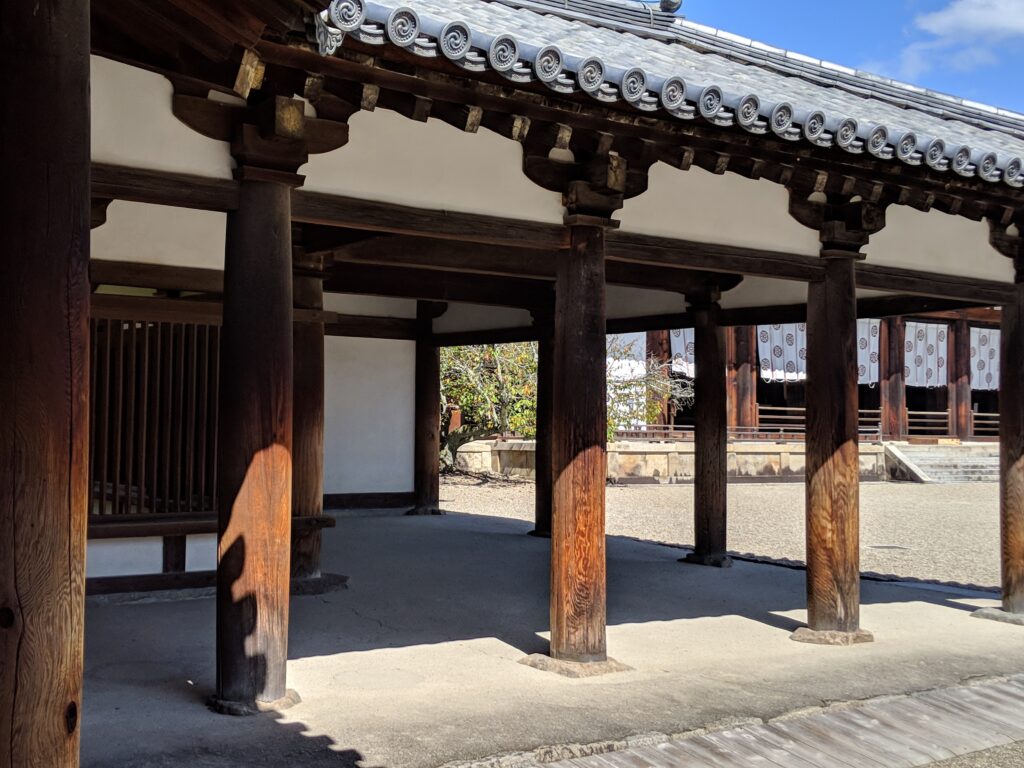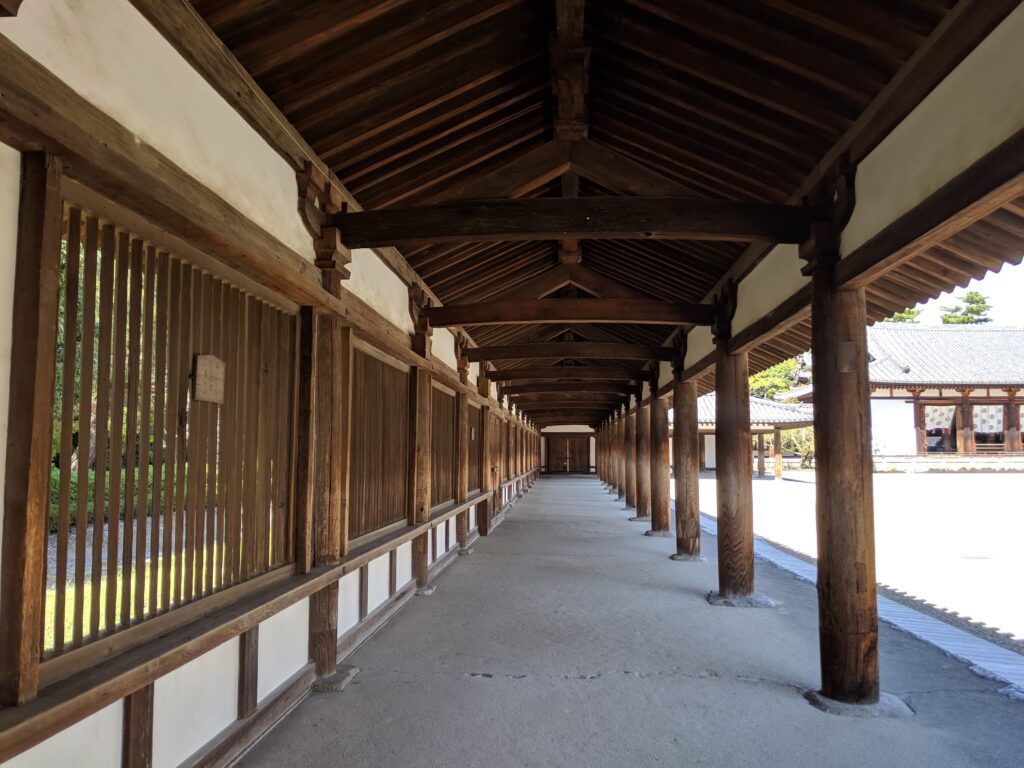 Five story pagodas:
The height is 34.1 meters which is as twice as Kondo height.
The ratio of size shrink for each layer is same that makes the size of top layer become a half of that of the first layer. The braiding set under each deep eaves and the original tiled roof lines warped gently are the characteristic of this building.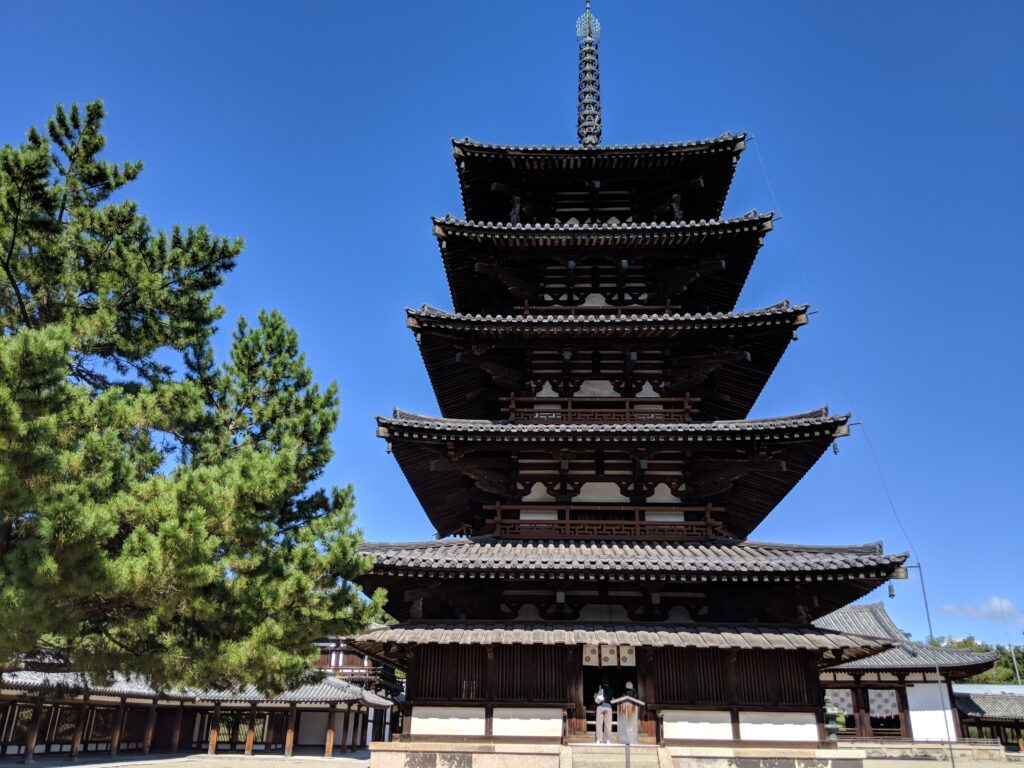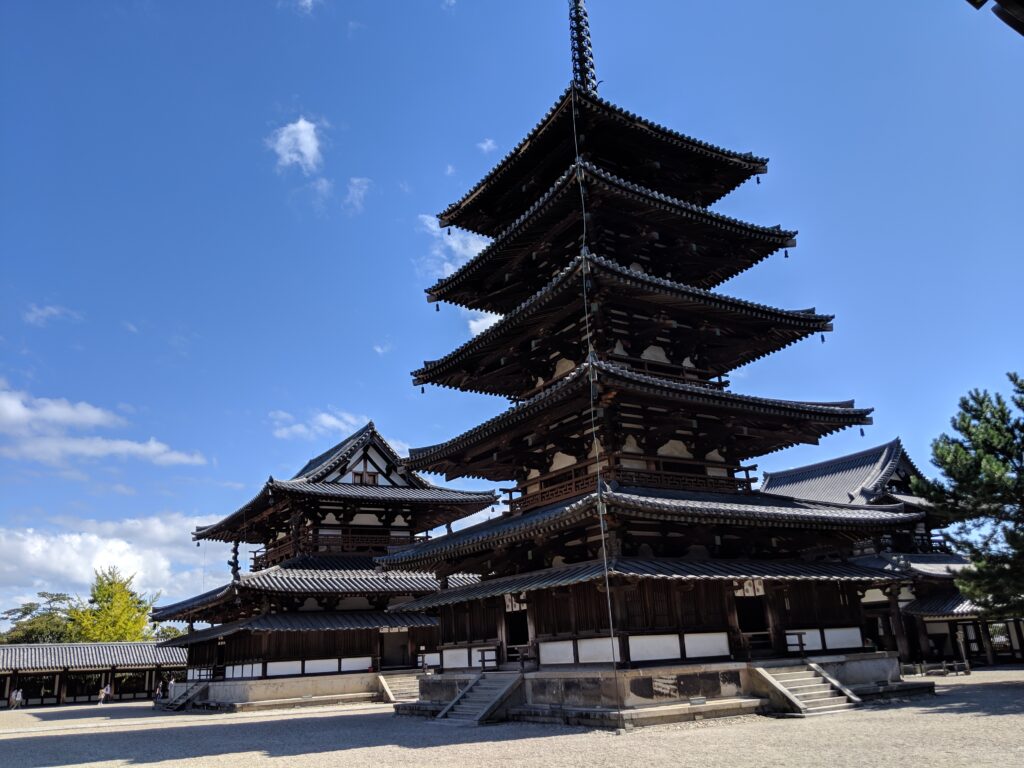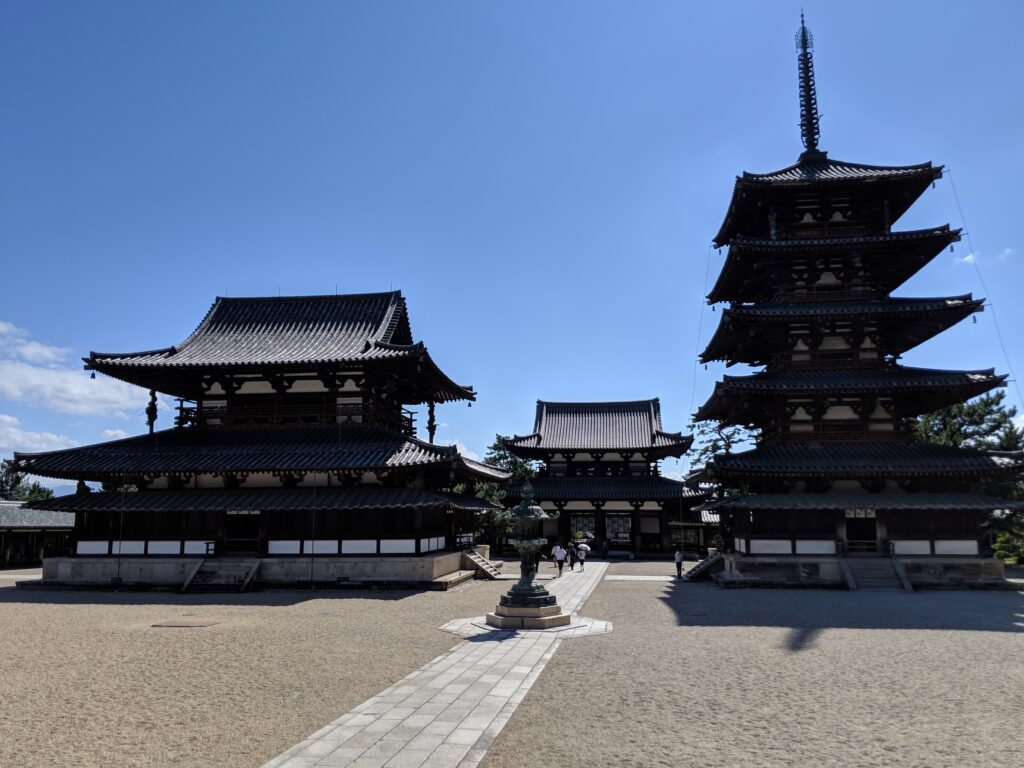 Dai-koudo Hall (Great lecture hall):
Dai-koudo Hall is located in north end of the western precincts which was re-built in 990 of Heian era. This is the training ground for monks where Yakushi Sanzon staue along with Nikko Bodhisattva and Moonlight Bodhisattva are enshirined.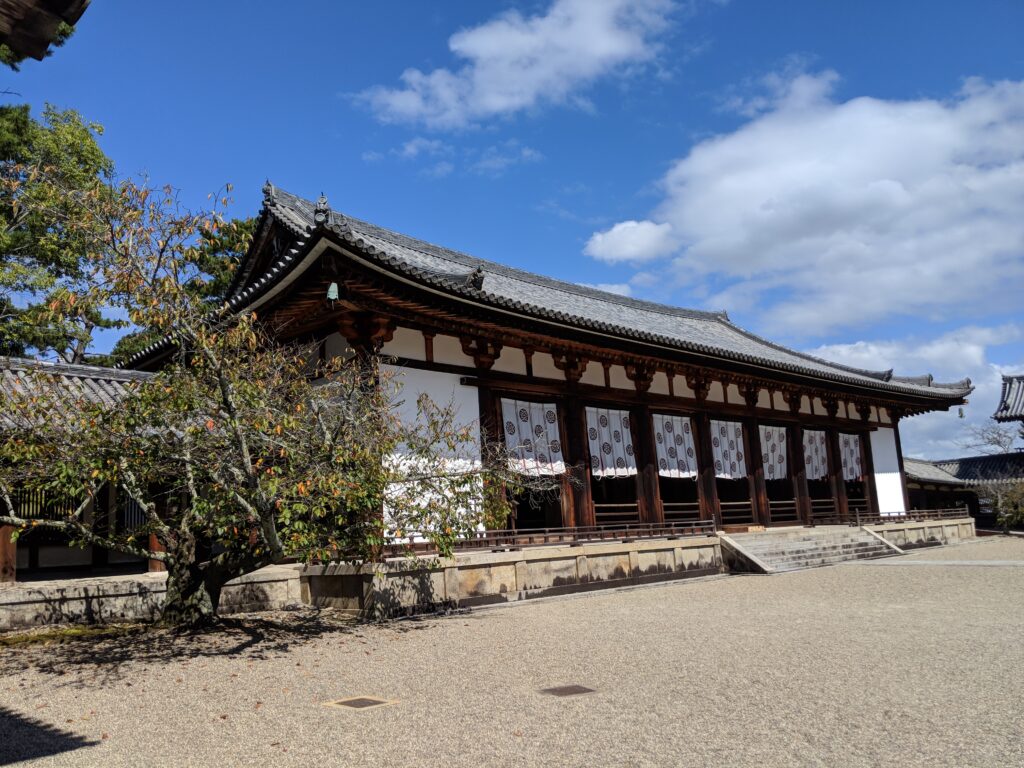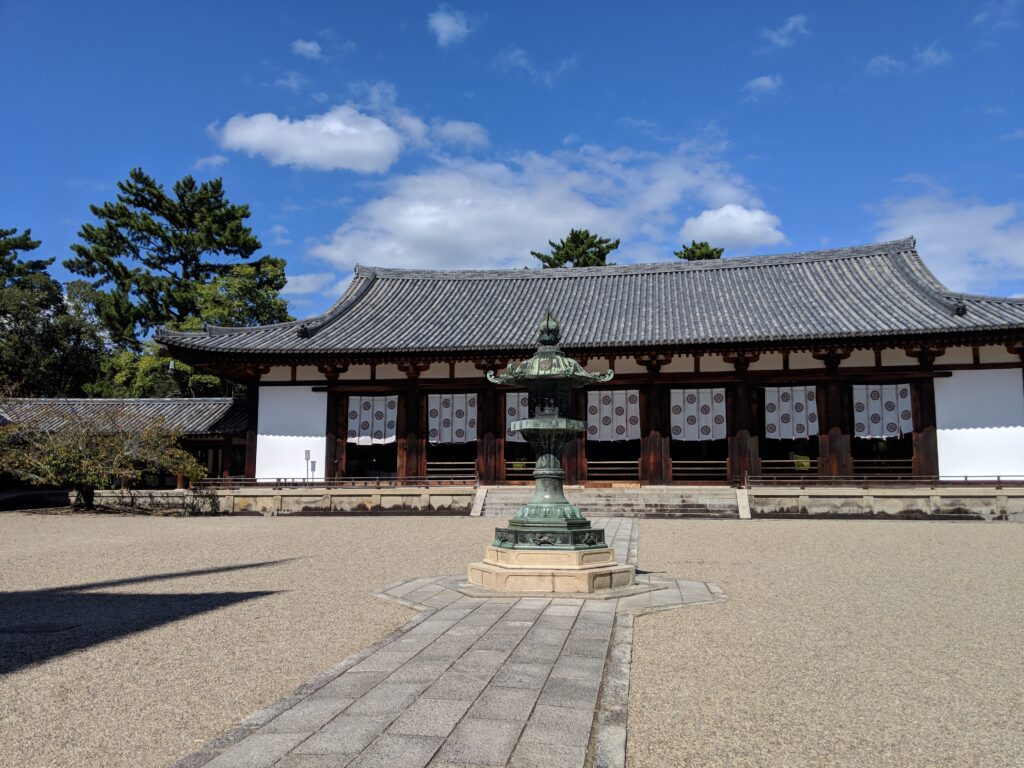 Seirei-in (Holly spirit temple):
Seirei-in is the place where the statue of Prince Shotoku are enshrined which is life size of Prince with Japanese cypress one-piece construction.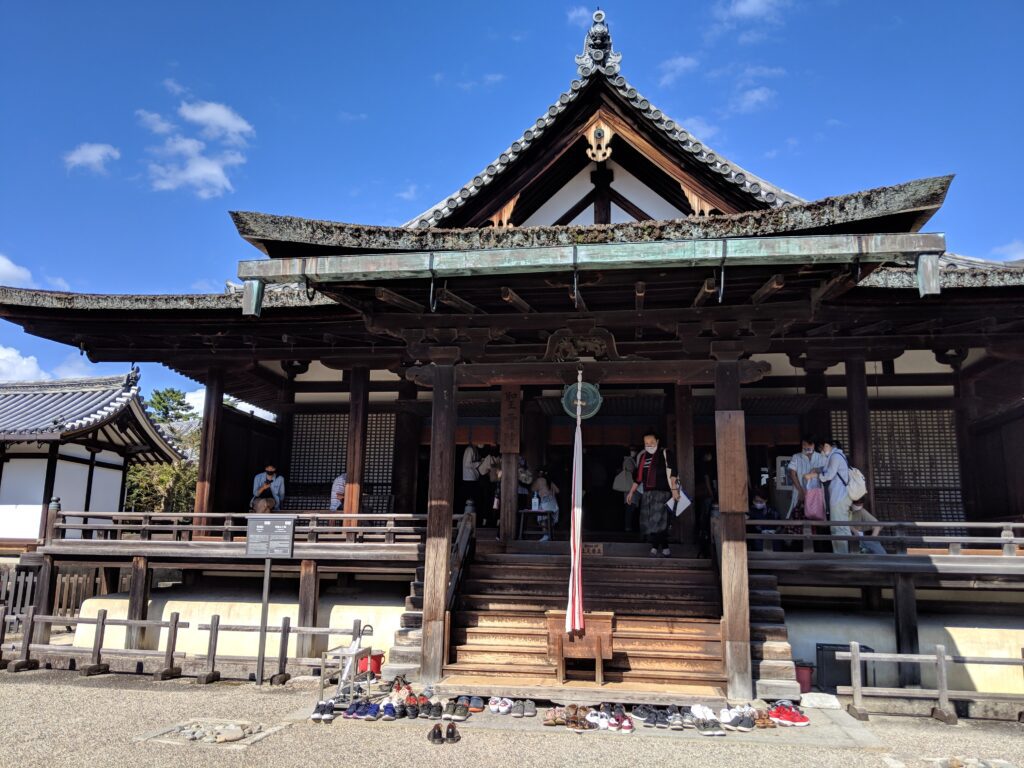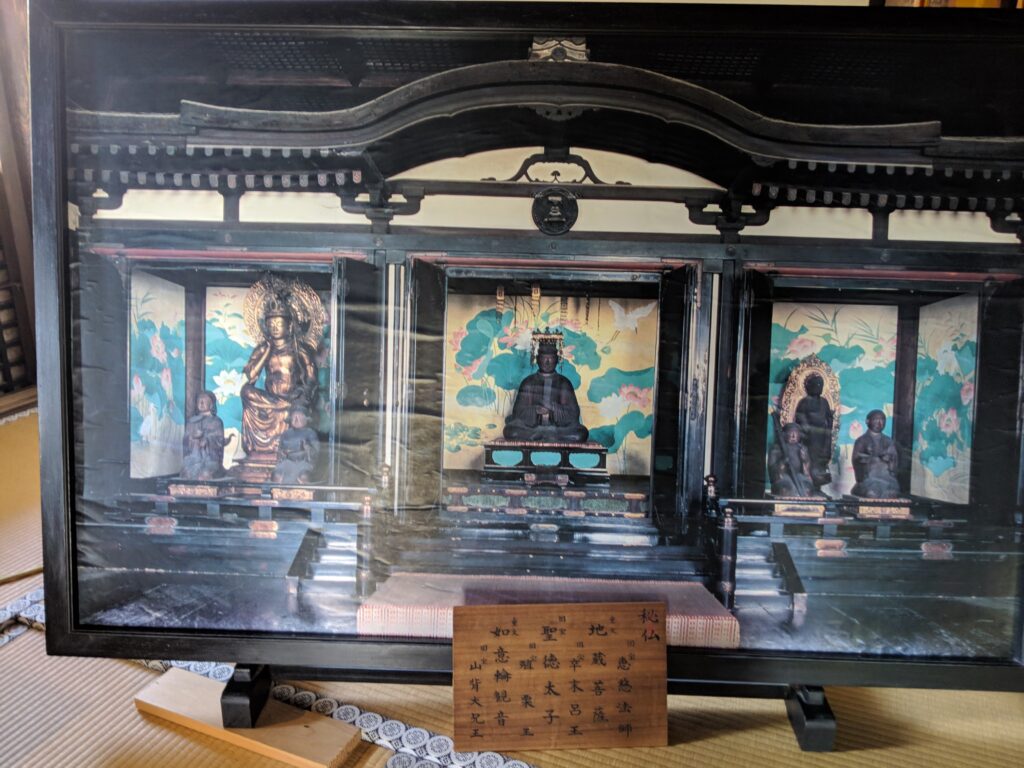 Daihozo-in (Kudara Kannon temple):
Daihozo-in is a treasure house built in 1998 where lots of treasure related with Horyuji temple are exhibited, mainly as Kudara Kannon statue as National treasure.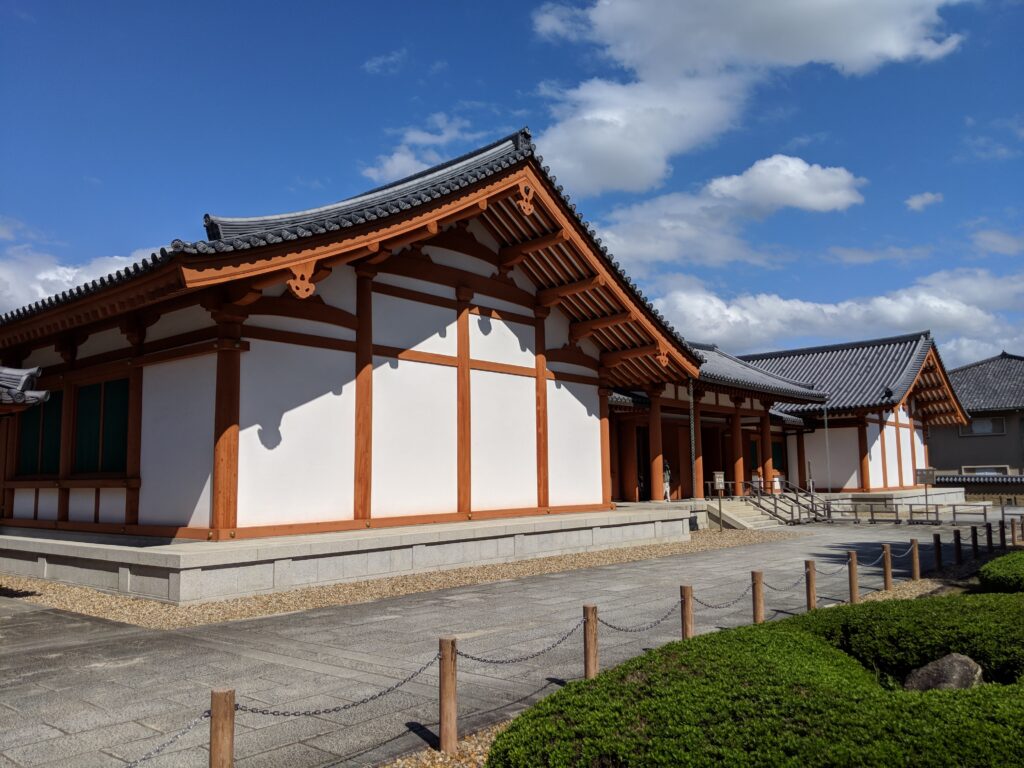 (b) Eastern precincts:
This precincts area used to be a residence ruin of Ikaruga capital. This is the sacred place of Prince Shotoku.
(Higashi-Daimon gate):
Higashi-Daimon gate is an eight legs gate on the road from western precincts to eastern one which was built in Nara era (710-794)
The architectural style of this gate is three-story structure with three ridge poles are set from south to north which is the style of Nara era.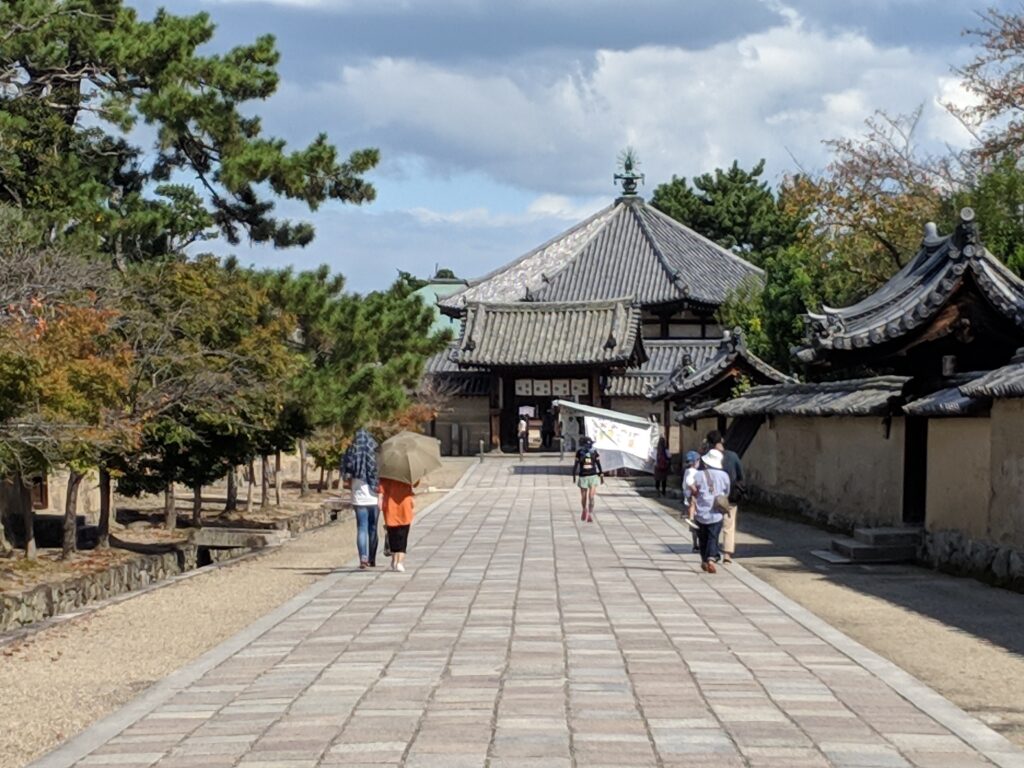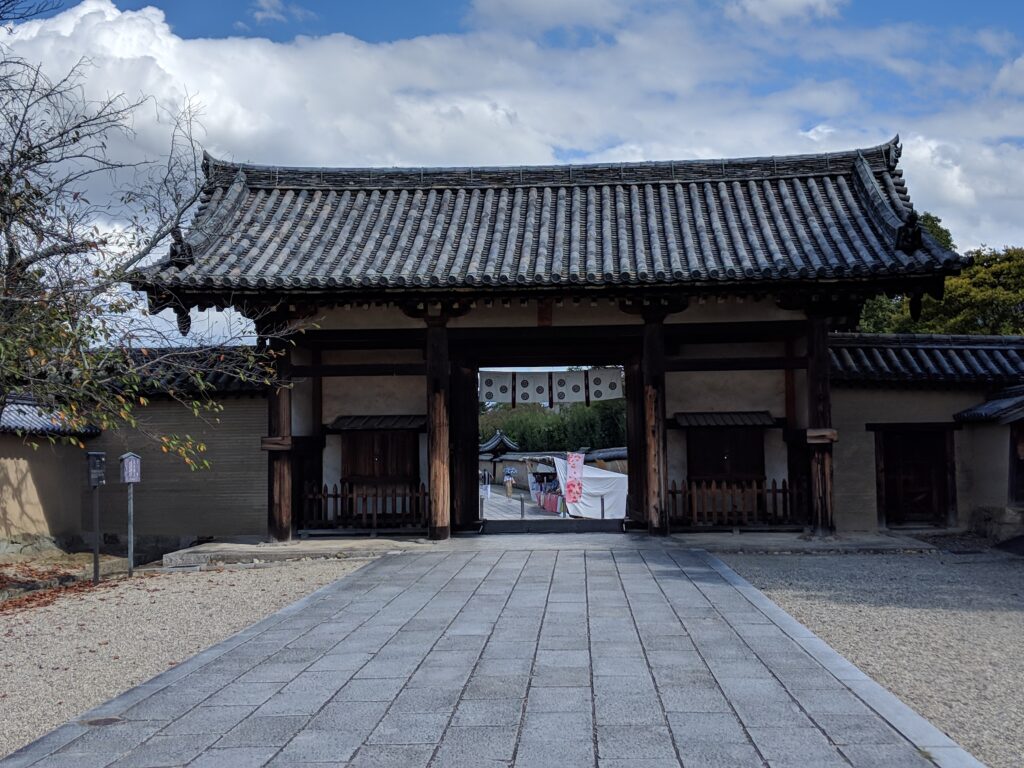 Yumedono (Hall of Dreams):
Yumedono is a octagonal hall with jewels set on the roof which is the main hall of eastern precincts. This hall was built in 748 of Tenpyo era (729-749) and restored in 1230. This is the residence ruins of Prince Shotoku in Ikaruga capital and the sacred place of prince worship.
The wooden standing statue of Kuze Kannon is enshrined in this hall whose height is life size of Prince as 180cm with gold leaves attached on Japanese cypress one-piece construction and you can see the archaic smile on the face.
This statue had been a secret Buddha statue from 739 when it was enshrined, however thanks to the effort by Ernest Fenollosa who had surveyed there, the statue has been opened to the public.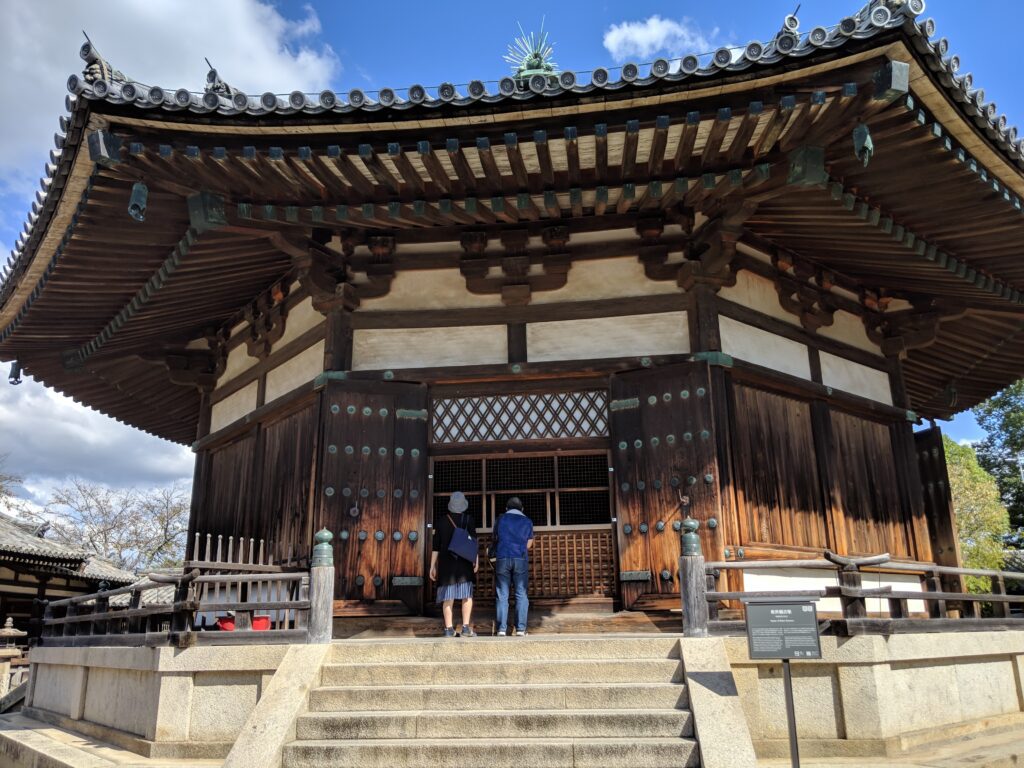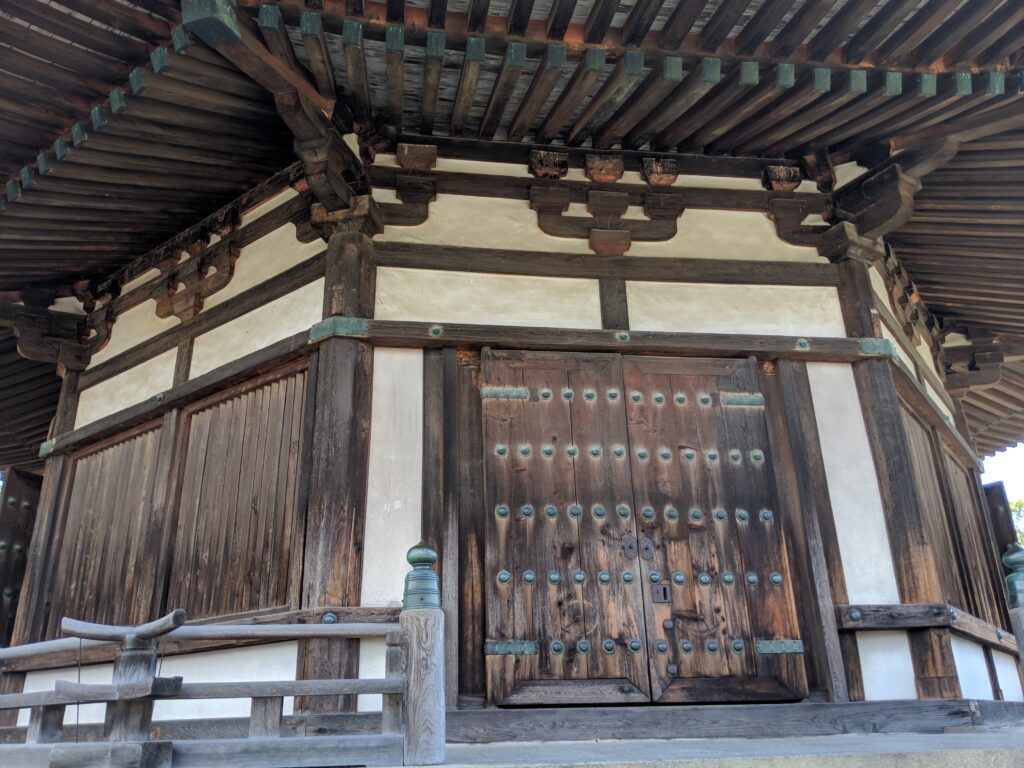 2) The place where you can enjoy::
(Heijyokyo Ruins):
Heijyokyo use to be a capital of Japan from 710 to 794 in Nara era and was built with Chang'an as a model. Daigokuden, Dairi, Chodoin and so-on had been lined up by arranging the road as a grid pattern.
Heijyo palace used to be located in the north edge of where the residence of emperor and government offices had been gathered. Those area including various buildings has started to be newly established and maintained from 2010 and continued even now.
In vast green site with East-West 1.3km and Nort-South 1.0km, there are restored Suzakumon-gate and Toin-Teien. This area was registered as UNESCO World Cultural Heritage as cultural property of ancient city Nara in 1998.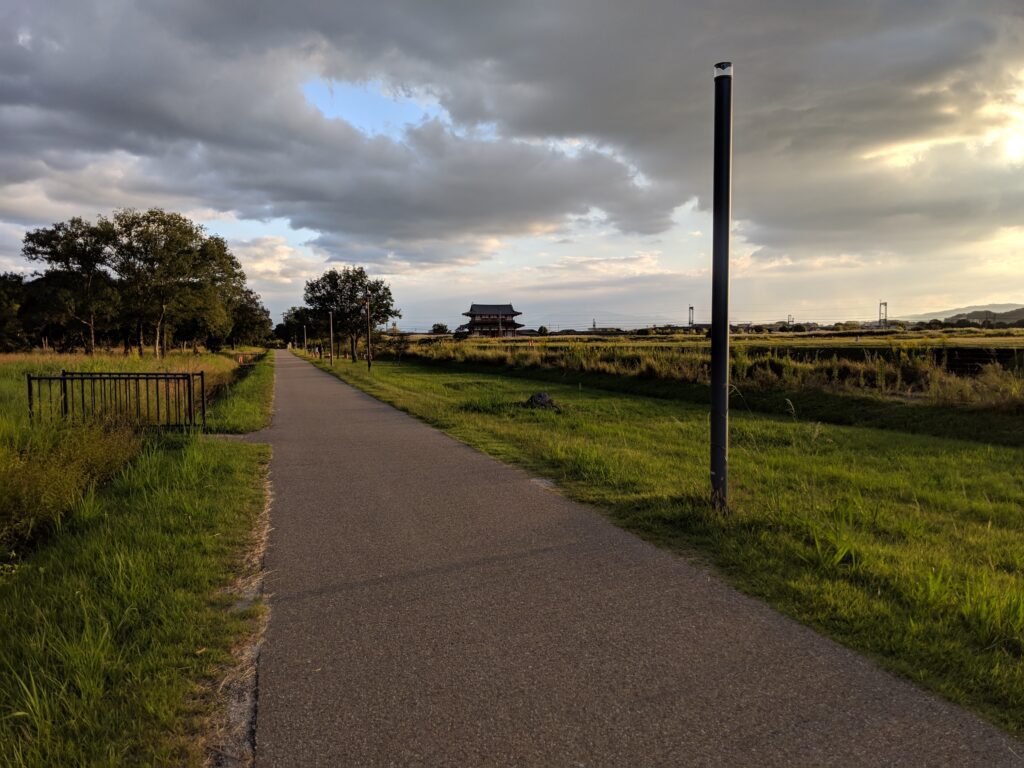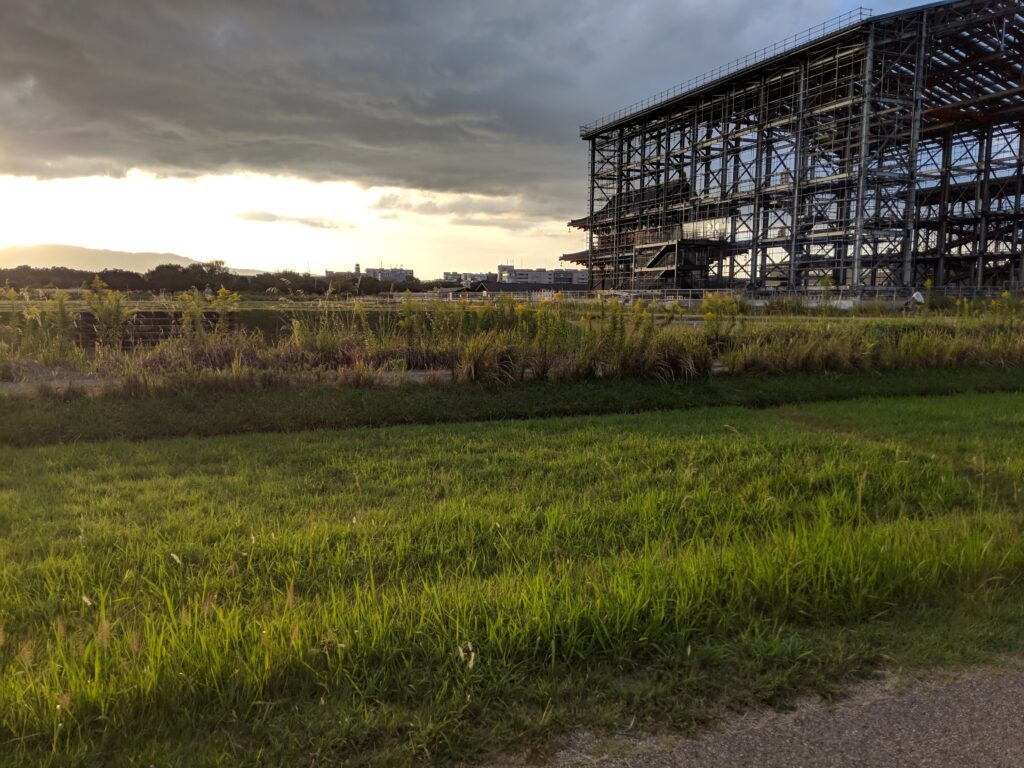 Suzakumon-gate:
Suzakumon-gate is located in the south of Heijyokyo ruins. The square in front of the gate was the place where people in Nara era celebrate. Emperors had come to the gate in new year days and sent messages to the people.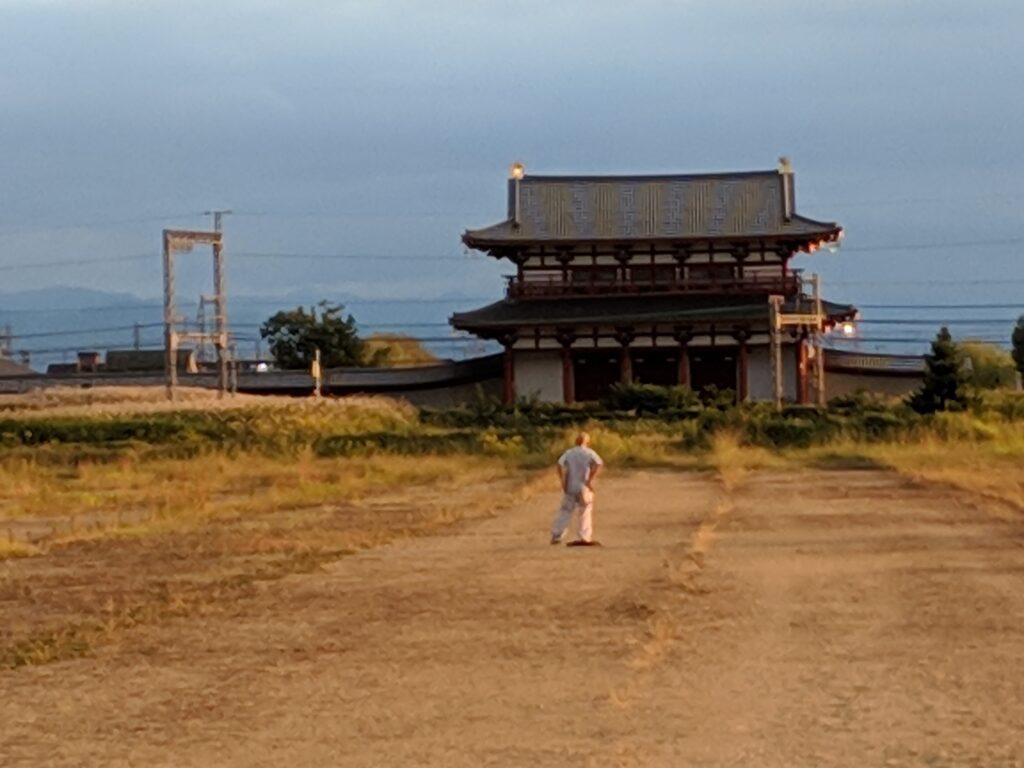 Suzaku-Ooji road used to be a main street which penetrate Heijyokyo from south to north with 74 meters width. The Suzaki-Ooji has been restored as it was in the past.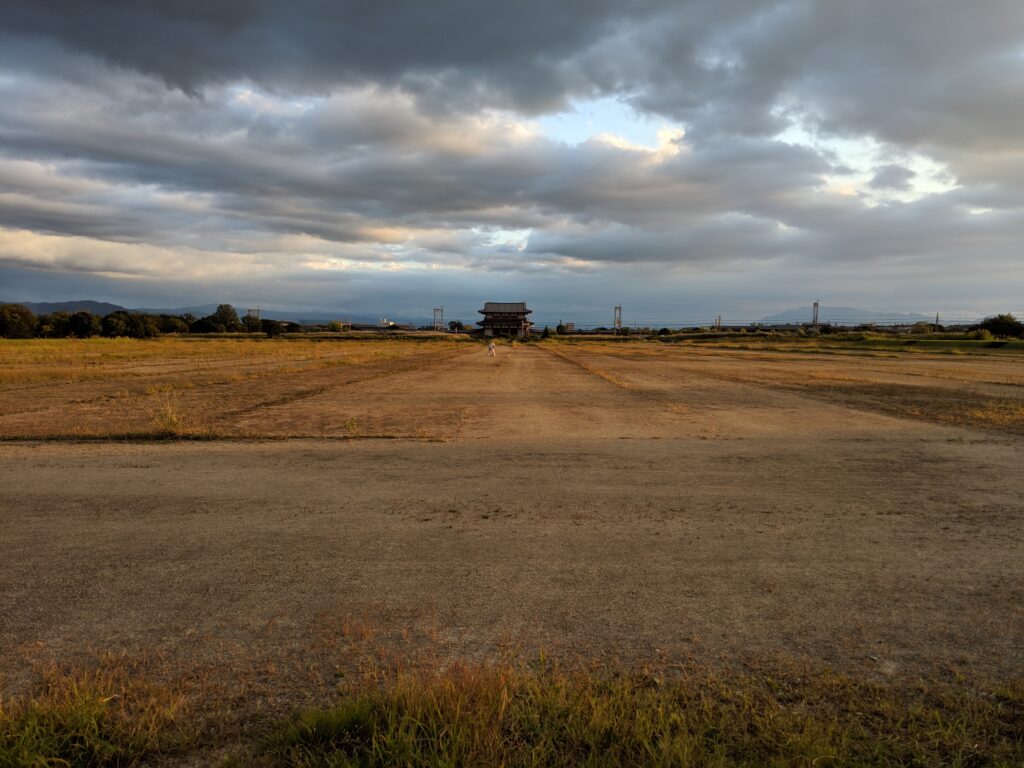 Daigokuden:
The first Imperial Audience Hall including Daigokuden is located in north of Heijyokyo ruins whose area is 320 meters of south-north and 180 meters of east to west.
The site was the central facility where important national rituals such as ceremonies of Emperors' coronation, audiences with foreign envoys and so-on.
Daigokuden was restored in 2010, South-gate was restored recently and Chikuji-Kairou, and East-West tower will be restored in future.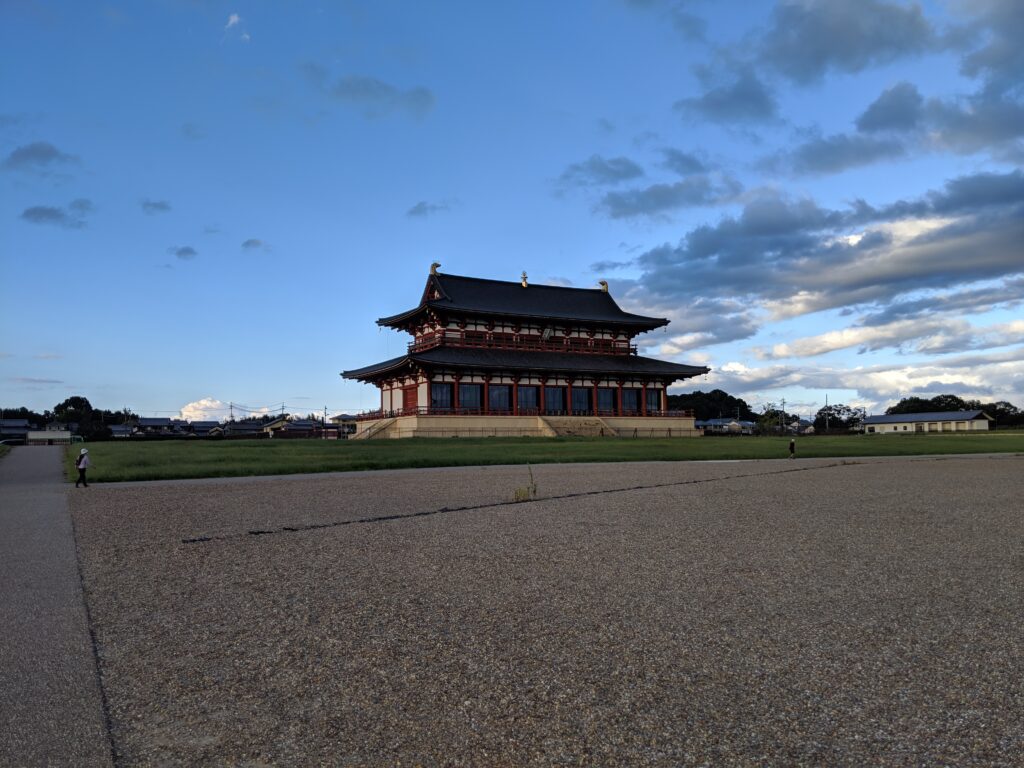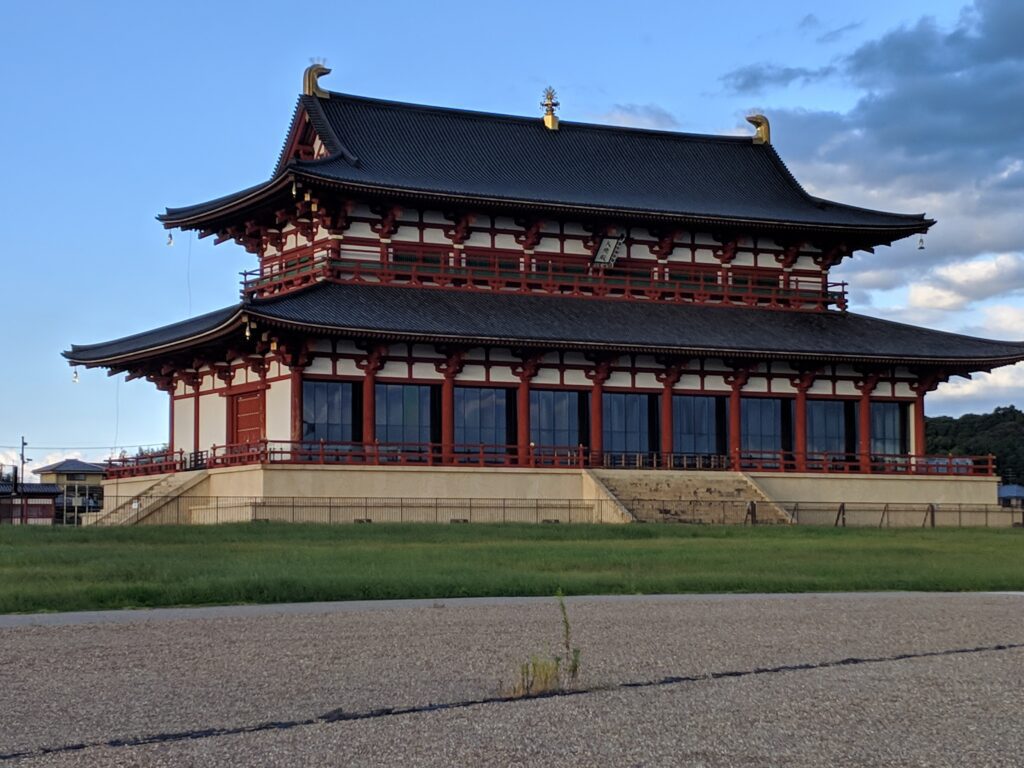 South-gate:
South-gate is a front gate of the first Imperial Audience Hall where Emperors had appeared in case of rituals. The building was restored as double gate of Irimoya-zukuri (half-hipped) whose frontage is 20 meters, depth 8.8 meters and height 20 meters, built on foundation stones.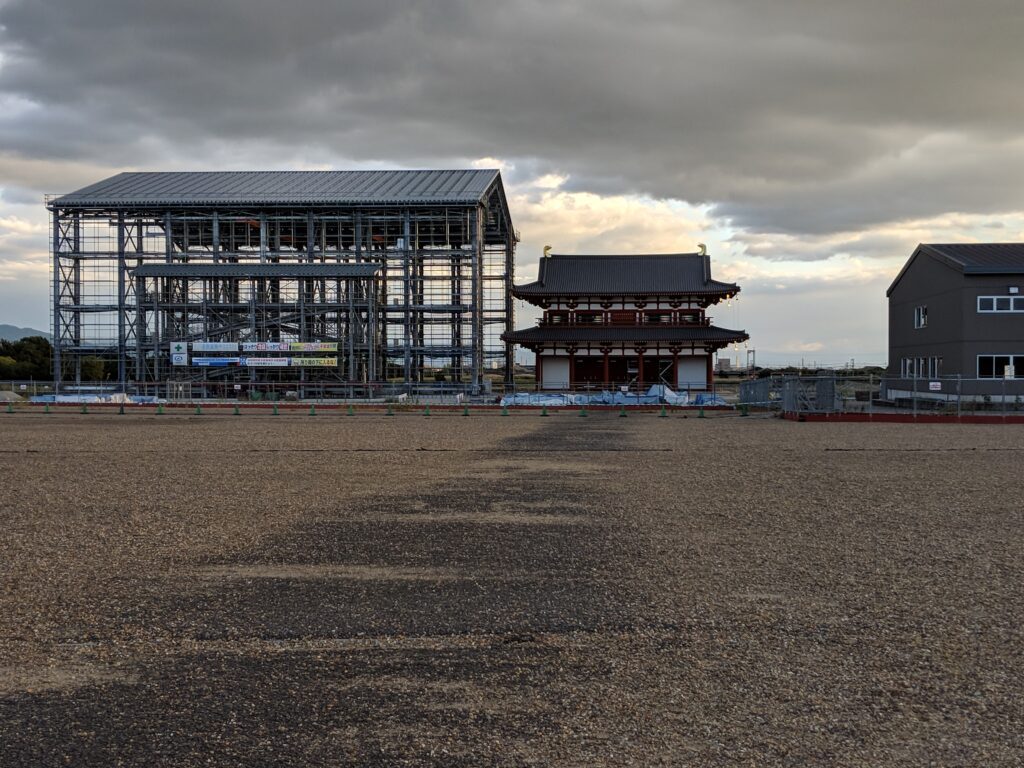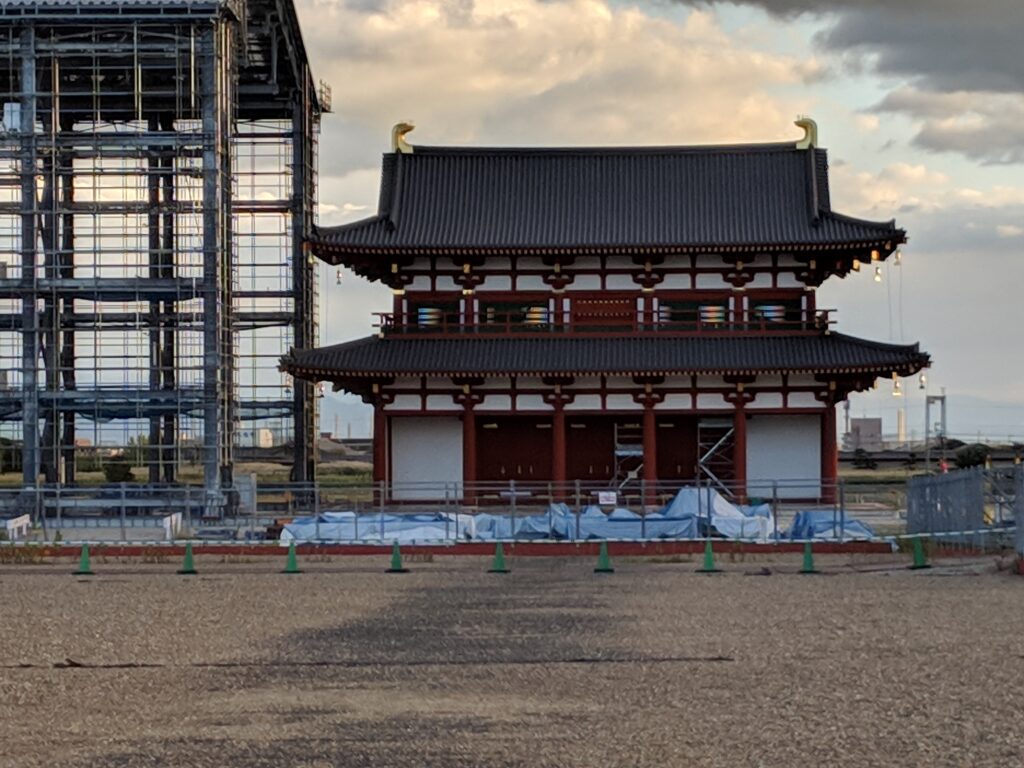 Japan Van prepares various tour itineraries for you to enjoy the view in Japan.
The minimum itinerary days is more than 5 days.
Contents of our service: We can arrange a car and a National Government Licensed Guide Interpreter for your trip.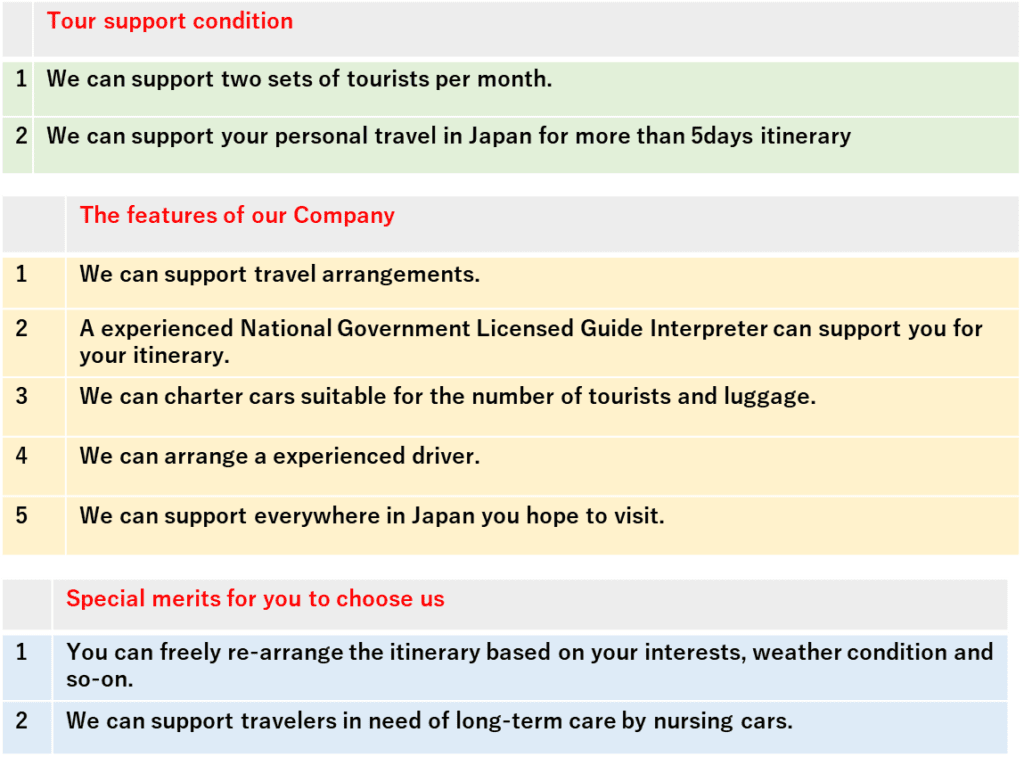 | | |
| --- | --- |
| | Car charter and a guide condition |
| 1 | Number of tourists: 2pax – 12pax |
| 2 | Charter time and guide condition: 12 hours (including 4 hours resting time) |