We would like to introduce Kanazawa where you can have an impressive experience by watching the remains of castle town established by a local feudal load of Samurai worriers, Toshiie Maeda who did enormous role during Azuchi-Momoyama period (1573~1600).

Toshiie Maeda had survived as one of top Samurai worries and local feudal load of Kanazawa castle during the Warring states period.
He had served to his loads such as Nobunaga Oda, Hideyoshi Toyotomi and great role for them to unify Japan.
Also his son Toshinaga Maeda had served to his load of Ieyasu Tokugawa who had established Edo area (1603 ~ 1867).
Due to above historical effort by the successive load of Maeda family, they could have kept the load of Kanazawa castle as number one crop yield of 1 million among the loads in Japan as the servants to Tokugawa Shogunate.
The ancient atmosphere of current Kanagawa city such as Nagamachi Samurai residence, Higashi chaya, Kenroku-en garden, Kanazawa castle and so-on come from the heritage of Maeda family.
Kanazawa is called "Little Kyoto" and promoting it as a town having traditional beauty like Kyoto.

1) The place where you can experience:
Kenroku-en Garden:
This garden is one of the most famous landscape garden in Japan.
There are three artificial hills, two beautiful ponds and bipedal stone lantern which is a symbol of the garden that stands with one foot in the water and the other on an islet.
(Kotoji-Torou / garden lantern):
This lantern has forked-foot whose height is 2.67meter and create beautiful scenery combined with old trees of autumn and rainbow bridge on a meandering stream.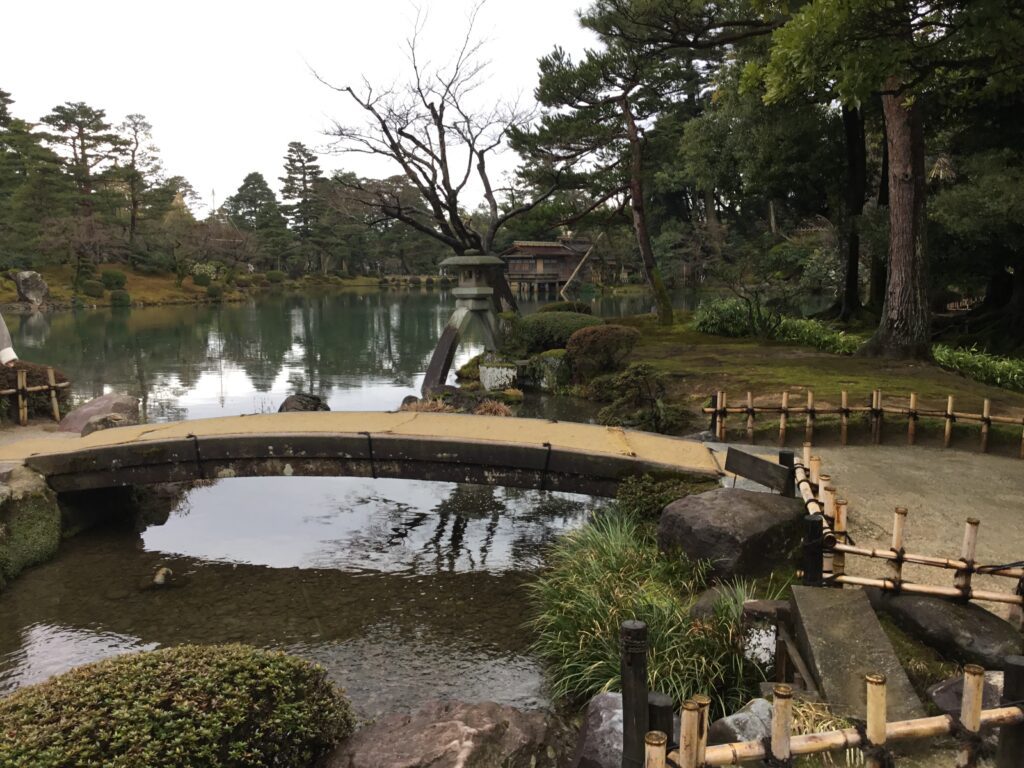 (Karasaki-matsu / pine tree):
This pine tree was raised by 13th generation feudal load, Nariyasu by getting the Seeds of Karasaki-matsu grown by Lake Biwa. This pine trees are the best shape of a tree in Kenroke-en garden. Yukitsuri to place ropes or wires stretched from the top of a tree to the lower branches to prevent their breaking under heavy snow is the things that reminds one of a particular season during winter.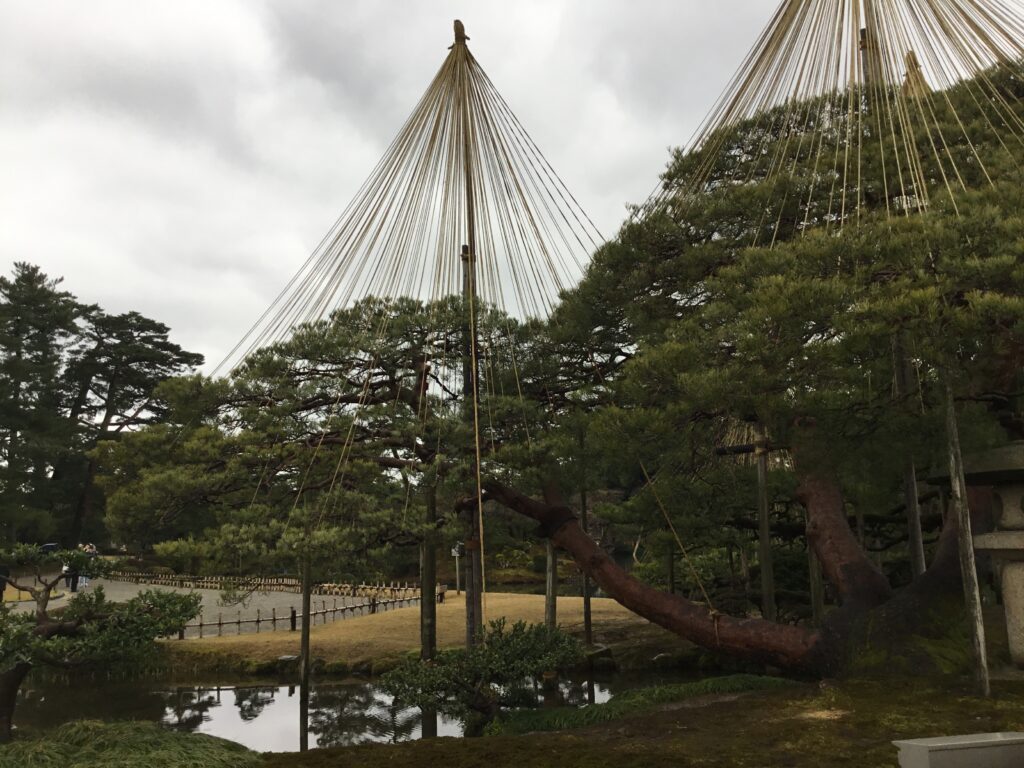 (Negamimatsu):
Neagarimatsu (pine tree) in Kenroku-en garden is famous for its' roots which consists of 40 pieces with large and small and gradually is rising up to the height of 2 meter. The figure impress people by its' powerful strange spectacle.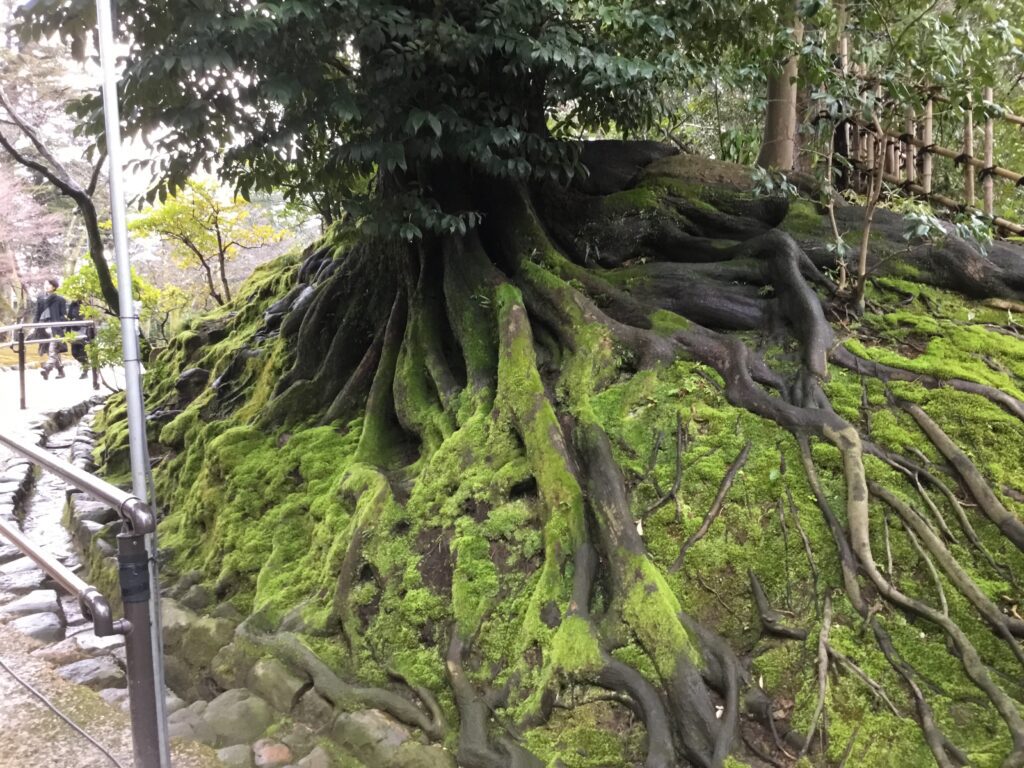 (Gankobashi):
11 numbers of stone are lined up which look like wild geese fly away in a queue.
It is said that if you walk through this bridge, you will live longer.
At present, due to the bad wear, the walking on this bridge is prohibited.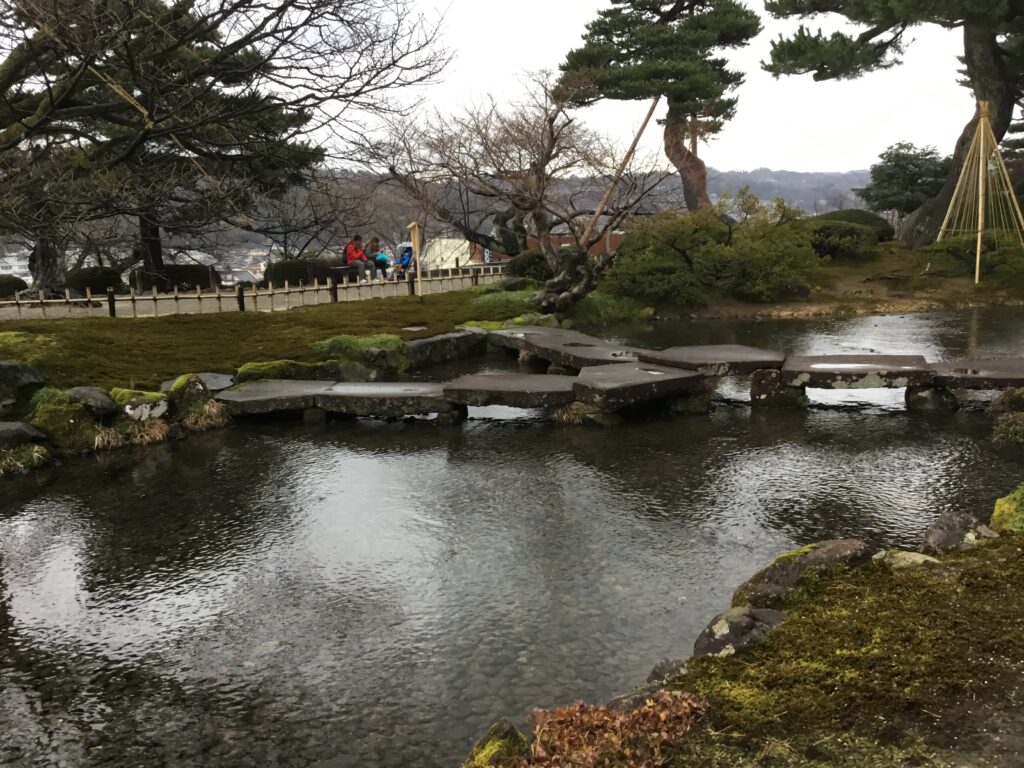 (Kasumigaike-pond):
This pond is located on the center of Kenrokuen-garden whose size is around 5800 square meters which is the largest size in this garden. You can see and experience different type of landscape depending on the angle you see. In this pond, wildduck and snowy heron usually take a rest and several fish such as carp are swimming which let you be relaxed.
I recommend you to walk to see this garden along with this pond.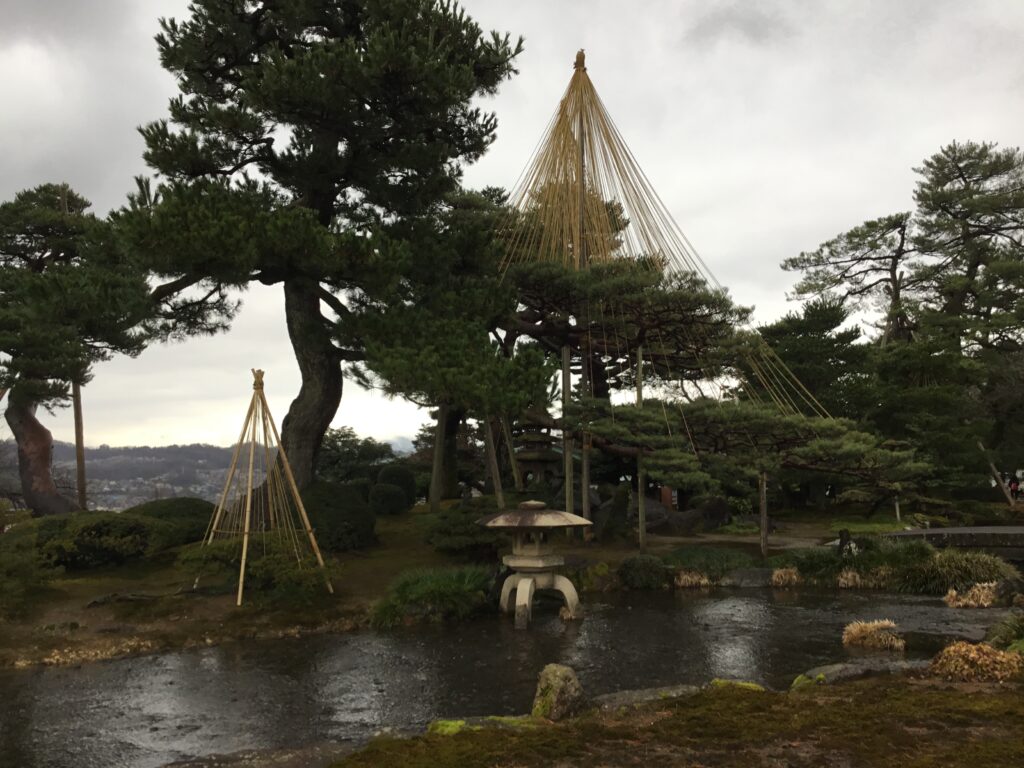 (Meandering stream): tour
In this Kenrokuen garden, the Meandering stream of 570 meter are set around everywhere. The water is pulled down from Tatsumi-service water gained from upper stage of Saigawa-river.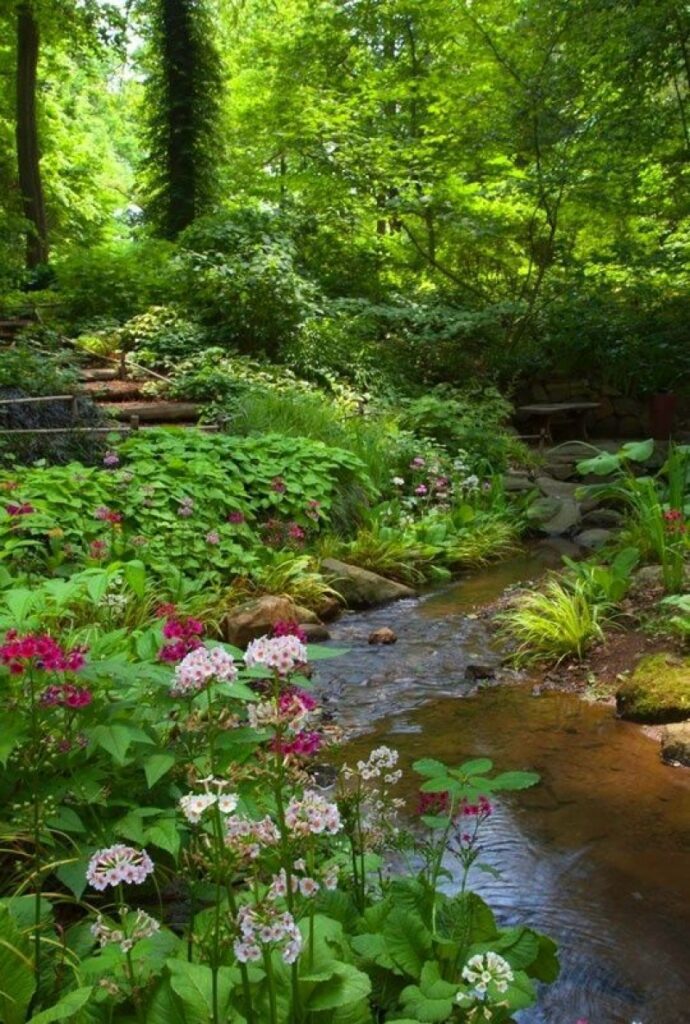 (Fountain):
This fountain raise water by a water pressure which are created by the difference of elevation between Kasumigaike-pond and the fountain position with the water coming from Kasumigaike-pond. The height of the fountain is around 3.5meter.
It is said that this fountain was built in the late of 19th century and is the oldest one in Japan.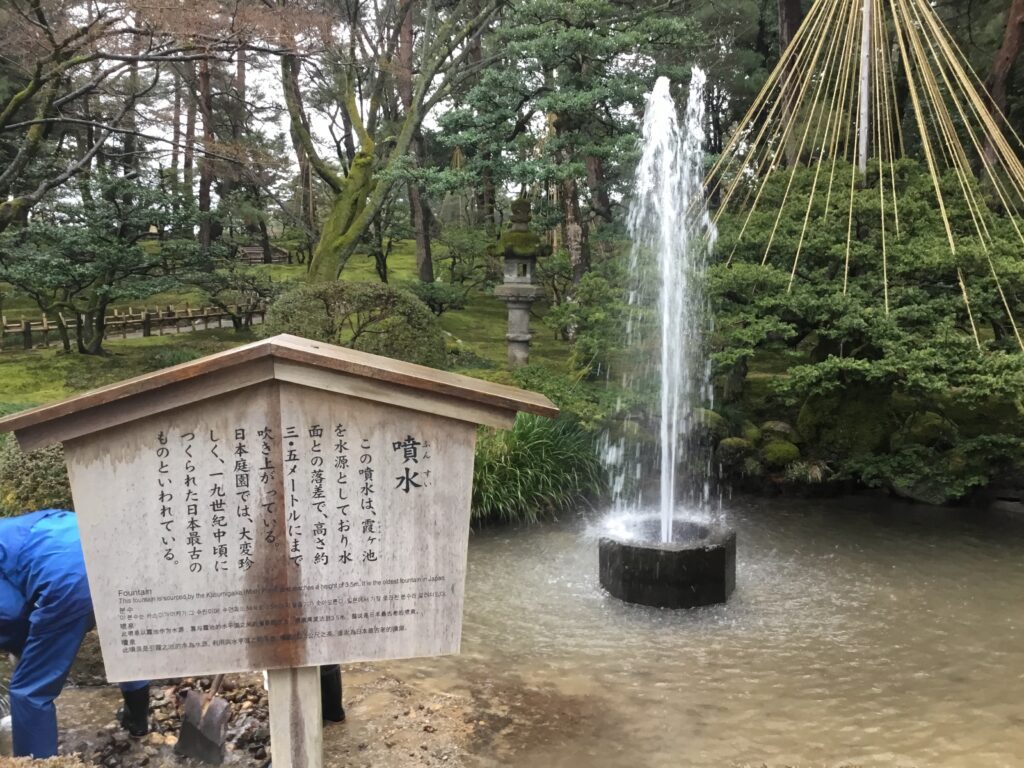 (Bairin / plum forest):
This plum forest was developed in 1968 as the memorial project of 100th Anniversary by gathring plums fro all over Japan cooperating with Kitano-Tenmangu, Dazaifu, Yushima-Tenjin, Kairakuen and so-on. 20 kinds of plums with total 200 pieces are planted at present and beautiful flowers colored by red and white are in full bloom in March every year.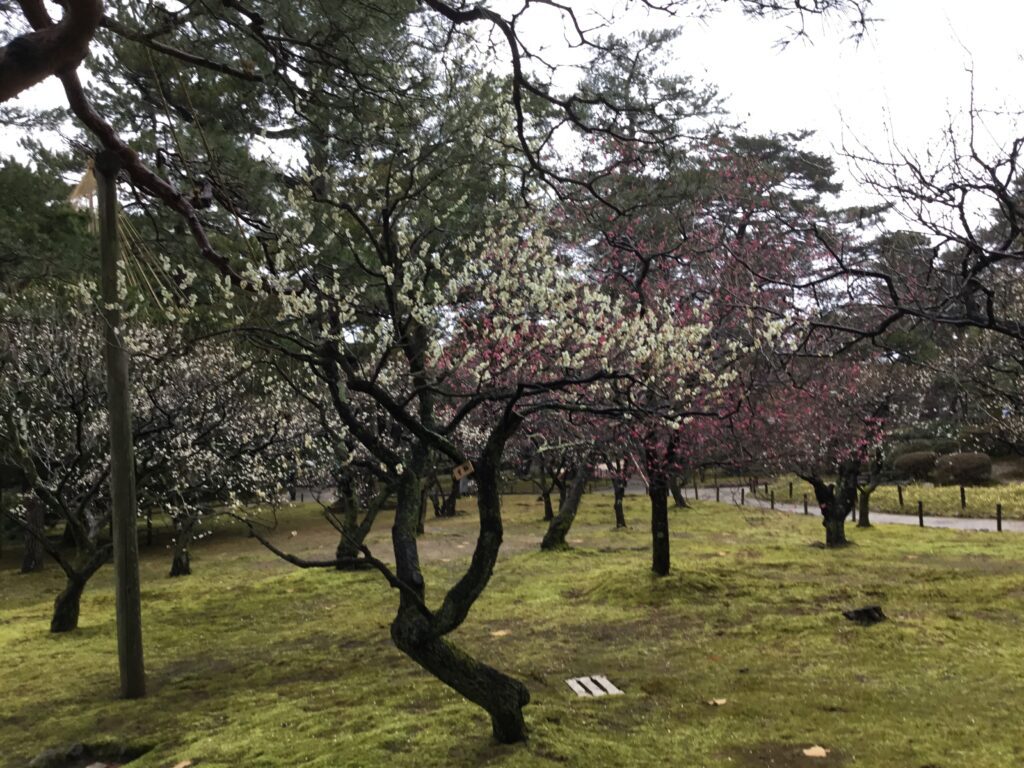 2) The place where you can enjoy:
(Samurai Residence):
This area is located in Nagamachi district where there are many houses with earthen walls that belonged to Feudal load and still retain an atmosphere of feudal times.
Samurai-house garden:
This is the gardens of feudal-period soldiers consisted of three areas: a front garden, a side garden leading to the kitchen door and a back garden.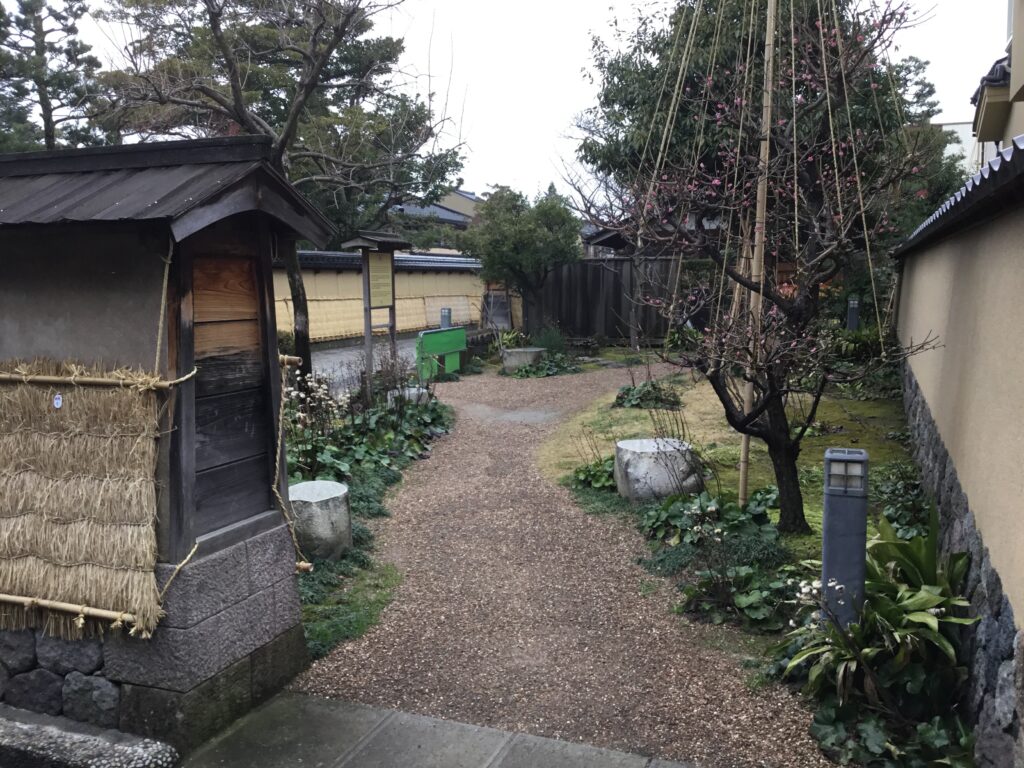 Mud walls / stone around the Samurai houses:
The thick walls are made of mud mixed with gravel and then hardened. The lower part of the mud walls are made by piling up round, half -ground (cracked) riverbed stones. The mud walls are covered with a singled-roof in order to protect the wall's surface from rain.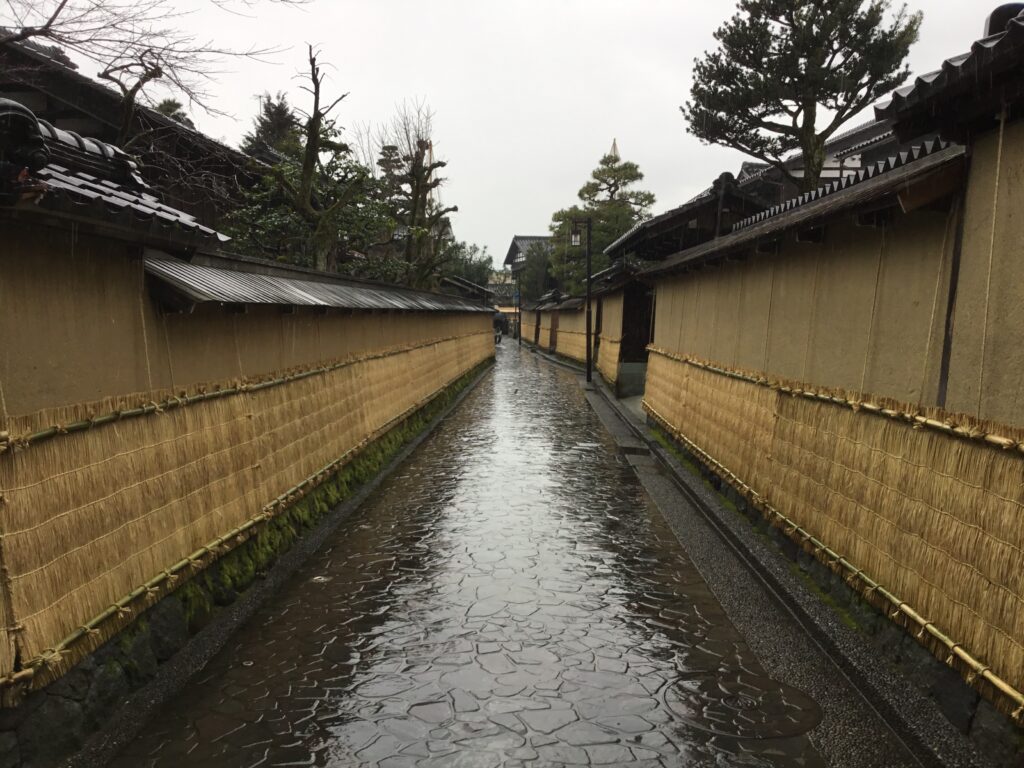 (Higashi Chaya district):
There are lots of souvenir stores and restaurants where you can taste Kanazawa local consumed gourmet in this district.
Machiya in Kanazawa:
Machiya is the urban housing where merchants and craftsmen had lived during Edo era.
Those buildings used to be built on the residence of town people inside castle town and port town.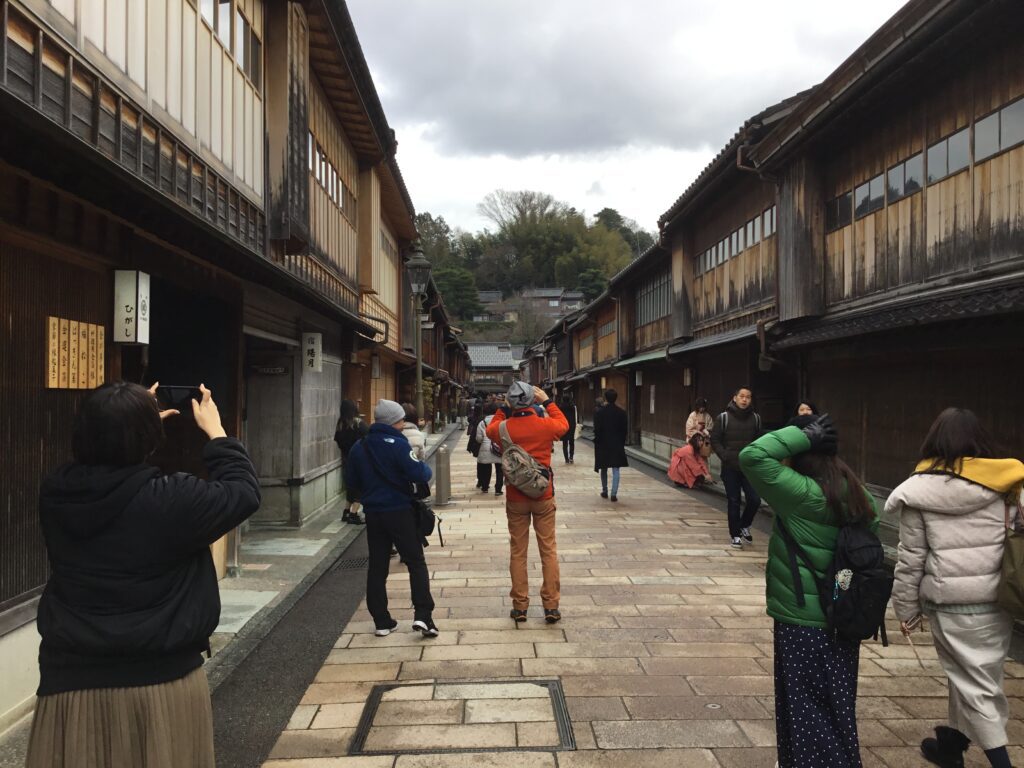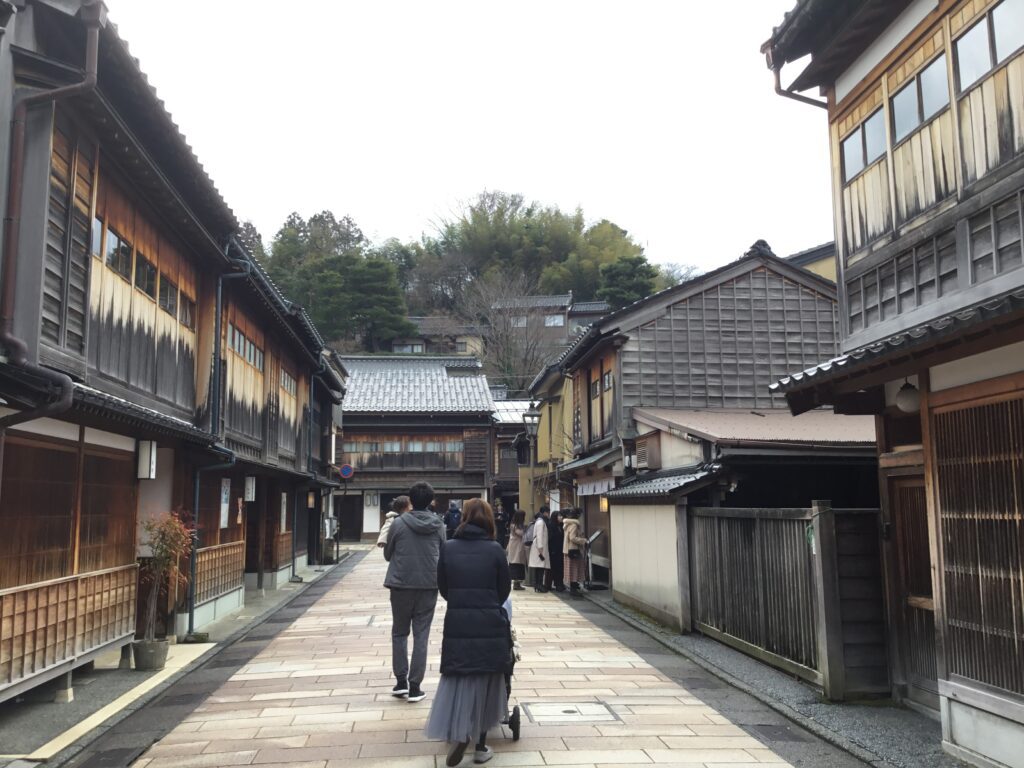 A tea store named "Shima":
This tea store architecture is built in 1820 when Chaya(tea store) district had been established.
The upstairs of this house is a parlor for guests to whom Geisha entertain, therefore the upstairs is built by long length. The veranda with handrail projected outside is prepared.
The room inside has luxuriant atmosphere by color of pillars be deepened with lscquered and the mud wall with Bengal red. You can enjoy the atmosphere where customers used to enjoy with Geisha. This architecture is a rare one in Japan which shows the culture of ordinary people in later stage of Edo era. This was registered as National important cultural properties.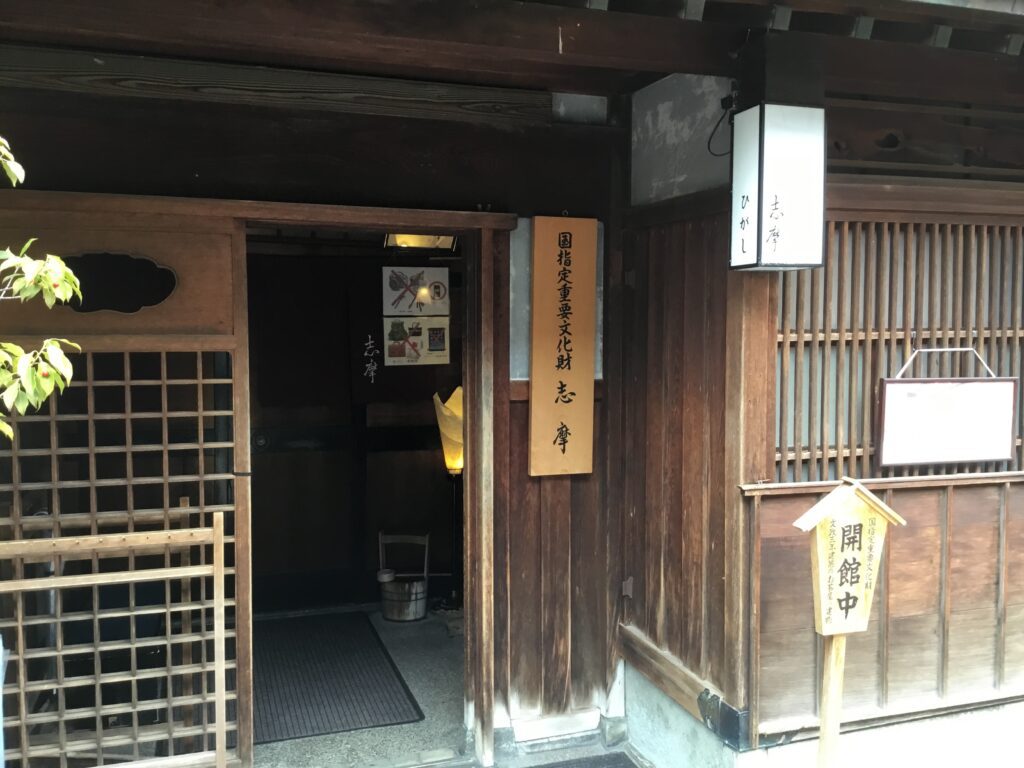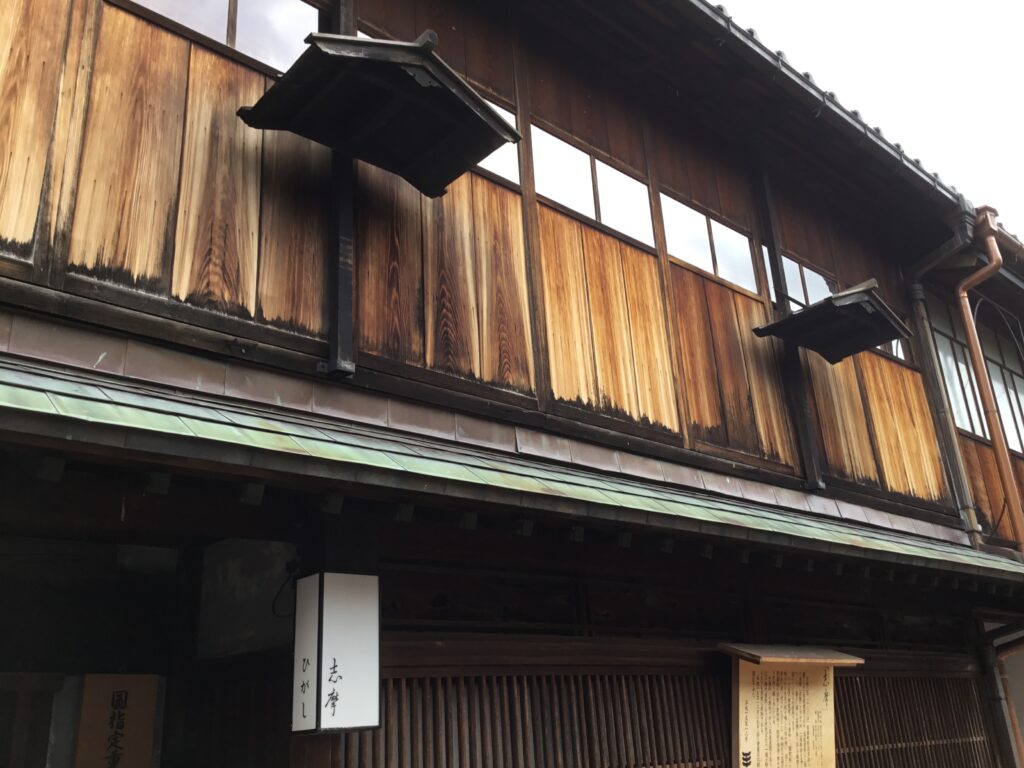 Japan Van prepares various tour itineraries for you to enjoy the view in Japan.
The minimum itinerary days is more than 5 days.
Contents of our service: We can arrange a car and a National Government Licensed Guide Interpreter for your trip.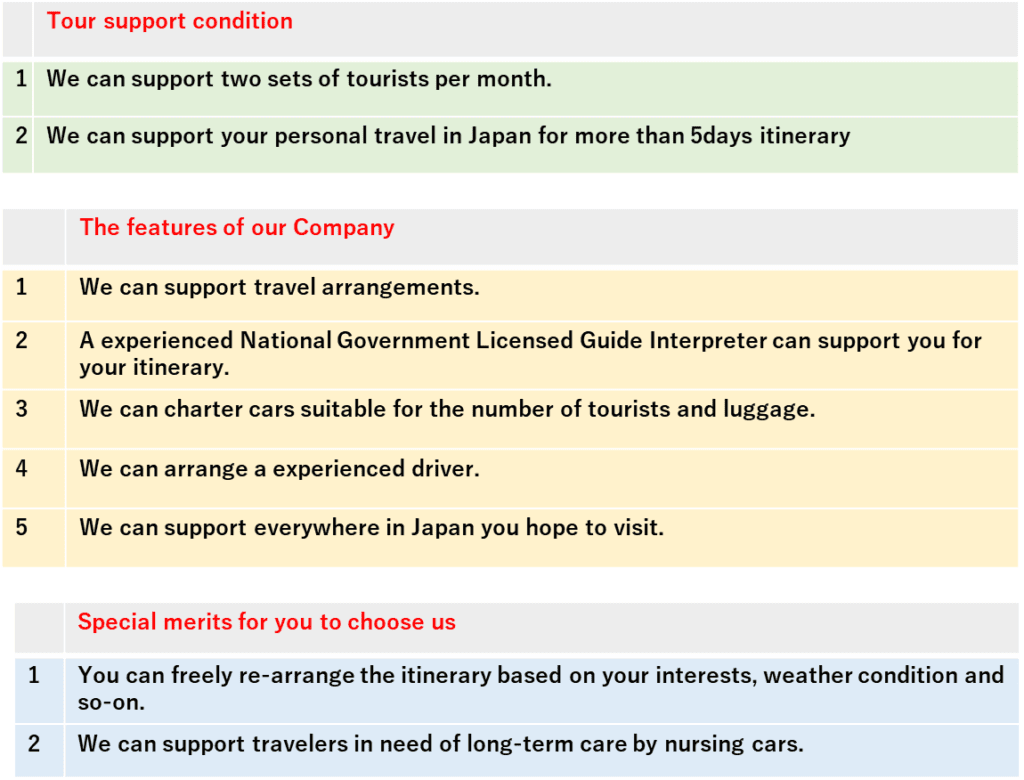 | | |
| --- | --- |
| | Car charter and a guide condition |
| 1 | Number of tourists: 2pax – 12pax |
| 2 | Charter time and guide condition: 12 hours (including 4 hours resting time) |