Hakone is located inside the big caldera which are assembled with four calderas surrounded by the outer rim of a crater (size: 11km east and west, 8km north and south). This caldera had appeared by a lot of repeated eruption of active mountains in Hakone area from around 250 thousand years ago to 50 thousand years ago.
Thanks to those calderas created, the magma under the caldera with clean water have created the excellent hot spring in Hakone.
Around 3thousands years ago, the large eruption occurred on one of the large Hakone mountains that created the collapse of volcanic edifice. As the result, the beautiful volcanic alluvial fan appeared inside the caldera.
This collapse of volcanic edifice also created current beautiful Lake-Ashi by damming up a small river which used to be inside the caldera. As the result, a small lake existed in previous stage has become a large lake by a large amount of water accumulated.
You will be impressed with the magnificent natural landmark and mysterious power of the nature.
1) The place where you can experience:
Hakone Shrine:
Hakone Shrine is one of the best power spot Shrine in the East of Japan. It is said that the Shrine bring the power to people who plan to do business and daily life including good marriage, traffic safety, exorcism, prayer of school success, safe child birth and prosperous business so that everything is going smoothly.
Many monks had visited this famous mountain in the ancient period because Hakone had a rugged topography. Saint Mangan Shonin was one of them and he founded this Shrine receiving a divine message in 757.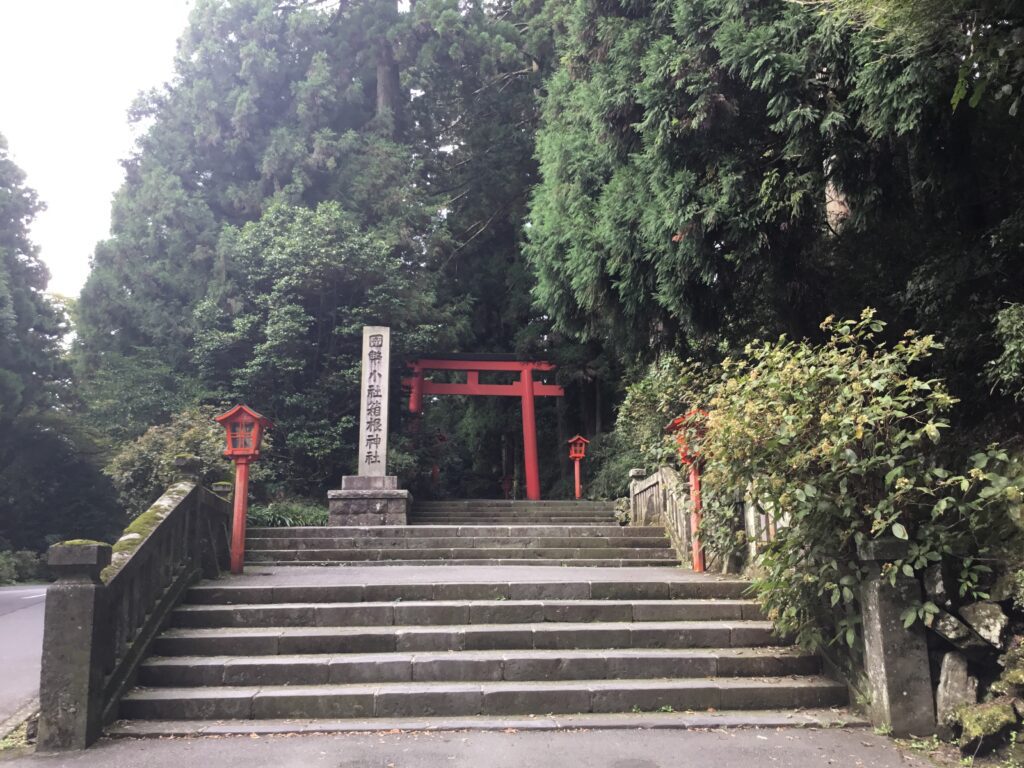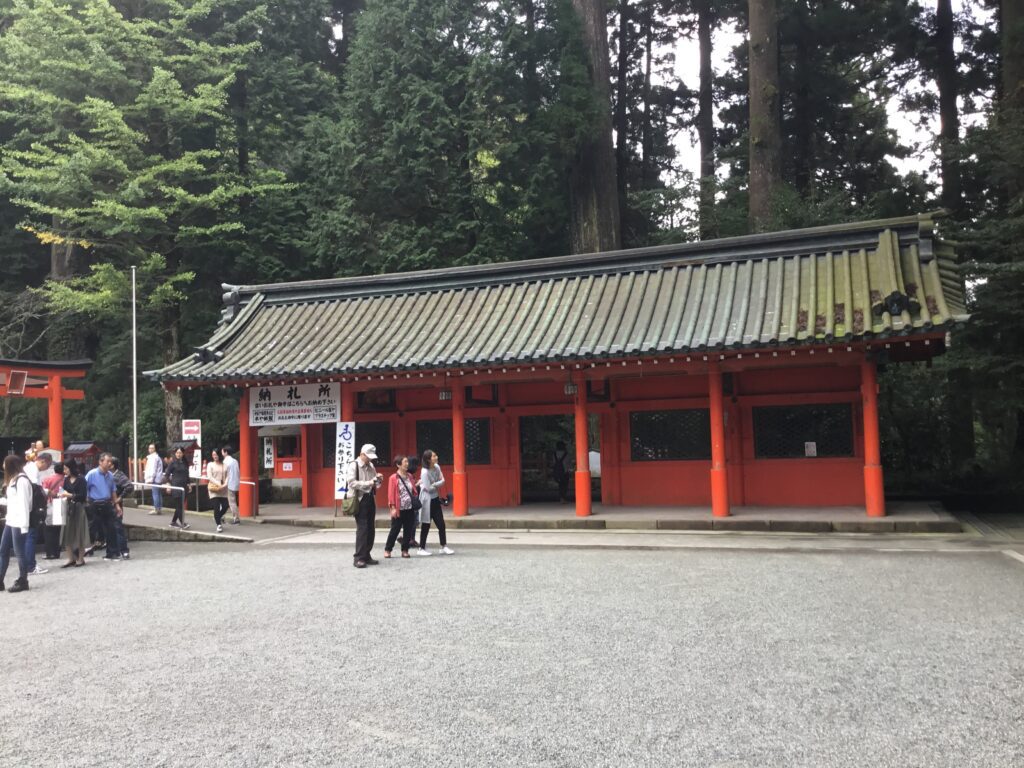 Mt.Komagatake located near Hakone Shrine is a stratovolcano that has been active since around 27,000 years ago. You can see that there are many layers of lava flows rushed out from near the summit of Mt.Komagatake.
The stone steps to the main hall of the shrine was built on a steep slope, which is on the cliff at the edge of the lava flow and the worship main hall stands above the lava flow.
This Shrine deity has been enshrined for more than 1250 years and many historical top worriers and top priests had come this shrine to pray for the win of their battle, peace of their territory and success of their belief.
That is why this shrine is called as "Kanto Sochinju (local Shrine deity) and Hakone incarnation".
Around 89 stone steps are located in the center of Hakone Shrine from the inner Shrine passing through Torii to lakeside. These steps are surrounded by many sacred trees and you can see brilliant Torii with vermillion color and inner shrine. You will feel something which bring us the power of fortune.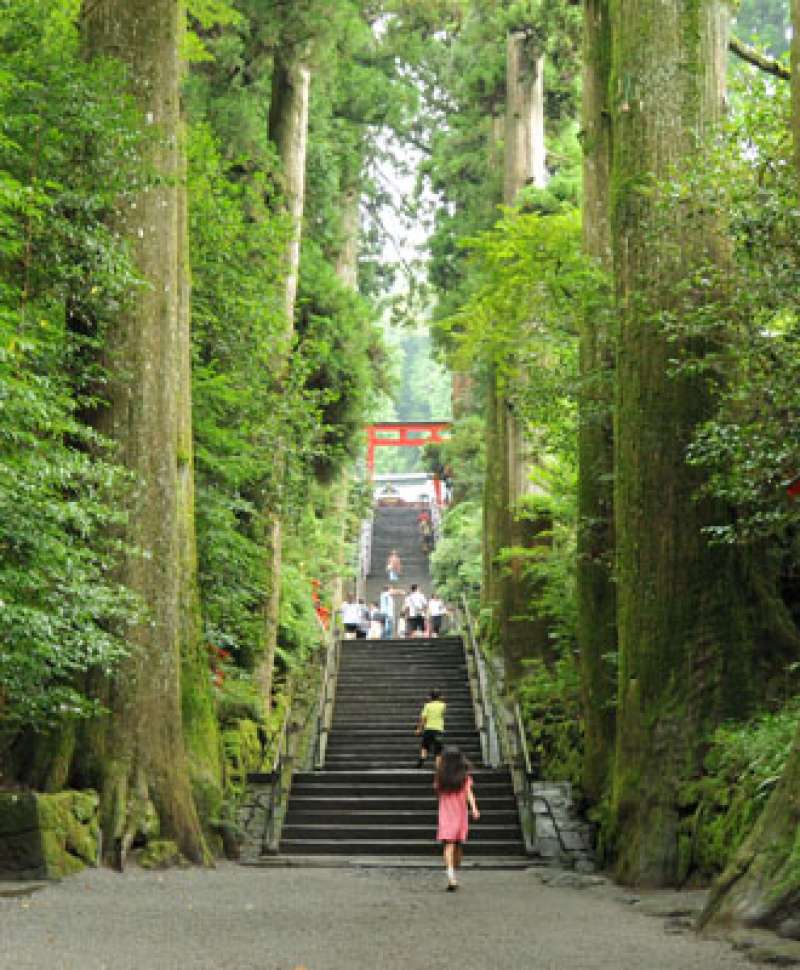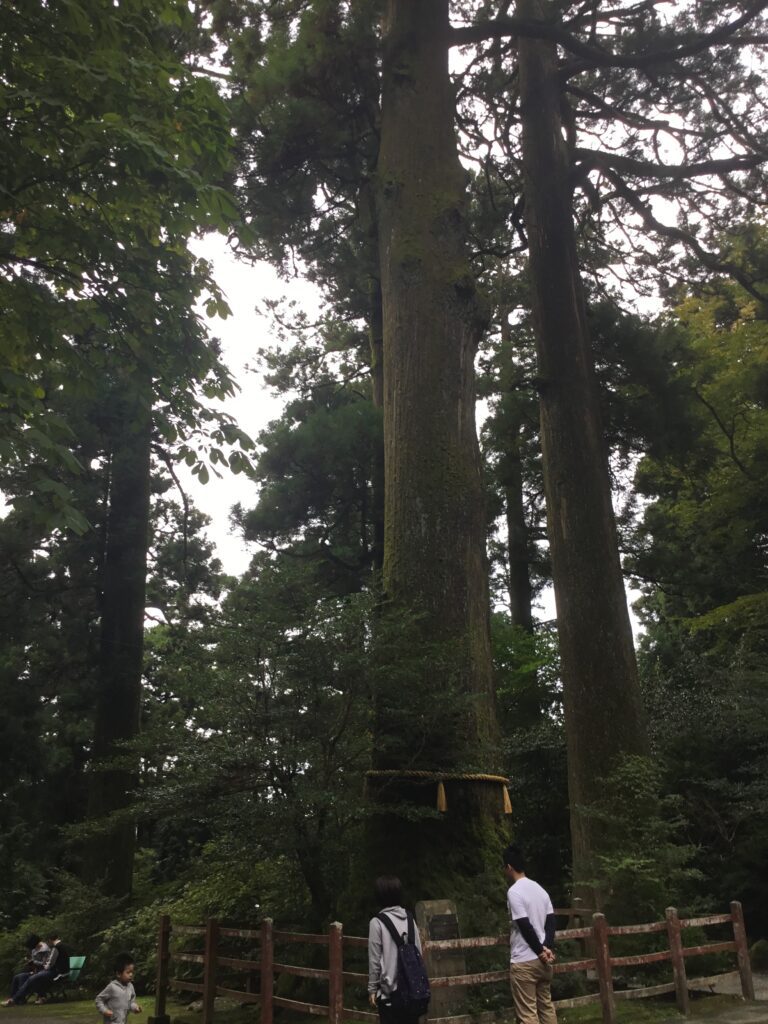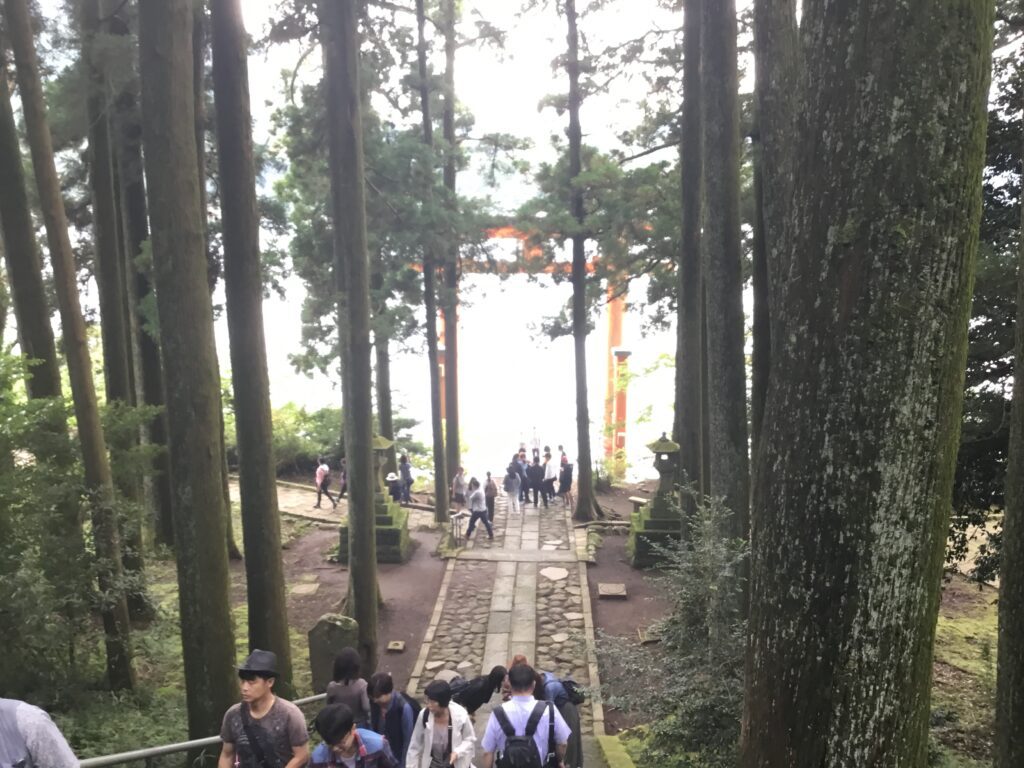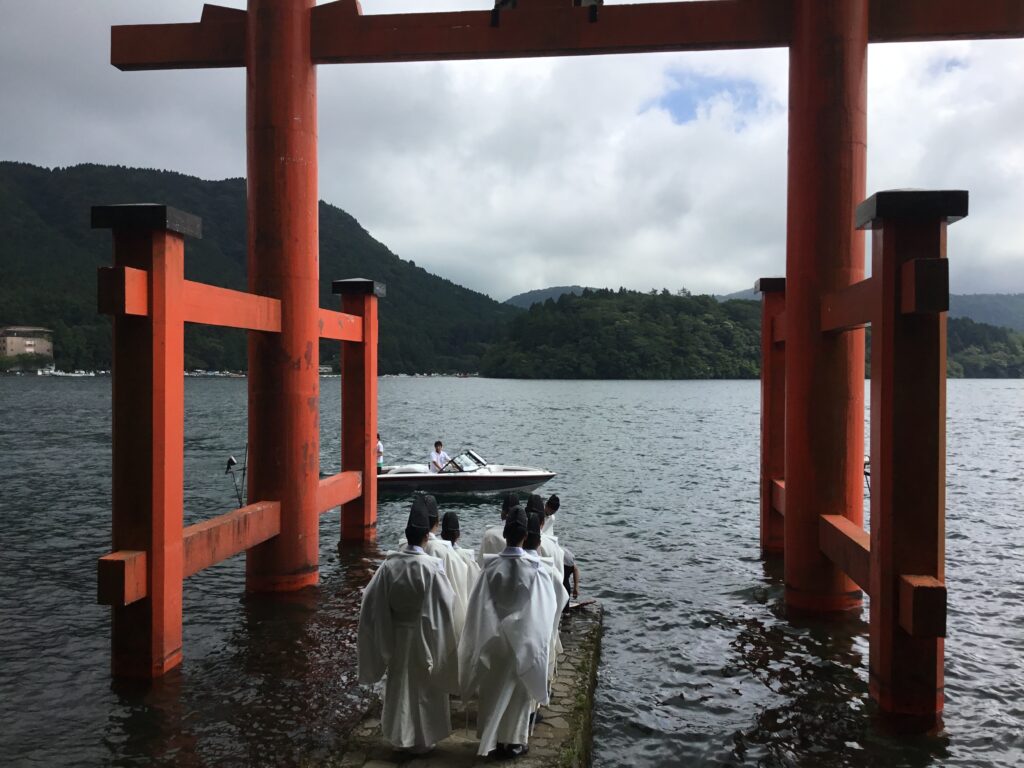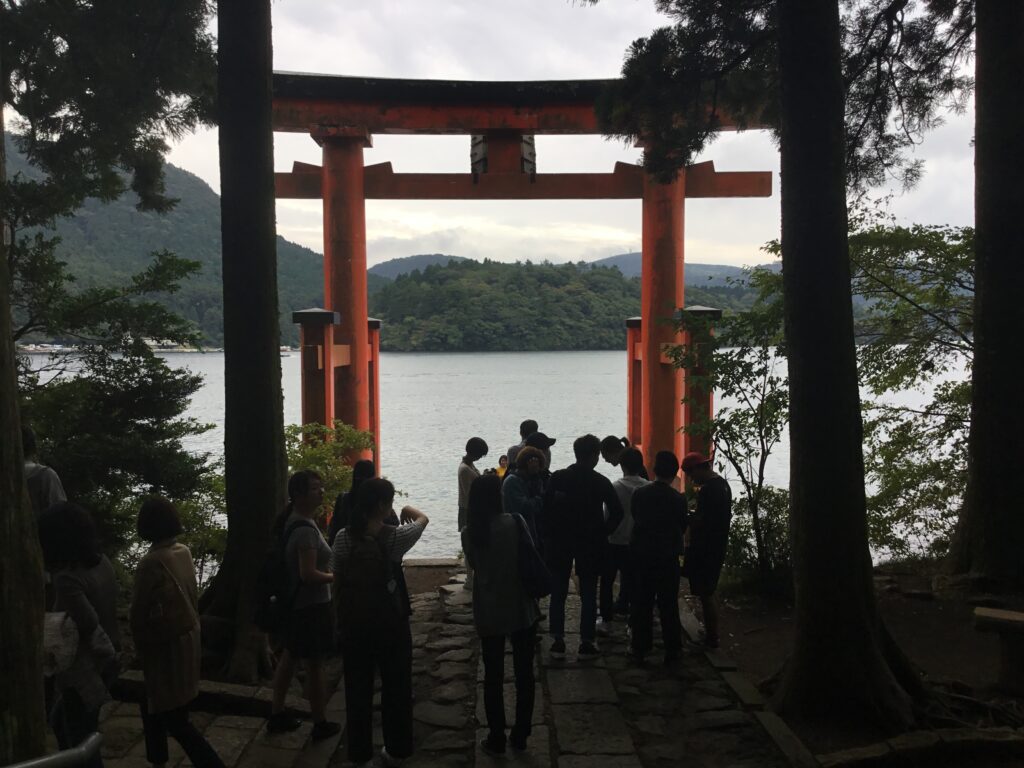 2) The place where you can enjoy:
Hakone Ropeway:
You can enjoy the views during a 30 minutes ride across 4 kilometers between Sounzan and Togendai stations of Hakone mountain. including Owakudani volcanic valley where sulfurous fumes gushing out of cracks in the earth which make hot spring, Lake Ashi and Mt.Fuji (if whether is fine).
Sounzan Station is 757 meters high and Owakudani station 1,044 meters high.
The difference in elevation is 287 meters. This Ropeway can run there in about 10 minutes.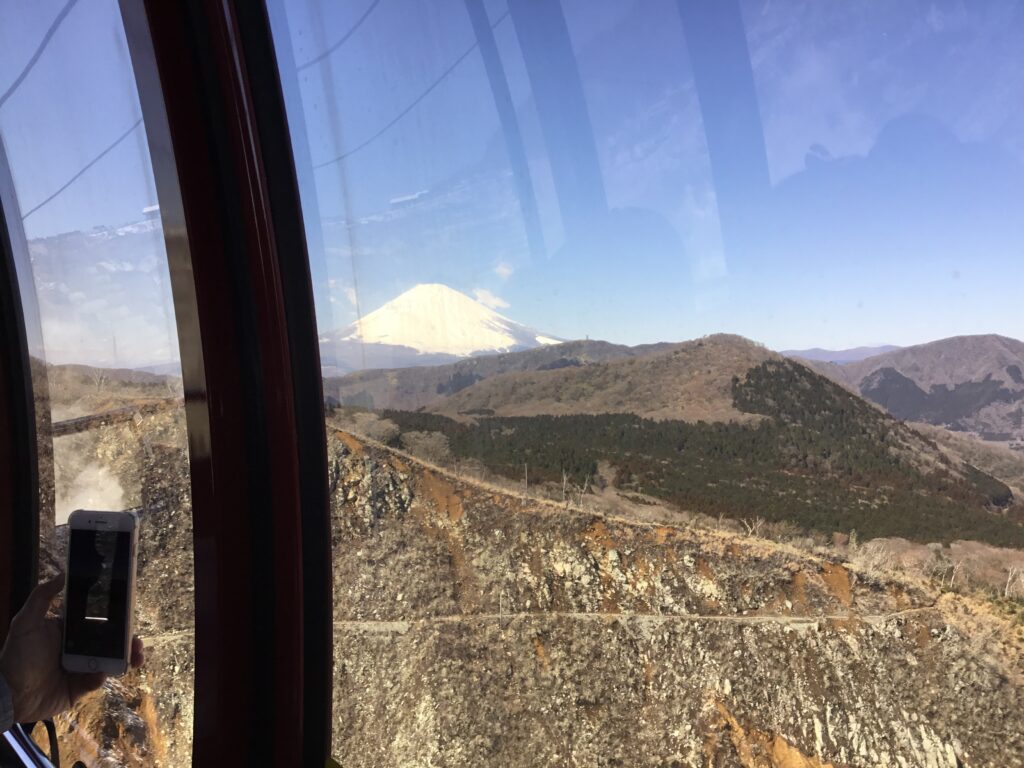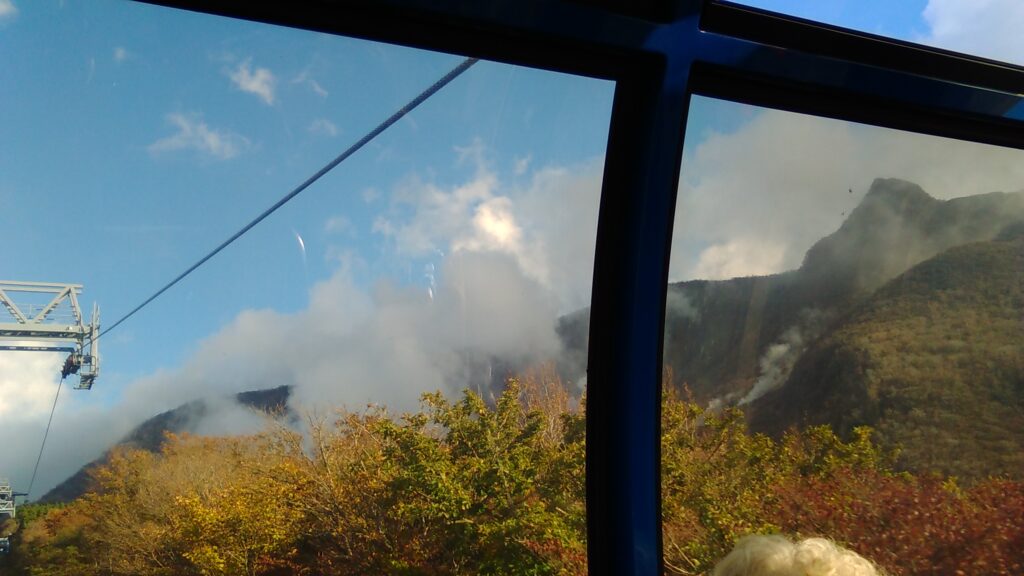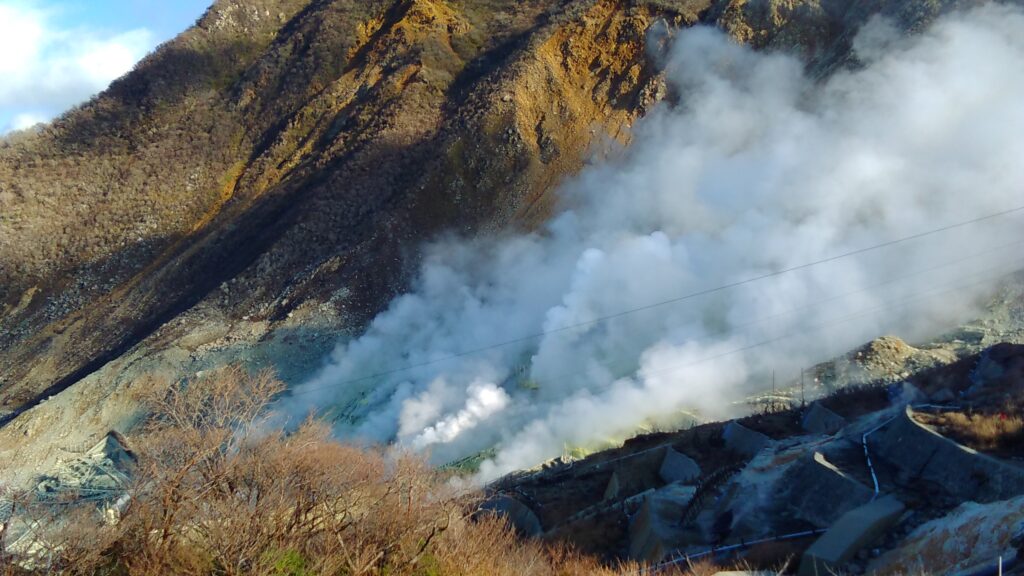 (Owakudani):
Owakudani is one of the most famous scenic spot same with Lake-Ashi.
This volcanic landscape was created 400 thousand years ago and 1,438 meters above sea level.
You can see sulfurous fumes gushing out of cracks in the earth.
Kuro-Tamago (black boiled egg) are a special famous food which contain 5 eggs in a pack which are boiled in the hot sulfurous muddy water of Owakudani.
It is said that if you eat one black egg, you can extend your life by seven years.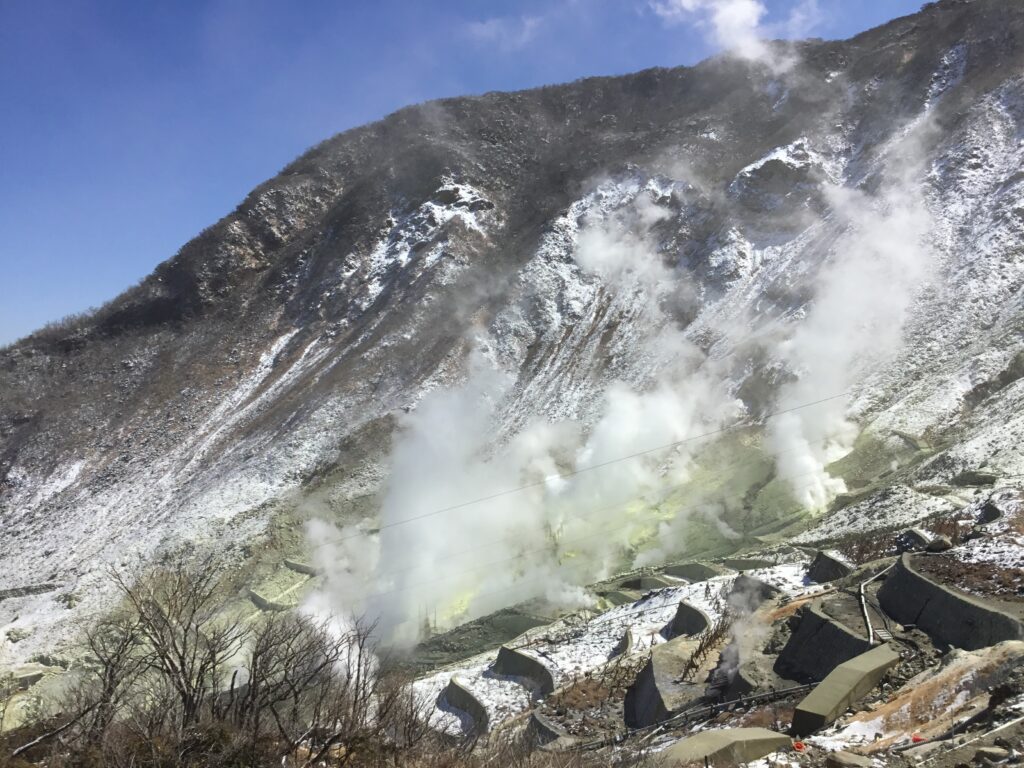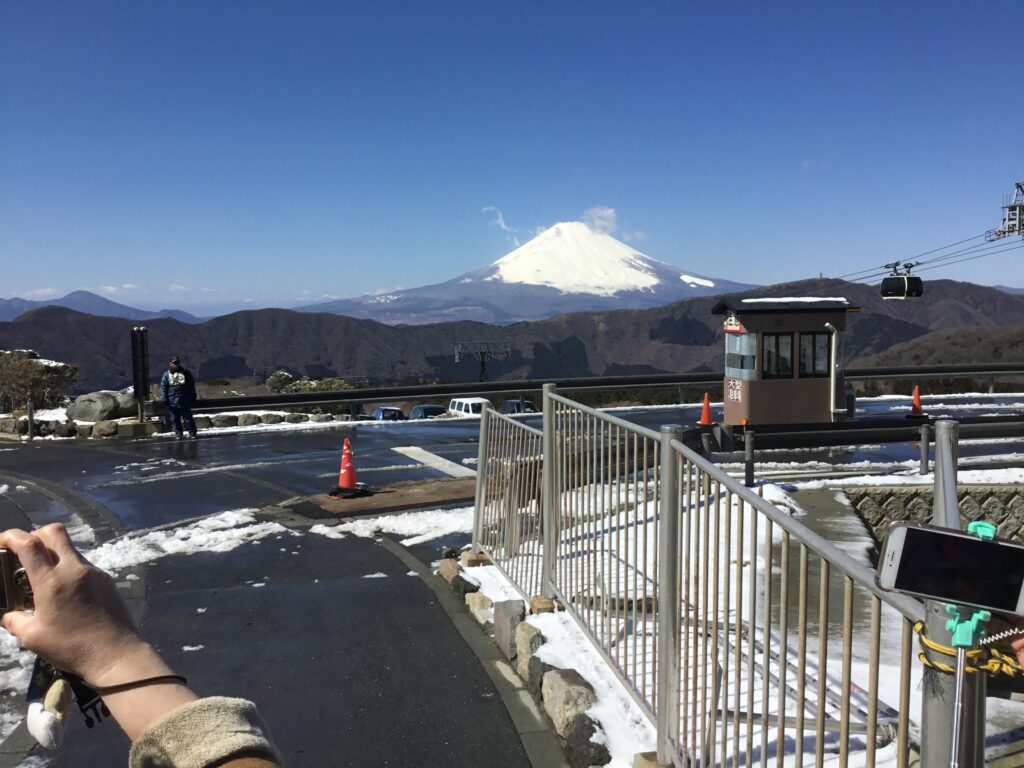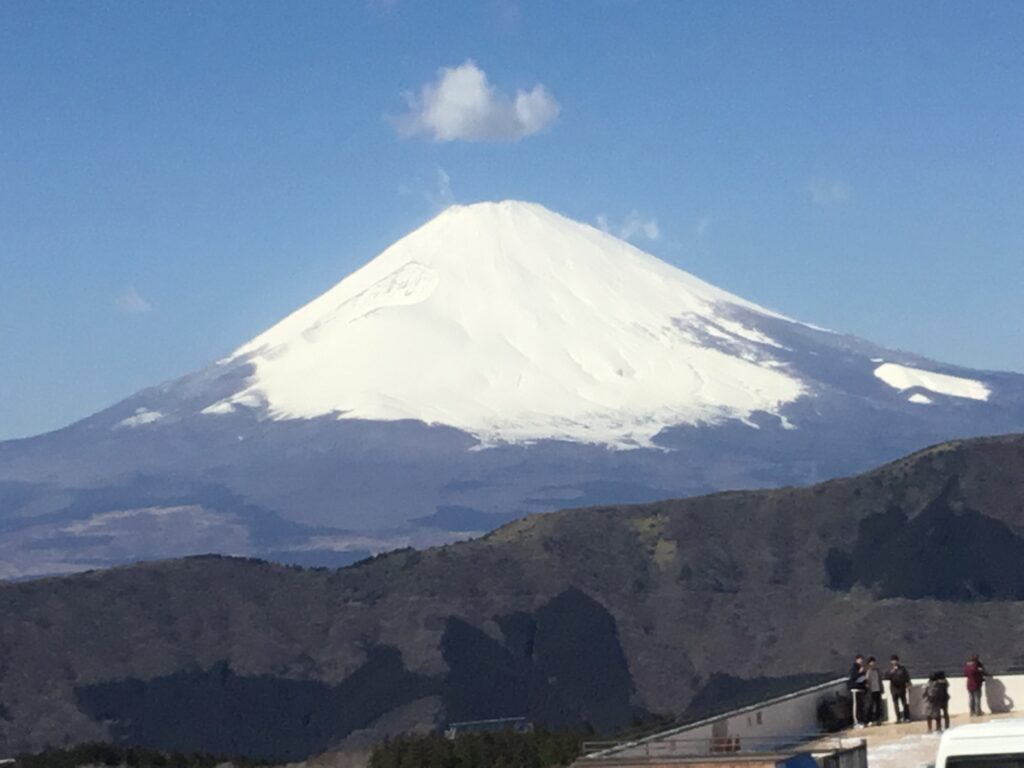 (Hakone Sightseeing Cruise on Lake Ashi):
This Cruise operates between Hakonemachi, Moto-Hakone and Togendai on Lake Ashi. You can enjoy beautiful scenery such as green mountains surrounded by sky and lake, wave splash near the Cruise and Mt.Fuji if whether is fine with breathing clear air.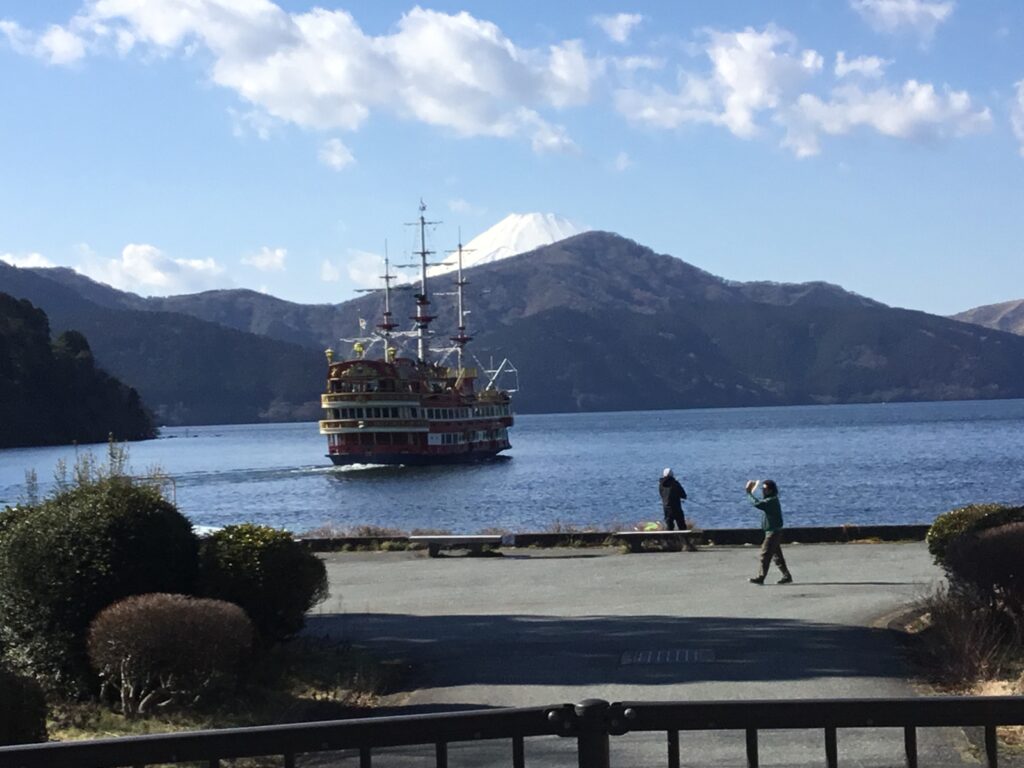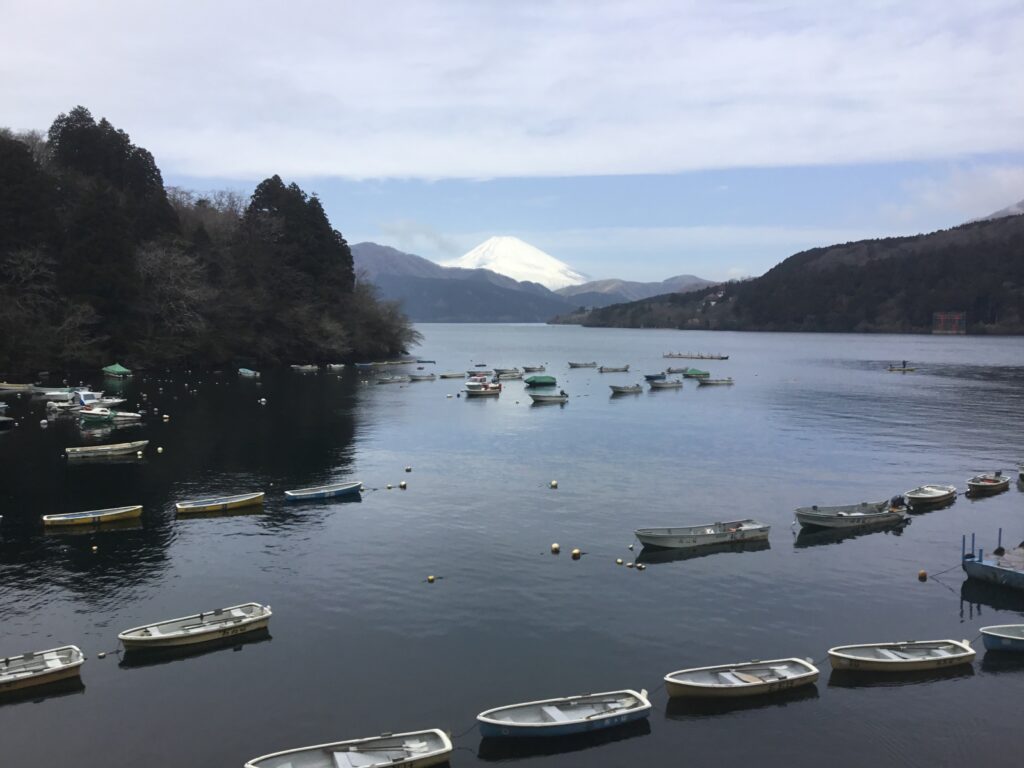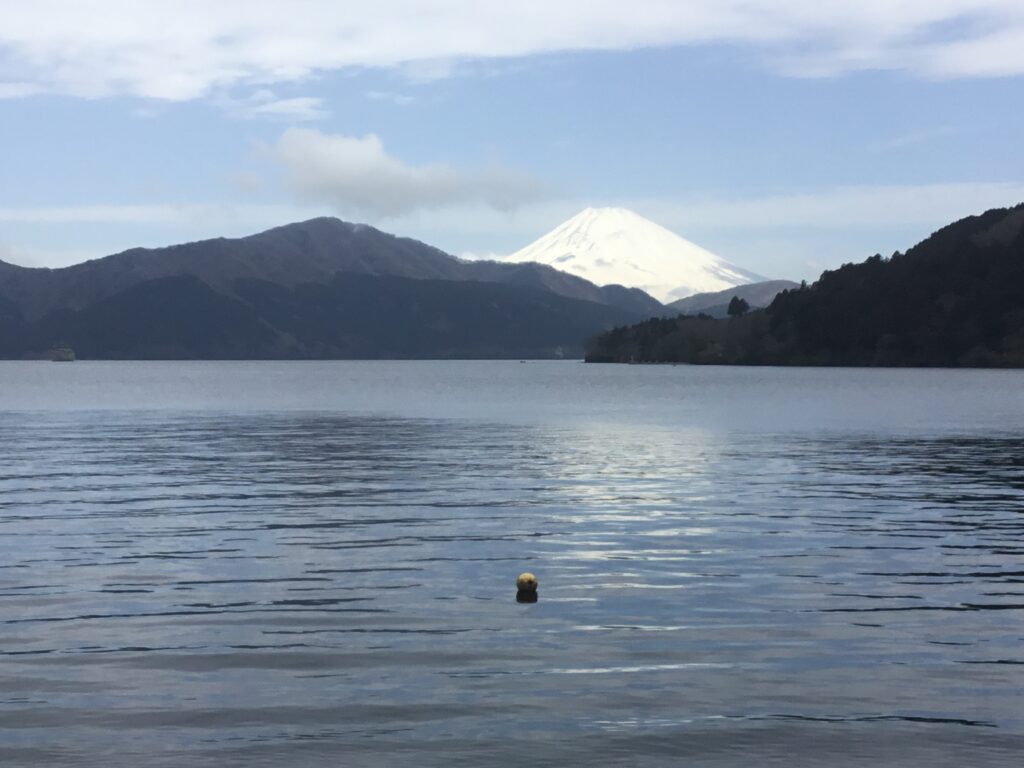 Japan Van prepares various tour itineraries for you to enjoy the view in Japan.
The minimum itinerary days is more than 5 days.
Contents of our service: We can arrange a car and a National Government Licensed Guide Interpreter for your trip.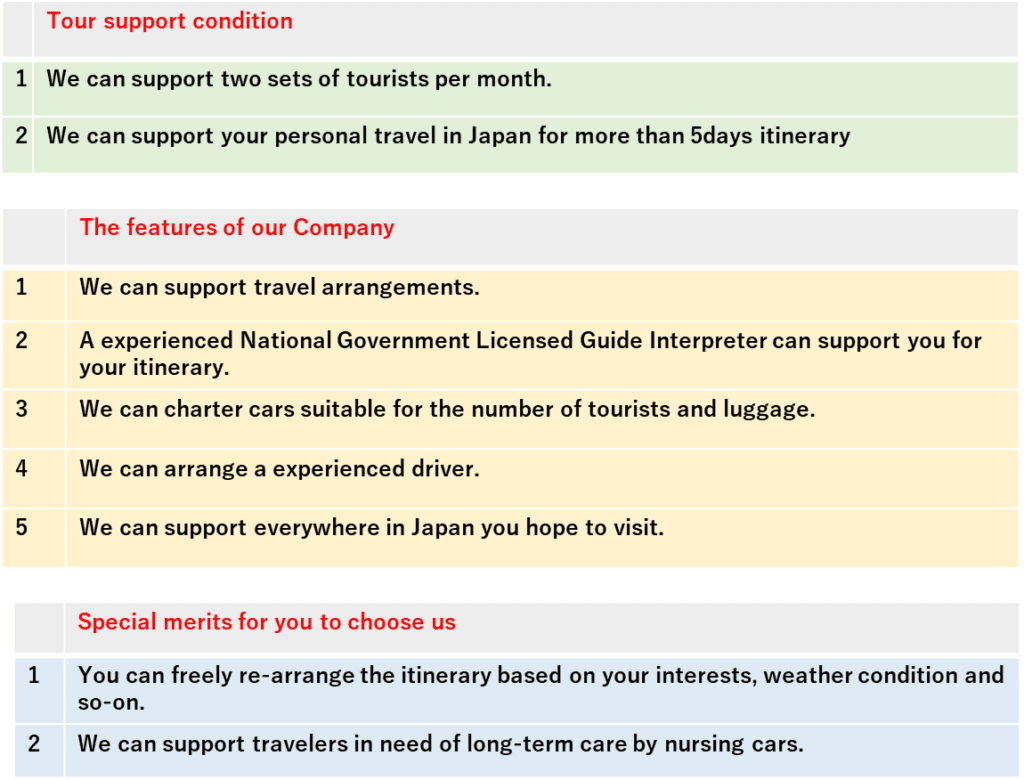 | | |
| --- | --- |
| | Car charter and a guide condition |
| 1 | Number of tourists: 2pax – 12pax |
| 2 | Charter time and guide condition: 12 hours (including 4 hours resting time) |