(1) The place where you can experience:
Izumo Taisha Shrine is related with Mythology of Gods in Japan.
Izumo Taisha shrine is the old shrine where Ookuninushi-no-Mikoto has been deified.
According to "Nihon Shoki" which is the oldest history book in Japan, it is said that one shrine was built by praising Ookuninushi-no -Mikoto for his achievement to transfer the Japan land to the descendant of Amaterasu-Oomikami. This is said to be the beginning of Izumo-Taisha shrine.
All Gods in Japan is said to be gathered in Izumo on October 10th of old lunar calendar. This month is called "Kamiaritsuki".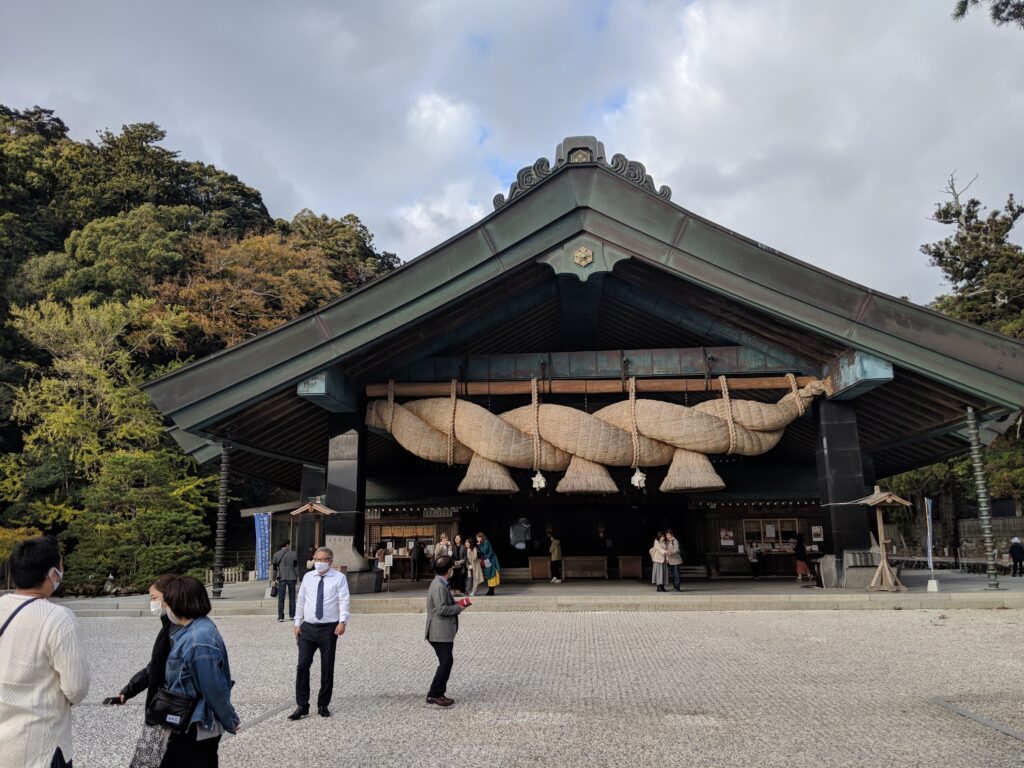 There are several arguments if these historical descriptions of deities in "Nihon Shoki" are true or not, however, thanks to this mythology of Gods, Japan has kept Imperial Household of same family on more than 1400 years without be killed or ruined by any Samurai worriers who had dominated Japan and lots of traditional festivals of Shinto related such as Nachi-Fire Festival have been kept up to now.
According to this "Nihon Shoki", two gods named Izanami-no-Mikoto and Izanagi-no-Mikoto were the wife and husband who had created islands in Japan at the first time and Susano-no-Mikoto was the son of them who created actual country on earthly world in Japan.
It is said that Izumo area was the first land Susano-no-Mikoto had stepped foot on from the heavens. That is why Izumo is said to be the hometown of Gods. Ookuninushi-no-Mikoto who was the son of Susano-no-Mikoto had executed nation building in Japan by Izumo as the basement. After a while, the messenger from the heavens had come to meet with Ookuninushi-no-Mikoto and demanded him to descend the land.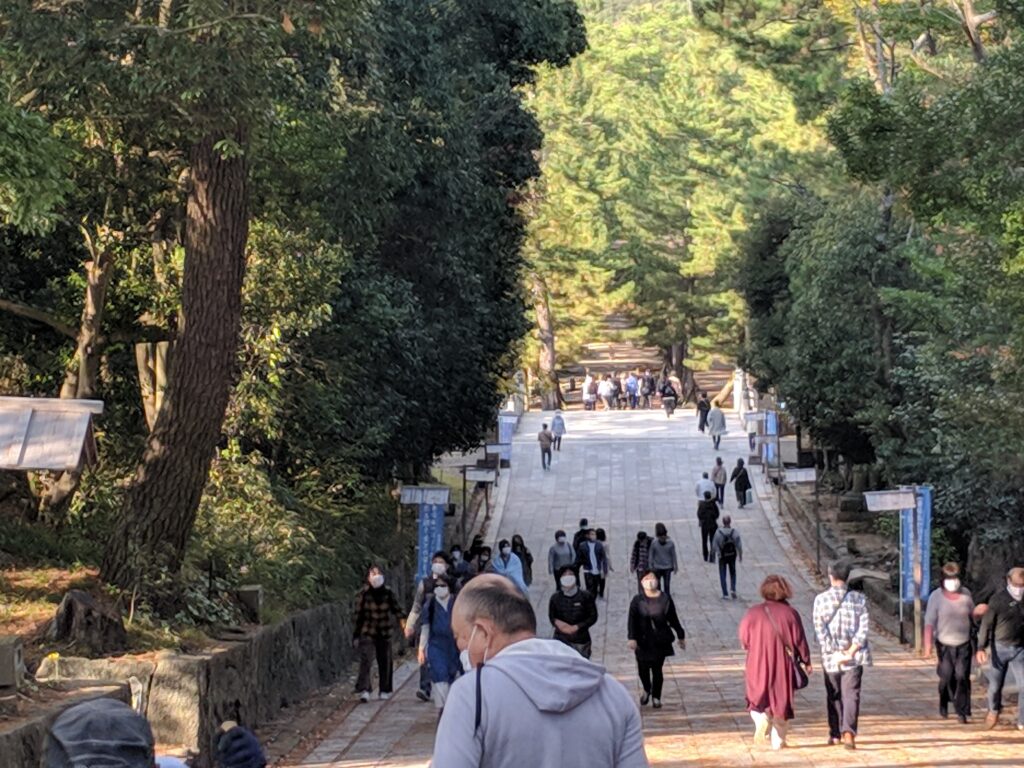 The meeting had been held in "Inasa-no-Hama" beach and finally Ookuninushi-no-Mikoto had agreed to transfer the land in Japan to the descendant of Amaterasu-Oomikami. In return for the transfer, it is said that Izumo Taisha shrine was built for Ookuninushi-no-Mikoto as main enshrined deity.
As the result of this transfer, Amaterasuoomikami has been enshrined in Ise Jingu shrine which is the top of tutelary shrine in Japan.
(Ise Jingu shrine)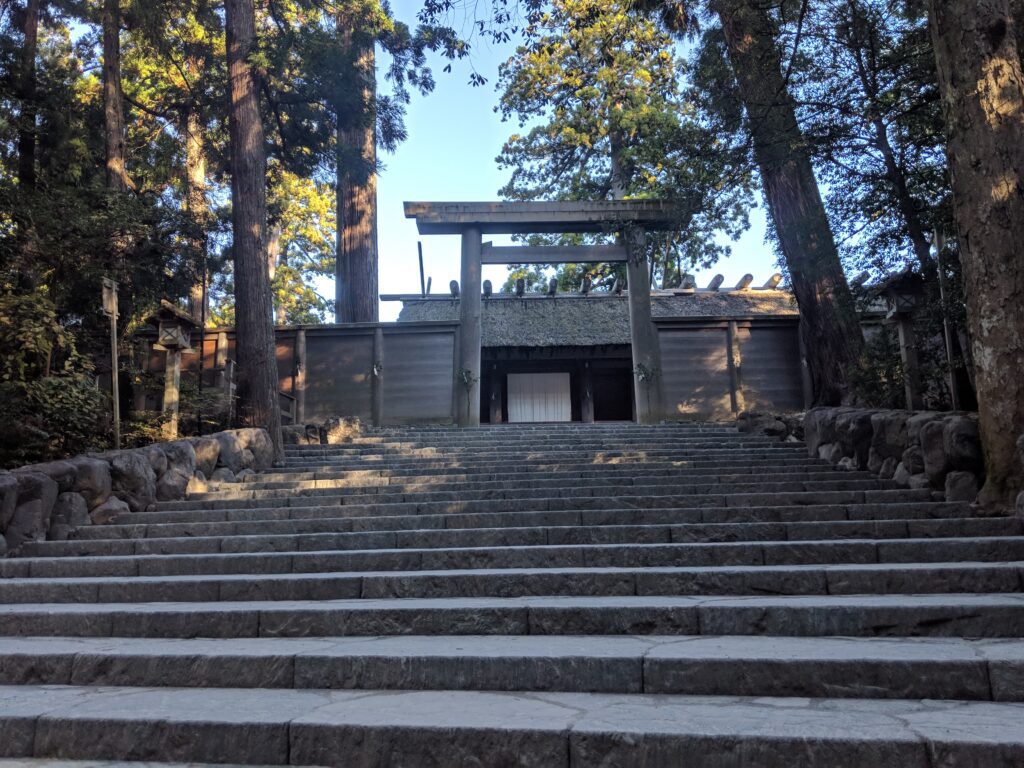 (Inasa-no-Hama beach):
This beach is located in 1km west from Izumo Taisha shrine and a power spot related with the land transfer legend.
According to the mythology, The meeting between ookuninushi-no-Mikoto and the messenger from the heavens had been held in "Inasa-no-Hama" beach and finally Ookuninushi-no-Mikoto had agreed to transfer the land in Japan to the descendant of Amaterasu-Oomikami. The white sand stretch by showing a long and beautiful arch toward the south.
This was designated as Japan's 100 Most Beautiful Beaches.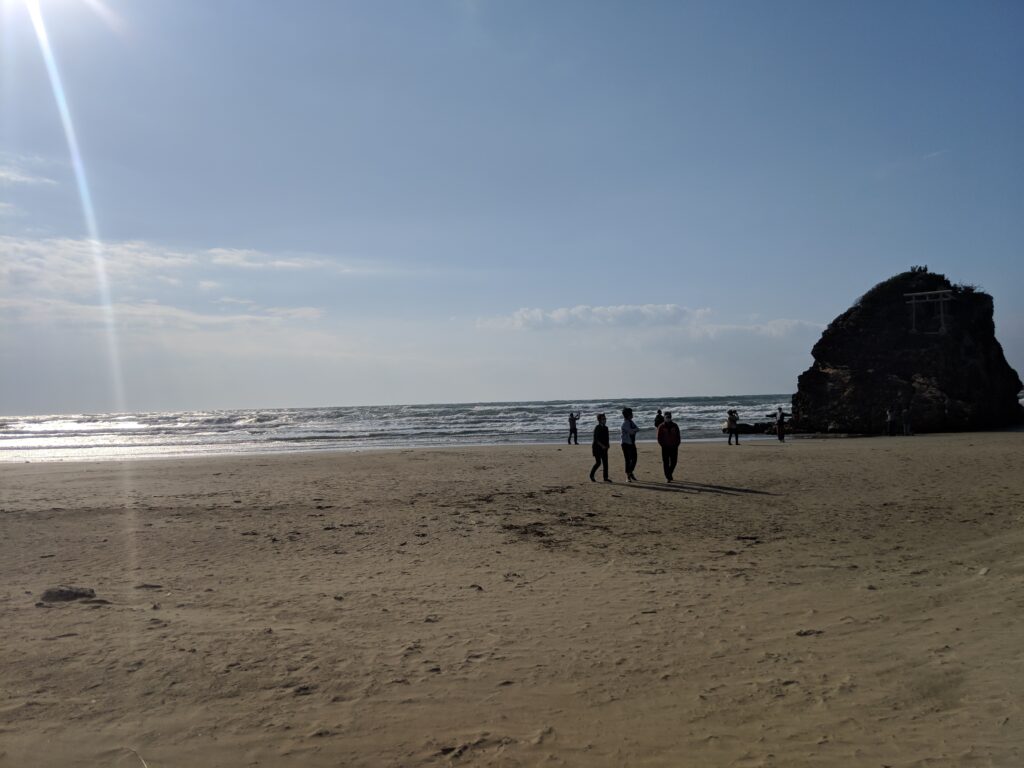 There is a small rock island named "Bententou" found near the beach. You can find a small shrine on the rock. The landscape of evening sun sinking with this island as silhouette is registered as Japan Heritage. This beach also is famous for the place where all gods and goddesses are invited on October 10th of old lunar calendar.
The sands you pick up on this beach are considered as the sands which protect you against evils by exchanging them to that on wooden box placed on back-side of Soganoyashiro small shrine.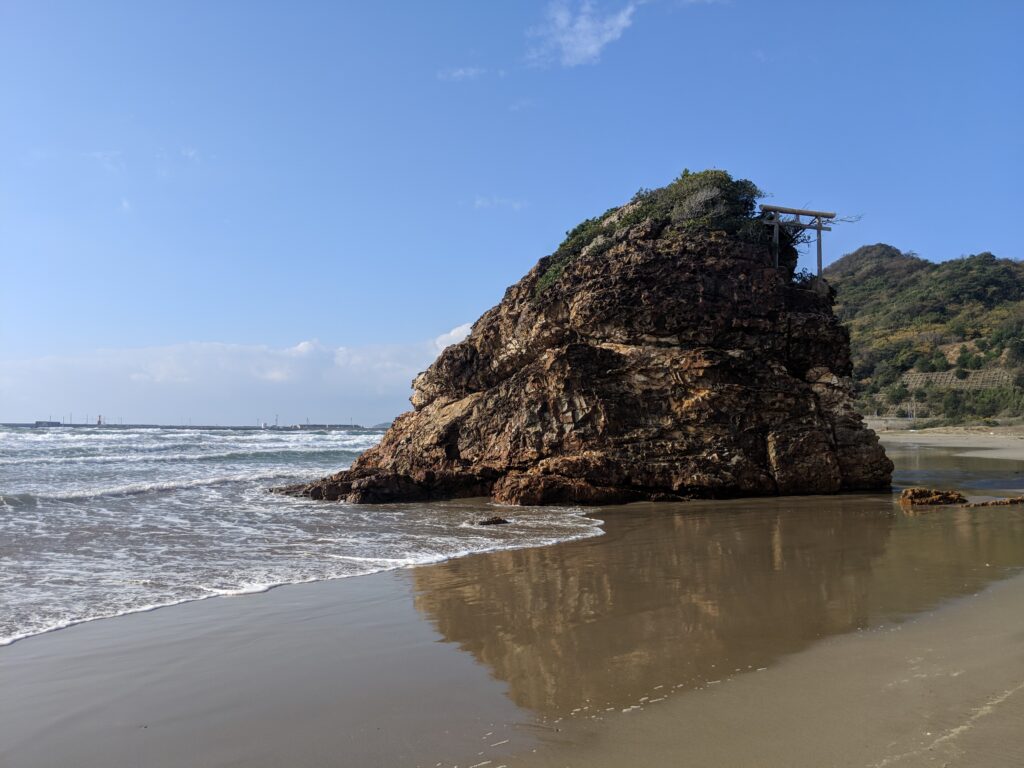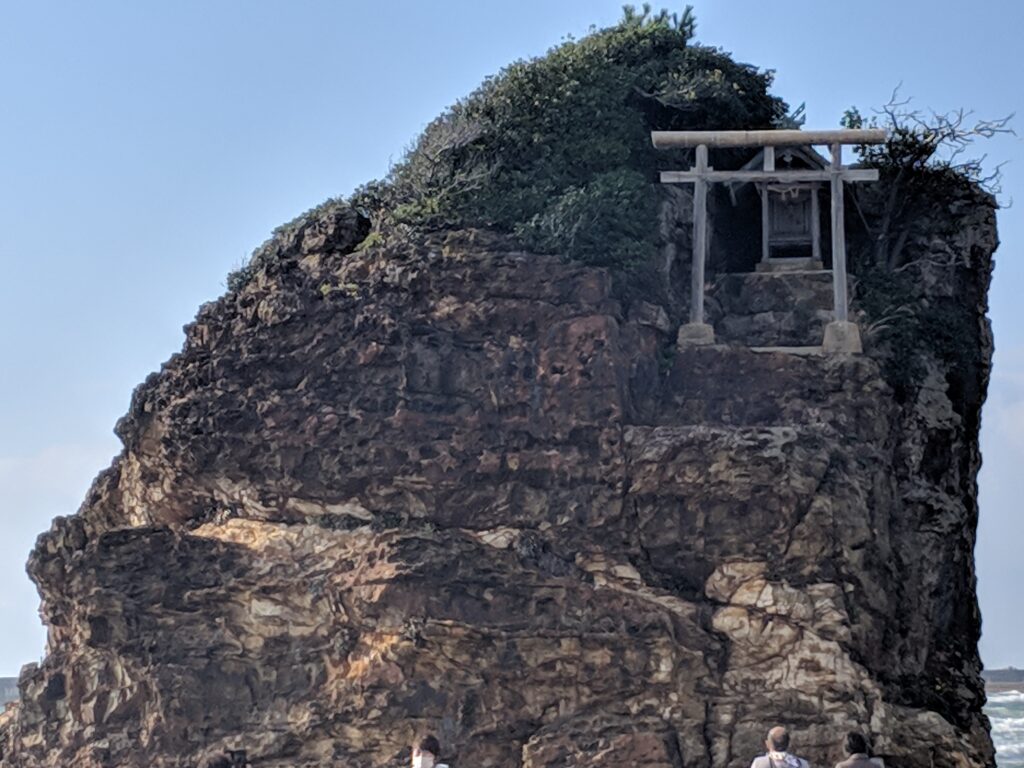 (Izumo Taisha Shrine):
a) 2nd Torii in Seidamari: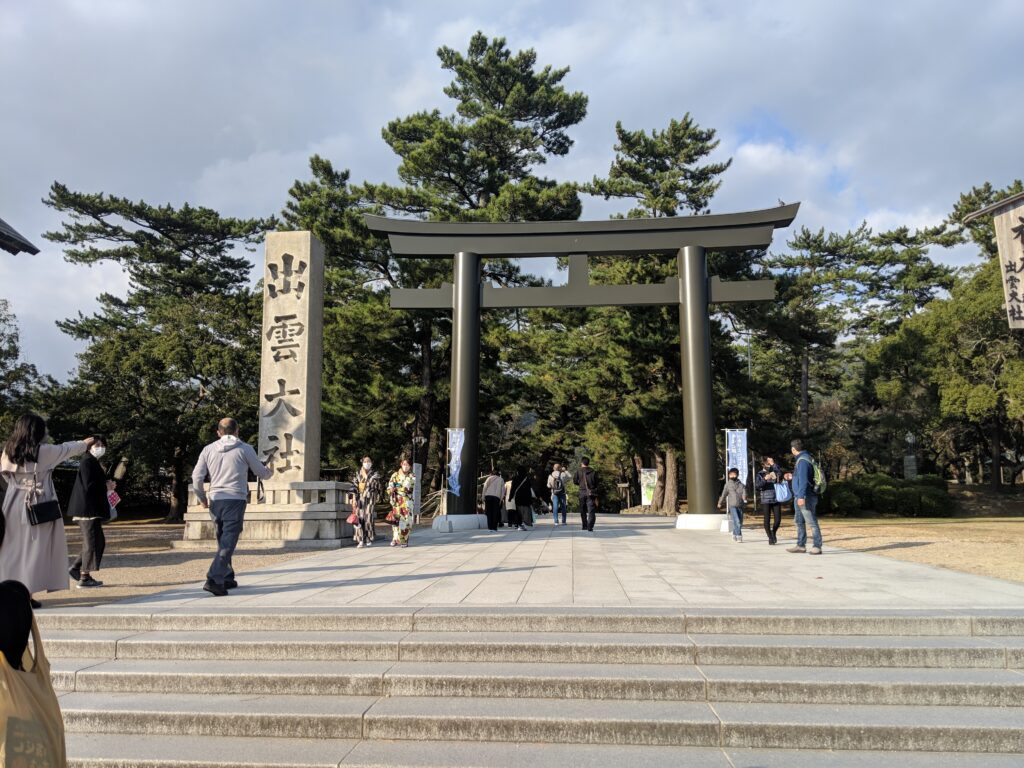 b) The path in the precinct is downgrade and used to be sand dune: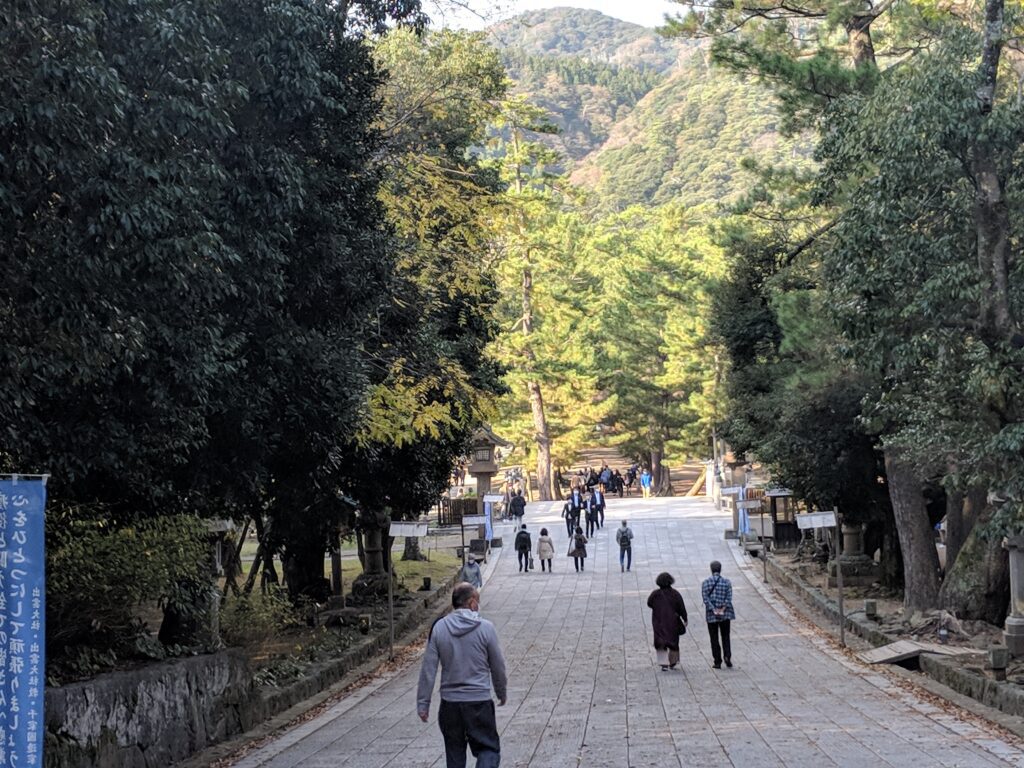 c) Haraenohashi bridge:
Sogano river flows in Izumo Taisha. This river flow out from Yakumo Mountain located on the backside of Izumo Taisha. You can purify yourself by walking through this bridge which hung over the river.
d) After through the path of pine trees which are over 400 years old, you can find a Haiden (Hall of worship).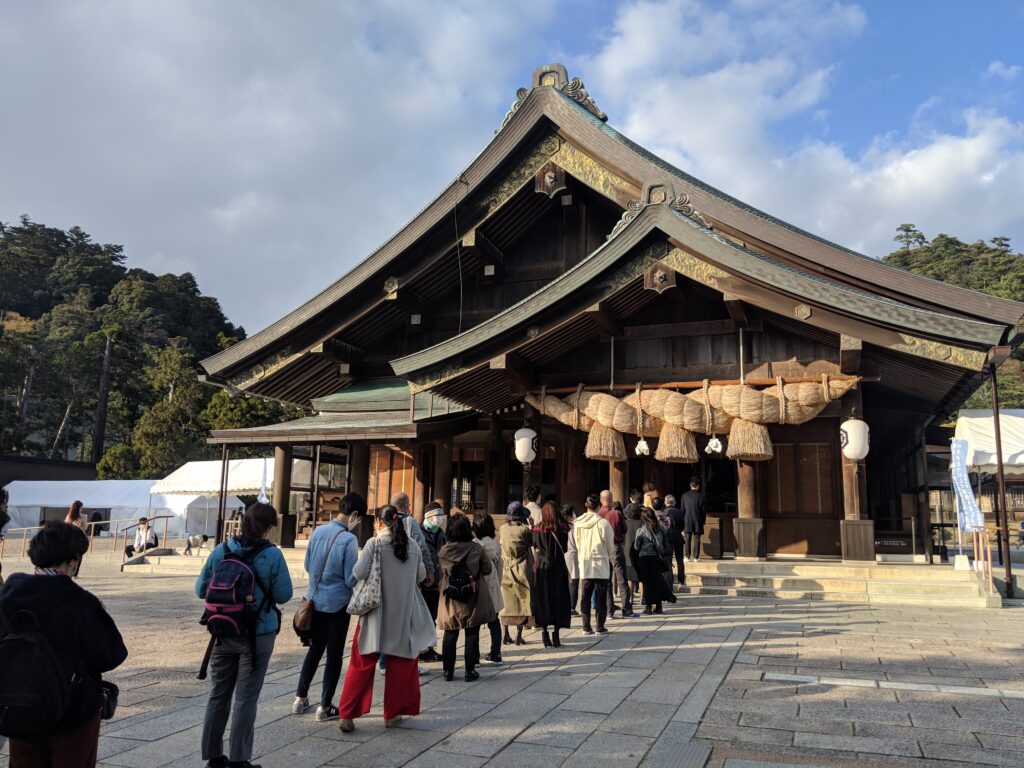 e) Hassokumon-gate:
By walking toward the center of the precinct, you can find Hassokumon-gate.
There is a main hall located in the back of Hassokumon gate where Ookuninushi-no-Mikoto is enshrined. This main hall is not opened except special event, therefore, people need to worship from Hassokumon gate.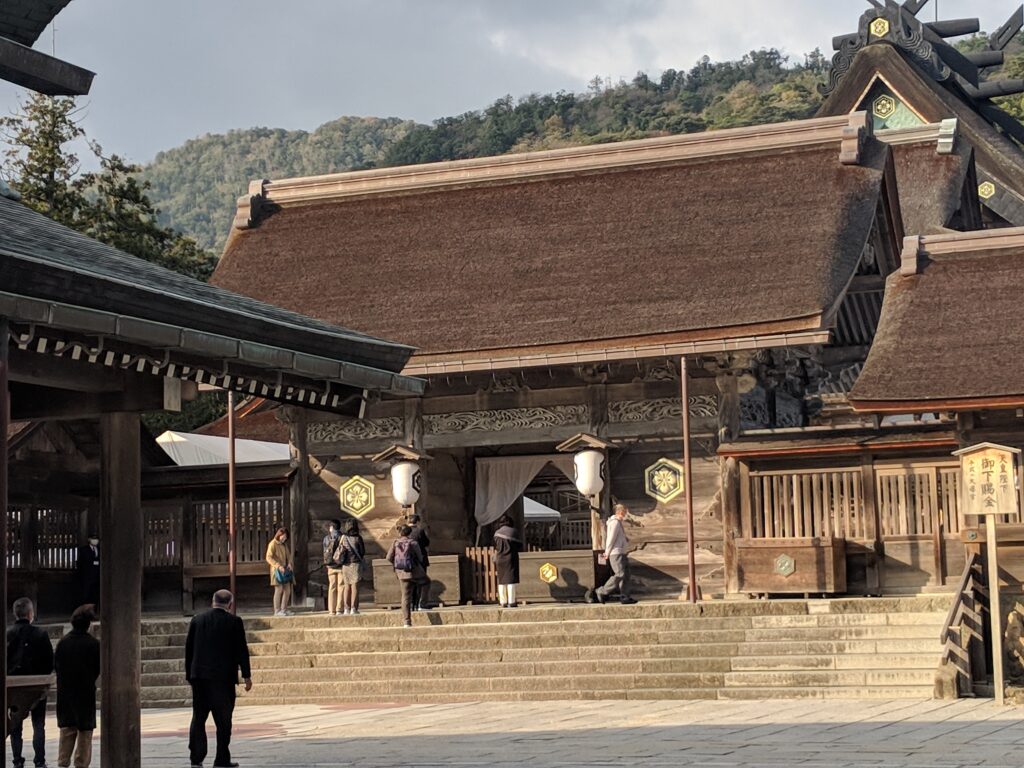 f) Jyukyusha-hall :
Jyukyusha-hall is the important place where worshippers can take benefit of matchmaking and all gods in Japan come here to stay on October.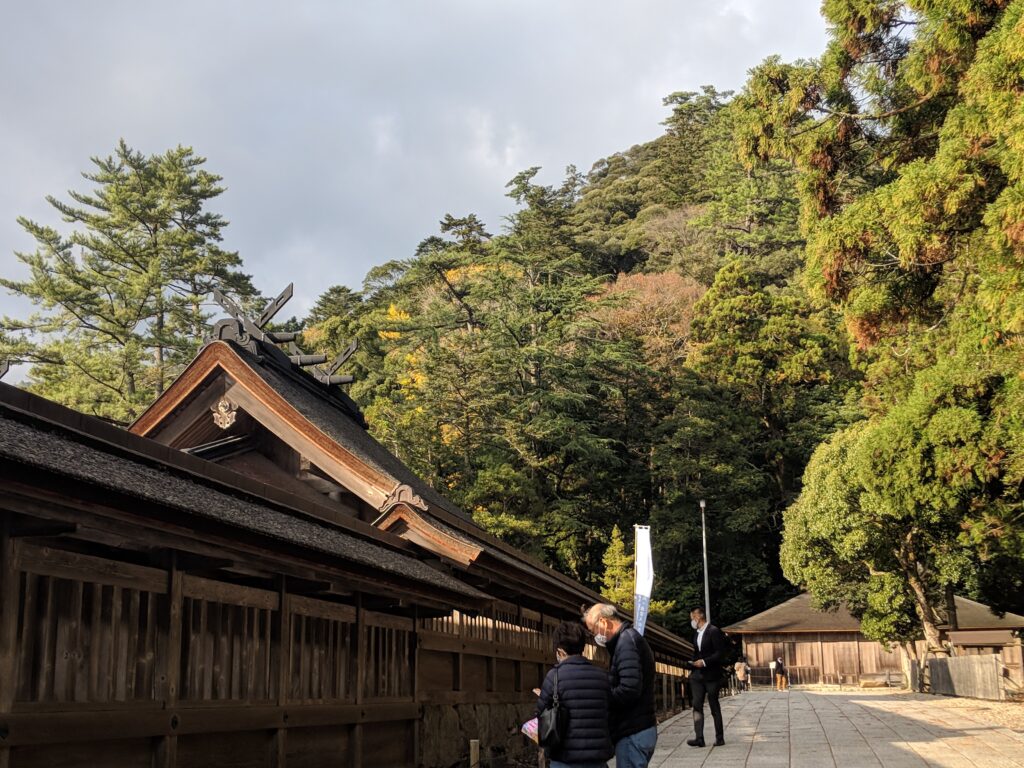 g) Sogano-Yashiro:
Sogano-Yashiro is a small shrine where Susano-no-Mikoto is deified. There is a wooden box located in the back of this hall.
The sands you pick up on Inasa-no- Hama beach are exchanged with the sands on the wooden box placed on back-side of Soganoyashiro small shrine. By executing this action, you can be protected against evils and receive the benefit of matchmaking.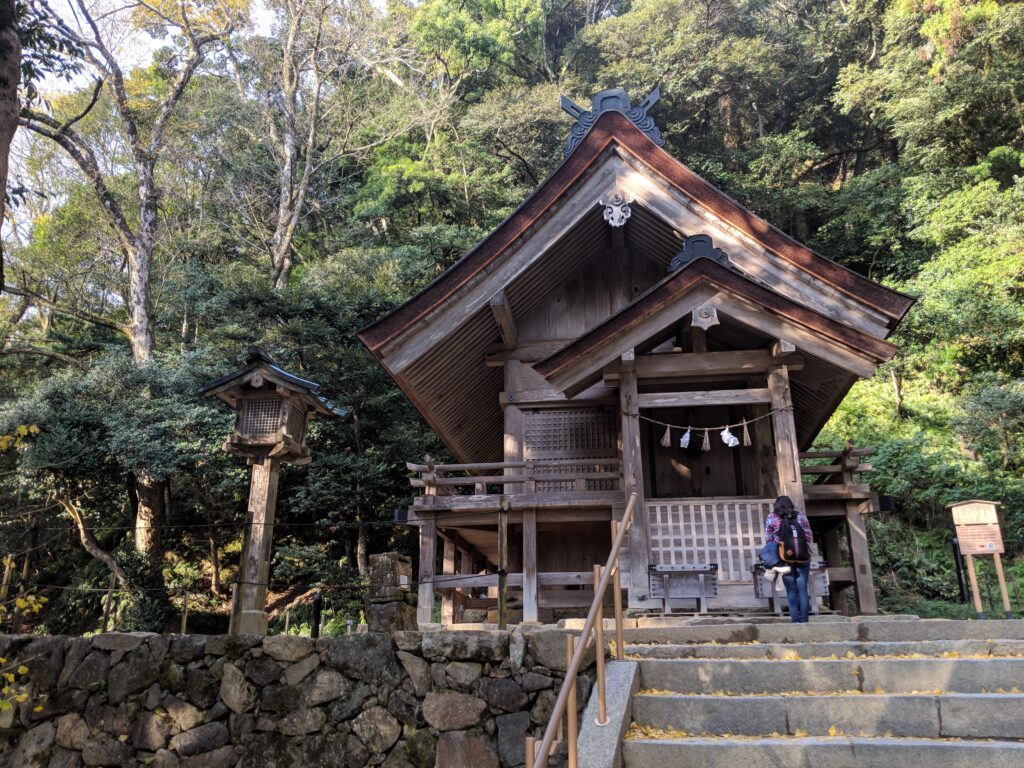 h) Landscape of buildings which are surrounded by walls: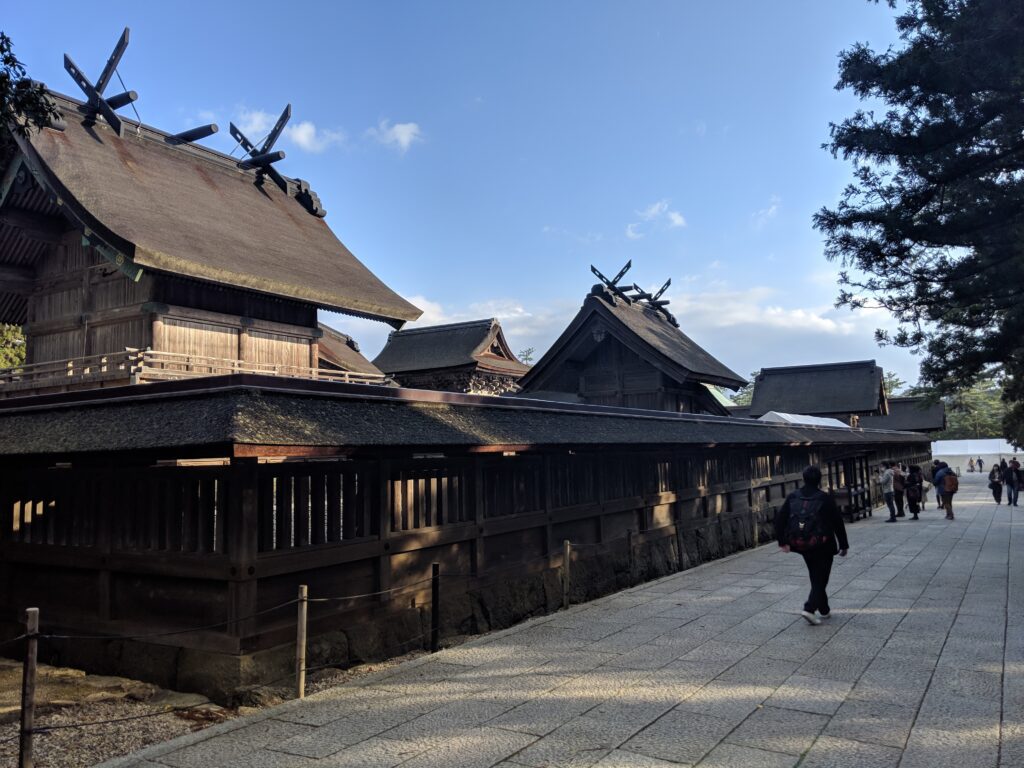 i) A small offertory box :
On the west side of the main hall after walking around the walls by counterclockwise and reaching at the last, you can find a small offertory box from which people worship to Ookuninushi-no-Mikoto enshrined in Main hall. It is said that Ookuninushi-no Mikoto is facing toward west side and people need to worship from hear to the front of the God.
The reason why the God facing west side is guessed that Inasanohama beach is located the west side of this shrine and he need to welcome all gods in Japan.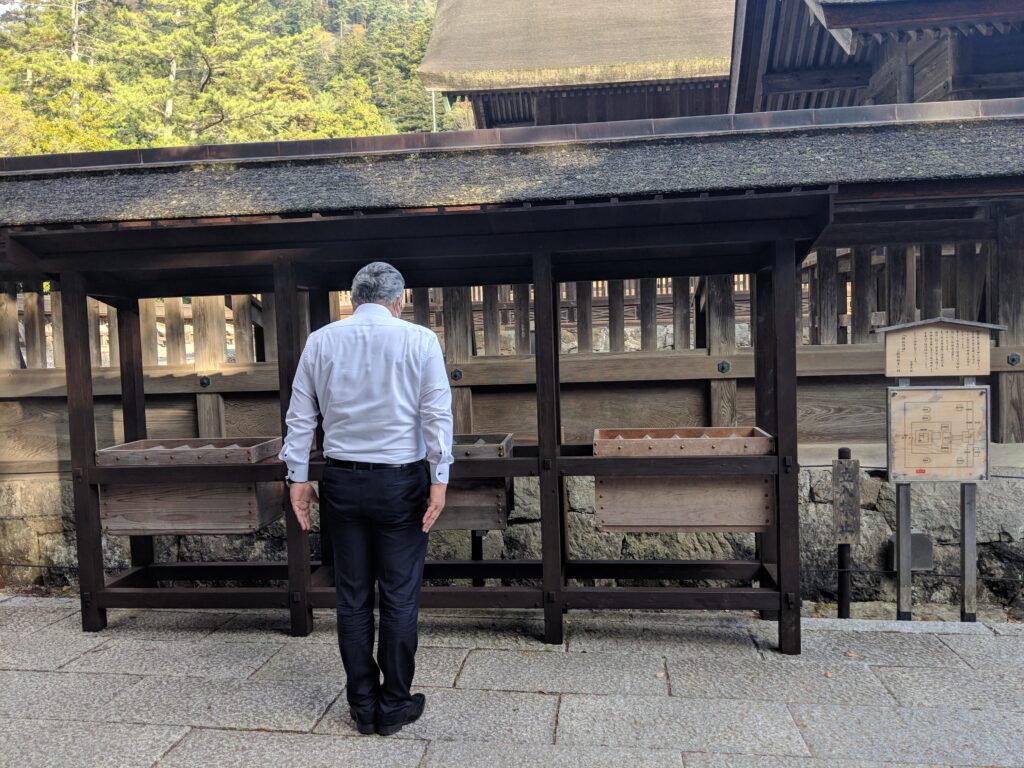 j) Shirakuden hall:
As the final tour stage, you will find a enormous sacred rope hung in Shirakuden hall.
The purpose of this rope is to protect evils come into this shrine as the barrier to divide God territory from that of common world.
This rope is the largest one in Japan with 1.5 meter length and 5.2 tons of weight. Various ceremonies such as wedding ceremony are held in this hall.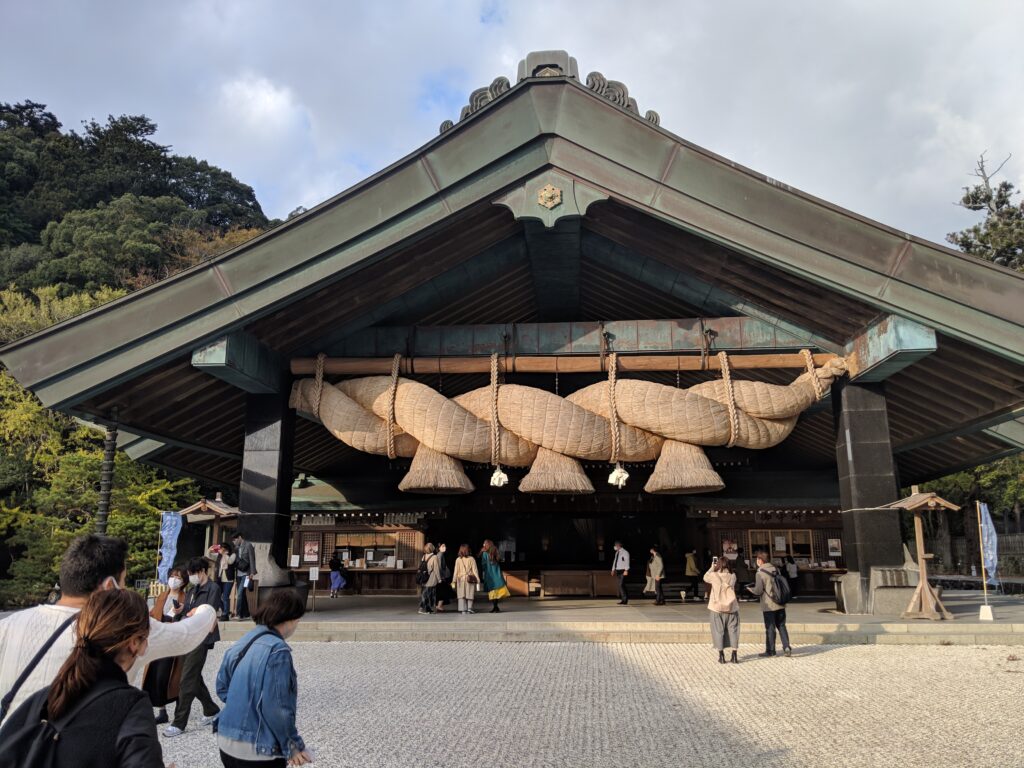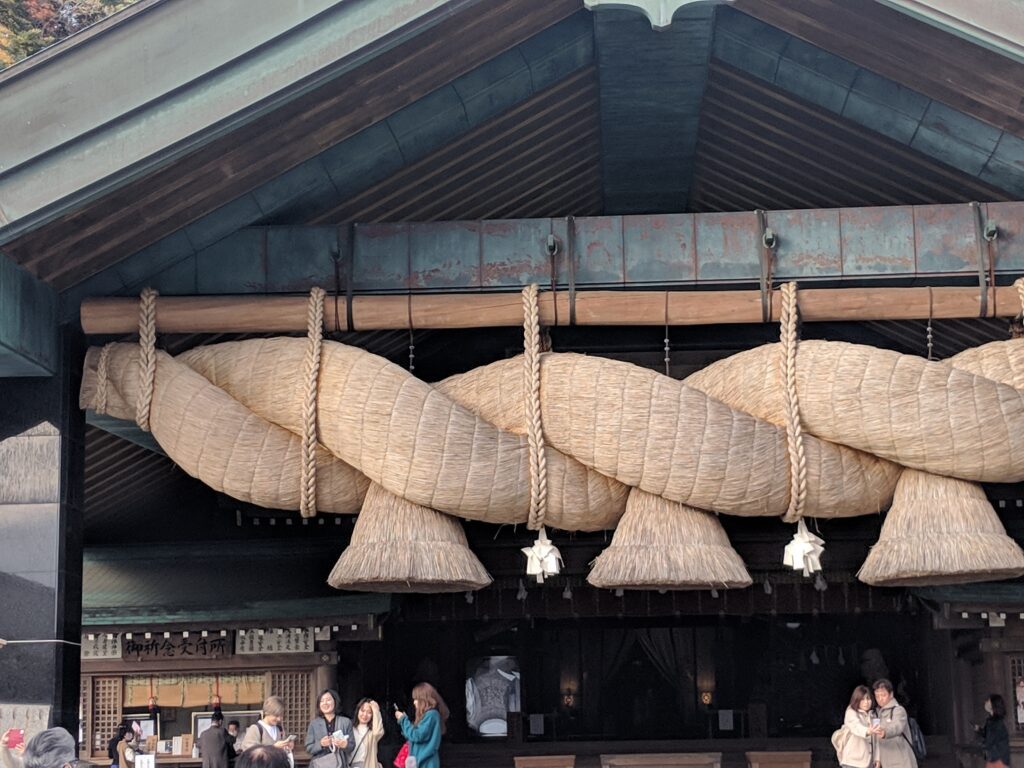 (2) The place where you can enjoy:
(Sakaiminato)
Sakaiminato is located in Sakaiminato city of Tottori prefecture and one of the most famous port towns in the coast of Japan sea. This port boasts the largest catch of red snow crab and raw tuna in summer, snow crab in winter and other plenty of seafood are gathered.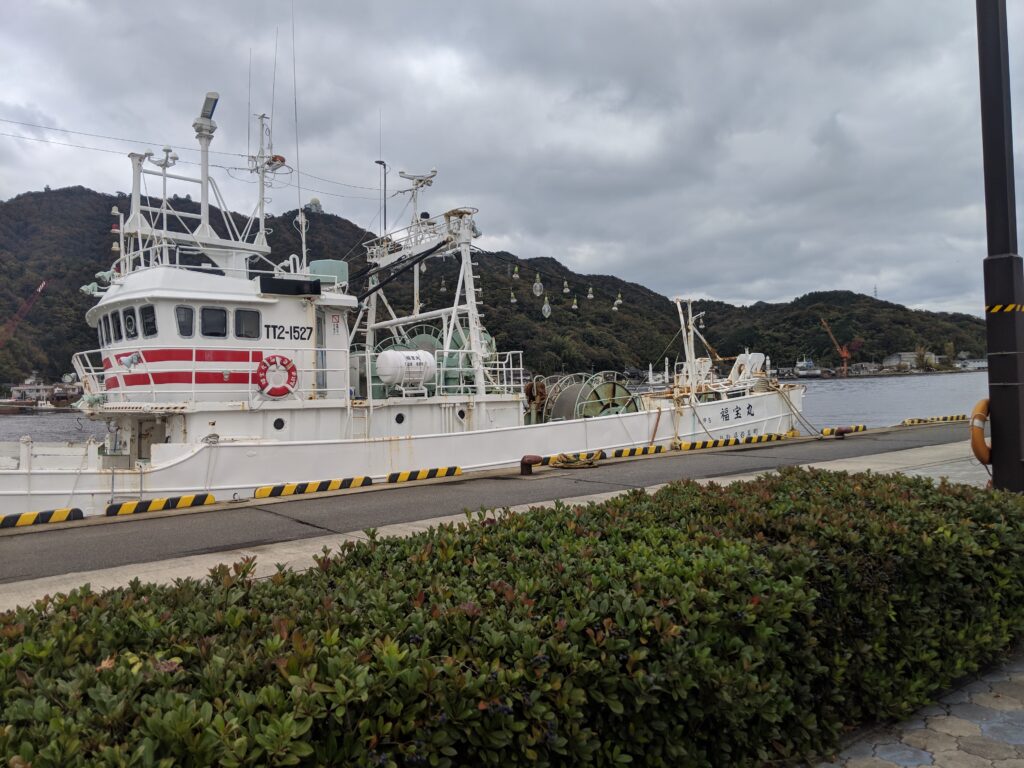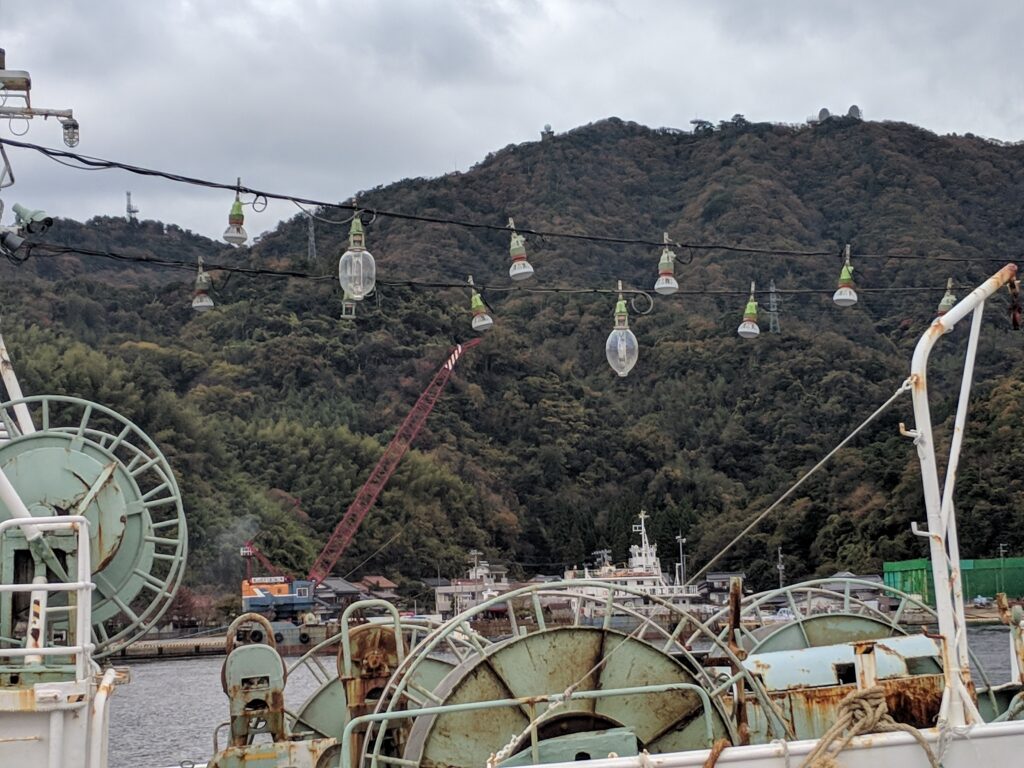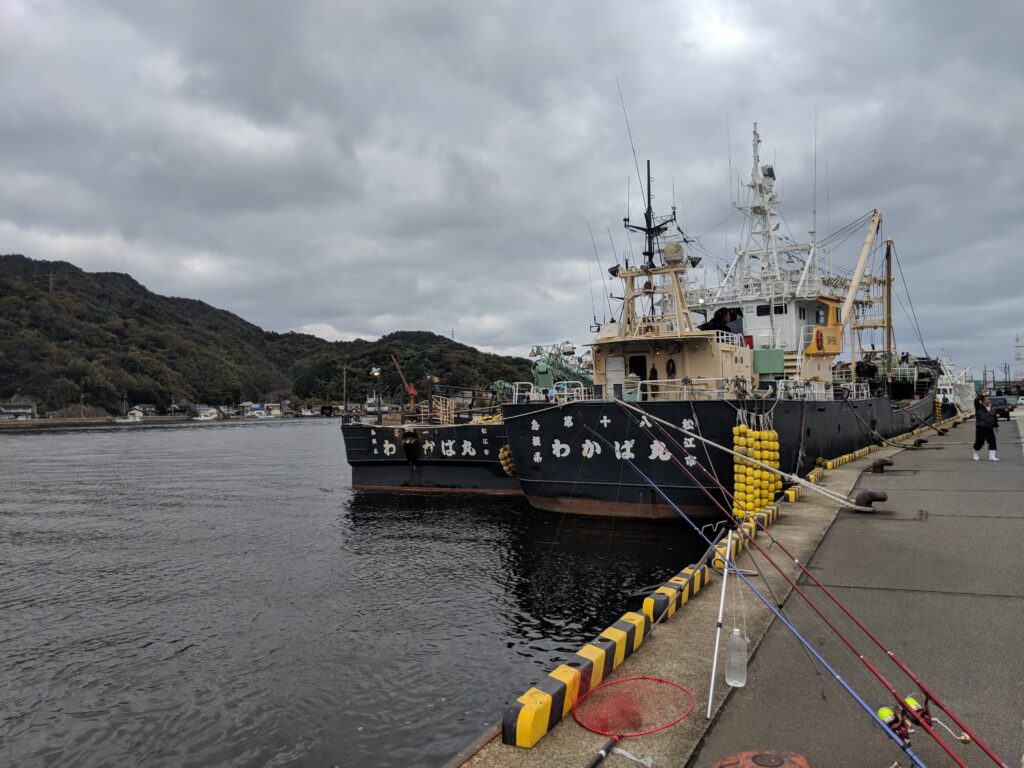 (Sakaiminato marine products direct sales center)
This center is a fresh fish market lined up with 12 fish stores. Seafoods just caught in the sea and processed marine products are gathered.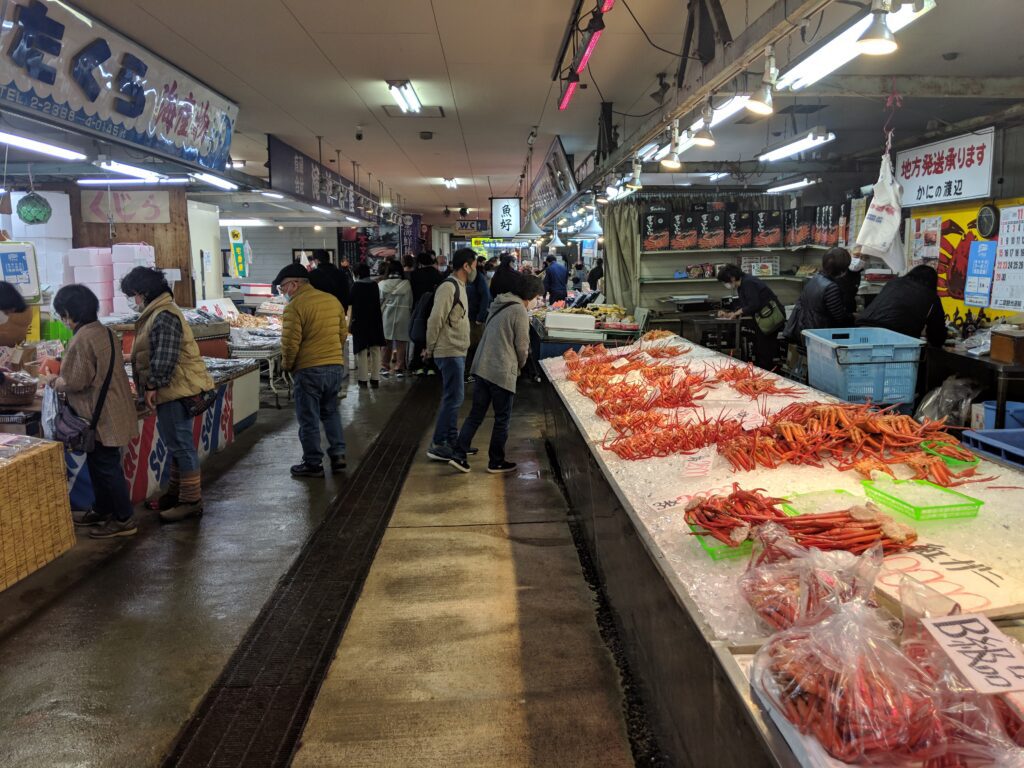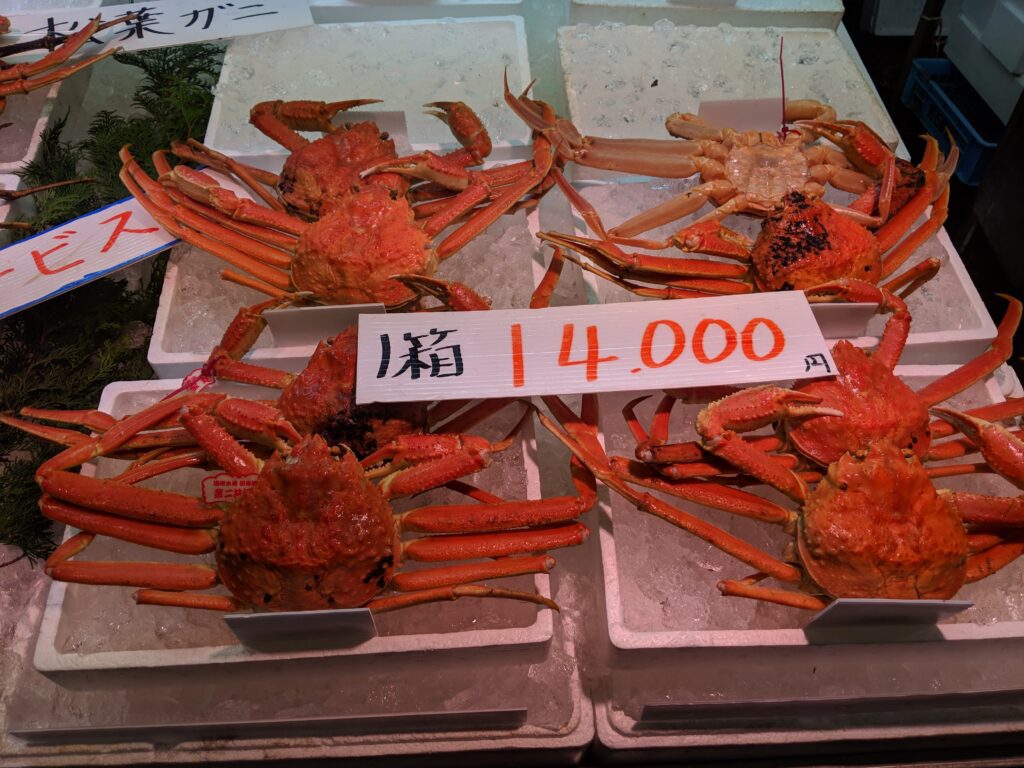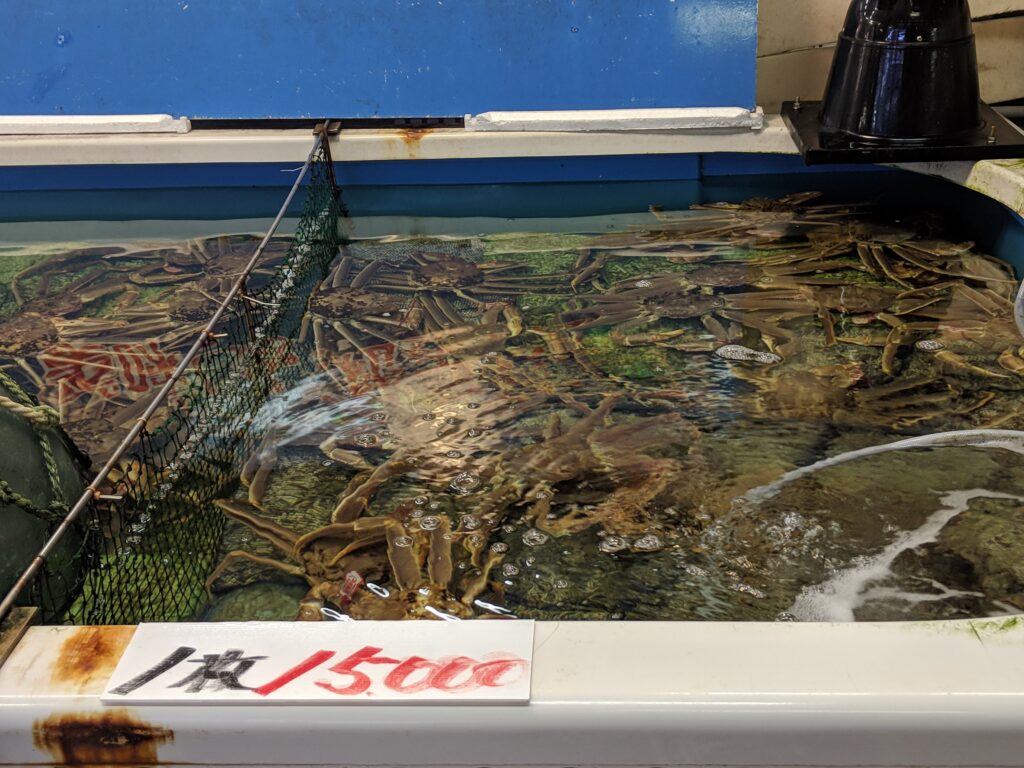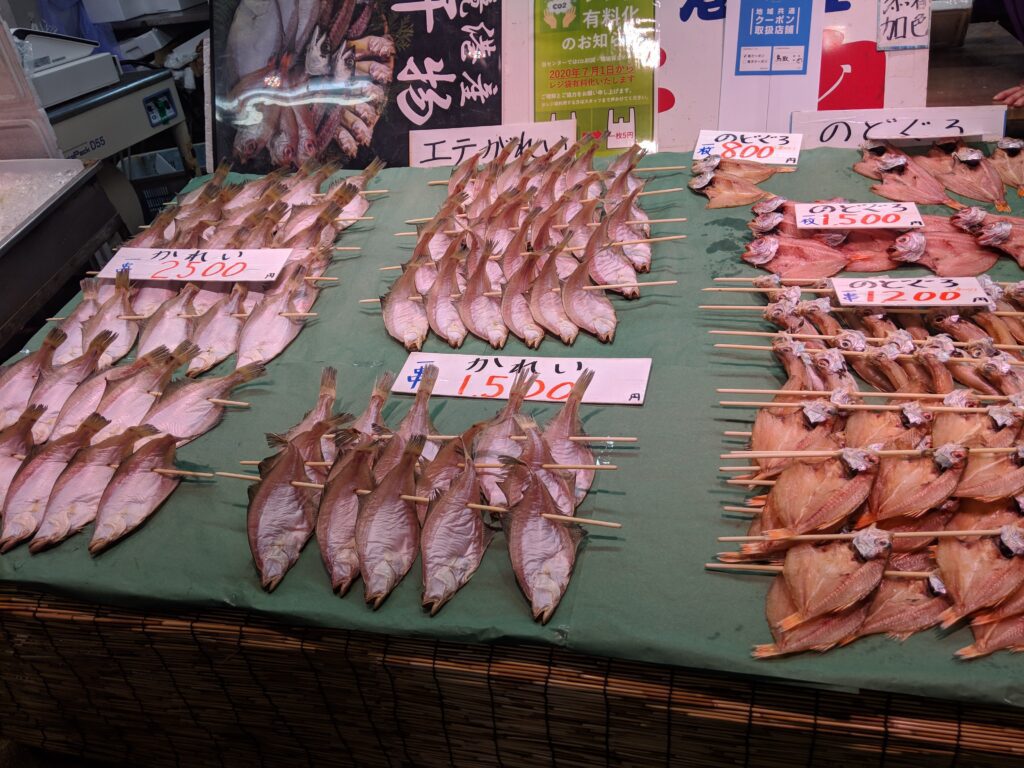 Japan Van prepares various tour itineraries for you to enjoy the view in Japan.
The minimum itinerary days is more than 5 days.
Contents of our service: We can arrange a car and a National Government Licensed Guide Interpreter for your trip.
Optional service: We can support accommodation reservation arrangement, admission arrangement, reservation of dinning place and so-on through our associated company named Japan Van Tours.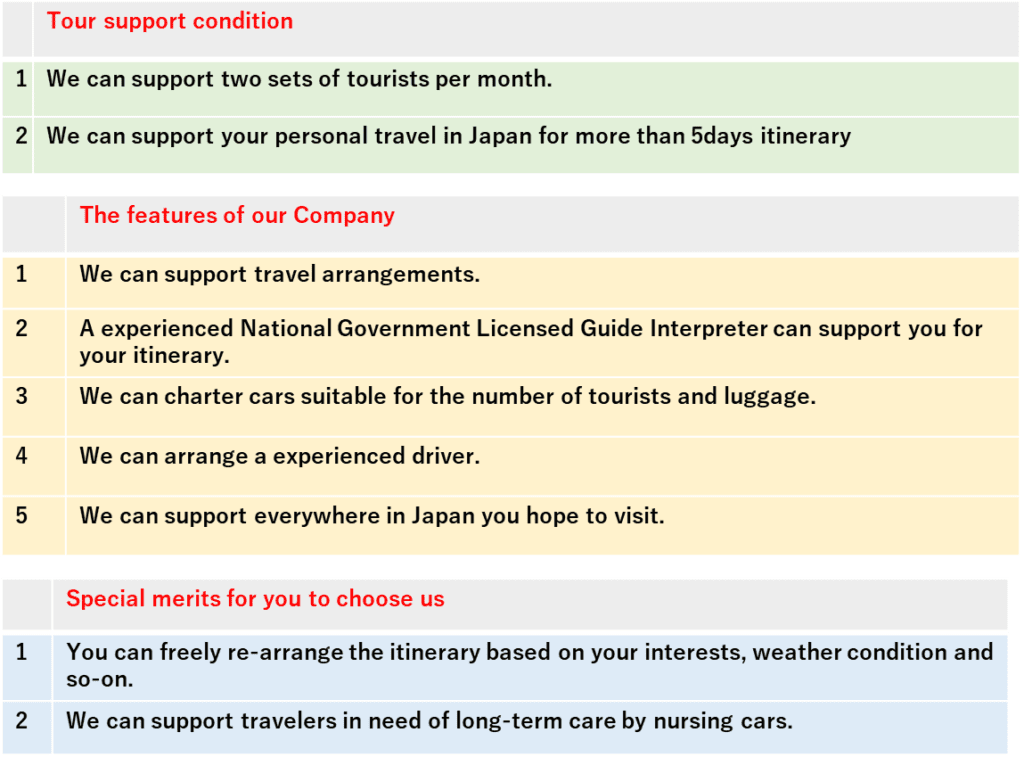 | | |
| --- | --- |
| | Car charter and a guide condition |
| 1 | Number of tourists: 2pax – 12pax |
| 2 | Charter time and guide condition: 12 hours (including 4 hours resting time) |