Akasaka is the area where you can see the image of the architectural industry in Meiji era (1868-1912) according to the concept of the Meiji government to show the national prestige with magnificent modern architecture. Guest house Akasaka palace is located In Akasaka estate which was modeled after Place of Versailles as Baroque architecture.
Takanawa is located in the boundary of central Tokyo and the west side of Shinagawa and Takanawa gateway station. In the surroundings of Shinagawa station, Lot of large city hotels including Shinagawa Prince hotel has been built.
Roppongi is the fashionable downtown area centered on young people. In 2000s, large scale commercial complex such as Roppongi Hills and Tokyo midtown were developed and built where many types of museums were settled as the culture and art area.
The place where you can experience and enjoy:
(1) Guest house Akasaka palace:
In 1909, Court Architect, Katayama Tokuma designed and built for the Crown Prince's Palace of Taisho Emperor.
In 1974, this palace was renovated by Murano Togo as a guest house.
(a) Architectural form:
This building was modeled after Neo-Baroque architecture of France in 19th century with combining the motif of Japanese style architecture in detail portions. In the center of the palace, a mirror room with 73meter length is set where an arch window with glazed takes lightning and landscape into the room and a opposite side wall with glazed can catch them.
By the both wings of the building be curved in front, the style of Baroque architecture is emphasized. The back side of the palace seen from the garden fountain has elegant pillars lined up on the veranda.
(b) Entrance:
The gate in front of the palace has ornamental hardware and the height is 9.5m.
(c) Walls/Windows:
This building is made by granite. The Paulownia crest (three leaves with seven blossoms on the center lead and five blossoms on each side leaf) is curved on each pediment in left & right end side. In the center pediment, the motif of Japanese armor and an imperial crest of chrysanthemum is surrounded by many flags that represent the court authority.
(d) Roof:
A pair of Japanese armor on the roof,
(e) Ornaments:
The Celestial globe suspended by sacred birds located in both right & left side on the roof means talisman. Paulownia crest (three leaves with seven blossoms on the center lead and five blossoms on each side leaf) is curved on granite and the sacred birds are shining with gold.
(f) Interior:
There are four rooms inside the palace for sightseeing.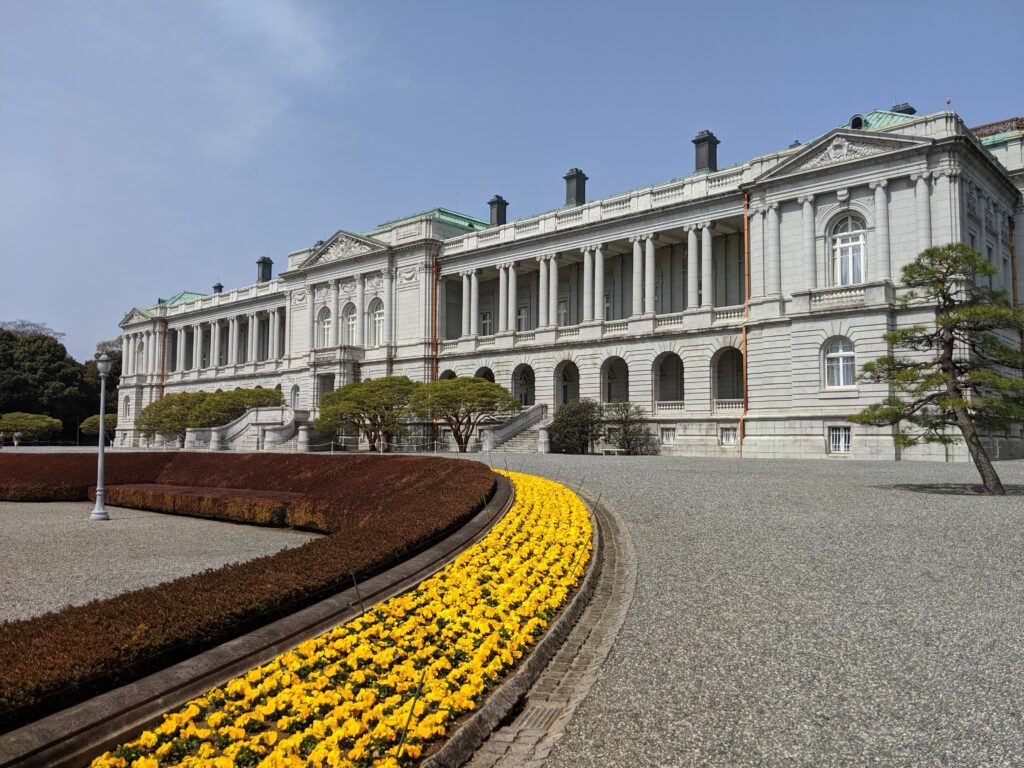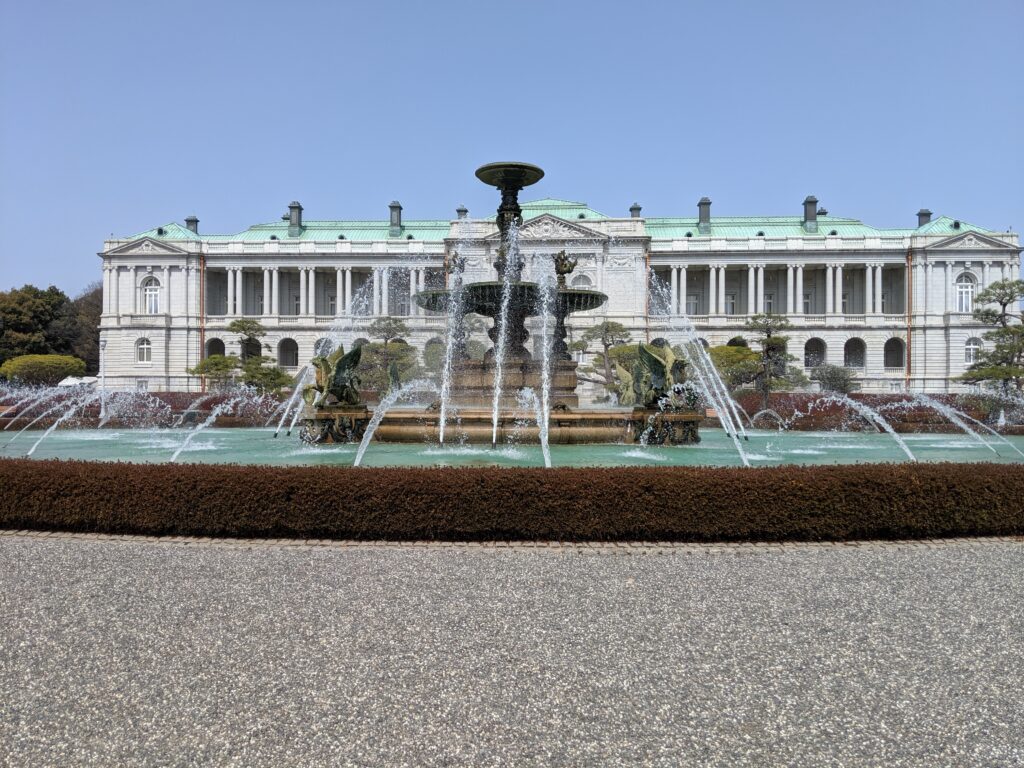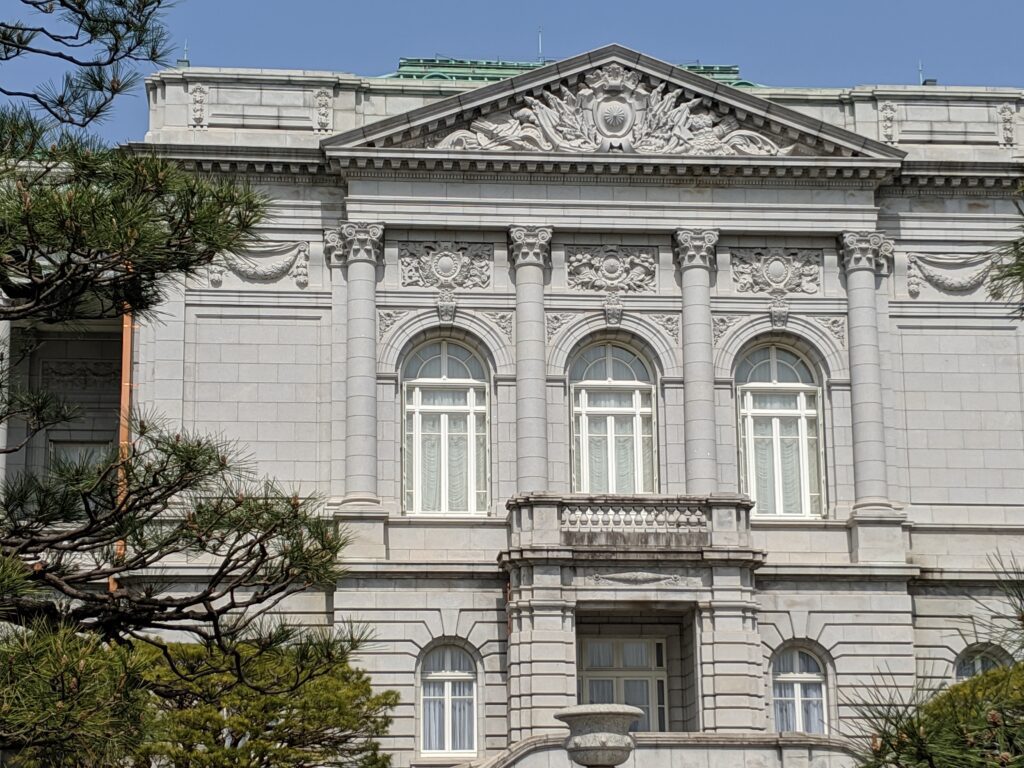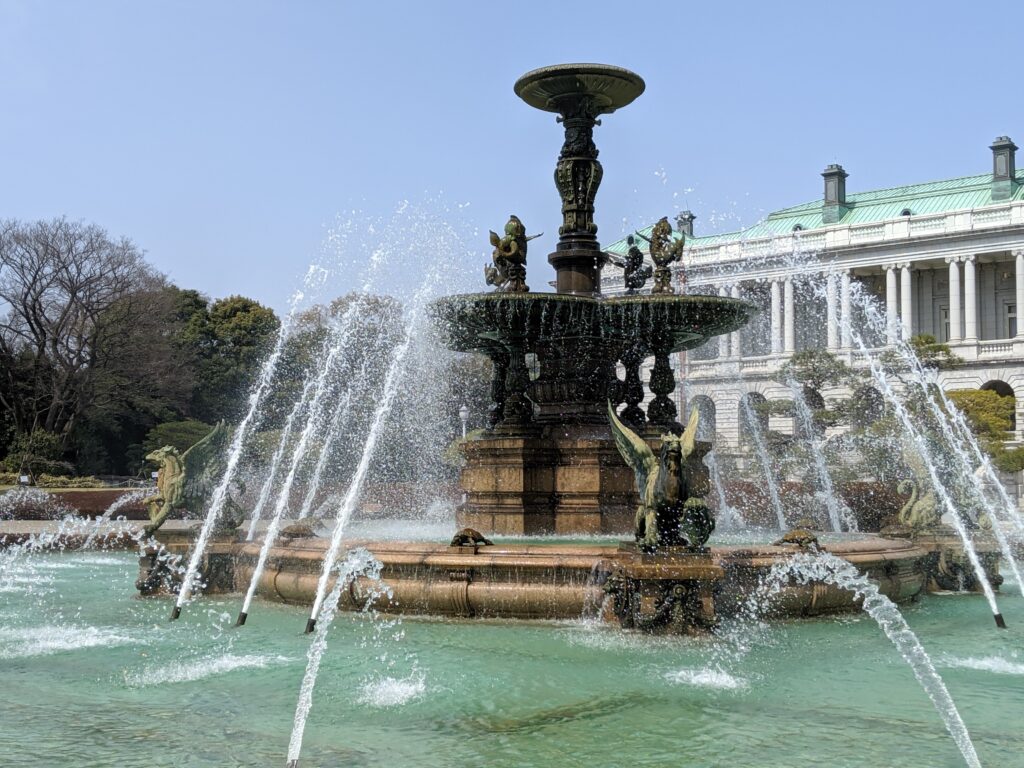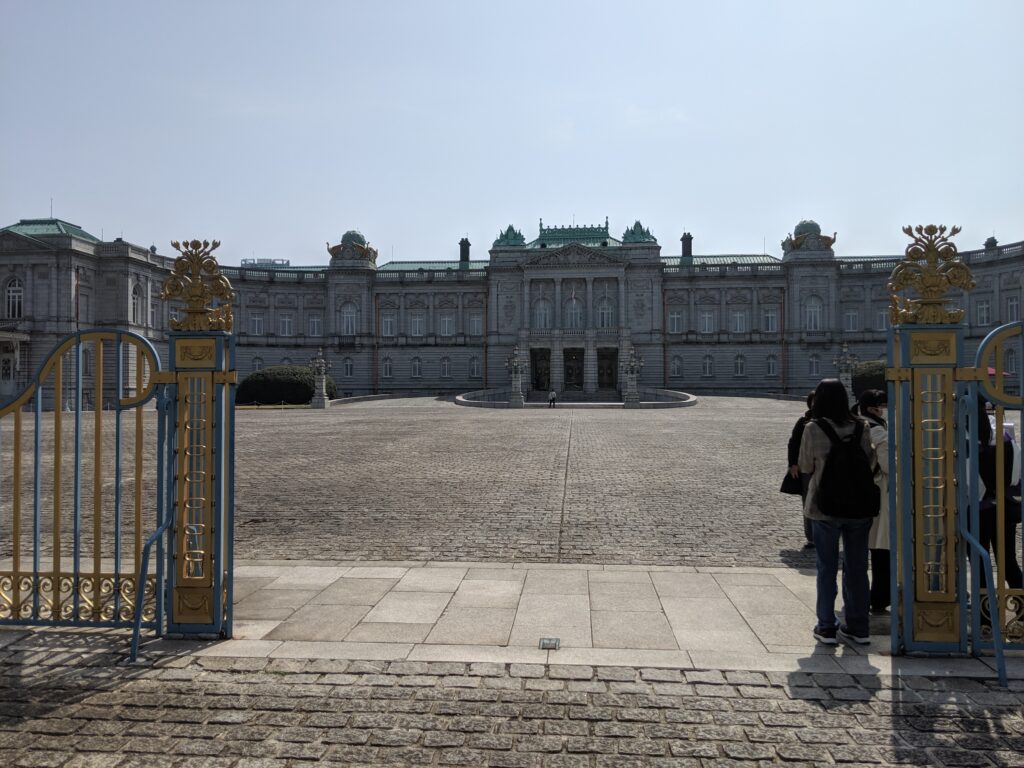 house Akasaka palace/ Japanese style Annex named "Yushintei":
The facility to welcome guest from various country by using Japanese style design and pure Japanese hospitality. This building was designed and built Taniguchi Yoshiro in 1974. This facility welcomes guest from various country by using Japanese style design and pure Japanese hospitality. Tea, flower arrangement and Japanese meal are served with Japanese house and garden characteristic.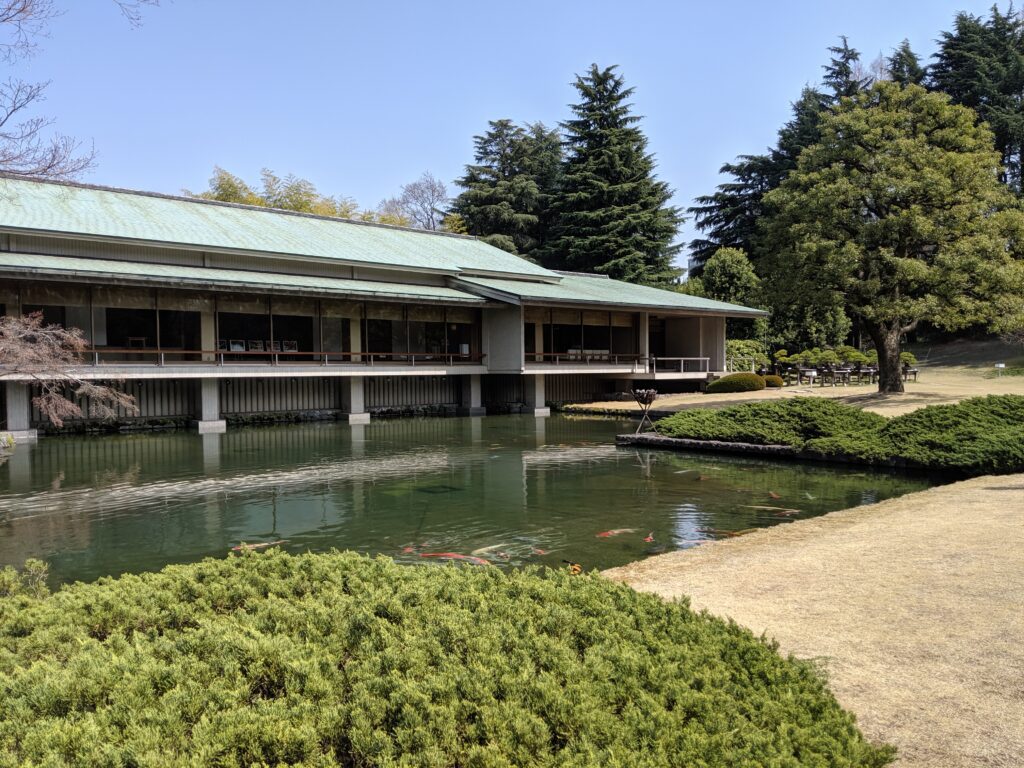 (2) Grand Prince Hotel Takanawa: 
Murano Kengo designed and built in 1971.
(a) Architectural form:
There are 1010 numbers of balcony in the building. Inside the building, a large banquet hall named "Hiten" and an entrance hall named "Uzushio" whose area size is same with that of 8 tennis coats with 23meter height.
(b) Ornaments:
There are shells embedded in the doors of elevator and in the ceiling of the hall, 300k of pearl oysters are embedded.
(Hotel Takanawa)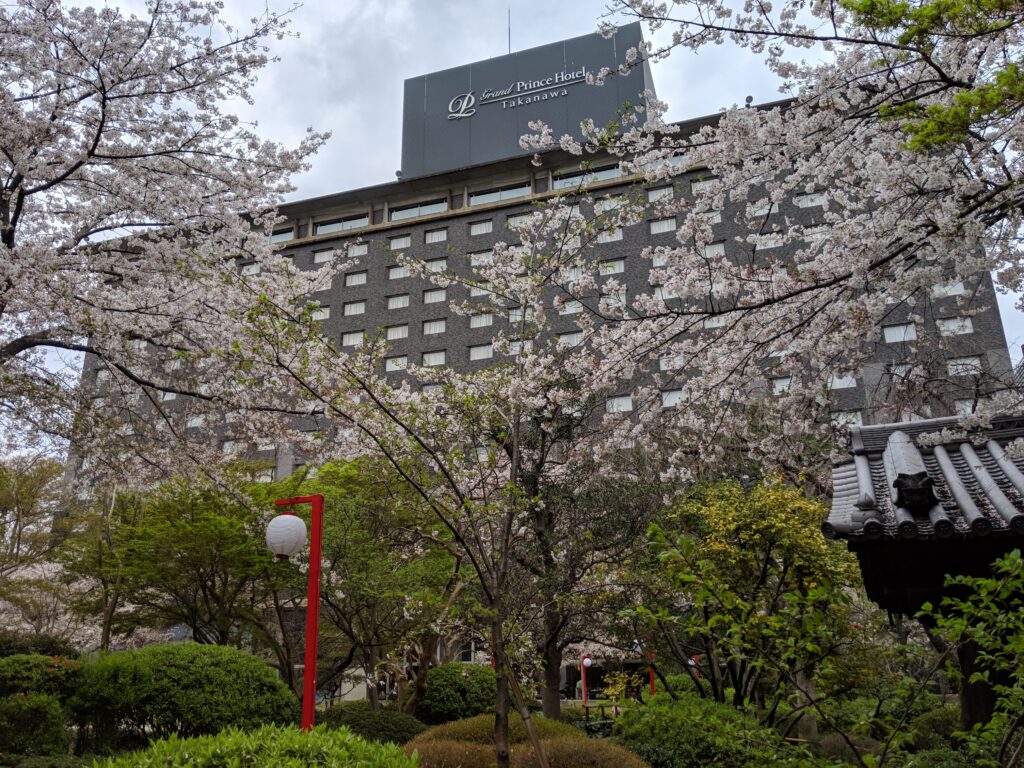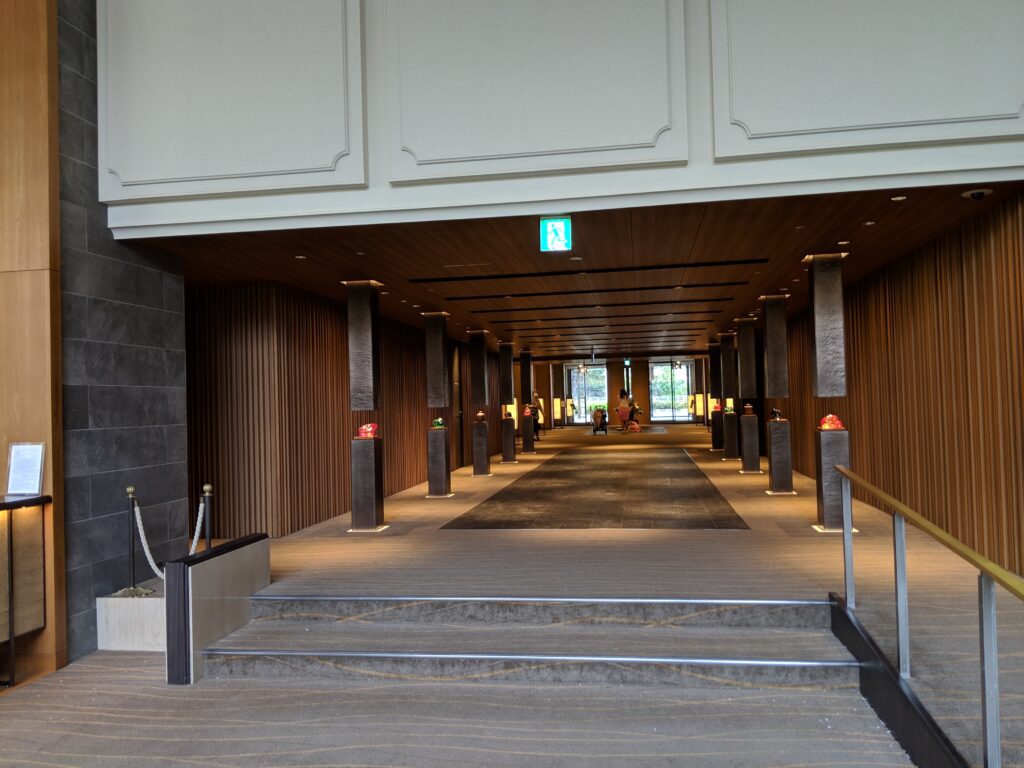 (Hotel New Takanawa)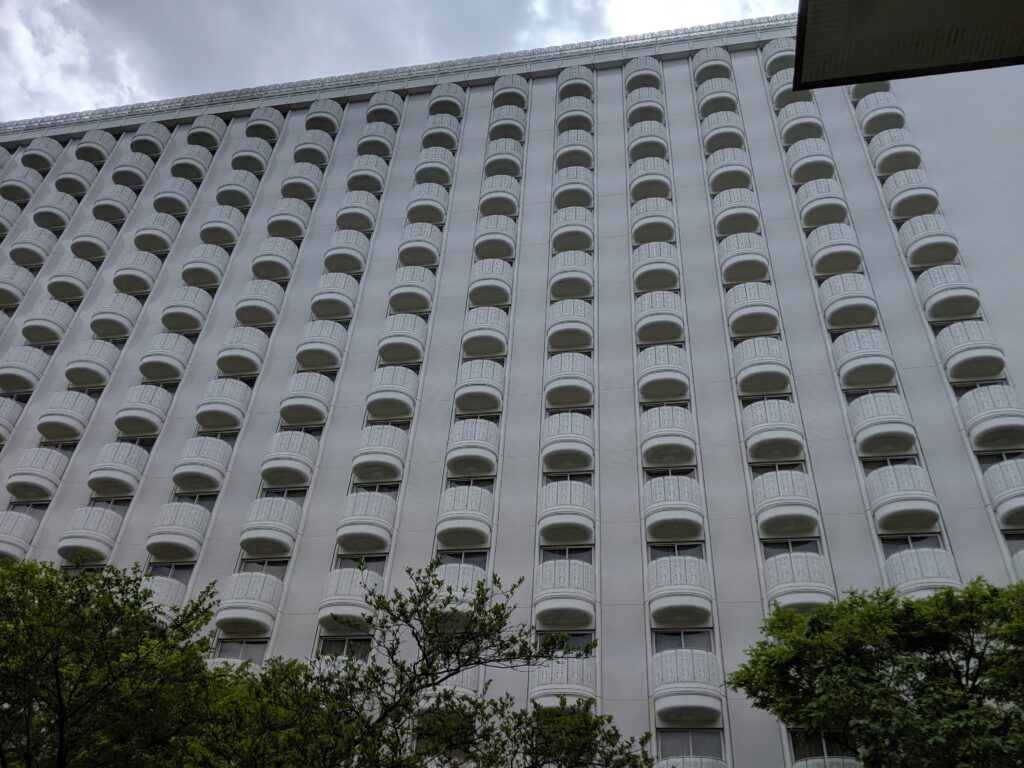 (3) Grand Prince hotel Takanawa/Guest house which used to be the residence of Imperial prince.
Katayama Tokuma designed and built in 1911 and Murano Kengo renovated it in 1972.
(a) Architectural form:
This building is made by steel brick construction with 2 floors above ground and 1 floor below ground and was modeled after Renaissance architecture.
(b) Walls/Windows/roof:
Imperial roof with natural slate roofing and square dome.
Dormer window (a roof window) is jutted from a slant roof wall to keep day lighting for the garret.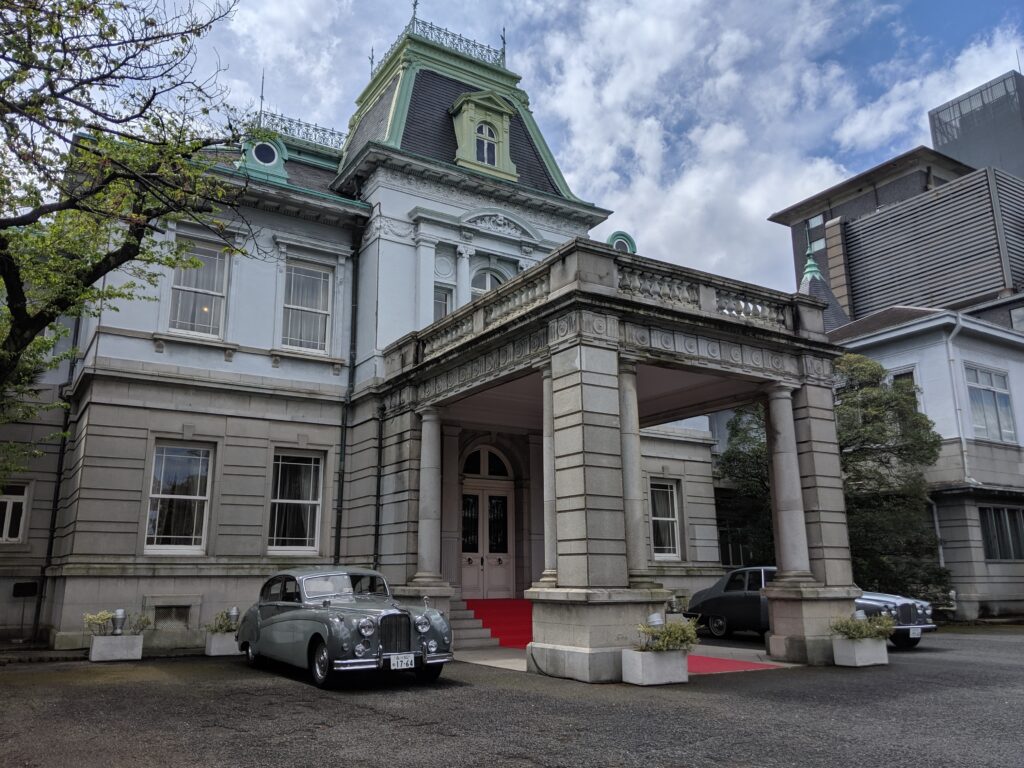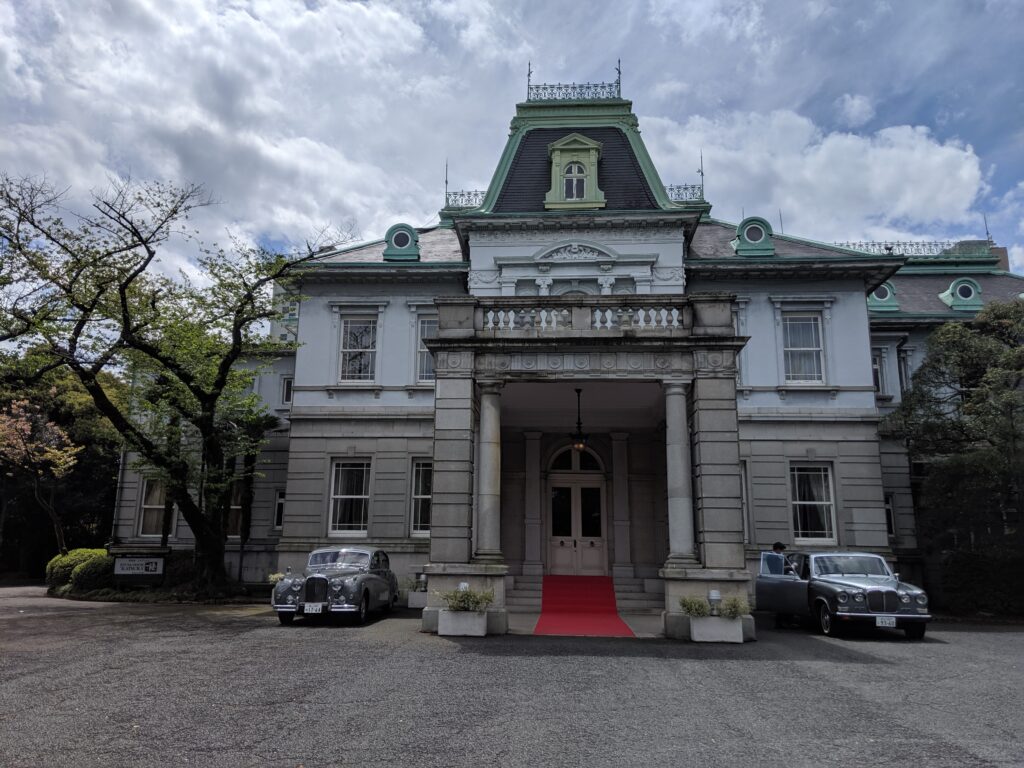 (4) Tokyo Metropolitan garden art museum / Former Asaka Palace house:
Imperial Household Takumi Dormitory designed and built in 1933 for the residence of Asaka palace. Later in 1983, this has been opened as a museum.
(a ) Architectural form:
International style architecture which is the universal style common in the world, not effected by the circumstance of each area. Le Corbusier is one of the representatives of this style. The modeling expression of this building is monotone, undecorated, functionalism and linear manner.
(b) Entrance:
In central entrance, there are 4 female figures set in glass relief door which were created by Rune Lalique.
(c) Walls/Windows:
In a large dining room, there are six lines of bow windows (jutted windows with curved shape) set and the sunlight coming from the windows is reflected by the ceiling of the room which fill up the room with lightning.
(d) Ornaments:
Art deco decorative style is used which was popular in Paris of 20th century. The geometrical and symmetrical pattern is the characteristic of the ornament. Glass craftsmen such as Rune Lalique and so-on joined to exhibit the atrs such as perfume tower which emit elegant light.
(e) Interior:
By working through the chalk pouch of the central entrance, you can see the gorgeous world created by Art Deco. The interior of the second floor of a dining room and a bedroom are decorated combined with Japanese style elements.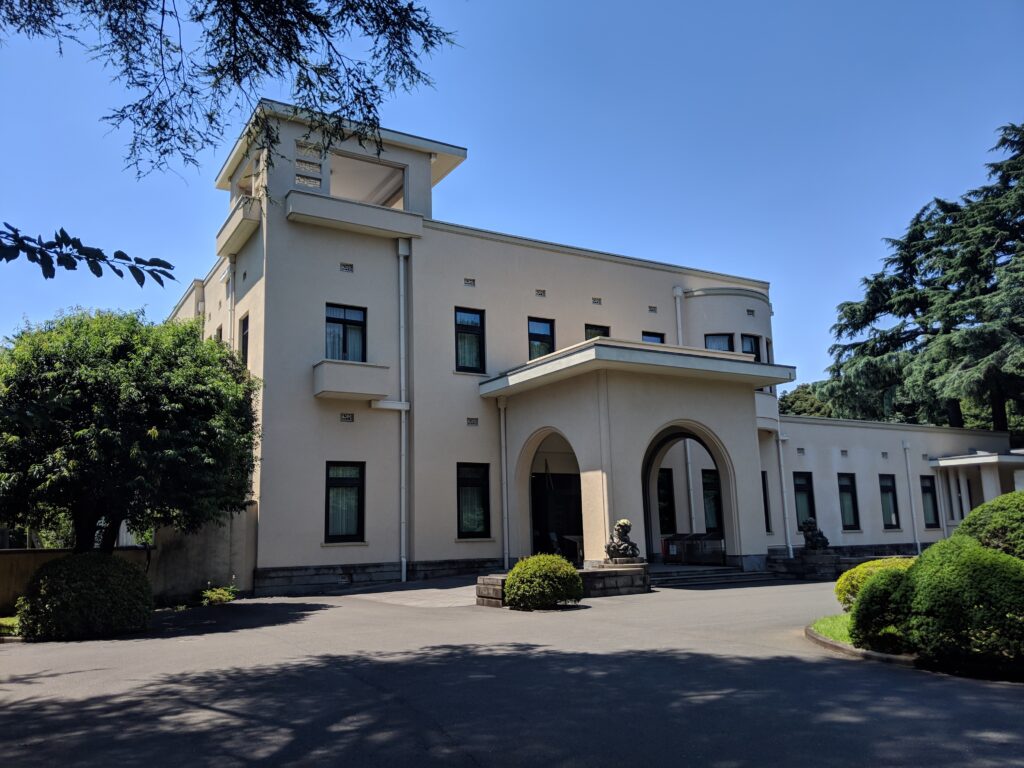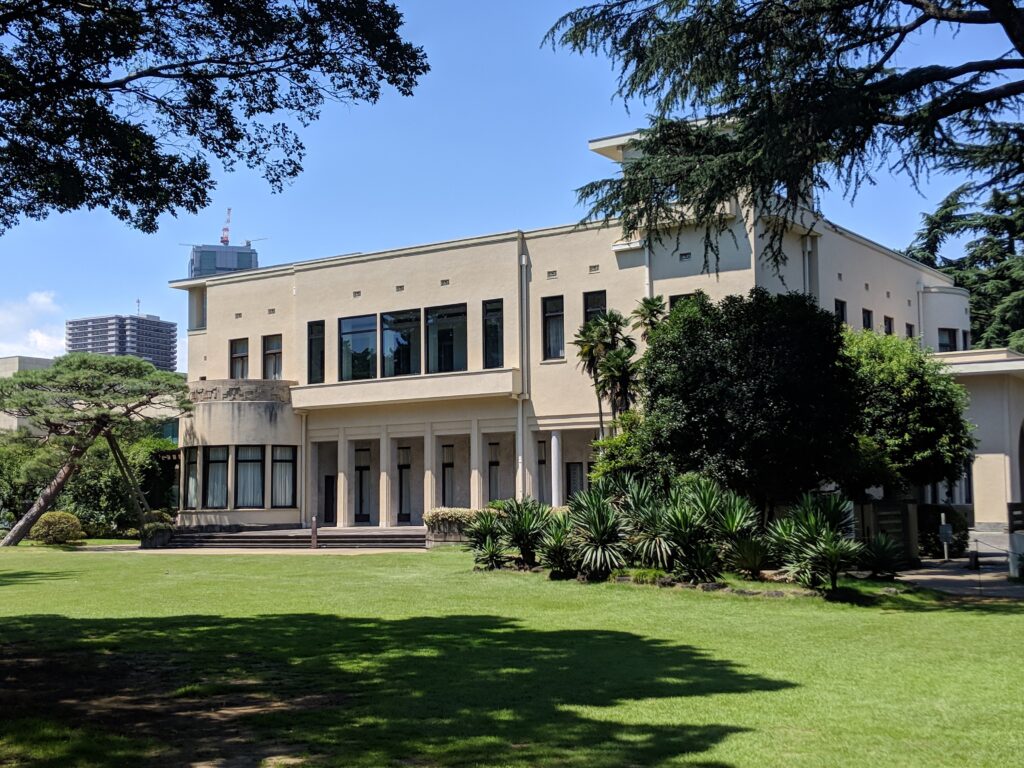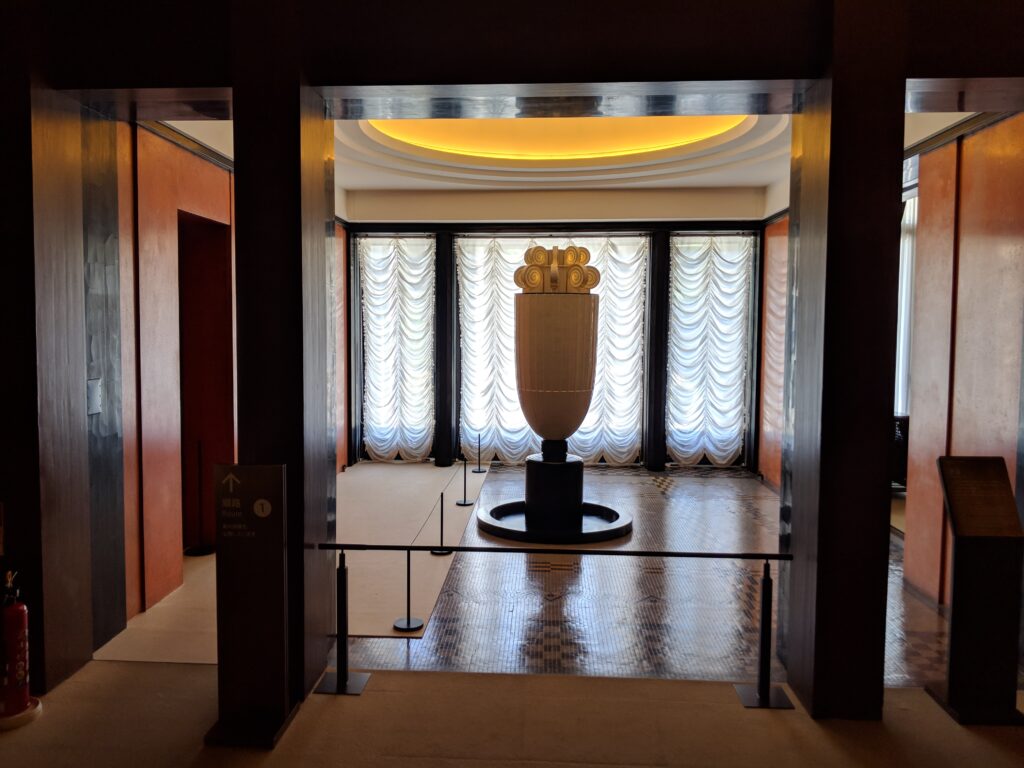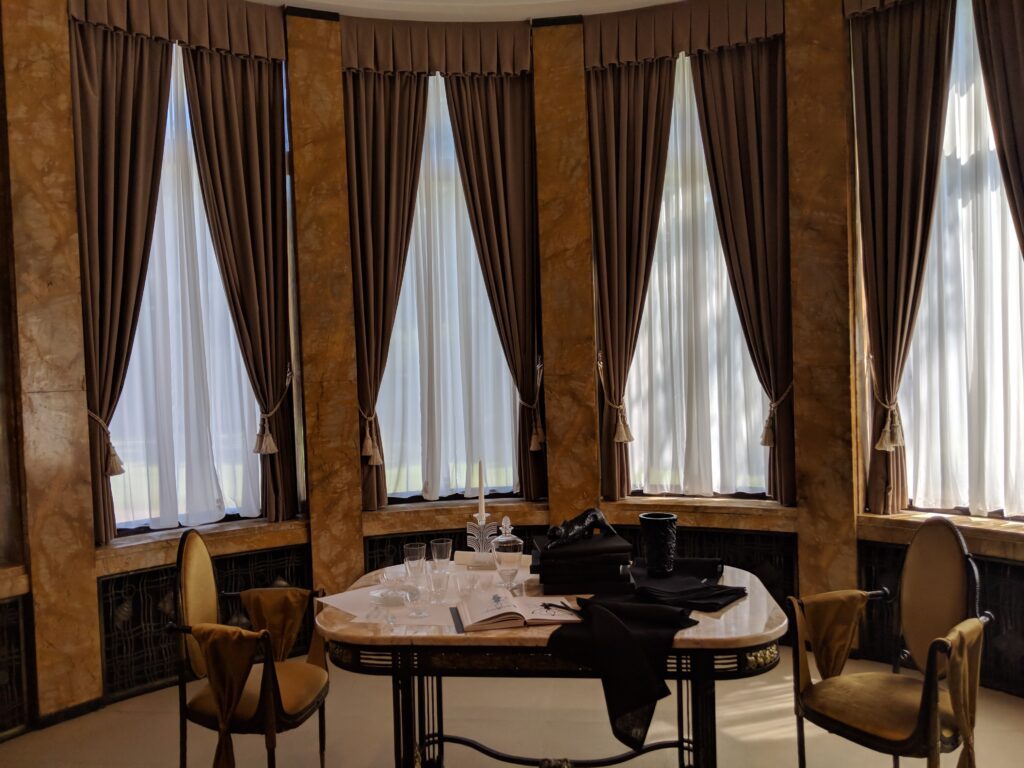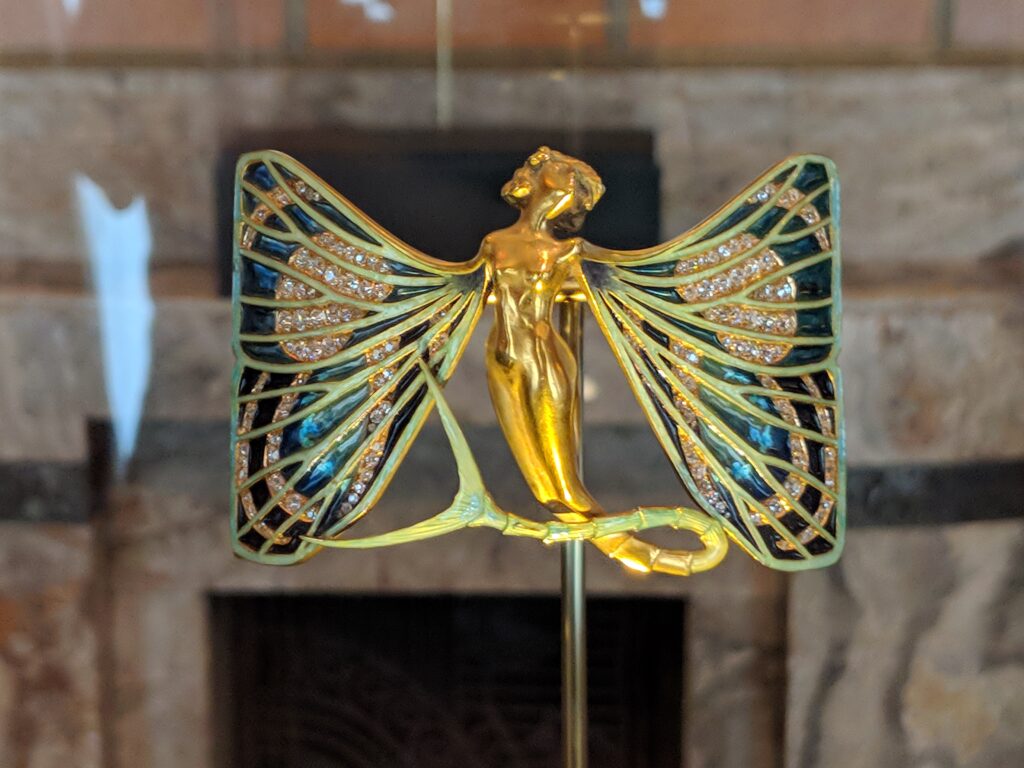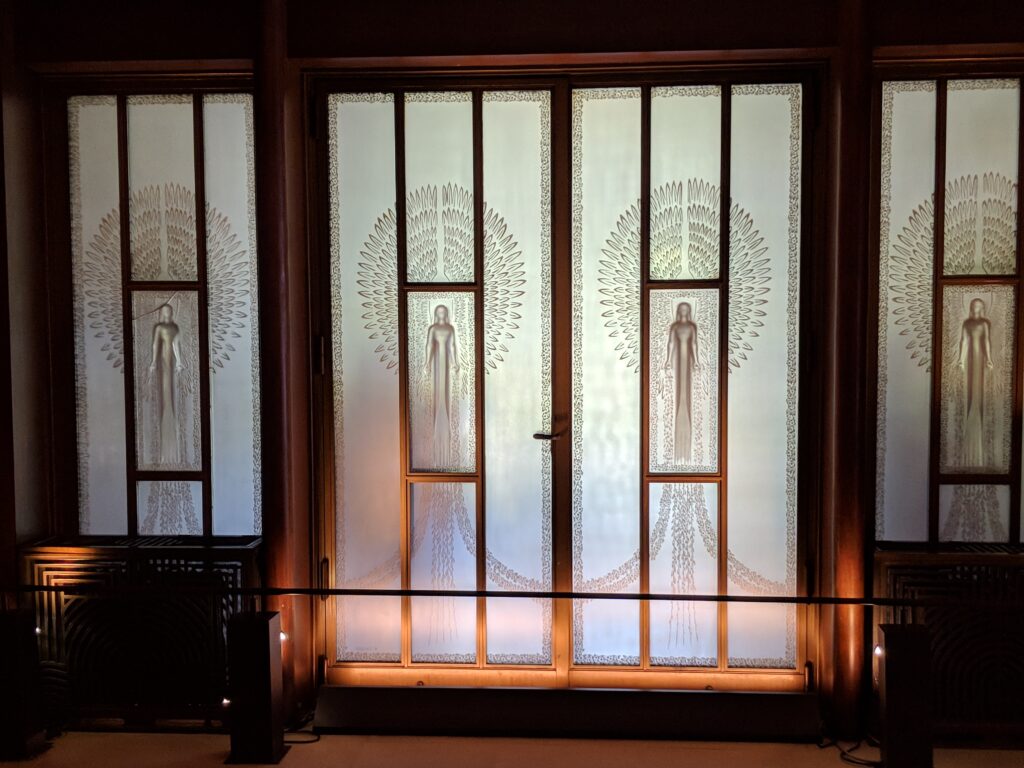 (5) The National Art center, Tokyo:
One of the maximum exhibit spaces as museum is prepared.
Kurokawa Kisho designed and built in 2006. This museum was designed with applying the concept of "Museum in the forest".
(a) Architectural form:
This building consists of 4 floors above ground, 1 floor below ground and in the south side, the outer wall is designed as ripping curve as if it is curtain wall that enable the boundaries between the building and the surrounding nature to be blur and creating the effect of this building blending with nature.
The polka dot glass loupe and pair-glasses are combined that reduce the ultraviolet rays and solar heat.
(b) Interior:
There are 12 numbers of exhibits space, art library, auditorium, lecture rooms, restaurants, cafes, museum shop and so-on.
The public space of 1st floor atrium is fairly wide space kept including restaurants, cafes and museum shop.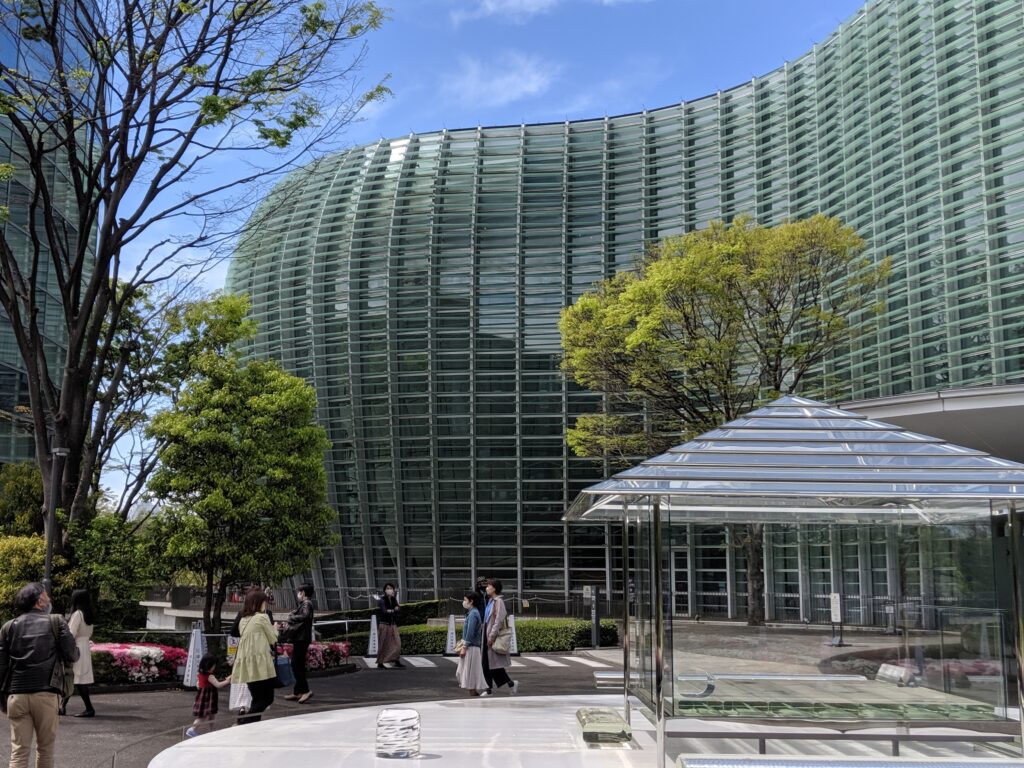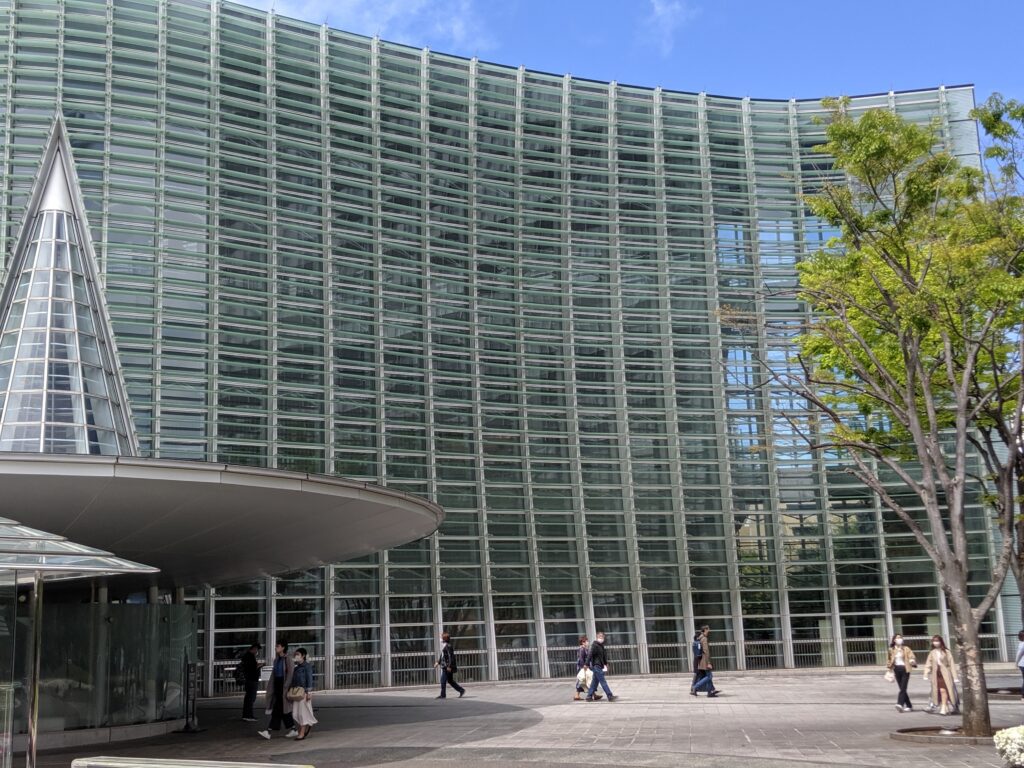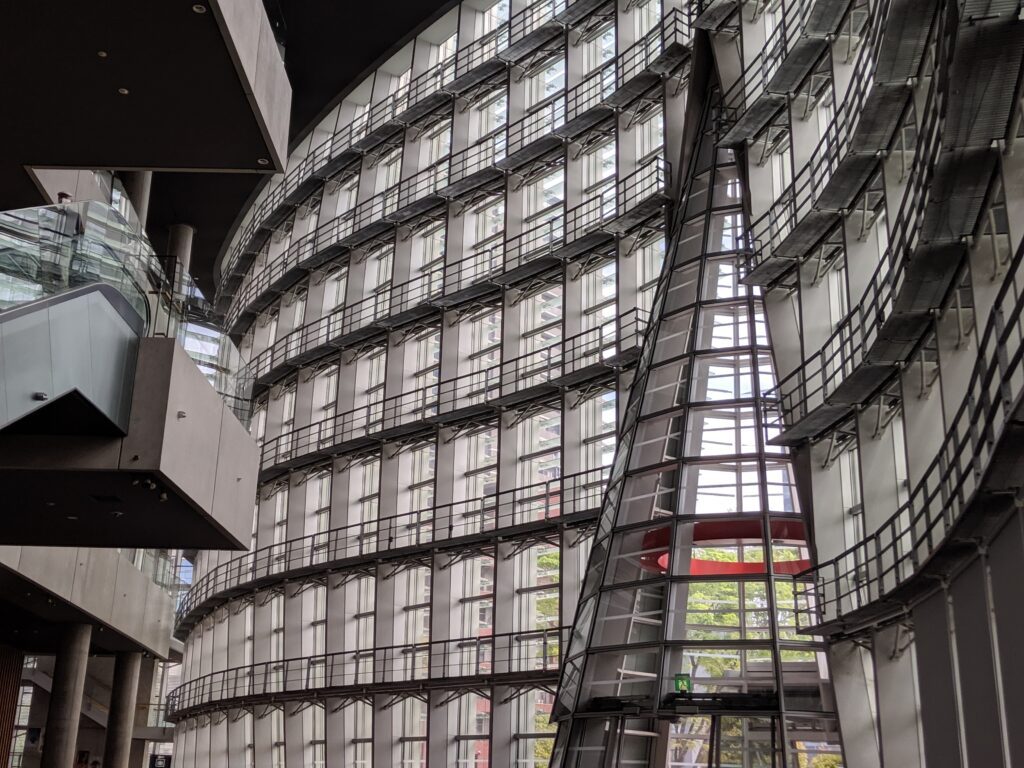 (6) 21_21 DESIGN SIGHT:
Ando Tadao designed and built in 2007. This museum is sending a program of design exhibition and workshop as a theme of daily events and things.
(a) Architectural form:
In backside of this building, tall cedars are lined up with combining lawn space in front of it.
The first floor is only for lobby and almost all space is in underground space.
(b) Walls/Windows:
The two pieces double glazing with 11 meters of horizontal length are set in the back side of the building that enable to take light and green into the inside hall.
(c) Roof:
The roof is designed as if an iron plate be bent which come from Miyake Issei's clothes making concept as using only a piece of cloth.
(d) Interior:
In the basement, plenty of natural light is taken from a large glass window.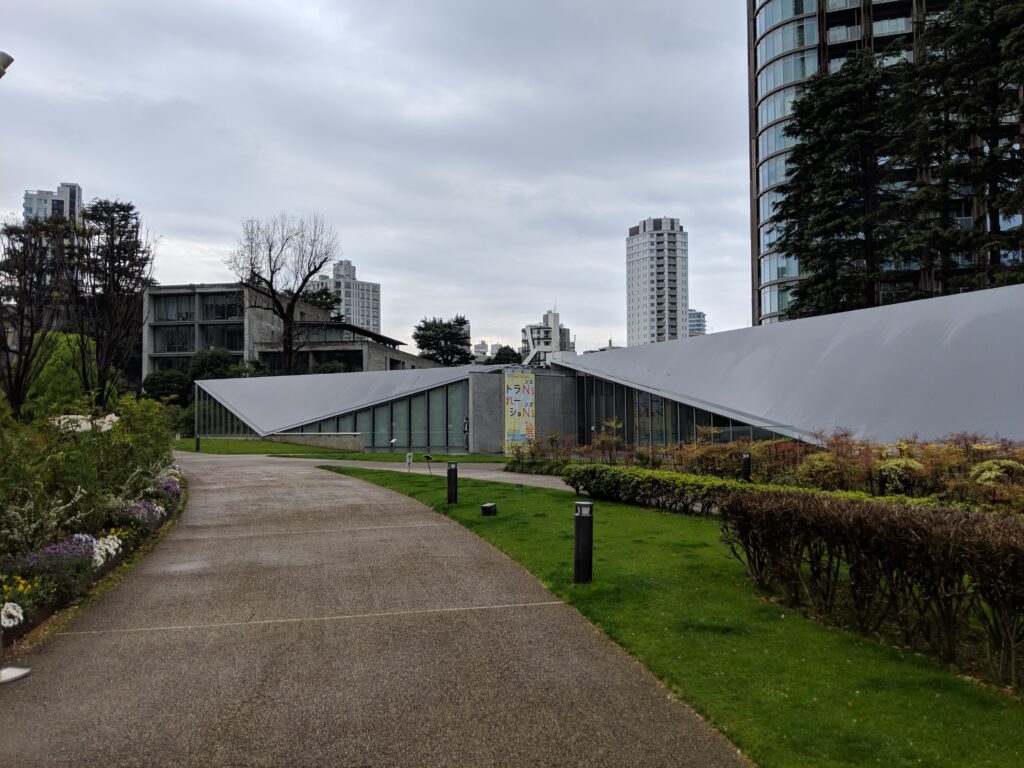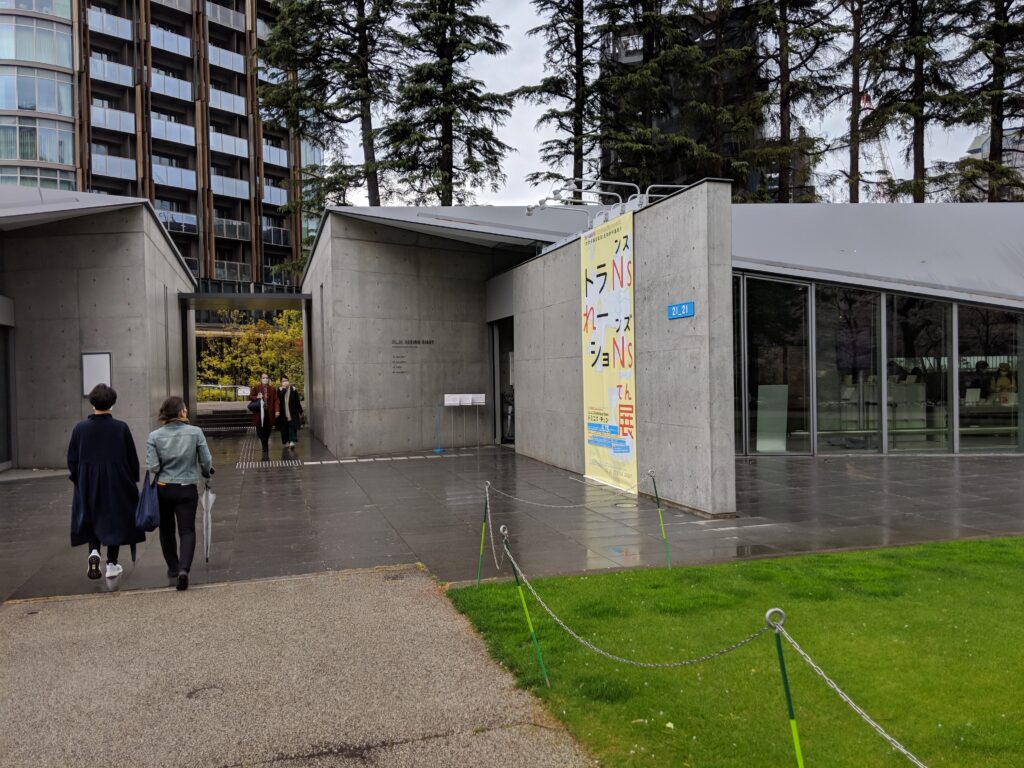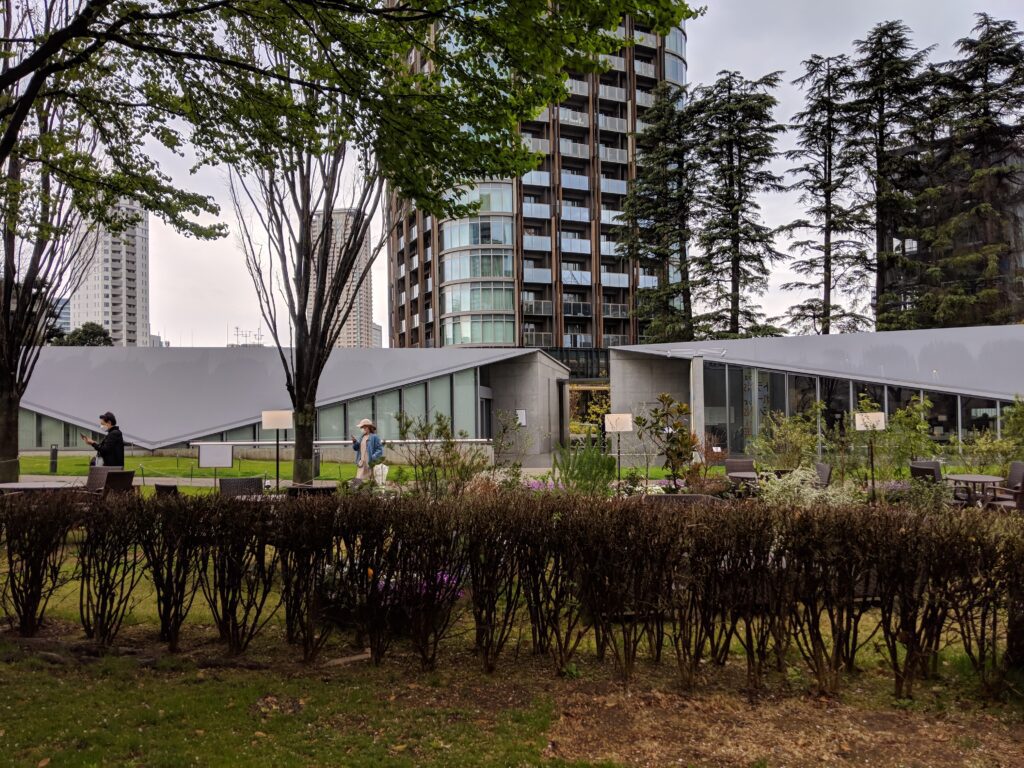 (7) Tokyo midtown tower, the highest tower in Tokyo exceeding that of Tokyo Metropolitan Government
(a) Architectural form:
This building consists of 54 floors above ground, 5 floor below ground whose height is 248 meters is a complex facility where about 130 stores and restaurants are opened and Hotel the Ritz Carlton Tokyo in the floor from 45th to 53th. Garden side building consists of 9 floors above ground, 3 floor below ground whose height is 48 m where Suntry museum, supermarket, Billboard live Tokyo and Garden terrace (4 floors above ground, 1 floor below ground with restaurants street and open terrace) are opened.
(b) Interior:
Galleria building with 3 floors above ground, 1 floor below ground is a shopping zone of 4-layer atrium. Supping stores and restaurants at home and abroad are lined up for the people who hope to enjoy high-quality daily life in the city center.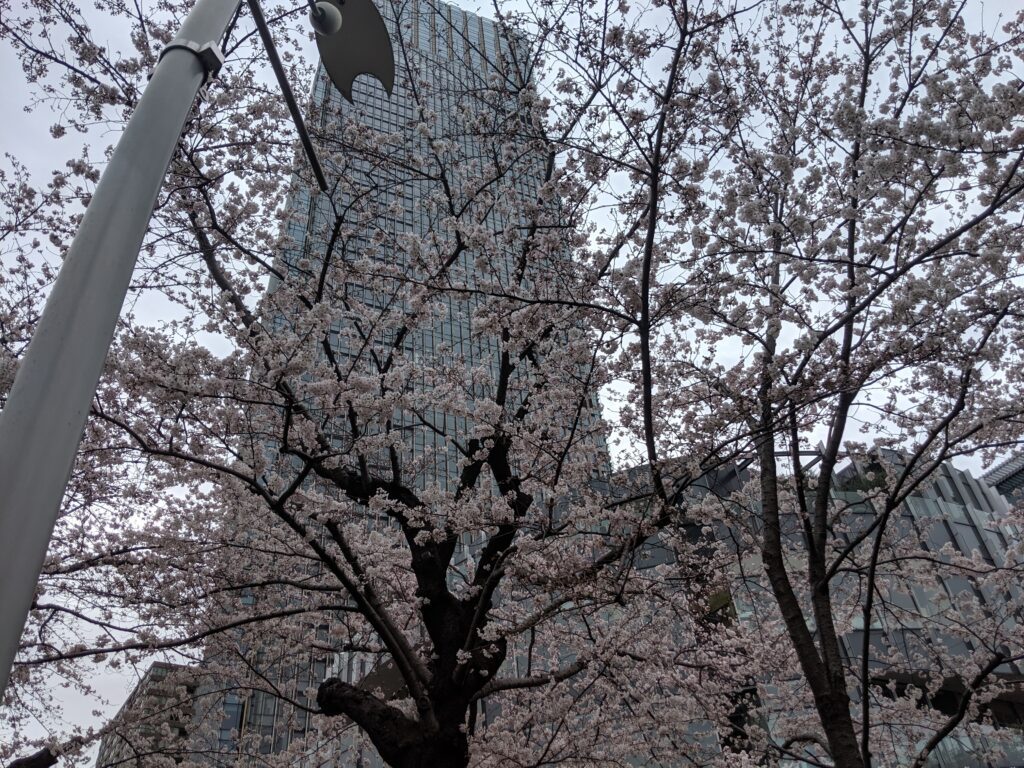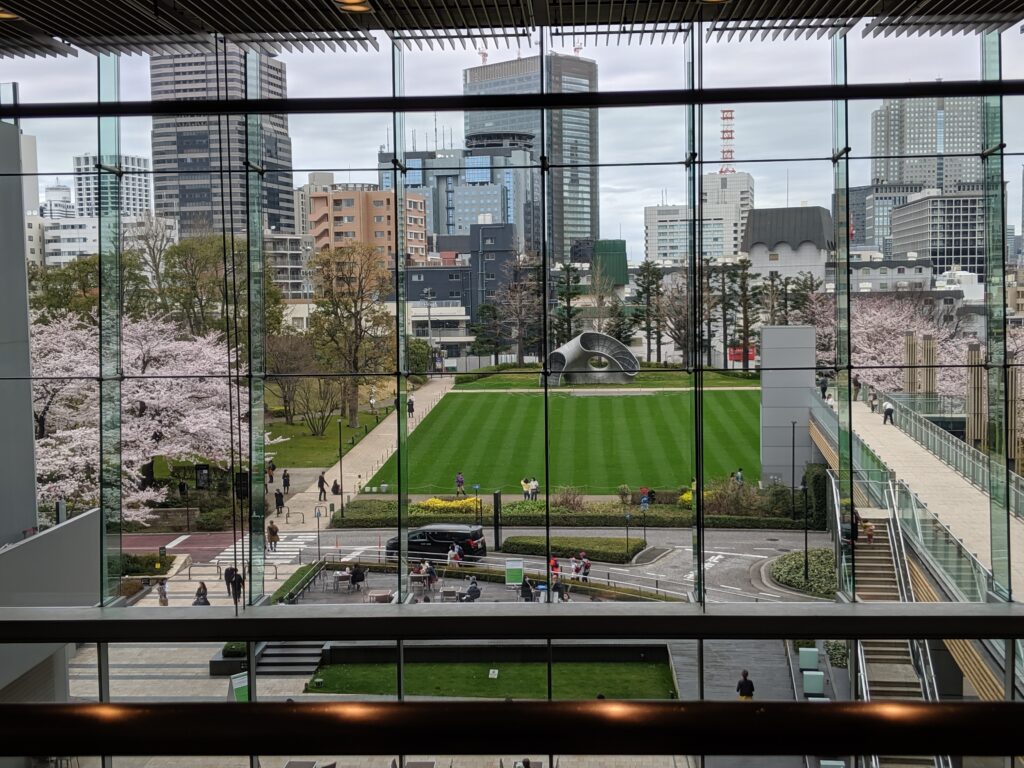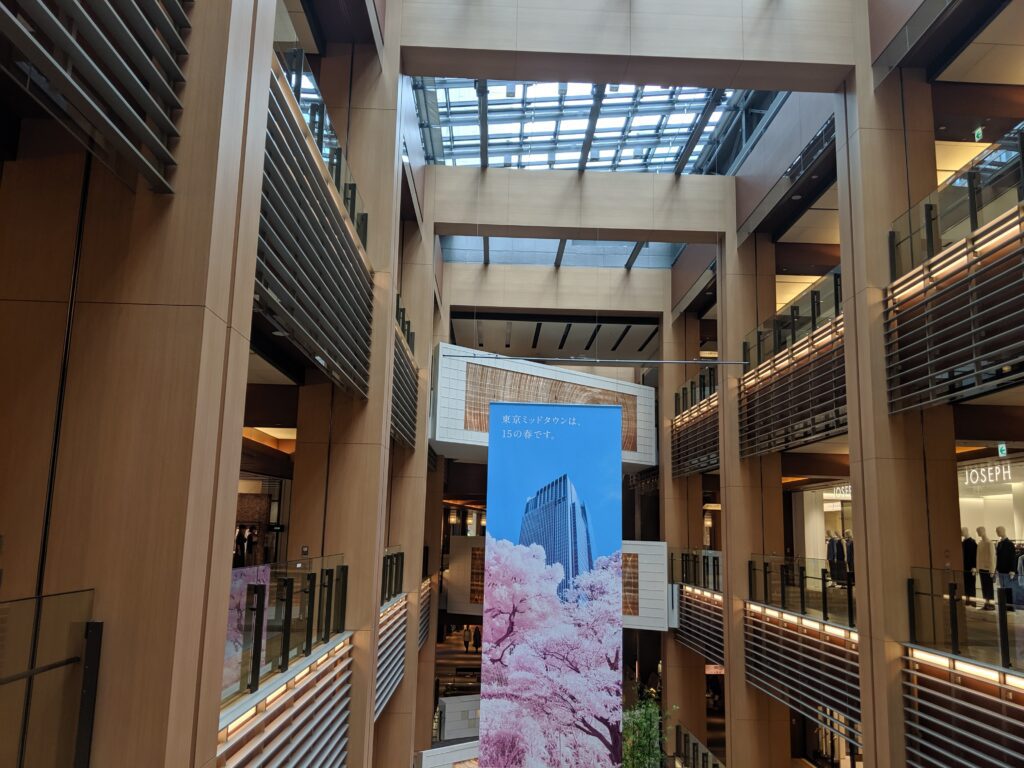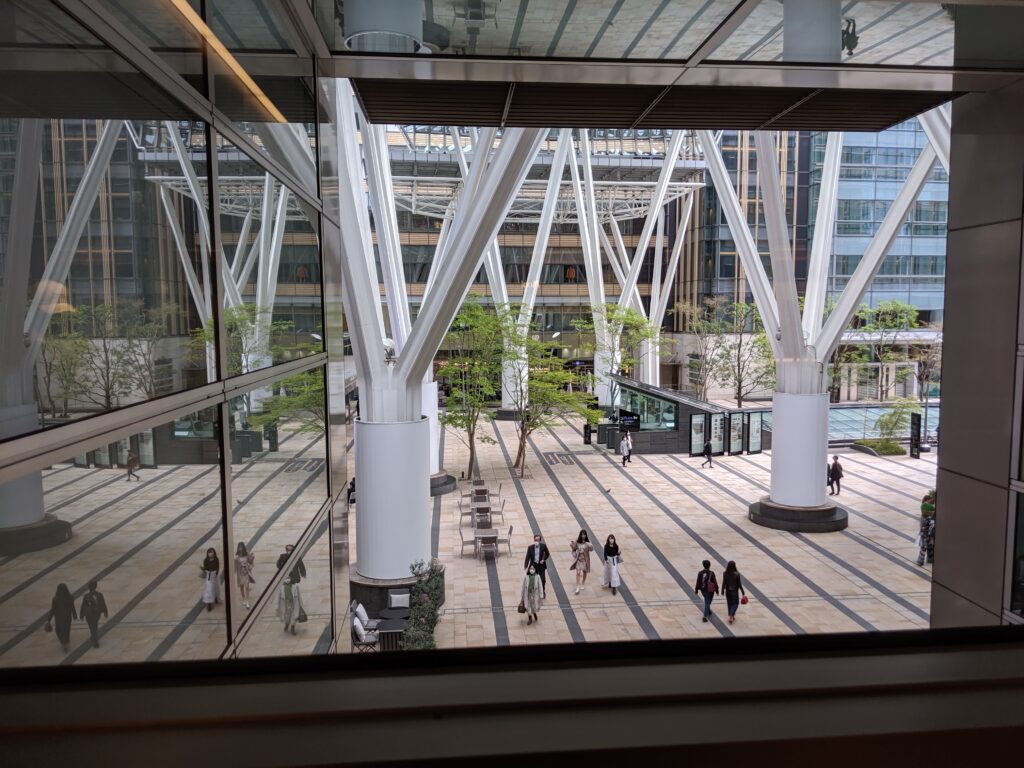 Japan Van prepares various tour itineraries for you to enjoy the view in Japan.
The minimum itinerary days is more than 5 days.
Contents of our service: We can arrange a car and a National Government Licensed Guide Interpreter for your trip.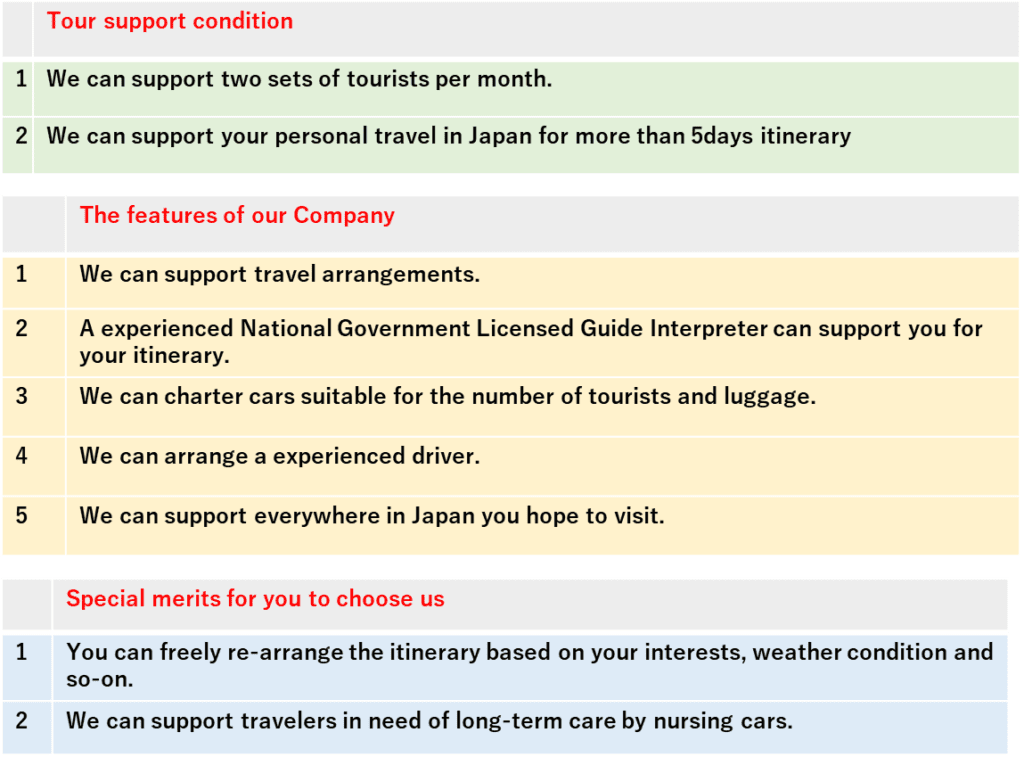 | | |
| --- | --- |
| | Car charter and a guide condition |
| 1 | Number of tourists: 2pax – 12pax |
| 2 | Charter time and guide condition: 12 hours (including 4 hours resting time) |