1) The place where you can experience:
We would like to introduce the beautiful Autumn color leaves in Kyoto Jyakkouin temple.
(Jyakkouin temple):
Jyakkouin temple is located in the north of Kyoto named Oohara and the ancient temple which is deeply related with the tail of the Heike. Heike was the top Samurai family who had controlled the politics of Japan in the late of Heian period (794 – 1192) and it had been ruined by the new Samurai family named Genji in 1182. The origin of this temple was built in 594 by Prince Shotoku to hold a memorial service for his father, Emperor Youmei.
The hill of Oohara area located the north-west of Mt.Hiei used to be the hill where horses which had been raised for Imperial Court.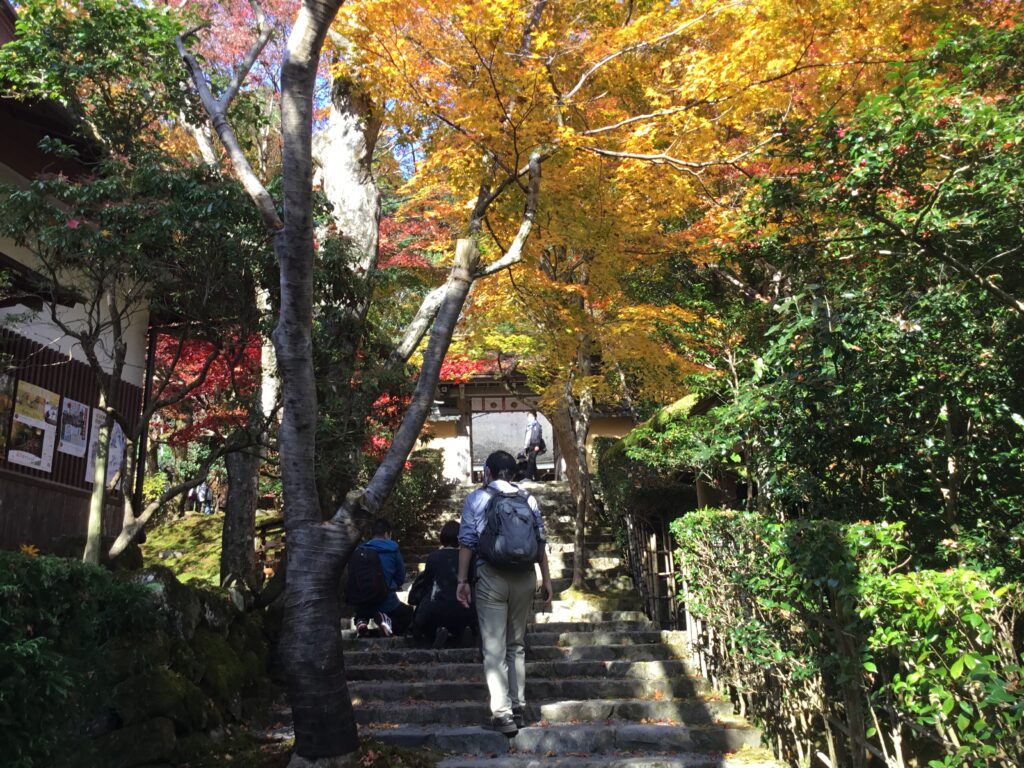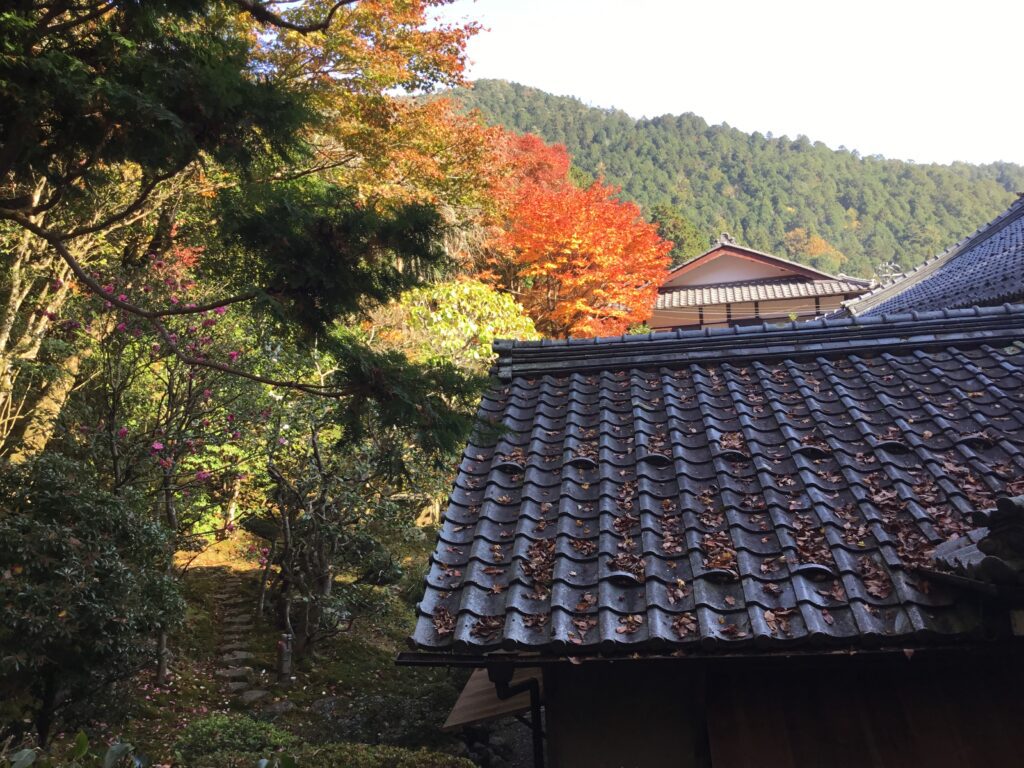 In 1182, during the final battle between Heike family and Genji family on the sea of Dannoura located the west edge of Japan main land, as the result of Heike extinction almost all the Heike family were dead into the sea. However, Kenreimonin Tokuko who was the daughter of Taira Kiyomori, top Samurai in Heian period and mother of Emperor Antoku was rescued from the sea by their enemy Genji.
She had been a nun after she became 29 years old and moved to this temple, Jyakkouin. She had continued to live here by holding a memorial service for Heike family and she died when she was 36 years old. This is the reason why this temple has been famous in all over Japan.
In autumn, you can appreciate autumn color leaves on each spot in the precinct with mountain villages surrounded by forests and mountains.
Landscape on both side of stone steps of the path to temple: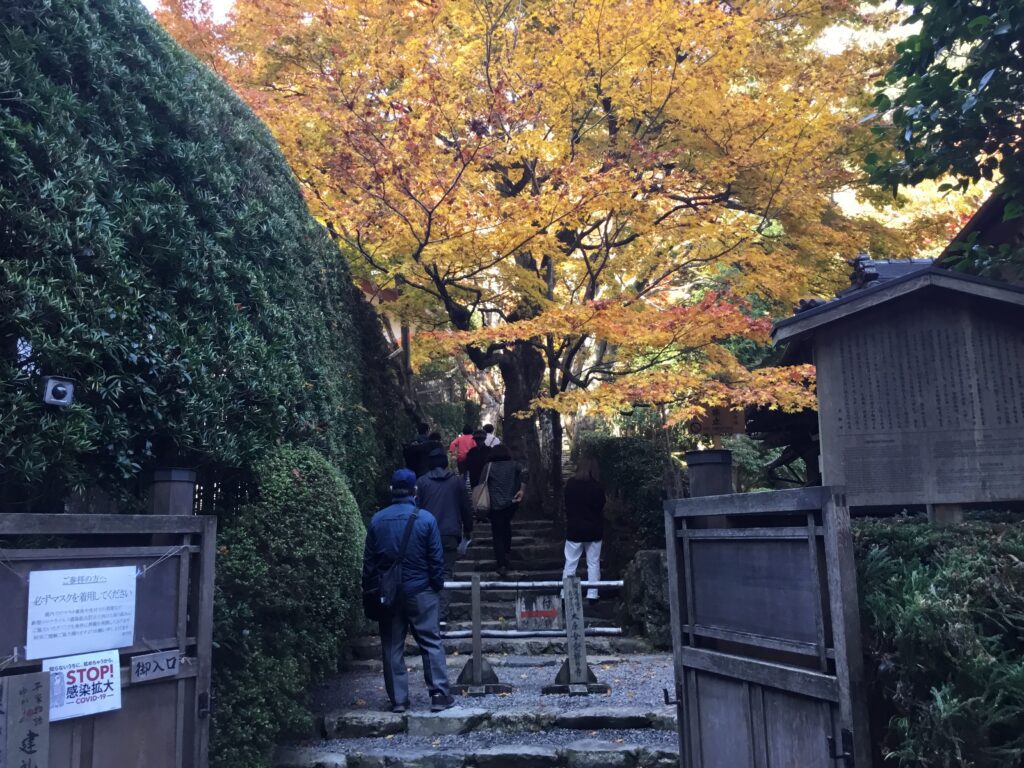 Main hall and the surroundings:
Main hall was burned out in 2000 by the fire of arson and rebuilt in 2005 by spending 5 years to recover the building completely same with previous one using same materials and wooden framework.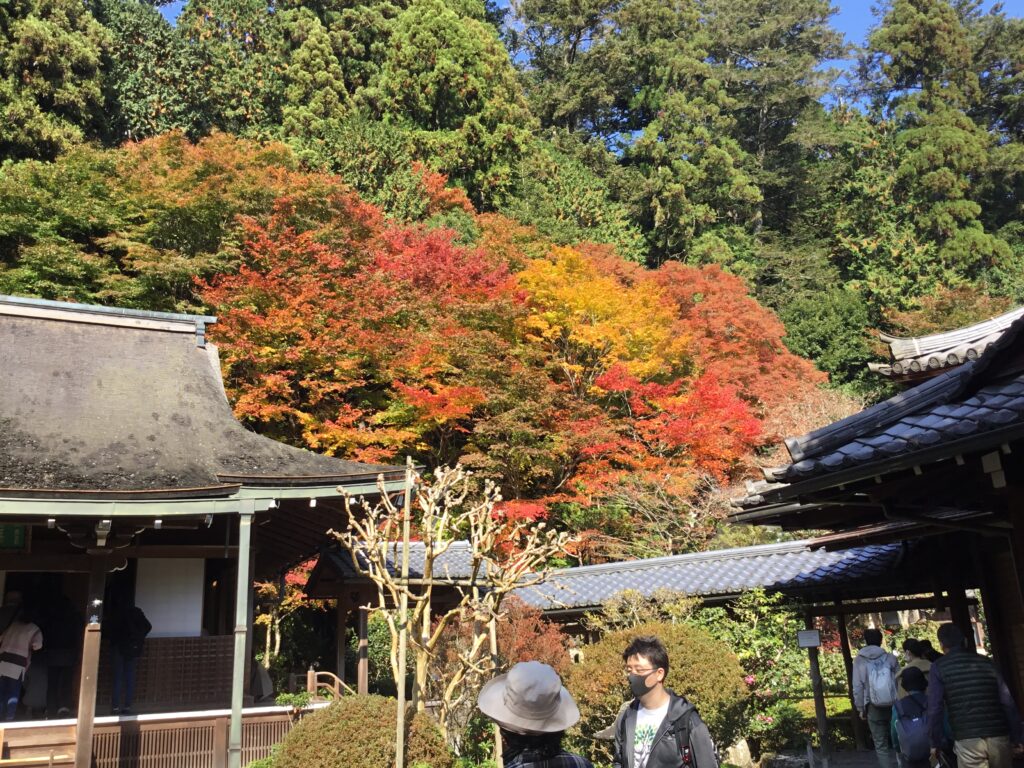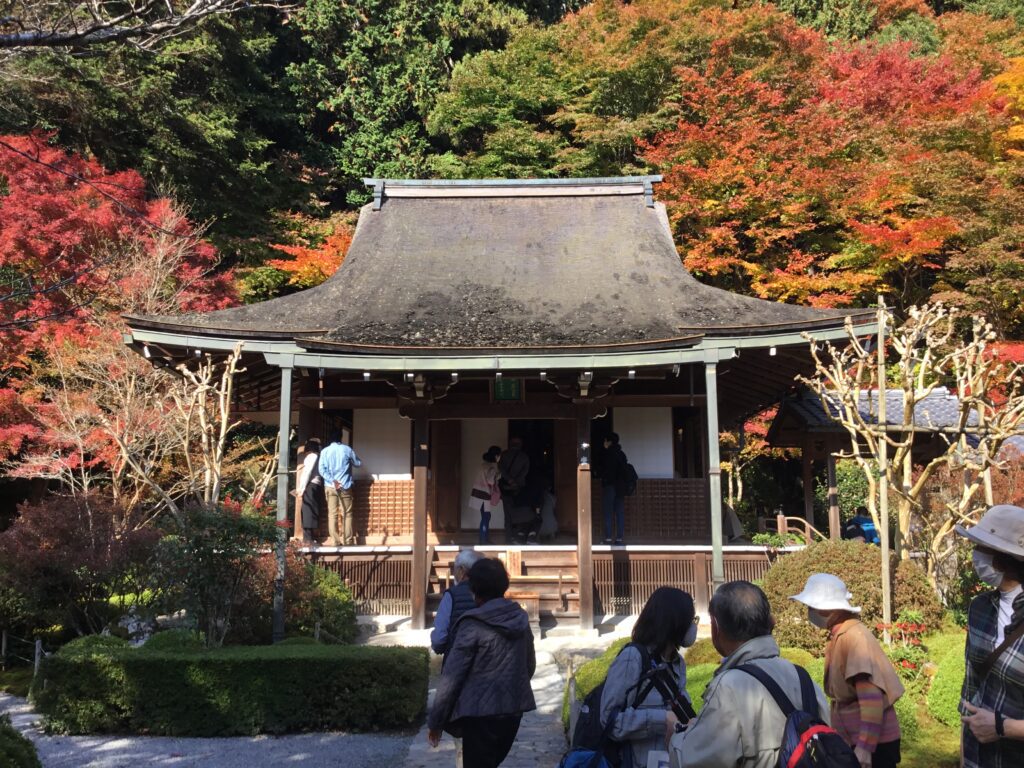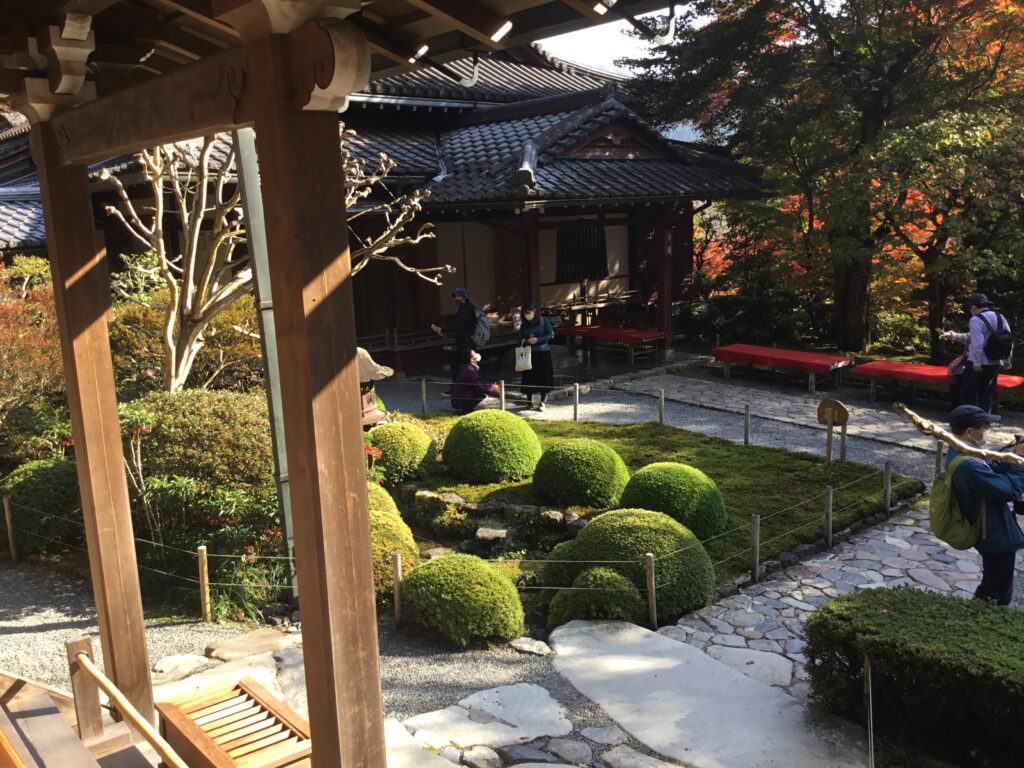 This pond is located on the east side of the building. There is a small waterfall which is divided by three steps which are created from the water is drawn from the mountain located on the north side of this temple. Small paths around the pond are prepared for people to stroll around the pond.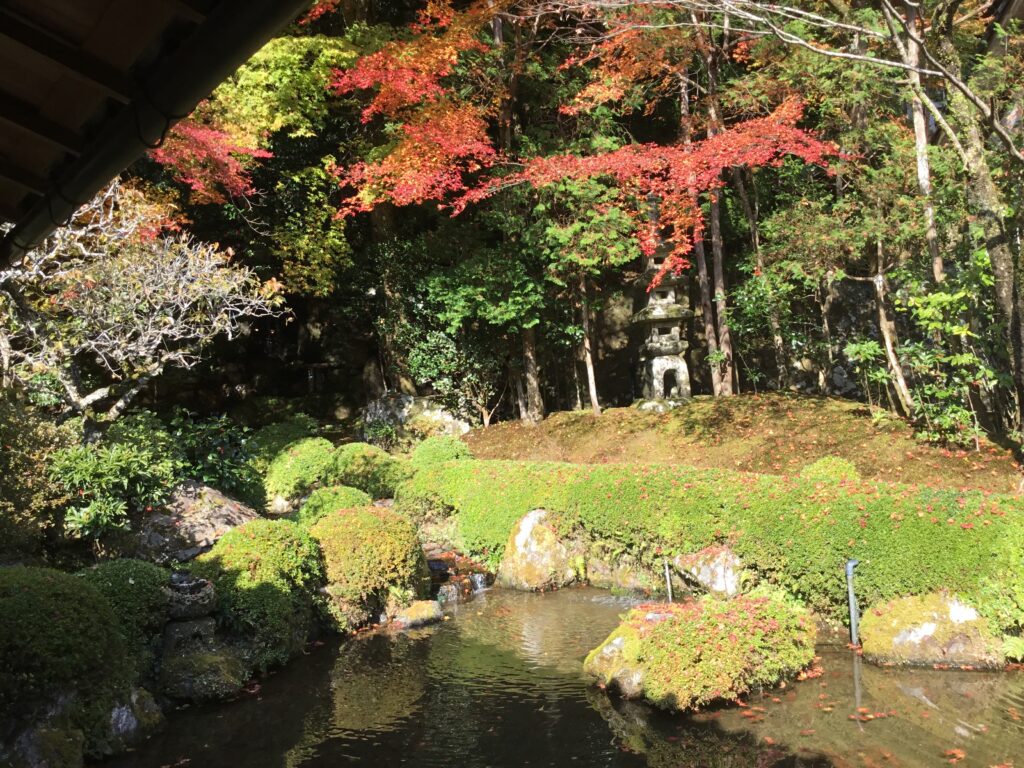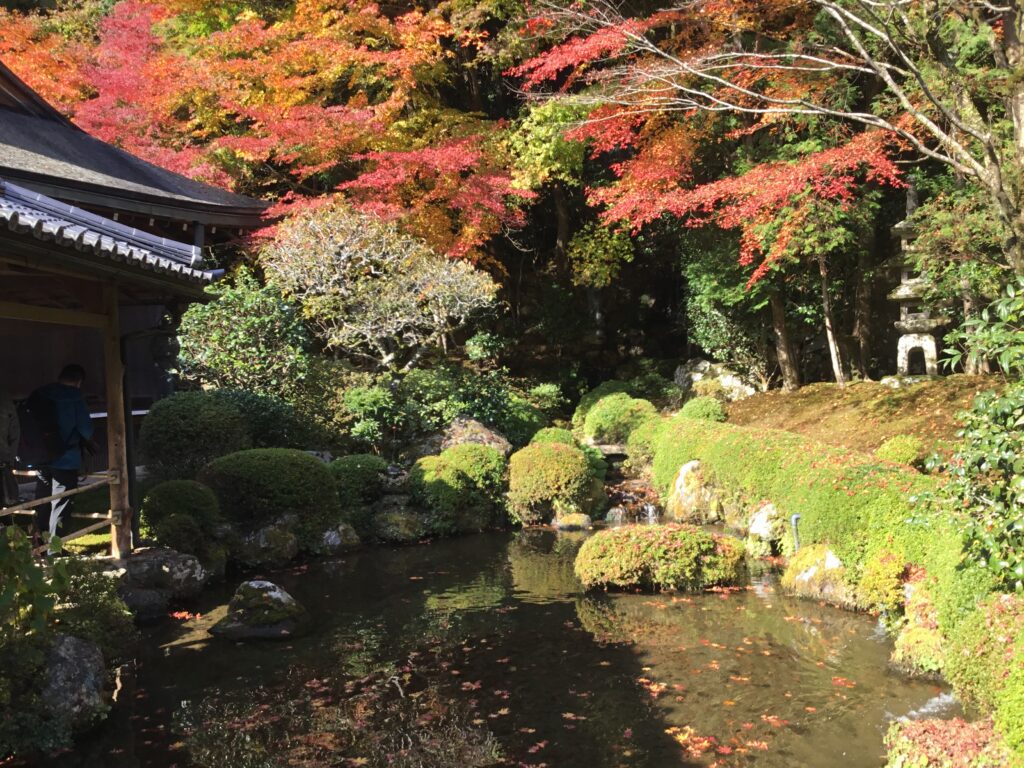 In front of the main hall, there are cherry blossoms and pine trees planted. The cherry blossoms named "Hime-matsu" used to be several hundred year-old tree with 15 meter height, however, due to the fire occurred in 2000, the tree was burned out and only the root of the tree is deified as a sacred tree.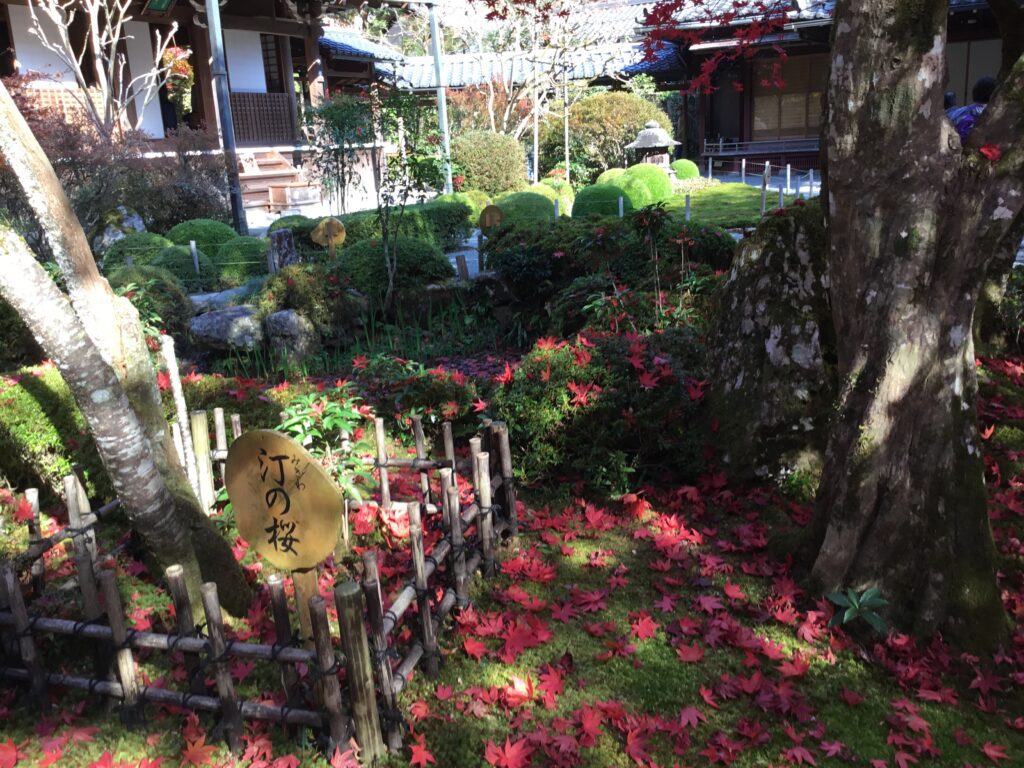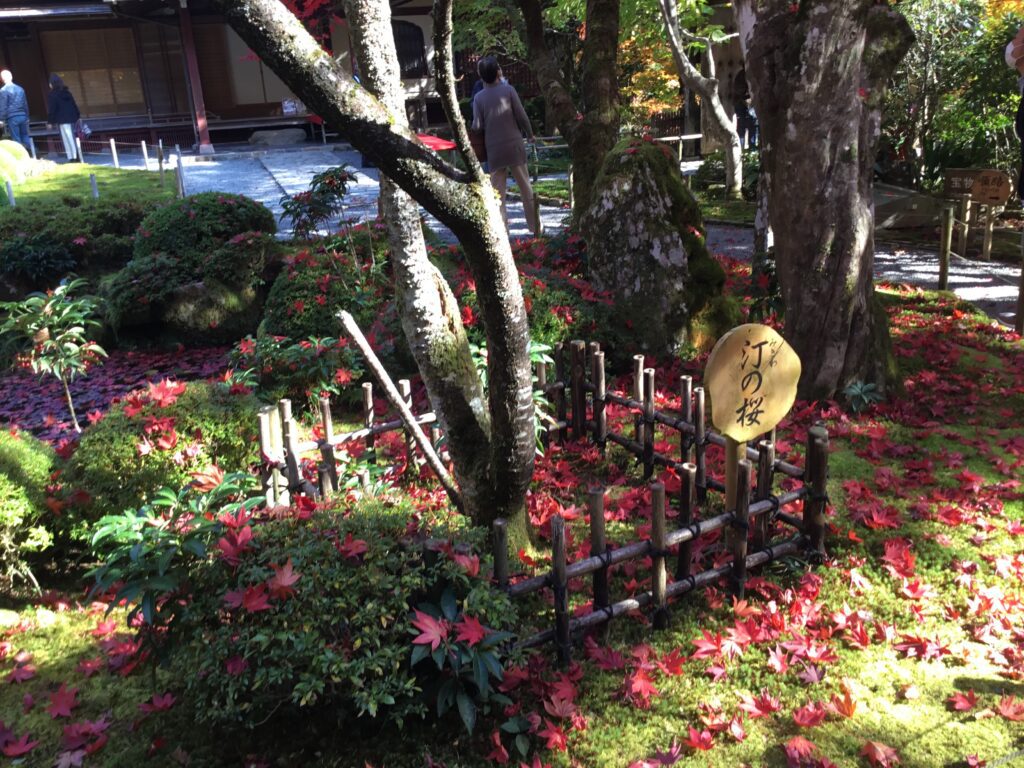 There is the remain of hermitage on the north side of the main hall where Kenreimonin Tokuko had lived in seclusion. At present, only tombstone is standing with a well on the right side of the stone which Empress Dowagers had used.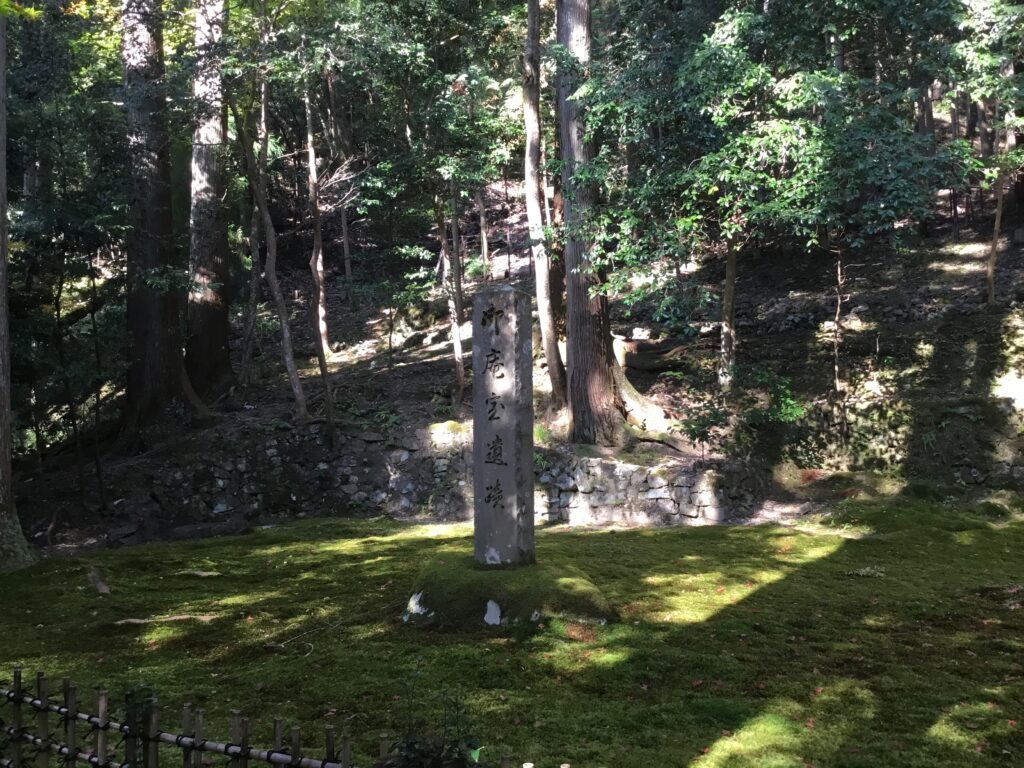 The bell-tower located on the near side of the pond which was built in Edo period (1602 – 1867) hangs a temple bell which represents the word "All worldly things are impermanent."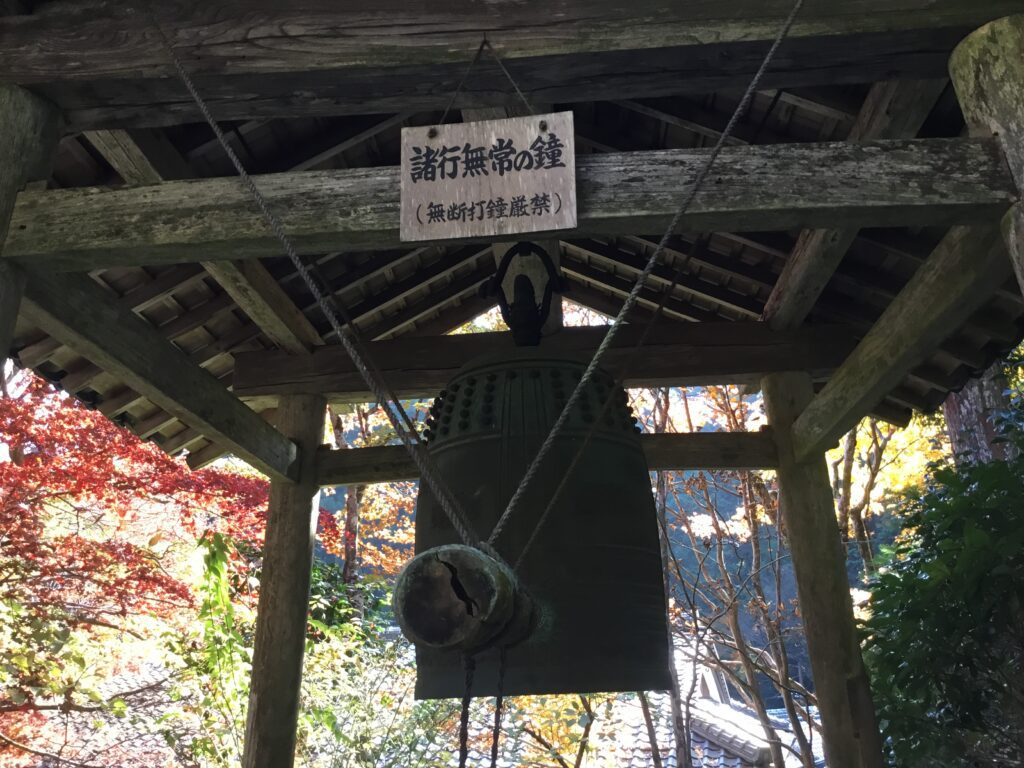 2) The place where you can enjoy:
(Pontocho):
Pontocho is one of the famous Hanamachi in Kyoto which is long and narrow road along with Kamogawa-river by 500meter from north to south.
Lots of houses with red color lattices are lined up on both side of the road and fifty numbers of large and small alleys are arranged from east to south. Various types of restaurants, bars and cafes are gathered where many people are passing each other by watching the old fashioned atmosphere.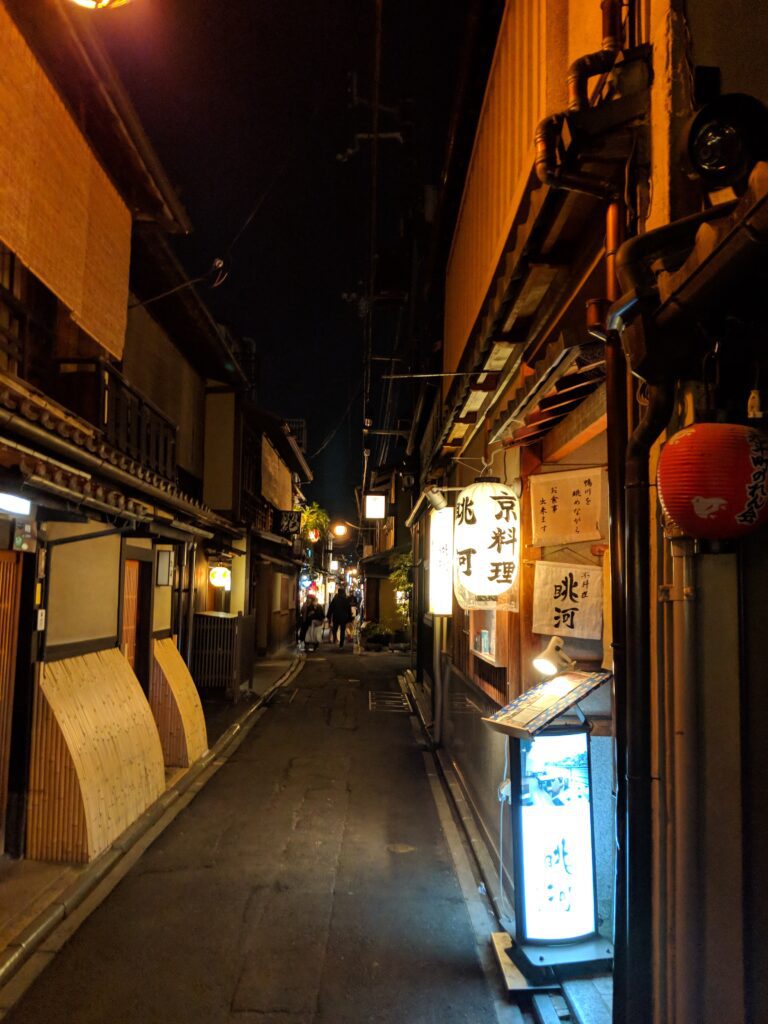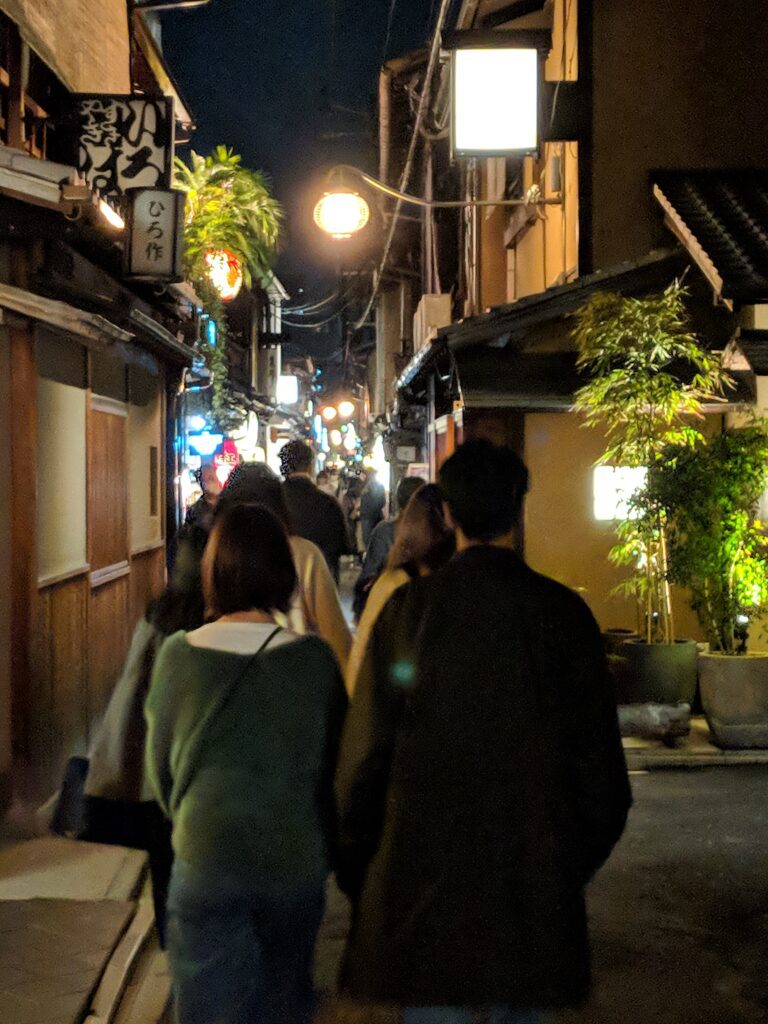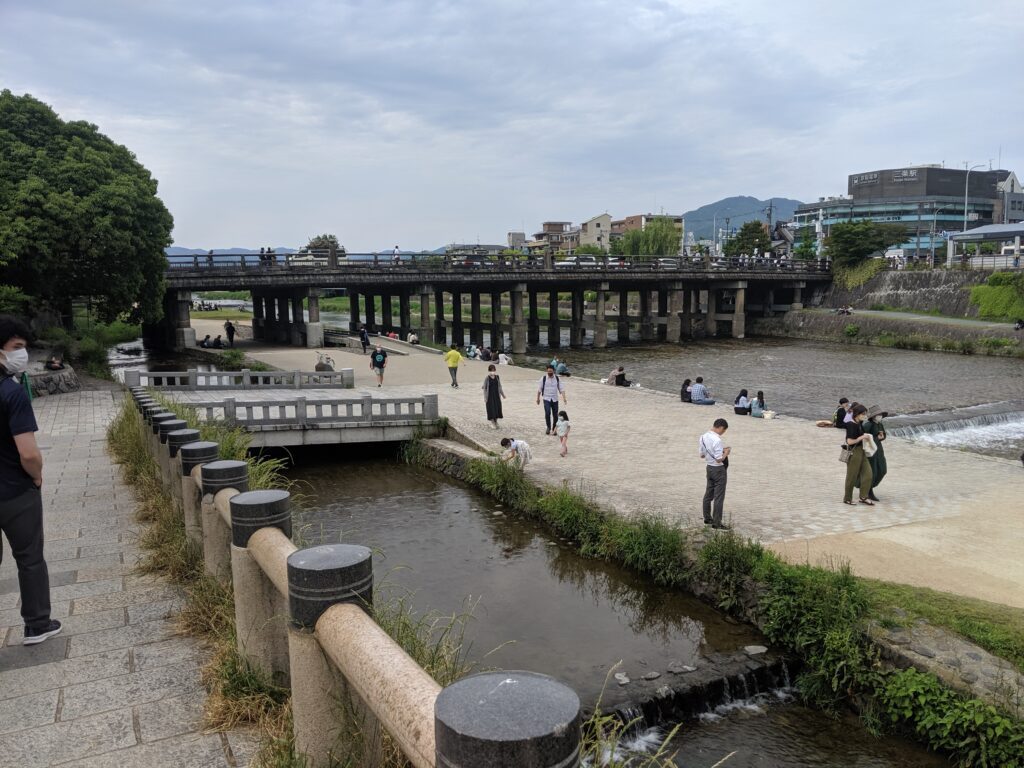 The Pontocho Kaburen-jo theater is located at the north end of the road where Kamogawa Odori
(Kamogawa river dance) is performed on spring every year by Geisha and Maiko. The fantastic stage including dance dramas and dance picture scrolls are famous not only in Japan but also in the world.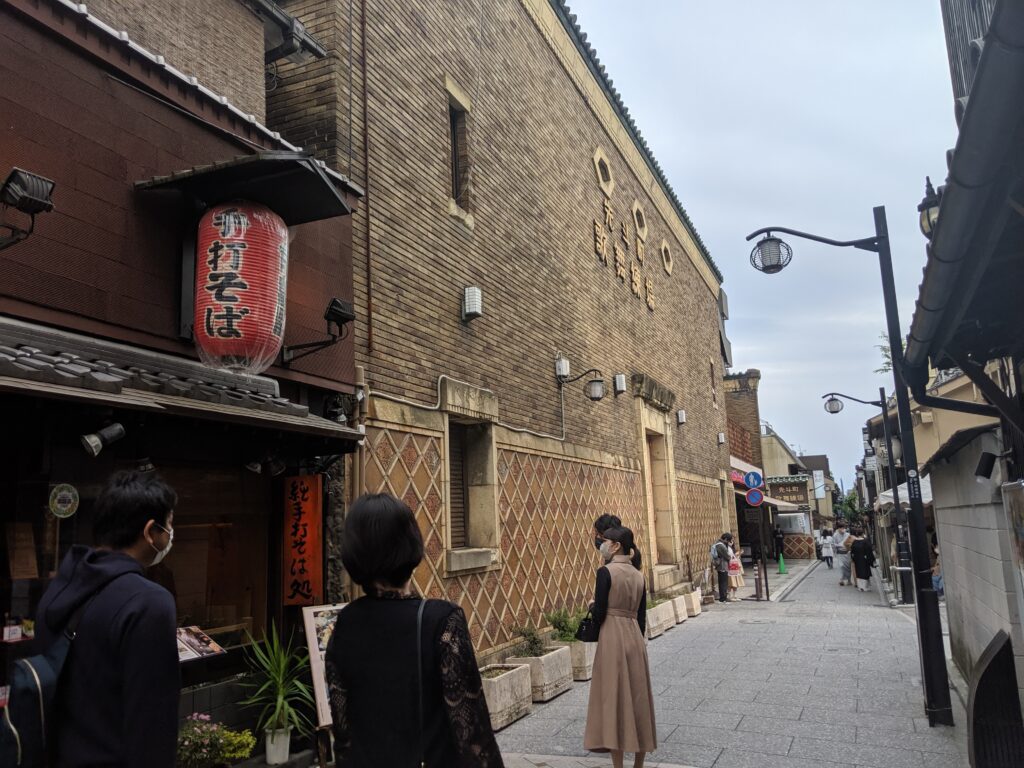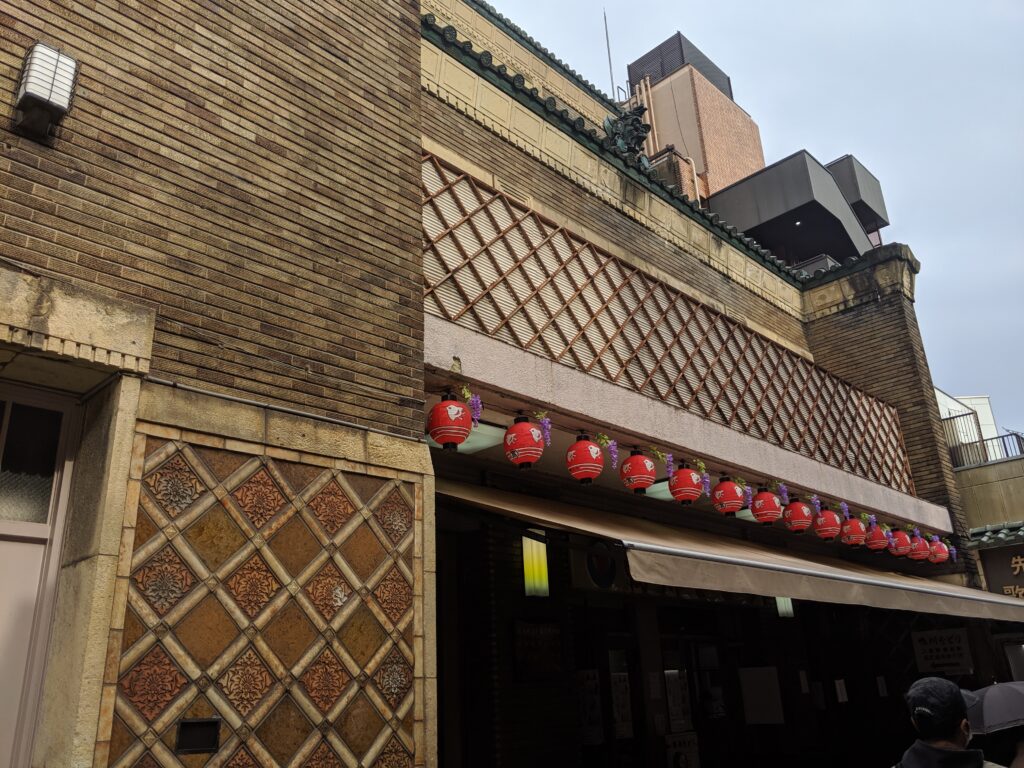 (Ishibei-koji alley (Stone wall alley)):
Ishibei-koji alley (Stone wall alley) is a beautiful narrow stone wall alley which is located in the south of Yasaka shrine. This alley was a space of Kyoto atmosphere which was made in around beginning of 20th century and has been registered as National important preservation district for traditional buildings.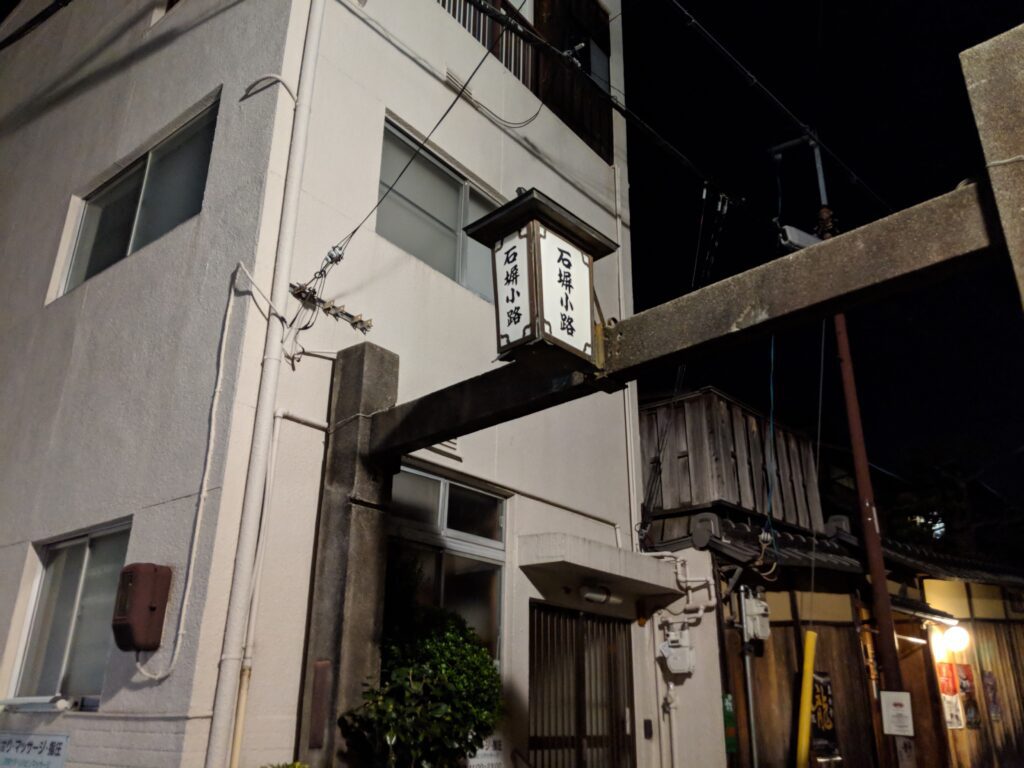 This space is filled with stone pavements, stone walls and old-fashioned wooden buildings such as restaurants, inns & bars lined up that have people feel at ease.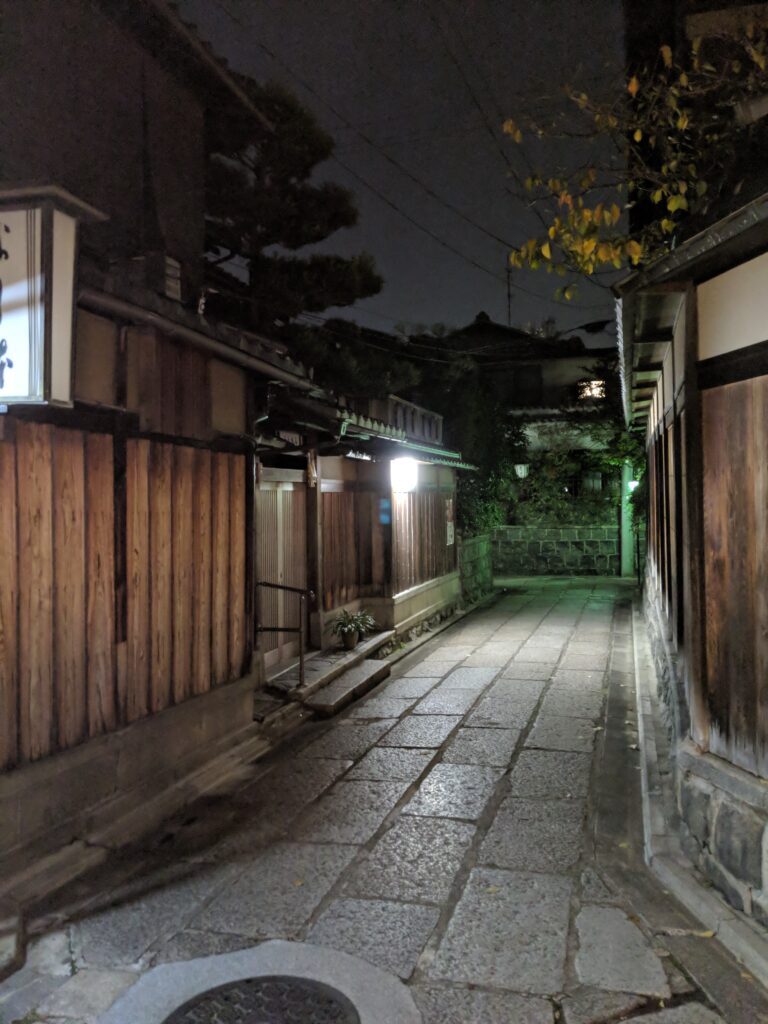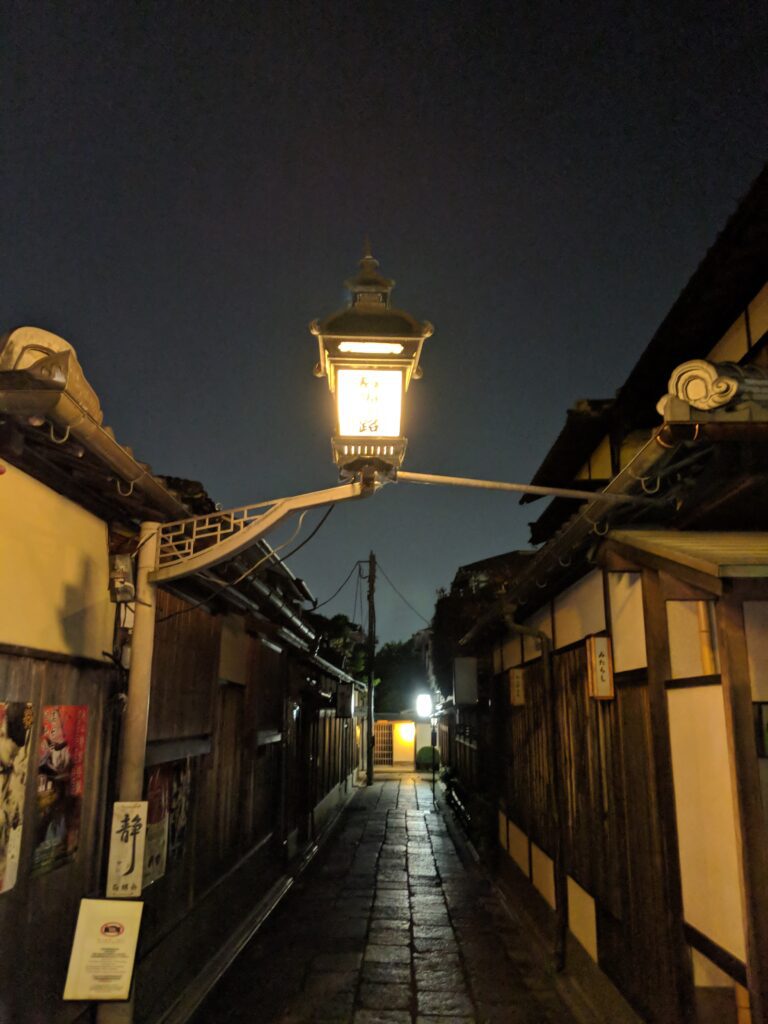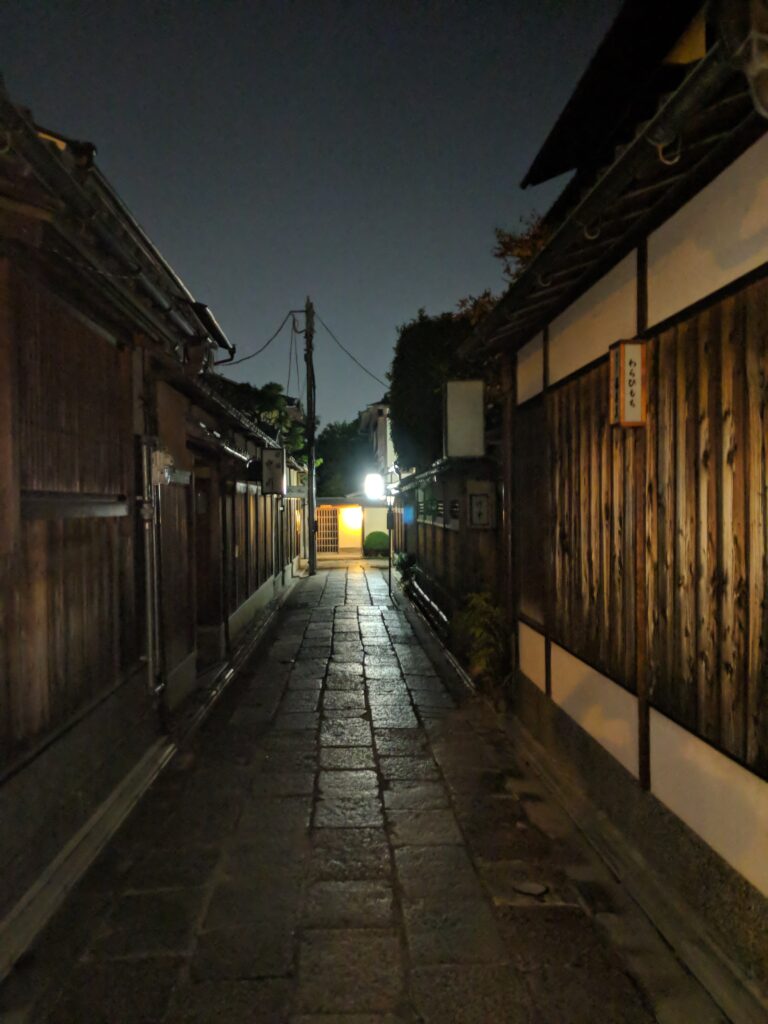 Ishibei-koji alley is located about 10 minutes walking from Gion downtown with showing clear image difference, Gion as crowded and Ishibei-koji alley as night of silence. This is why Ishibei-koji alley is called as a back room of Gion.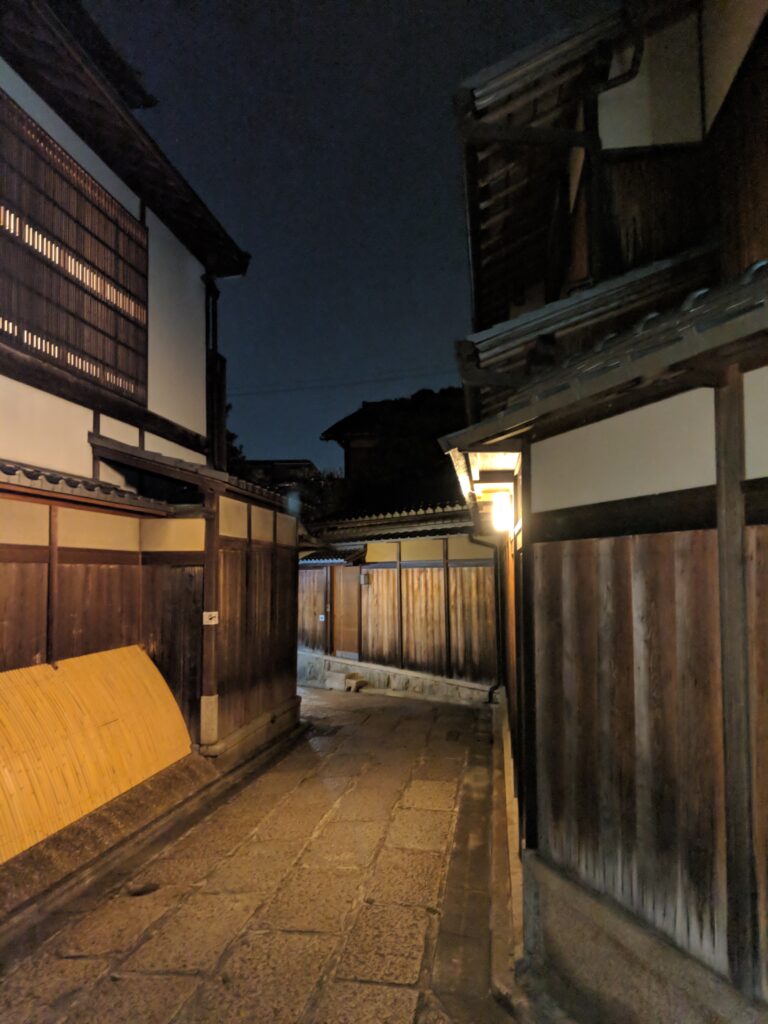 Japan Van prepares various tour itineraries for you to enjoy the view in Japan.
The minimum itinerary days is more than 5 days.
Contents of our service: We can arrange a car and a National Government Licensed Guide Interpreter for your trip.
Optional service: We can support accommodation reservation arrangement, admission arrangement, reservation of dinning place and so-on through our associated company named Japan Van Tours.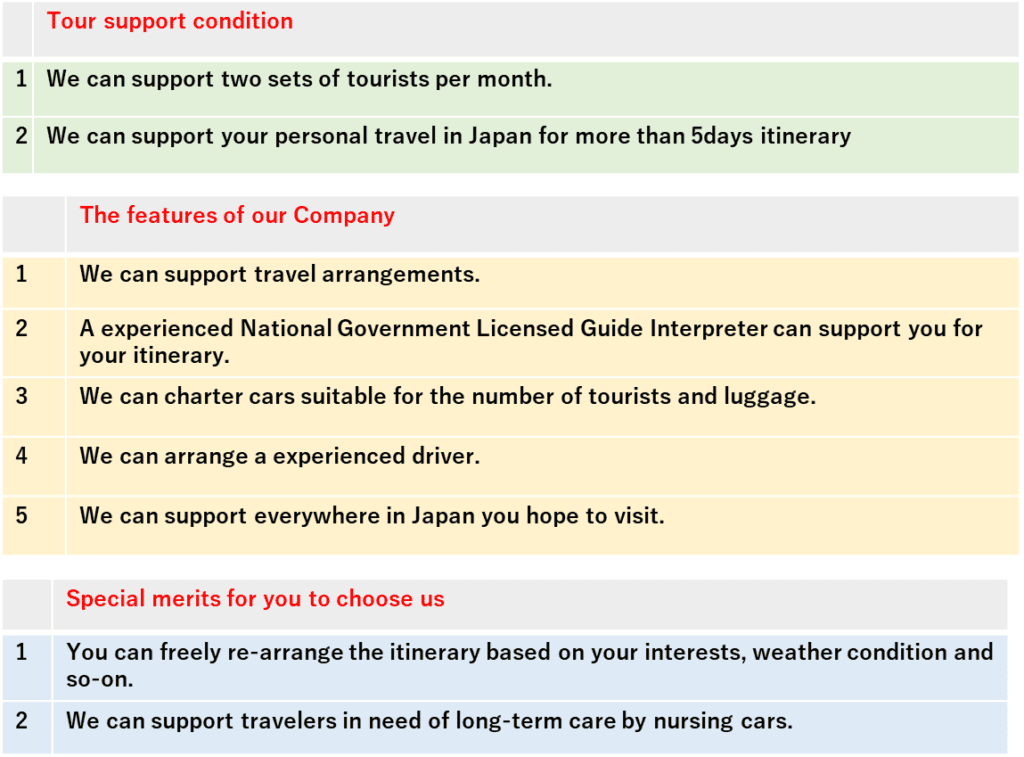 | | |
| --- | --- |
| | Car charter and a guide condition |
| 1 | Number of tourists: 2pax – 12pax |
| 2 | Charter time and guide condition: 12 hours (including 4 hours resting time) |