The big difference between the tour spots in Kyoto and that of other cities in Japan is that Kyoto had been Emperor's place of residence for about 1100 years (794 – 1867),comparing with Nara as 84 years and with modernized era in Tokyo as around 154 years (1868-2022).
Therefore, there are so many important sites of Temples and Shrines that are related with lots of great emperors, top Samurai warriors, Temples monks and so-on.

1) The place where you can experience:
Kiyomizudera-temple:
Kiyomizudera temple is an independent Buddhist temple in eastern Kyoto, which is listed as one of the 17 World heritage sites in Kyoto. This temple was originally built in 798 and rebuilt in 1633.
Kiyomizudera or Kiyomizu Temple, literally means "Clean Water Temple". This temple was founded in 798. (End of 8th century). Kiyomizu Temple burned down many times and most of the present temple structures were reconstructed in 1633 (Middle of 17th century). From here we have to walk up a slope to the temple.This lane leading to Kiyomizu Temple is lined with shops selling porcelain, pickles, sweets, souvenirs and so-on.This area is famous for Kiyomizu-yaki which is glazed porcelain with a white translucent body.
(To walk up a main slope to the temple, named "Kiyomizuzaka")
This lane leading to Kiyomizu temple is lined with shops selling porcelain, pickles, sweets, souvenirs and so-on.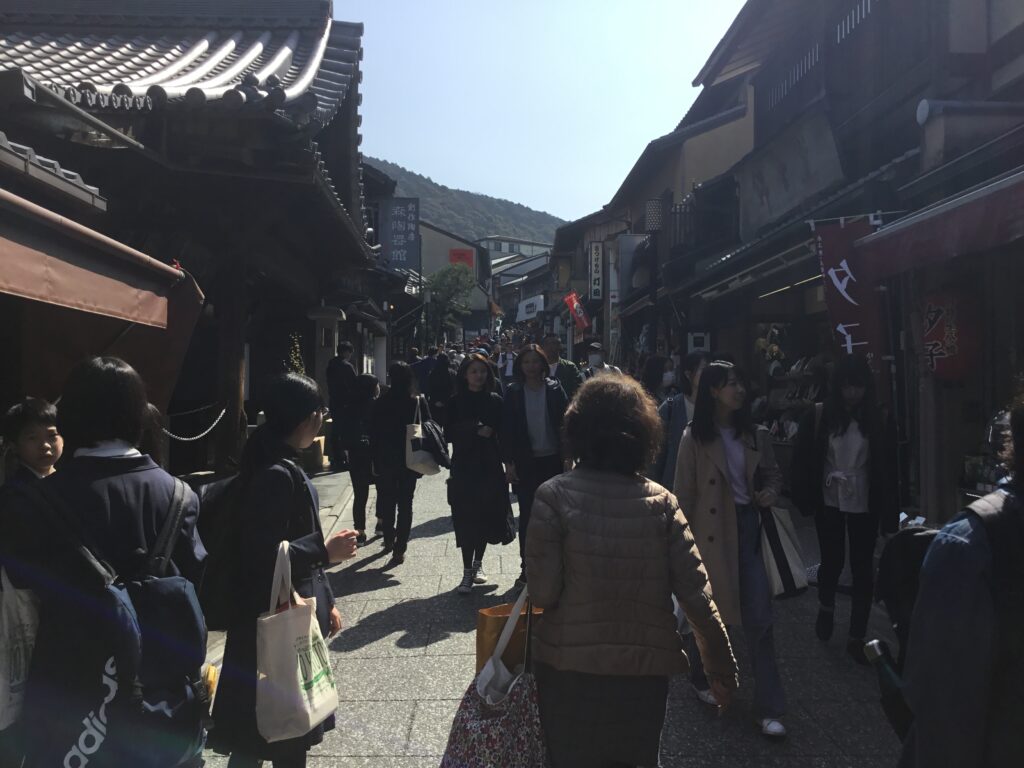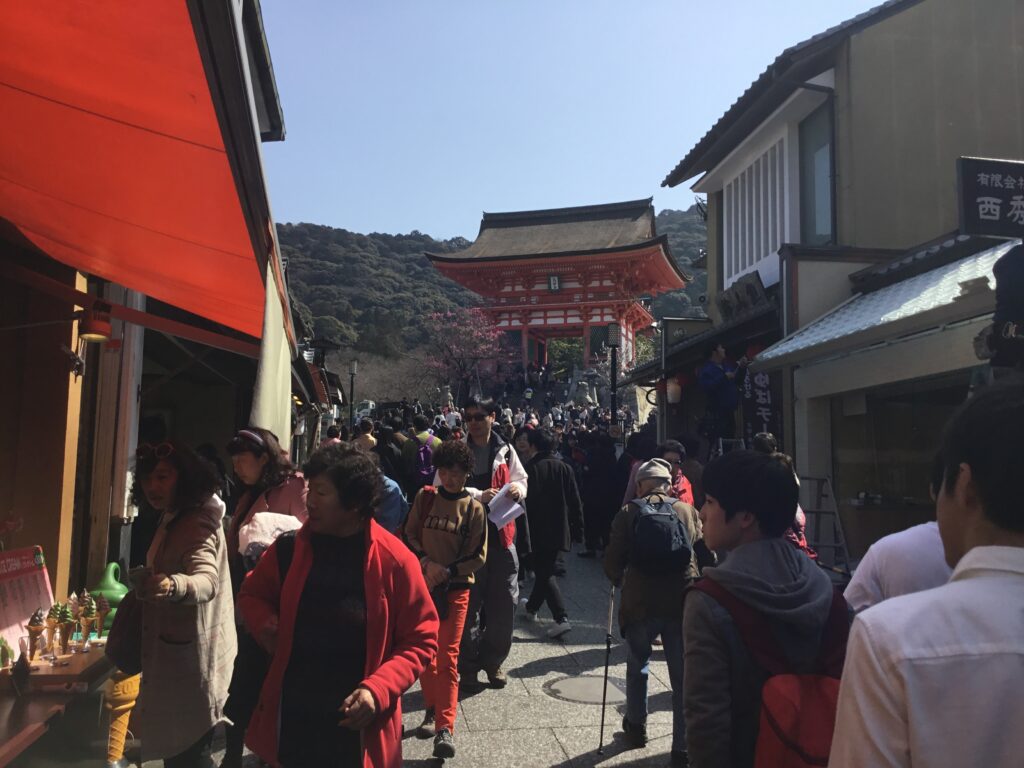 (To see Nio-Gate)
This is the gate of the Deva Kings who are the pair of King and checking to see if any non-good visitors come in to the temple.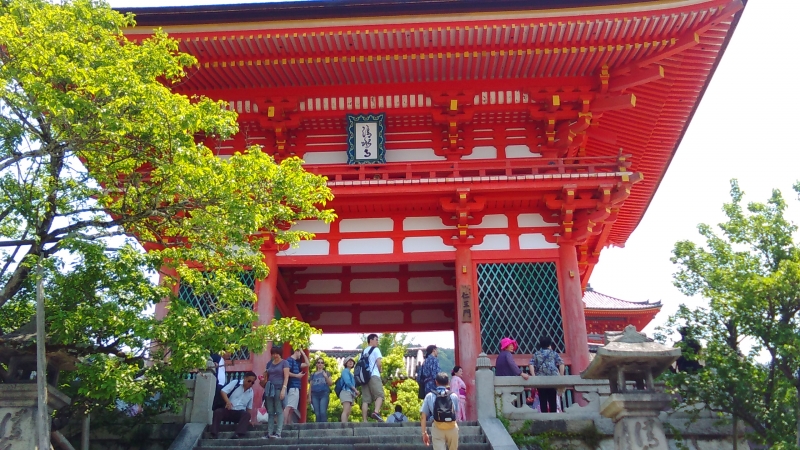 (To see three-story pagoda)
This is one of the highest three-story pagoda in Japan. The south corner of the roof has a dragon which is the god of water to protect the temple against fire.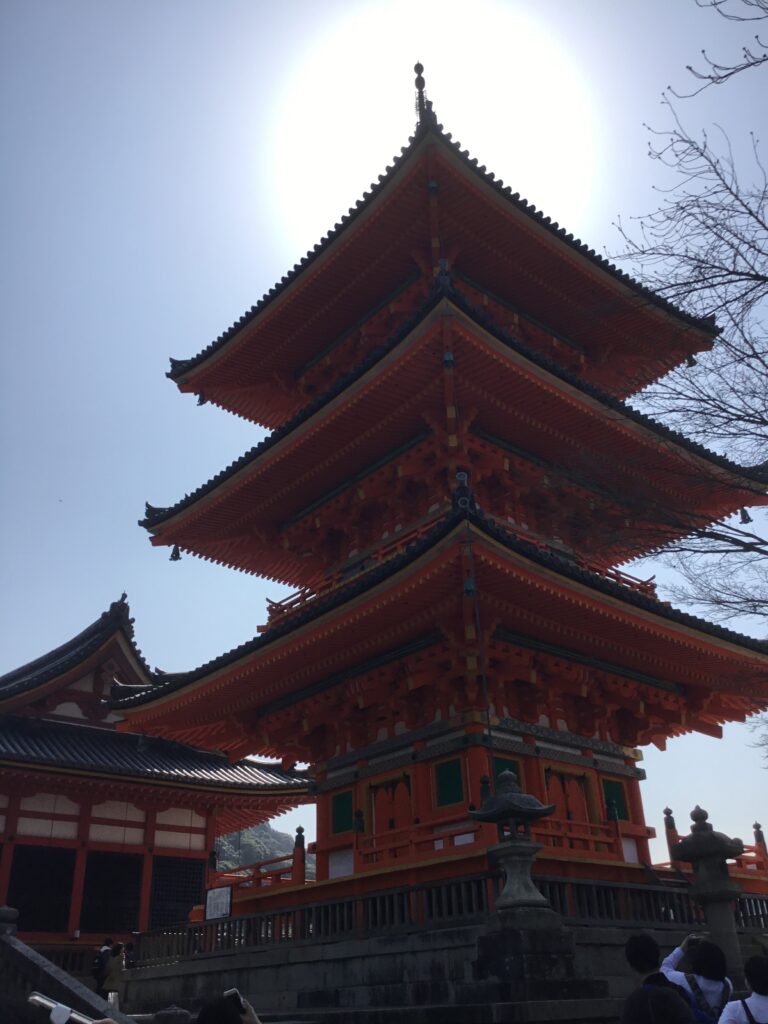 (To see Hondo / Main Hall)
The main hall was rebuilt in 1633 by the 3rd Tokugawa Shogun in Edo era. The main image is the Eleven-headed, one thousand-armed Kannon Bodhisattva which is displayed to the public every 33 years. You can see the famous projecting over a cliff from where you can enjoy the Kyoto city view.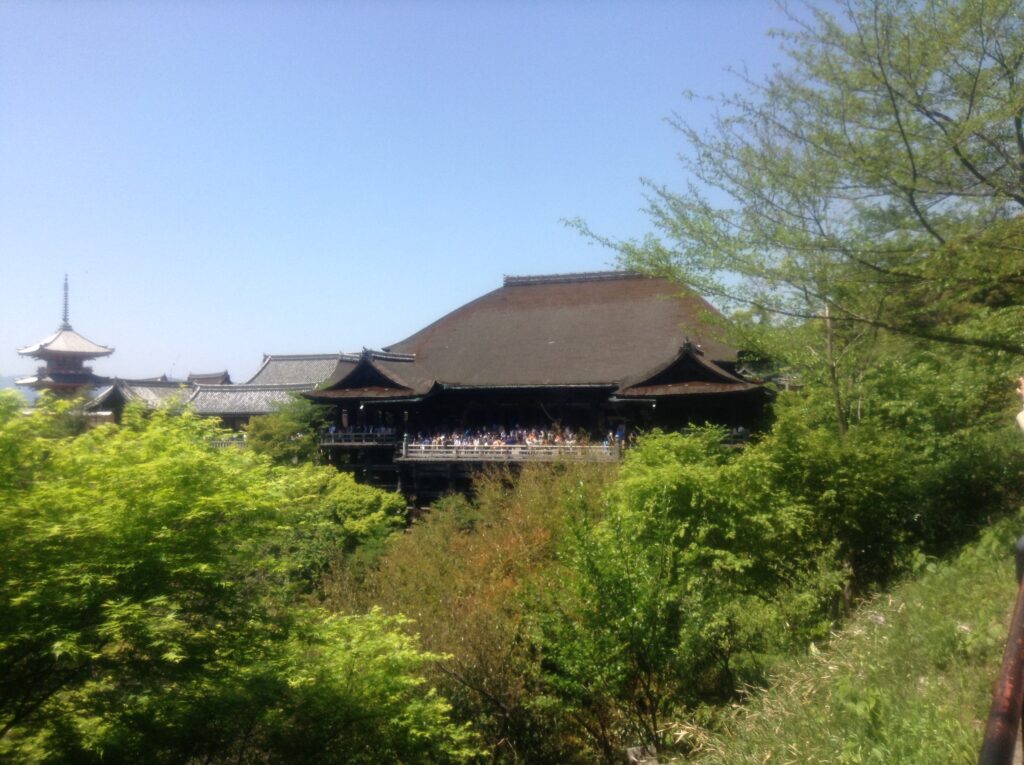 (On the way back on a slope named "Sanneizaka")
The slope is named "Sanneizaka" which means "the slope of easy birth". If you go down this street, you will have an easy childbirth.
It is also said that if you slip on the slope, you will have three years of bad luck.
The both side of the slope is lined with shops selling Kyoto traditional crafts, sweets, souvenirs and so-on. And while you are down on the slope, you can see a five story pagoda of 45 meters named "Yasakanotou" in Hokanji temple that is said to be built in 592 by Prince Shotoku.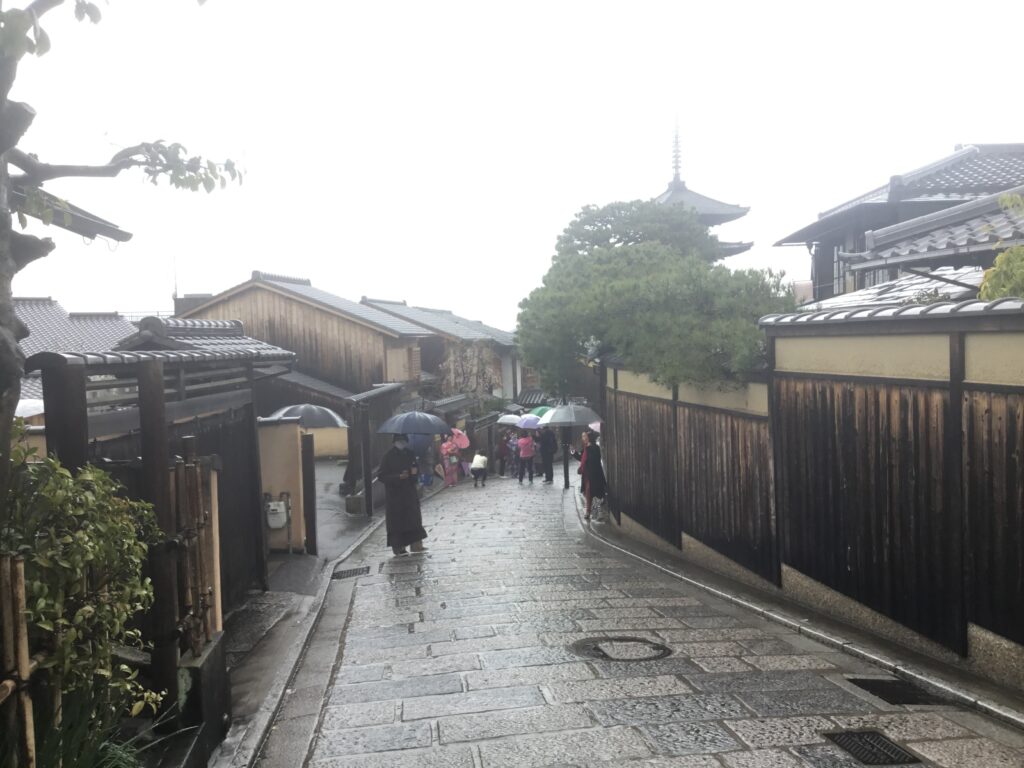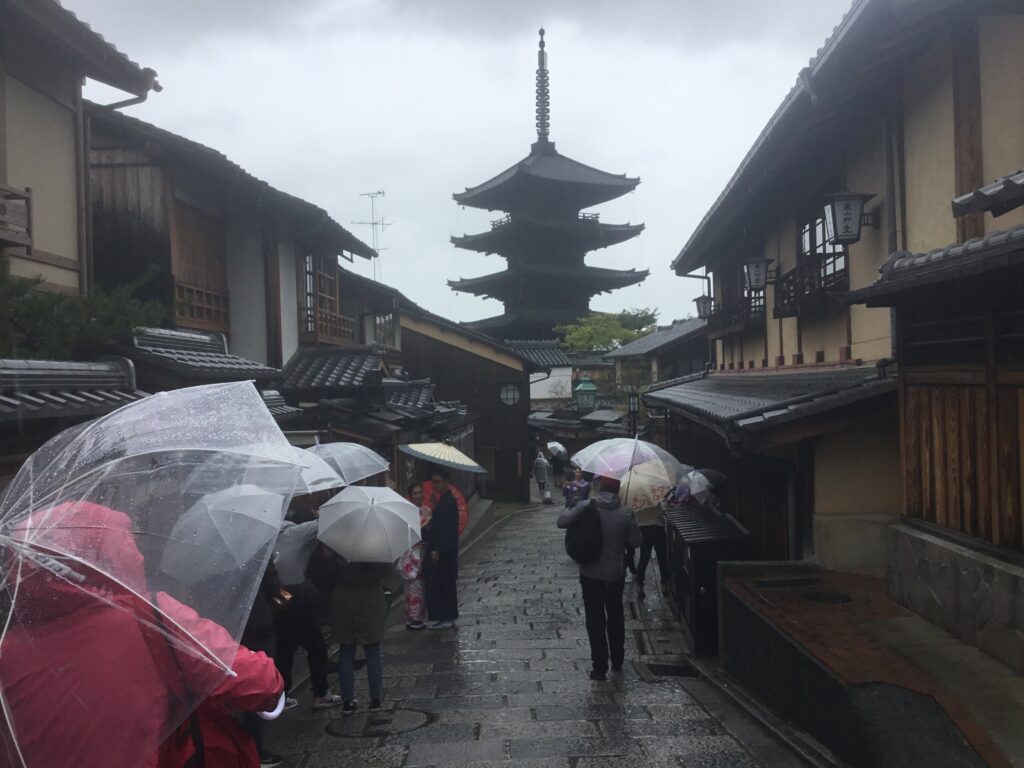 2) The place where you can enjoy:
Gion and surroundings:
Gion is the area of entertainment, where there are many restaurants, bars and taverns. Some important business and political talks have been conducted. You may see Maiko and Geiko running across who are traditional female Japanese entertainers in kimono.
(Hanami-koji street)   
Hanami-koji street is the main street in Gion where you may encounter Maiko and Geiko.
You can explore the street to see the buildings including prestigious restaurants and to take a rest in Japanese style cafes.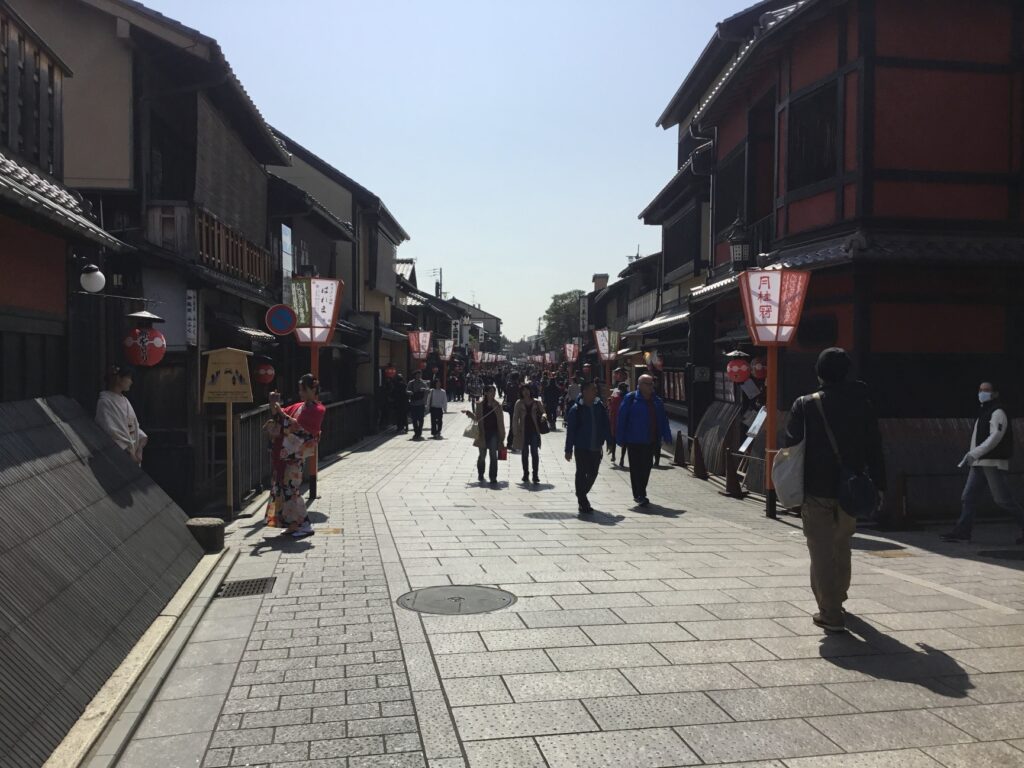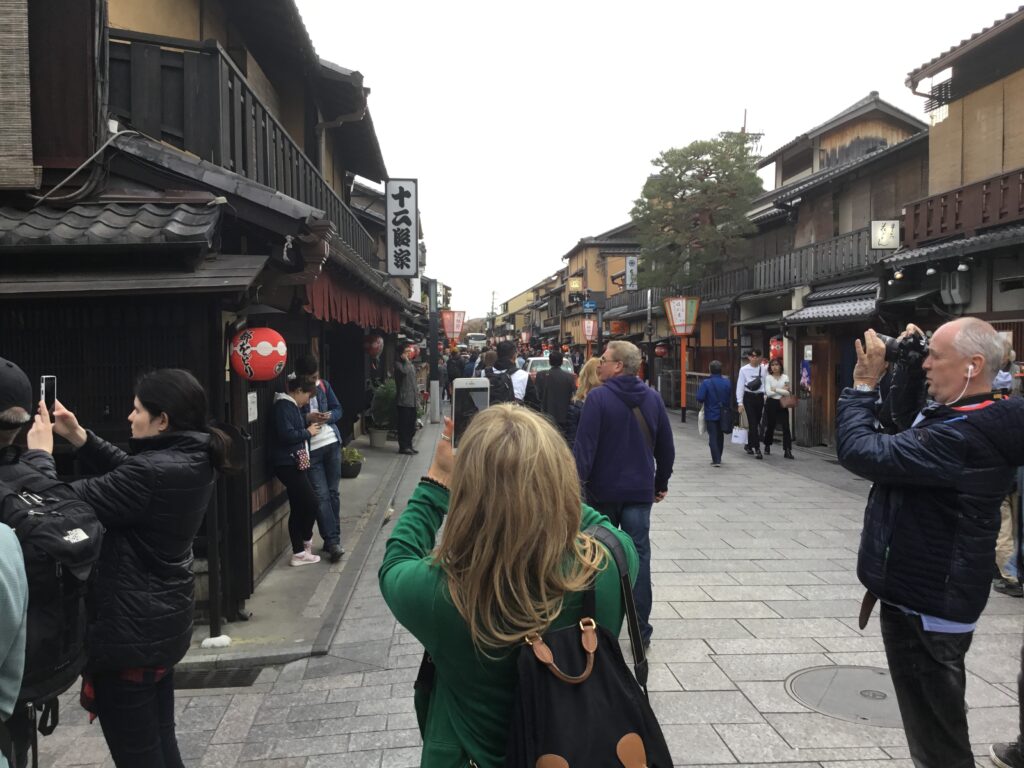 (Gion Shirakawa-river street)
Gion Shirakawa-river street has let you felt special Japanese atmosphere where row of cherry trees in spring, combination with Sirakawa-river and Japanese style buildings and Tatsumi-bashi bridge which is used as stages of movies and TV dramas.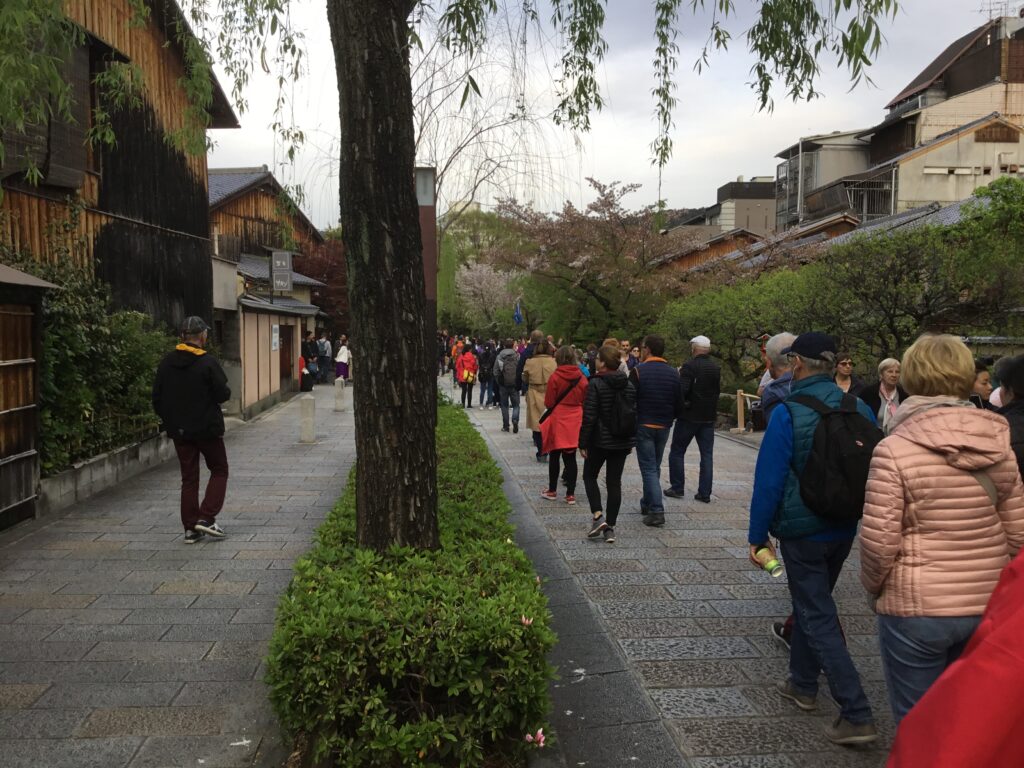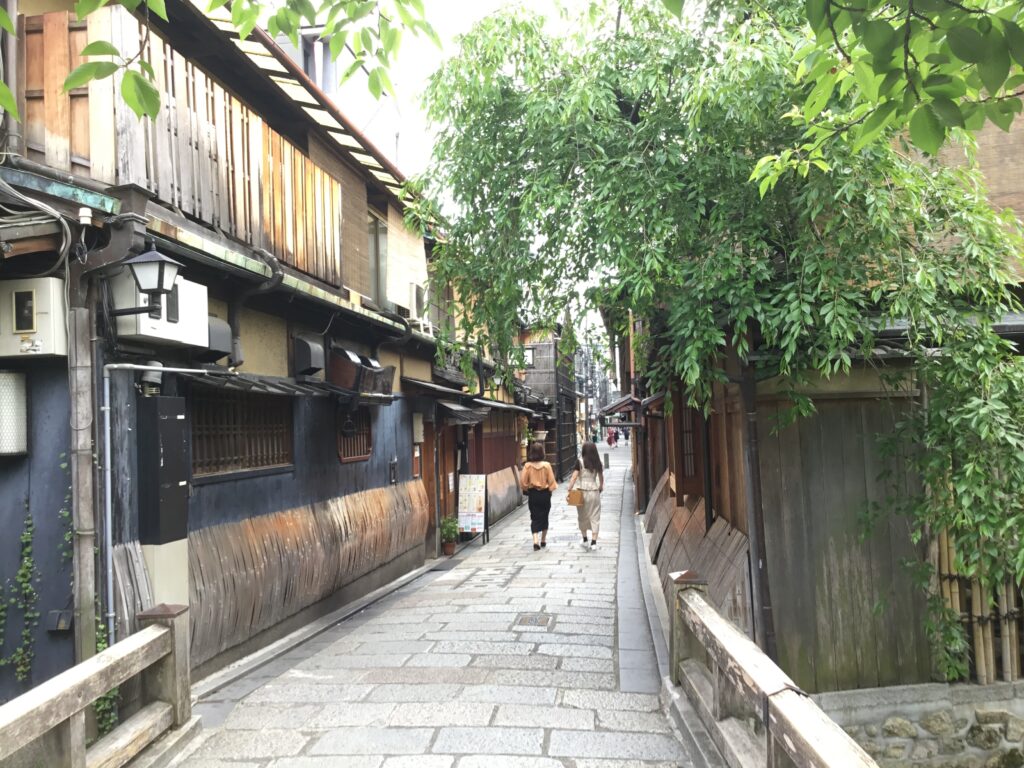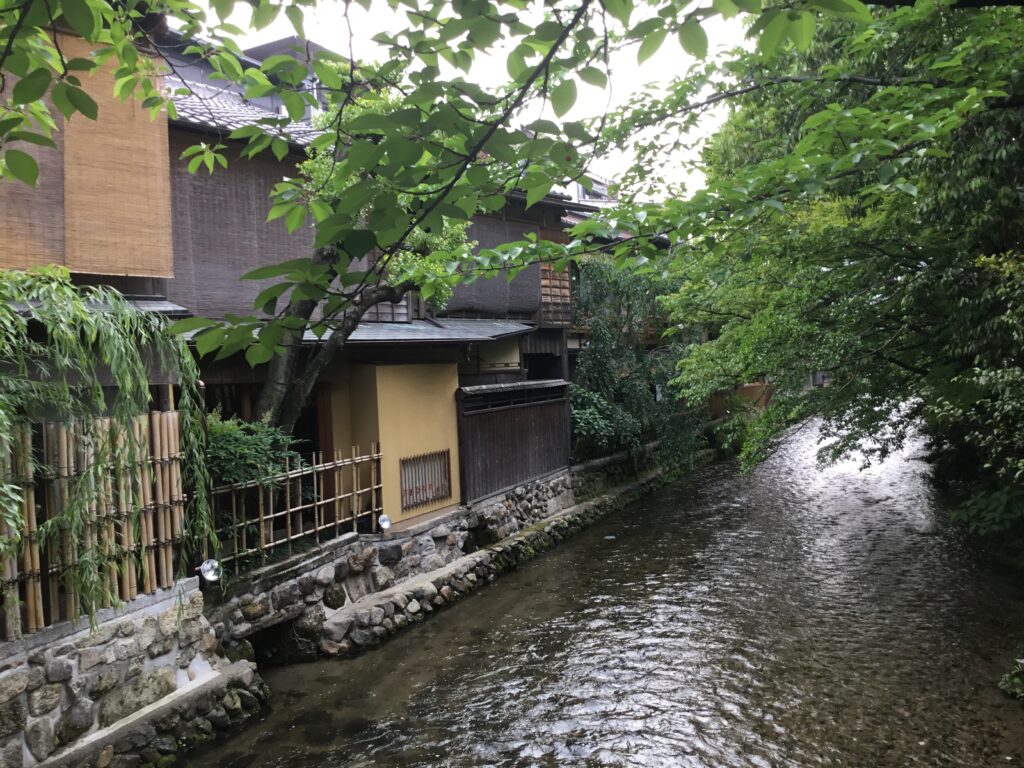 (Ponto-chou street)
Ponto-chou street is the retro stone-paved road along with Kamogawa-river whose length is about 500 meters. This is one of Hanamachi (Geisha town) in Kyoto.
Houses with red pattern lattice are lined up on both sides of the street.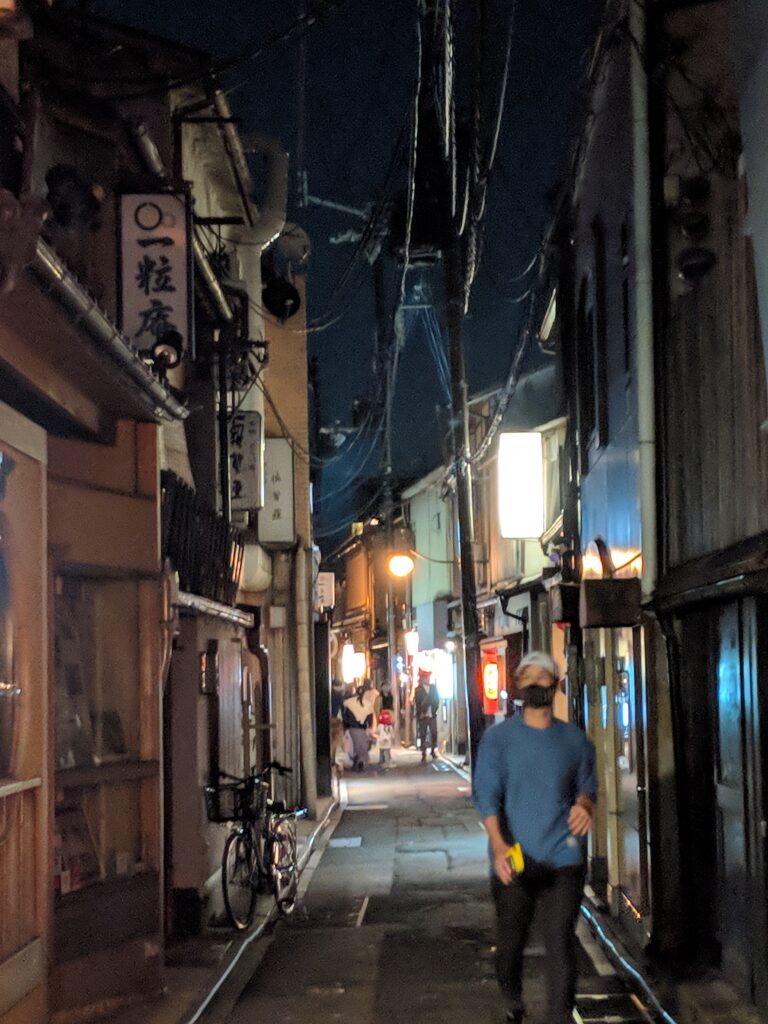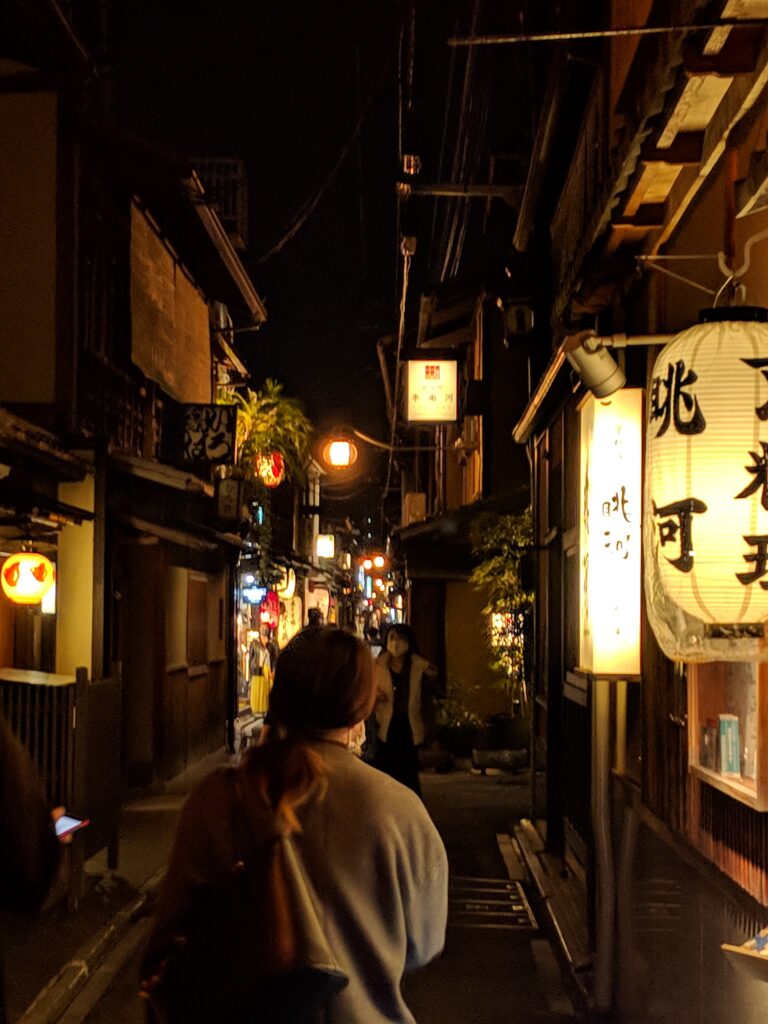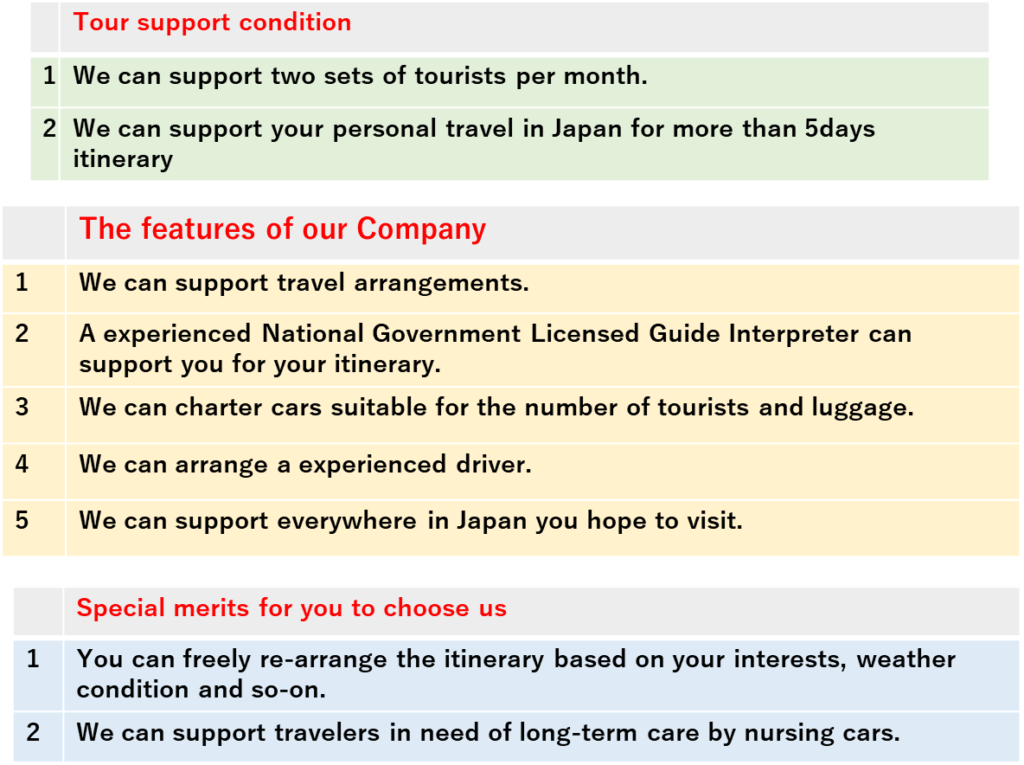 | | |
| --- | --- |
| | Car charter and a guide condition |
| 1 | Number of tourists: 2pax – 12pax |
| 2 | Charter time and guide condition: 12 hours (including 4 hours resting time) |